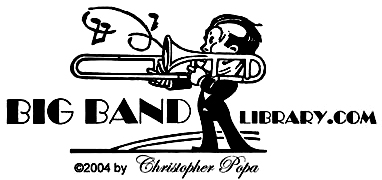 VAUGHN MONROE

"There, I've Said It Again"

by Christopher Popa   December 2005

    When he was in high school, he was  named "the boy most likely to succeed."  He certainly proved them right with his rich bass - baritone singing voice.

    "Well, I think he made some great, popular songs," Bucky Pizzarelli, guitarist with Vaughn Monroe's big band, told me.  "And he had some million-sellers, I know that for a fact."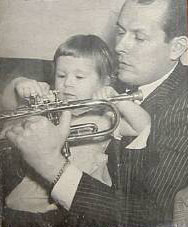 vital stats

given name: Vaughn Wilton Monroe

birth: Oct. 7, 1911, Akron, OH

death: May 21,1973, Stuart, FL

heritage: Scotch-Irish

father:  Ira C. Monroe

mother: Mabel Louisa (Maahs) Monroe

education: public schools, Cudahy, WI; graduate,

    Jeanette High School, Jeanette, PA, 1929;

    attended the Carnegie Institute of Technology,

    1929-32; special coursework at the New England

    Conservatory of Music

wife: Marian Baughman Monroe, m. April 2, 1940

children:  Candace, b.1941; Christina, b.1944

hobbies: miniature trains, motorcycles, sports, flying

religion: Methodist

memberships: American Federation of Musicians

    Local 9; ASCAP, 1945; Police Athletic League,

    New York City

physical description: blue eyes, brown hair, 215 lbs., 6'2"

residences:   1185 Park Ave., New York, NY; 35

    Pickwick Rd., West Newton, MA; 41 High Point Dr.,        Jensen Beach, FL

with daughter Candace, 1943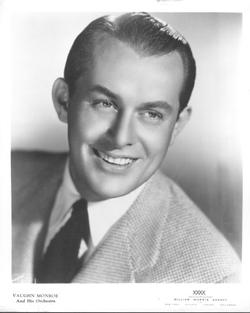 recommended vocals - select list

There I Go   Bluebird, 1940

When the Lights Go On Again   Victor, 1942

Let's Get Lost   with the 4 Lee Sisters   Victor, 1942

Rum and Coca-Cola   with Rosemary Calvin

  and the Norton Sisters   Victor, 1944

I Wish I Didn't Love You So  with the Moon Maids

   RCA Victor, 1947

Ballerina   RCA Victor, 1947

They Were Doin' the Mambo   RCA Victor, 1954

Don't Go to Strangers   with chorus   RCA Victor, 1955

medley: Something Sentimental / Blue Moon / Let's Have a Cigarette Together   RCA Victor, 1958   

    "When Katie left, instead of looking for a substitute, we cut the group down to four," Grogan said.  "And Tinker, who'd been singing the lowest part, moved up to singing the part next to mine.  I was the lead, and she was second.  And Arline sang third and Maree sang fourth.  So we revamped, and they had to re-learn a lot of music."

    Then Arline exited in 1948.

    "That left us with only three, so we had to fill-in with someone," Grogan went on.  "We knew of June Hiett, who lived in Arlington, Texas, that she could do this sort of thing.  And so we asked if she would like to join us." 

    There were additional changes, with Ruth Wetmer one of the later replacements; she would marry the band's drummer, Eddie Julian.

    Monroe meanwhile created a male vocal group, the Moon Men.

    "And he hired two men to sing, a tenor and a bass, and then he pulled two of the guys out of the band that could sing in a group style," Grogan clarified.

    Bagni was there from the very start, and, even after Monroe gave up his band, returned for important recordings at least as late as 1962, when they re-did My Devotion in stereo. 

    In the early '40s, other musicians with Monroe included Bobby Nichols and Benny West (trumpets), Art Dedrick and Ray Conniff (trombones), and Arnold Ross (piano).

    "Arnold was a jazz guy.  He was before me, but I knew of him," Pizzarelli said.  "He later became involved with a lot of that 'Jazz At the Philharmonic,' on the West Coast."

    From 1940 to 1953, Ziggy Talent provided comic relief with the band, through, for instance, The Majarajah of Magador and Sam,You Made the Pants Too Long.

    "He played tenor saxophone, and did a lot of comedy songs," Pizzarelli said.  "If we did a stage show, he was always featured.  But even on a one-nighter, after two or three hours of playing, they'd feature Ziggy, you see.  Ziggy would do his . . . act, just with the rhythm section, sometimes with the band.  It'd give the band a little break."

    Another loyal member of the band was drummer Eddie Julian, whose was present in 1942-43 and 1945-53, with a break away to serve in the Army.

    "He [ earlier ] played with Les Brown and Alvino Rey," Pizzarelli noted, "and I think he was happy to be back with Vaughn again, 'cause I think he was on the band, too, and went in the service."

    Both Pizzarelli and Grogan complimented Don Costa's arrangements for the band.

    "The best arranger was Don Costa," Pizzarelli said.  "This kid was from Boston and was sensational!"

    "Well, we always enjoyed the arrangements that Don Costa made," Grogan concurred.  "Actually, he wrote a lot of arrangements for us that were not big-big-big hits.  We sang 53 records with Vaughn, so, obviously, a lot of them were not big hits . . . I guess one of the first ones that we did, It's My Lazy Day . . . it had a pretty good popularity."

     Costa went on to write arrangements for Frank Sinatra.

Vaughn Monroe... in his own words:

    "Don't think I like the idea of making all those vocal records . . . We have plenty of good jazzmen in the band, and I'd like to do some instrumentals.  But Victor tells me to keep right on singing."

    "The band business isn't an artistic thing.  It's a business . . . I could name four or five bands that aren't doing very well today because they don't do what people ask for.  I can't feel sorry for them."

    "I put away my horn because I didn't want to be compared with such fine players as Harry James and Charlie Spivak."

    Among Monroe's final high-profile appearances were three in New York City: the Rainbow Grill (1966-7), the St. Regis Hotel (1970), and as part of a big band festival at Madison Square Garden (1971).

    Though Monroe passed away in 1973, his popularity was renewed in 2000 when a number of compact disc labels began reissuing his recordings and broadcasts, including lesser-known performances such as Requestfully Yours. 

    "Oh definitely, yeah, yeah, and I really love it," Pizzarelli reflected.  "The arrangements are good, and I thought he had a helluva band.  The band was great."

   "He continued longer than many other of the big bands at that particular time, because he was playing good, commercial music.  He wasn't a jazz band," Grogan stressed.  "And a lot of people could identify with that, I think.  The type of music he played." 

    In 2001, two fans, Lou Kohnen and Claire Schwartz, established an excellent, comprehensive Internet website dedicated to Monroe, and, in 2004, began a Yahoo discussion group about him.

    "He was unique.  There wasn't another bandleader that did what he did, in the whole band business.  Because he had that unusual voice," Pizzarelli concluded.

sources:

Fowler, Glenn.  "Vaughn Monroe, 62, Dies; Singer and Bandleader," New York Times, May 22, 1973, p.44, col.1.

Garrod, Charles and Bill Korst.  Vaughn Monroe and His Orchestra 1940-1954 (Zephyrhills, FL:

  Joyce Record Club, 1986).

Grogan, Mary Jo.  Interview with the author, Feb. 9, 2005.

Lamparski, Richard.  Whatever Became Of...: Fourth Series, (New York City: Crown Publishers, 1973), pp.52-53.

Marill, Alvin H.  Liner notes, "This Is Vaughn Monroe," RCA Victor VPM-6073, 1973.

Pizzarelli, Bucky.  Interview with the author, Nov. 13, 2004.

Rautenberg, Tinker (Cunningham).  "Complete Itinerary of the Vaughn Monroe Band: April 2, 1946 to July 15, 1950."

Rust, Brian.  The American Dance Band Discography (New Rochelle, NY: Arlington House Publishers, 1975).

Simon, George T.  "Vaughn Monroe," in The Big Bands, 4th ed. (New York City: Schirmer Books, 1981), p.374.

Terry, Clifford.  "Jogging with the moon," Chicago Tribune, June 18, 1972, p.H22.

"Vaughn Monroe," in Who Is Who in Music (Chicago: Who Is Who in Music, Ltd., 1951).

send feedback about Vaughn Monroe: "There, I've Said It Again" via
e-mail
return to Biographical Sketches
index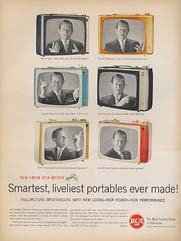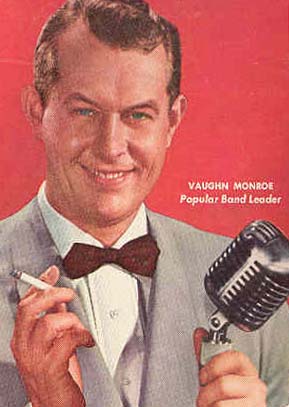 From 1940 to 1954, Monroe had nearly 70 chart records, including the #1 hits When the Lights Go On Again (All Over the World), Let It Snow! Let It Snow! Let It Snow!, Riders in the Sky (A Cowboy Legend), and Someday (You'll Want Me to Want You).  One song he didn't have the smash on was Rudolph, the Red-Nosed Reindeer, which he supposedly turned down.

     As Grogan previously noted, Monroe still would grab a horn now and then, as he did on January 13, 1941, for a Bluebird recording session.

    "He would pick up the trumpet to make it look good," Pizzarelli reiterated.  "And the trombone, too - he played the trombone, as well."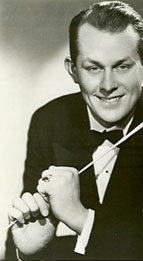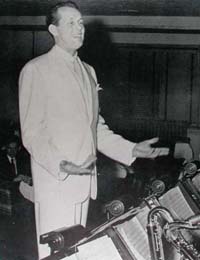 "He was a good musician.  He could sight-sing, you know," Pizzarelli said.  "I know when arrangers would bring their new arrangements on the job and they would pass out the music and we would play it, and he would sing it like he'd been singing it forever . . . It didn't faze him at all to sing something 'cold' right on the job.  That's pretty good."

    "A maestro who sings," Grogan reminisced, "though he started out as a trumpet player, and trombone, and he did play both in the band, from time to time . . . Most people, when I say '[ I ] sang with Vaughn Monroe,' they say, 'Oh, <sings> Racing with the Moon' . . . His voice was, as most people called it '[ the ] voice with the muscles on it' or 'old leather lungs.'  I don't think they'd ever say it to his face, but that was kind of the known way that people would talk about him, and he would just laugh about it."

    "He was just a kind, nice man and I think that came through to his fans," Mary Jo (Thomas) Grogan, a member of the Moon Maids singing group, told me.  "He was nice to us.  He understood us.  He protected us.  We went to a Victor recording party one time, sometime, and he was running around there, getting lemonade for us, just to be sure nobody gave us anything stronger."

    It was at age 11 that Monroe began playing the trumpet, on an instrument given to him by a neighbor.  Monroe won first place in a Wisconsin school music competition, at age 15.

    While studying engineering at Carnegie Tech, he earned tuition money as a trumpeter -- and singer -- with several local dance bands. 

    In 1932, he abandoned his education to join Austin Wylie and His Golden Pheasant Orchestra in Cleveland for six months, then, in 1933, moved on to Larry Funk's Orchestra.  While with Funk, Monroe made his first recordings, including Rain.  Monroe stayed with Funk until 1936, when he joined a Boston orchestra led by booker Jack Marshard.

    "Yeah, they sent out society bands on weekends," Pizzarelli recalled.

    The following year, Marshard asked him to front groups on his behalf throughout New England and in Miami Beach, and in 1939 used him on a slew of recordings, such as In the Still of the Night.

    Clearly, Monroe's voice was the biggest drawing card. 

    "Well, they had a lot of jokes about that, everybody, but I thought it was pleasing," Pizzarelli remarked.  "It was different, and he was like an opera singer."

    Quite strong and masculine.

    "Oh, very much so," he felt.  "It was deep, a deep baritone, you know."

    Monroe could have been on the stage, in operatic or theatrical productions, if he desired.

    "He could have," Pizzarelli said.  "When he was younger, he should have.  He had the voice for that."   

    The band's jobs always included appearances at Monroe's successful nightclub and restaurant, "The Meadows" [ pictured above ], located on Route 9 at the Turnpike, in Framingham, MA.

    "Yeah, we opened that place," Pizzarelli said.  "It was outside of Boston."

    "We usually would go there for a month to six weeks, at least once, maybe twice a year," Grogan remembered.

There, I've Said It Again   RCA Victor,

   1958

Racing with the Moon (theme

  song)   RCA Victor, 1958

Clown   RCA Victor, 1960

My Devotion   Dot, 1962

Mister Sandman   Dot, 1962

Who Can I Turn To?   Reader's Digest,

   1969

My Cup Runneth Over 

   Reader's Digest, 1969

This Is My Song   Readers Digest, 1969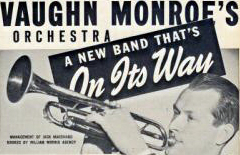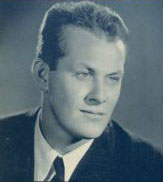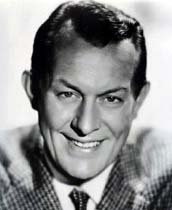 "Jack Marshard really was the brains behind Vaughn," according to Pizzarelli.  "All Vaughn had to do was to do what Jack told him to do."

    In April 1940, Monroe's own band made its debut at Seiler's Ten Acres in Wayland, MA, and, within a short time, became nationally-known.  

    Marshard, however, met an untimely end in an automobile accident.

    "Then he [ Monroe ] went with Willard Alexander, who took over.  He was a big-time guy, too."  

    When the band played the Paramount Theatre in New York City during the early '40s, Pizzarelli was in the audience.      

    "Oh, it was big," he reflected.  "I saw them at the Paramount, and they used to play operatic songs in a jazz form . . . jazz arrangements 'cause they were in the public domain.  I think his arranger was Johnny Watson, who wrote Racing with the Moon."

    Watson also composed Take It, Jackson, a catchy riff tune.

    "In those days, the band played a lot of instrumentals," Pizzarelli recalled.  "But later on, when I was with them, it was all vocals, every night.  We'd never record any instrumentals anymore."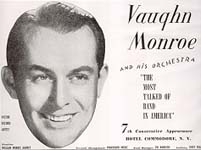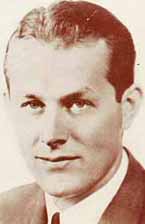 "I joined him when I was 17 years old," Pizzarelli told me.  "I just got out of high school, and I did three or four one-nighters with him.  Of course, back during those days, they were taking guys out of the Army - it was 1943, in December.  And I stayed with the band until I got drafted.  When he found out, two years later, that I was being discharged, he called my mother and said, 'Tell him to come back in our band.  He's got the job.  It's his, 'cause he went in the service.'"

    But how had Monroe heard of him in the first place?

    "Some guys from my hometown were in the band," Pizzarelli explained.  "And they needed a guitar player, and they said, 'Try Bucky.'  So I went out and I played in the band that night."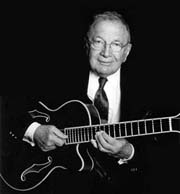 He was born John Pizzarelli, but, even as a teenager, his nickname was "Bucky."

    "Oh, my father gave me that," Pizzarelli said.  "My father was in love with cowboys.  He went to Texas when he was a kid.  And they always had cowboy connotations < chuckles >."

    Given the set-up of Monroe's band, there were few solo opportunities for young Pizzarelli.

    "Well, I wasn't looking for that," he admitted.  "I was just learning how to play rhythm guitar, and I learned how to do it in the band . . . You know, when you're 17, you don't care whether you're playing any solos.  You're glad to be in the band, wearing a gabardine suit."

    Pizzarelli's job, as a member of the rhythm section, was to help support and drive the band.

    "Definitely, you had to," he said.  "That's the post of the band, you know."

    In March 1946, Grogan joined Monroe as an original member of the Moon Maids vocal group.

    "Our first job, as I remember it, was Allentown, Pennsylvania, with the band on a one-nighter," Grogan said.

    The other voices were her friends Tinker Cunningham, Arline Truax, and Katie Myatt.

    "We were in college, at North Texas, in Denton," she looked back, "and were singing there as the 'Swingtet,' and had done a short USO tour for six weeks, I think, back when we were 17.  We loved to sing.  We would sing on every street corner and every bus station < laughs > wherever we were.  We were together a lot, the four of us, four girls."

    When they appeared as guests with Stan Kenton's band one night in Fort Worth, TX, it just so happened that Vaughn Monroe's publicity agent, Dixon Gayer, was present.

    "So he heard us and he said, 'Would you girls be interested a professional career?'  Of course, we were in college at that time, and we said, 'Well, we don't know.  It sounds interesting.'  He said, 'I'll probably be back in touch with you,' which he was, in about three weeks," Grogan reminisced.  "He said Vaughn Monroe's group, I think it was The Norton Sisters, are leaving, or breaking up, and Betty Norton was staying on with the band, as a solo singer.  Maree Lee [ from another of Monroe's female vocal groups, The Lee Sisters ] was going to be singing with us, as we found out, if we got the job.  She would sing with us, and that would make a quintet of girls.  But we had a job on our hands, because we had to convince our parents that it would be safe and ok."

    After all, they were fresh out of college from Denton, which was just a tiny town.  They now would be in close-quarters with Monroe and his 16-piece band, and going all around the country by bus.

    "We said that nothing was going to change us.  If anything, we'd change them," she laughed.  "Boy, talk about naive!  But, as it turned out, because Vaughn's band was a basically commercial band, the personnel in there were pretty steady, pretty even.  Most of them were married, and we even did babysitting for them.  I mean, their wives would travel with us once in a while, and if they needed to go out some place and if there was any time, we'd keep the kids.  It was really like a family band, and Vaughn called us his 'Texas kids.'"

    Everything worked out fine, with Maree Lee being an instructive fifth voice added to the other four.

    "He needed somebody to train us, to try to get the 'Texas' out of our talk," she chuckled.  "We learned a lot from her.  We teased her a lot, 'cause she had the answer to everything."

    The Moon Maids, with a number of personnel changes, worked with the band into 1952.  

a recent photo of Pizzarelli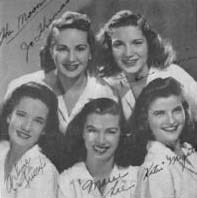 [ from l. to r. ] Arline Truax, Mary Jo (Thomas) Grogan, Maree Lee, Tinker Cunningham, Katie Myatt


    One of Monroe's featured musicians was Andy Bagni.

    "He was the best I ever played with," Pizzarelli told me.  "Well, he had a lyrical way of playing the alto saxophone.  And a way of showing the rest of the saxophones how to follow him, with the vibrato - he made 'em all even."

    Bagni solos on, for example, the first chorus of My Devotion.

    "Oh, definitely, that's Andy," Pizzarelli confirmed.  "The band featured the alto sax.  All the interludes and modulations and endings [ were ] Andy Bagni.  And he was offered jobs with Tommy Dorsey and Benny Goodman, in those days.  He stayed with Vaughn.  He was a Boston guy, and he stayed with Vaughn."

Vaughn Monroe... on breaking up his band:

    "I had decided that the big-band business was on its way out.  We could have been booked continuously for another three, four years, but each year television grabbed a little more hold.  Starting in 1949, for instance, I noticed that where we had been doing maybe 3,500 people in Des Moines for a ballroom dance, we were down to maybe 2,800.

    I figured I could make it as a single.  I was in Chicago, as a matter of fact, the day I decided to give up the band.  We had played Springfield the night before and had gotten thru at 2 in the morning.  There had been a storm that afternoon, and the roads were covered with about 2 inches of ice.  We came in on the bus, arriving at the Chicago Theater about 9:45, and went on at 10:30.  About the third number I saw five spotlights, and I knew there was only one up there.  I came off shaking from lack of food and sleep and said, 'This is ridiculous.'  I called my booker and told him, 'As of May 3, I'm thru.'  Our last appearance as a band was at West Point, on our Saturday night Camel Caravan."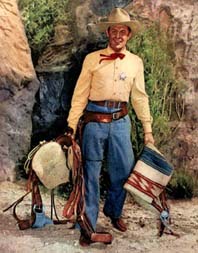 Some other unlikely material was given to Vaughn in 1949. 

    "He had a song called Riders in the

Sky," Pizzarelli reminisced.  "We made it in Chicago . . . It was a funny record 'cause there were a lot of eighth-notes on the guitars, you know, a couple of guitars.  And it was a cowboy song."

    It was different from the ballads that he normally sang, but, according to Pizzarelli, Monroe liked it.

    "Oh certainly, yeah, that was a big, million-seller," he said.  "I think that somebody from another company came over to RCA Victor, to give him that song.  'Cause it was in a movie."

    It was the title song of a picture which starred country singer Gene Autry.

    "He [ Autry ] sang it in the movie," Pizzarelli continued, "and, all of a sudden, they said, 'Let's give it to

Vaughn Monroe, and somebody

Monroe made two films for Republic Pictures, "Singing Guns" (1950) and "The Toughest Man in Arizona" (1952)

jumped ship and brought it over to RCA Victor and we jumped off the bus, and, practically, in a day or so, we had that record made.  And we played it in Detroit a couple days later, and the people went 'bananas' over it."

    As a follow-up, Monroe recorded another western number, Mule Train, which he himself performed in a film. 

    "Oh yeah, he did that in a movie," Pizzarelli recalled.  "He did that with The Sons of the Pioneers.  Yeah, they made him a cowboy.  In fact, we played a rodeo in New York, for a week... a couple of weeks."

    Monroe remained a top attraction throughout the 1940s.

    "He was very popular, and we certainly had large, large crowds at the ballrooms," Grogan recalled.  "We did many, many one-nighters, but we also did theatre dates.  We were at the Strand Theatre in New York . . . Then, we played the Commodore Hotel; that was maybe a month that we'd be there . . . He also did what he called 'concerts.'  In certain venues, he would let Tinker, who was an accomplished pianist, play Fantasie Impromptu, and she was good . . . And Vaughn and I would sing Nelson Eddy-Jeanette MacDonald-type duets.  And Vaughn would have me sing, of all things, Ave Maria."

"the most talked of band

in America," 1944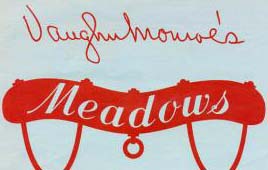 Vaughn Monroe Orchestra 1947 itinerary - sample:

June 6-12, Earle Theatre, Philadelphia, PA

June 13, Geo. F. Pavilion, Johnson City, NY

June 14, Madison Square Garden, New York, NY

June 15: Pleasure Beach, Bridgeport, CT

June 16: Scranton, PA

June 17: Berwick, PA

June 18: Dorney Park, Allentown, PA

June 19-25: Hippodrome Theatre, Baltimore, MD

June 26: recording session, RCA Victor, New York, NY

June 27-July 17: Strand Theatre, New York, NY

July 18: Worcester, MA

July 19: broadcast, New York, NY

July 20: Elmira, NY [ travel to Canada ]

July 21: Toronto, Ontario, Canada

   How hard was life on the road with a big band?

    "It was easy," Pizzarelli reported.  "I was single and all I had to do was jump on the bus!"

    "Well, it isn't glamorous.  There was no glamour in it," Grogan countered.  "I used to think, before we joined the band, that maybe people who did that sort of thing got their hair done and their nails done and wore gorgeous dresses.  Well, we had some nice dresses, but, certainly, we had to do our own hair and one time we even had to wash our dresses in the bathtub and iron them ourselves, because they had gotten dirty."

    For girl singers, it could be a trying job, living out of a suitcase or trunk.

    "We had a bus, but it wasn't like today's buses, with all the conveniences and CDs on them, it was just a plain old bus," Grogan pointed out.  "And, of course, we slept with our heads on somebody's shoulder all the time.  The truck that followed the bus carried most of the luggage and our hanging bags.  We all had a big, fat hanging bag.  Most of us had a trunk and a suitcase, a make-up kit, and a hanging bag."

    Those were necessities.

    "One time, in 1947, we were going for a job in Morgantown, West Virginia, and the bus started smoking," she recalled.  "We all got out -- it was on a curve, going up a mountainside -- we all got out and the bus driver said, 'Stand back!' and he got the fire extinguisher, and tried to put out the fire.  This had happened many times before, and there would alwas be a little fire, and they were always able to put it out.  But this time, he couldn't get it out.  And so we all either got far away, in case the bus exploded, or went, as I did, around the corner, where there was a little grocery store, it had a phone, called our parents and said, 'Don't worry, we're ok.'  And they called the fire department.  It took them 15 or 20 minutes to get there, and then it took them an hour to put the fire out, because water was not available.  They had to pump it out of a ditch.  So, the jist of it is is that if we had not had that truck following behind with many things in it, we would have lost everything.  And some of the girls lost a good bit, because they happened to have things with them, on the bus.  We were able to get into town to do the job.  A department store opened up so we could buy make-up, 'cause we didn't have any of that.  And some of the girls had to buy some other things, but our costumes were in the truck, thank goodness."

Vaughn Monroe on the cover

of Band Leaders, Mar. 1946

    "Vaughn then began his weekly Camel Caravan radio show," Grogan related.  "And that was done from universities all around the country."

    "When we were going good, we had violins," Pizzarelli pointed out.  "We had, like, uh, I think it was six violins.  And then, when we did the radio show, we had fourteen, every week we had the Camel Caravan.  And we'd get them locally... Chicago, or wherever."

    Grogan today still recalls a particular commercial for Camel cigarettes.

    "It's so strange to hear them talk about 'not one single case of throat irritation due to smoking Camels.'  Whoa!  Not at all like that," she remarked.  "But we sang, < sings > 'How mild, how mild, how mild can a cigarette be?'  You know, the old... well, that was what he sang a lot on the radio show."

    By the early 1950s, the band business was seriously declining.

    "They got rid of the violins and we went without," Pizzarelli recalled.  "We were on the road the last year or so with no violins."

    What caused the drop in the popularity of big bands?

    "I don't know," he responded.  "It might have been the prices.  And television.  Everybody stayed home to watch tv shows, in those days... 'Uncle Miltie,' Milton Berle... On Tuesday night, everybody in the world watched him.  They had a variety show.  And Ed Sullivan, on Sunday night.  So if you had to play a one-nighter, on a Sunday night somewhere, or a Tuesday night, nobody would be there."

    Monroe decided to disband.

    "We knew when the band was going to break up," Pizzarelli recalled.  "The last gig was in West Point, I think."

    When Grogan, who had left in 1949, heard in the press that Monroe was giving up his band, she was surprised.

   "I surely was, I really was," she told me.  "His band was moving on, lasting longer than a lot of the other bands were.  The big bands were kind of going out then, but he did last longer and I guess I thought he'd go right on."

     "I left about two weeks before," Pizzarelli recalled,"and I went with Joe Mooney, who was one of my heroes in Patterson, New Jersey, a blind accordion player.  We played at a club in New York and made some records, and that was it."

    That was 1953.  Monroe still sang well, and worked, primarily as a single, for almost 20 more years, doing a variety of material.

    "Well, he'd do anything.  He was open to everything," Pizzarelli commented.  "On the road, I saw him in Pittsburgh, I saw him at the Cafe Rouge when he did a single.  He worked as an act and other bands would play for him.  He survived.  He went around, he went all over."

    Texas included, ca.1956.

    "Well, he came through here," Grogan said.  "And we sang with him once.  We got three of the girls together and found us a fourth one, and did There, I've Said It Again with him in a hotel, where he was singing."

    RCA capitalized on Monroe's continuing appeal, by signing him to a lucrative deal as its corporate spokesman, "The Voice of RCA Victor," in a long series of TV and print ads, including one which still sticks in Pizzarelli's mind.

    "Yeah, he did a commercial for RCA Victor - dropping a radio, an RCA Victor radio, off a ladder," he recalled.  "Some gimmick they had."

Monroe helps RCA sell portable televisions, 1961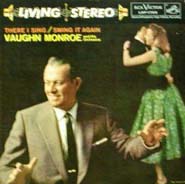 On his last album for RCA Victor, "There I Sing / Swing It Again," a  stereo recording made in April 1958, Monroe prevailed to include several out-and-out swingers into the sessions, never more appealingly.

recommended instrumentals:

Cape Cod Clambake  William Stegmeyer, arr.

Commodore Clipper  Vaughn Monroe, comp.

Boston Rocker  Vaughn Monroe, arr.

Take It, Jackson  Johnny Watson, arr.

    Andy Bagni returned to again lead the saxophone section, and the band was stocked with other former big band stars, including Billy Butterfield (trumpet), Bobby Byrne and Urbie Green (trombone), Boomie Richman (saxophone), Milt Hinton (bass), and Don Lamond (drums).