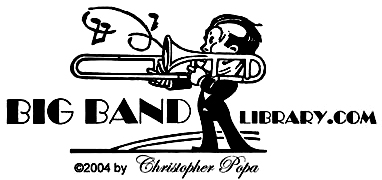 "SOMETHING

SENTIMENTAL":

The Vaughn Monroe Appreciation Society

photographs by Christopher Popa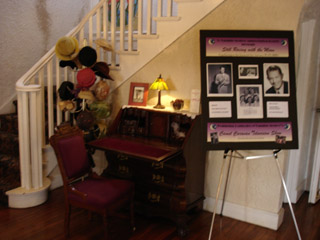 A dozen members of The Vaughn Monroe Appreciation Society, formed in 2001, met for the first time in-person January 21-23, 2005, and visited sites around Martin County, Florida, where Monroe lived during the final years of his life. 

A poster in the lobby of the Seminole Inn, 15885 S.W. Warfield Blvd., Indiantown, FL [ r. ], announced the Society's gathering.

The Medical Center exhibit includes Monroe's gold record award for There, I've Said It Again, originally recorded Dec. 21, 1944, first released on Victor 20-1637 and reissued on RCA Victor 20-2388 [ r. ] in 1947.  Also displayed is the gold record award for Riders in the Sky (A Cowboy Legend), recorded Mar. 14, 1949 and first released on RCA Victor 20-3411.

send feedback about "Something Sentimental": The Vaughn Monroe Appreciation Society via
e-mail
The first evening, singer - dancer Shaye Cogan, one of Monroe's TV co-stars, was remembered by special guest Susan Menke, her niece.  Cogan now lives in Modesto, CA. 

Society member Tinker Rautenberg, who sang from 1946 to 1950 with one of Monroe's all-girl vocal groups, the Moon Maids, reminisced the following night and shared memorabilia and photos from her scrapbook.

On the 22nd, a car pool was formed to drive by several points of interest, including Monroe's final residence, 41 W. High Point Rd., Stuart, FL [ below, l. ], situated alongside the St. Lucie River.  Around 1965, Monroe chose the location for his new residence, and personally worked with architects to design the home, which was built in 1967.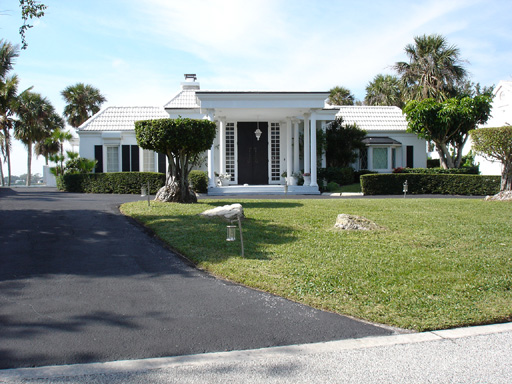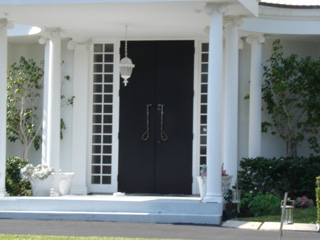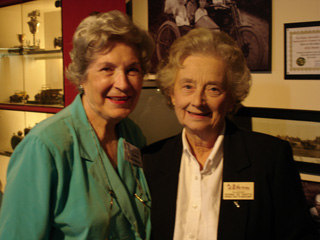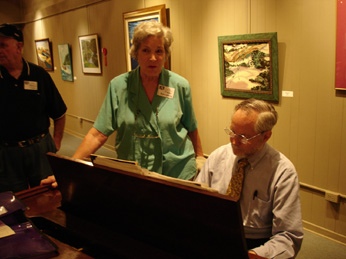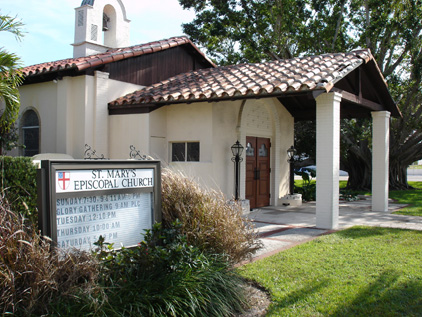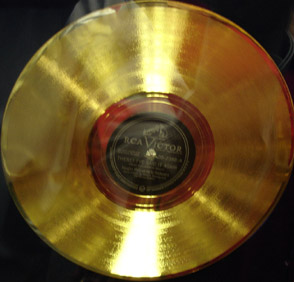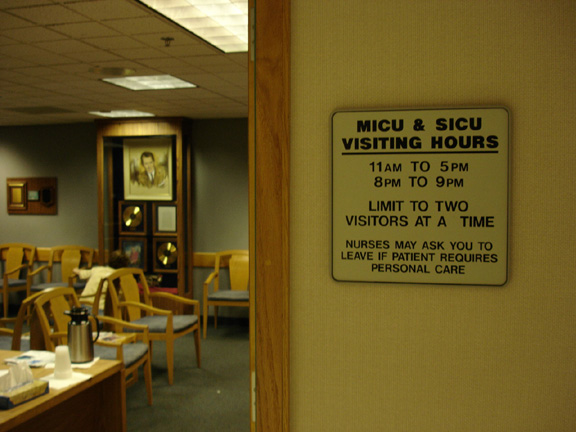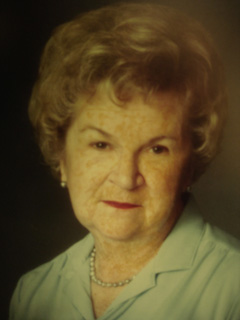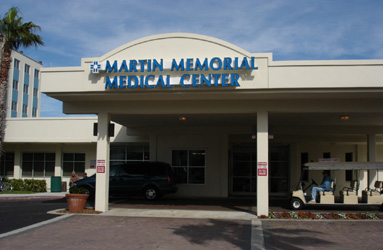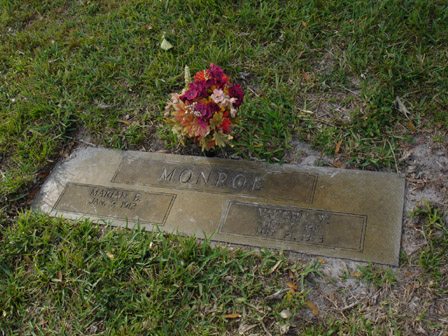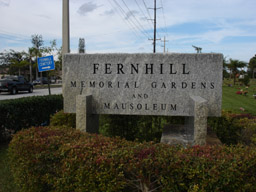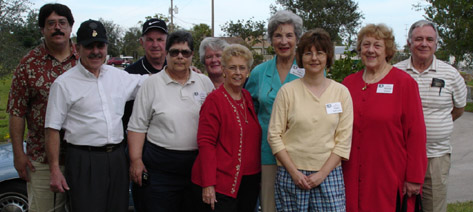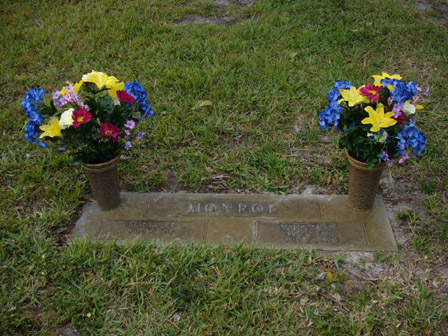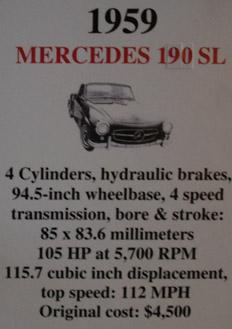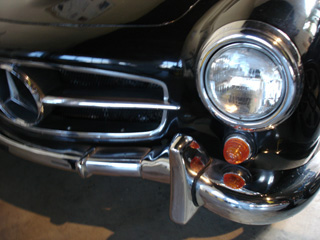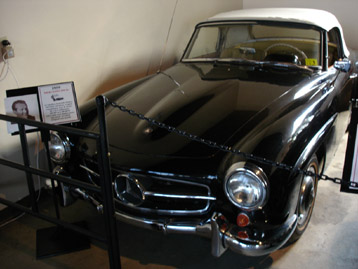 The handles on the front doors of the home are fashioned like music notes.

Monroe and his wife, Marion, attended services at St. Mary's Episcopal Church, 623 SE Ocean Blvd., Stuart, FL [ r. ].  In fact, he sang with the church choir when he was in town.

A short distance away is Martin Memorial Medical Center, the facility where Monroe died in 1973.  Mrs. Monroe volunteered 15,000 service hours there, becoming a member of its Board of Directors from 1977 to 1986, including Board President in 1984-85 and 1985-86. 

On the first floor of the Medical Center is a visiting room for family and friends of patients in the intensive care unit.  Mrs. Monroe donated a large portrait of her husband, two of his gold records, the red jacket he wore as RCA's spokesman (with a color photo of him wearing it), his first trumpet, and some souvenir coins with Monroe's signature engraved on them.  All items are housed in an upright display case.

[ l. ] A photograph of Mrs. Monroe, who also served as President of the Martin Memorial Hospital Auxiliary from 1977 to 1979.

[ r. ] The portrait of her famous husband which hangs in the Medical Center.

Another interesting part of The Society's weekend was a visit to the Elliott Museum, 825 NE Ocean Blvd., Stuart, FL.  Operated by the Historical Society of Martin County, it holds several items which were donated by Mrs. Monroe.  Among them are his 1959 Mercedes roadster, an Indian headdress presented to him in 1960, and his motorcycle.

A tour of the Museum was given to Society members by volunteer Norma DeSantis [ r. ], posing with Tinker Rautenberg.

After the tour concluded, Tinker sang a few songs impromptu, with Monroe historian and fellow Society member Dick Longtin

[ l. ] looking on. 

The final location viewed by Society members was Fernhill Cemetery (Fernhill Memorial Gardens and Mausoleum), 1501 S. Kanner Hwy., Stuart, FL, where Monroe is buried.

Flowers are often placed at his grave by local fans [ r. ].  When Society members paid their respects as a group on the 22nd, two flower vases were left [ below ], and it was observed that the grave matches Monroe's personality: simple, direct, and modest.

Present were [ front row, l. to r. ] Jerry Furris, Kathy Blank, Fran Swenson, Tinker Rautenberg, Claire Schwartz (Society co-founder), Marian Gower, Herb Wasserman, [ back row ] Jay Popa, Dick Longtin, and Pat Reid.  They watched kinescopes of Monroe's "Camel Caravan" television program, listened to his records, and shared many stories about him.