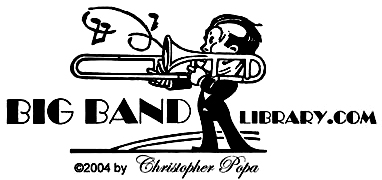 THE

EDDIE JULIAN

COLLECTION

    Born Jan. 8, 1918, Edward Joseph Julian [ r. ] had a satisfying life and career, including playing drums in two famous big bands, serving his country during World War II, and making a loving home with his wife Ruth, a singer.

    Recently, Ruth offered a few comments about her former husband and generously shared an assortment of materials, including a scrapbook once kept by Eddie's sister, Betty, in the 1940s.

    "The way Eddie and I met was through the Vaughn Monroe Orchestra," she explained to me.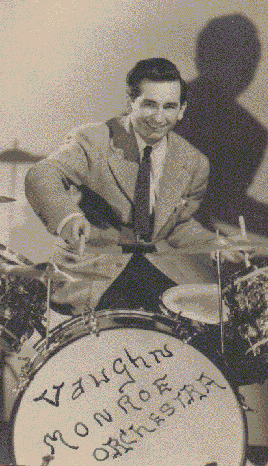 Eddie and lead alto saxophonist Andy Bagni took part in some 1954 RCA Victor recordings made by Monroe, with a New York City studio band including Steve Lipkins and Bernie Glow (trumpets), Warren Covington and Urbie Green (trombones).  

    Eventually, Eddie would become associated with "Music in the Morgan Manner," playing briefly with the father but then a long time for the son.

   "They had yearly garden parties," Ruth recalled.  "Jack Morgan I'm talking about now - the son carried on the tradition of his father, you know.  My husband [ Eddie ] was actually with Jack longer than he was with Russ.  He worked with Russ for about two weeks in Canada, but he had already committed to a job in Las Vegas at the time that Russ called.  And Russ kept offering him more money - you know, 'Would you stay for this much?'  And then he offered him more money and more money.  Well, the point... Eddie, he had already made up his mind that we wanted to move to Las Vegas.  We were in New York at that time . . . and we did come to Las Vegas and then he left the Russ Morgan band."

    Morgan died in 1969, and in Dec. 1970, Eddie joined The Russ Morgan Orchestra directed by Jack Morgan, playing at the Top of the Dunes, one of Las Vegas' premier hotels.  Eddie kept the beat going until his passing at the age of 79 on Oct. 30, 1997.  

    "I'm married again," Ruth reported.  "And I married the trumpet player from the Russ Morgan band.  He [ Eddie ] and my husband were very good friends, they were the best of friends, and traveled together, and so on."

    Now age 84, she looks back on the big band days with fondness.

    "When bands disband and everybody dies, it kind of dies with it.  And yet it's such a colorful history," she said to me.  "I mean, that was a great era that we lived through.  And it was so colorful, and so many good bands and good music, you know, as opposed to some of the stuff we're hearing these days."

send feedback about The Eddie Julian Collection via
e-mail
return to Big Band Library homepage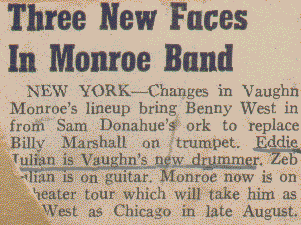 Eddie played drums for Les Brown from

1939-41, and worked for Alvino Rey during 1941-42.  Then he was hired by  Monroe [ l. ], whose band had been formed just over two years earlier.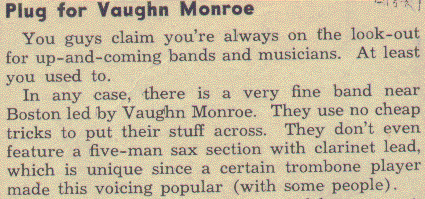 The scrapbook included an early clipping of a Boston area writer who praised Monroe.

    Believe me, this is not just another pretty good local band," he wrote, "but is a well-rehearsed group sporting some spiffy arrangements.  If you're lucky you'll hear them play Ring Dem Bells."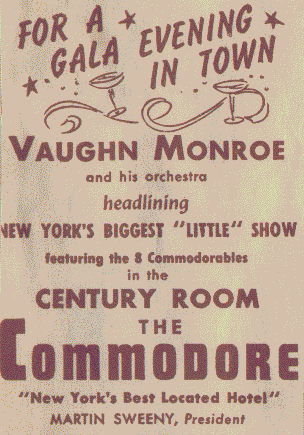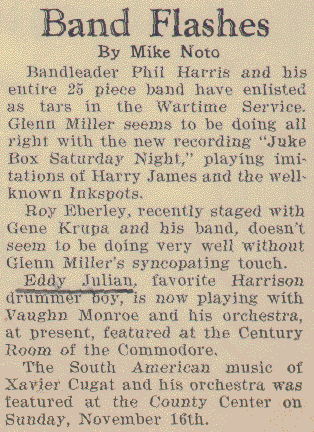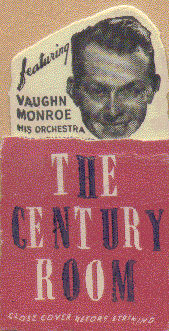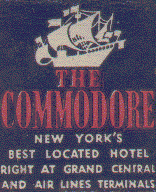 Word spread about Monroe, and in 1942 his band was hired to play the Century Room of the Hotel Commodore in New York City.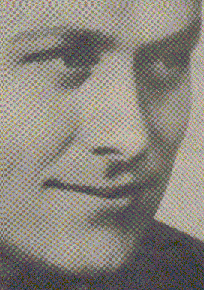 Eddie was present at the Victor recording session held Jul. 8th, 1942, in which Monroe sang When the Lights Go On Again (All Over the World) and Let's Get Lost.

    It was the start of a long-term association with Monroe's band.

    "Well, he was with them for about 11 years, taking time out to be in the Army for a while," Ruth told me. 

    The group appeared at the Capitol Theater in Washington, DC, then went into the Chicago Theater in late Aug. 1942.  Following their return east, they made several guest shots on the "Spotlight Bands" radio show, sponsored by Coca-Cola.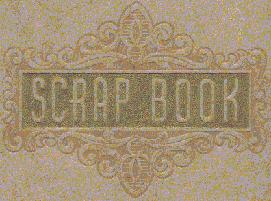 Eddie enjoyed working with the other stars in Monroe's band, including Bobby Nichols (trumpet), Art Dedrick (trombone), and Andy Bagni (saxophone).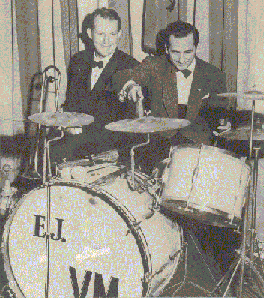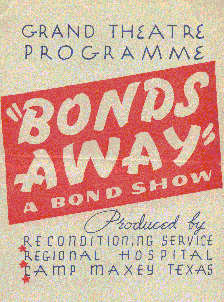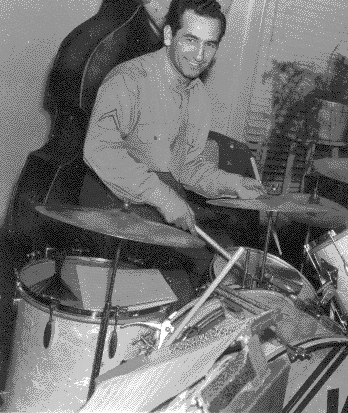 Given the rank of Private First Class (Pfc.), Eddie was based at the Field Artillery Replacement Center at Fort Bragg, NC.  He was featured beating the drums in many concerts to entertain military personnel.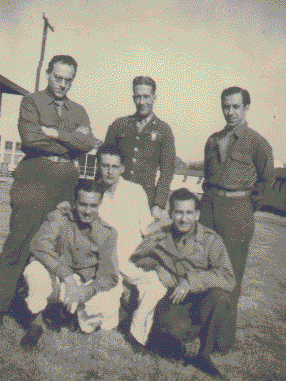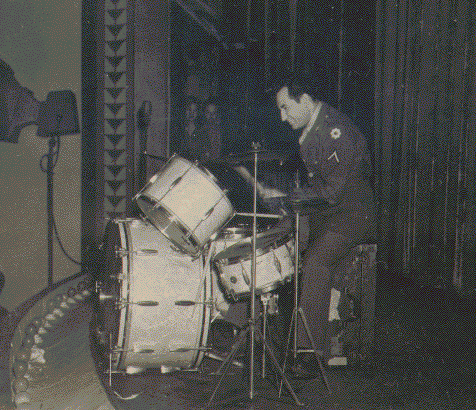 Photos in the scrapbook showed Eddie with Pfc. Pat Cerrone, a bassist [ l. ], and with fellow band members including Metzger, Beck, Hodges, and Casia [ above ].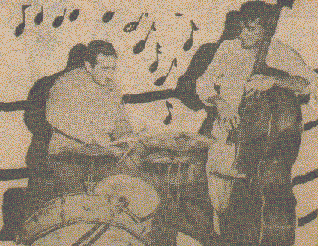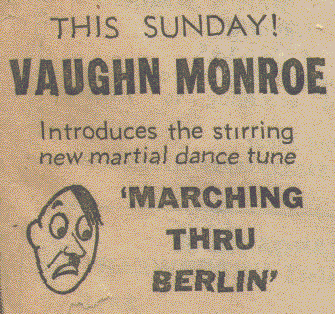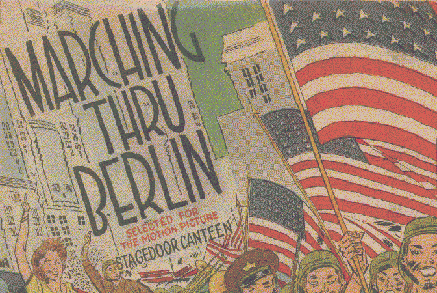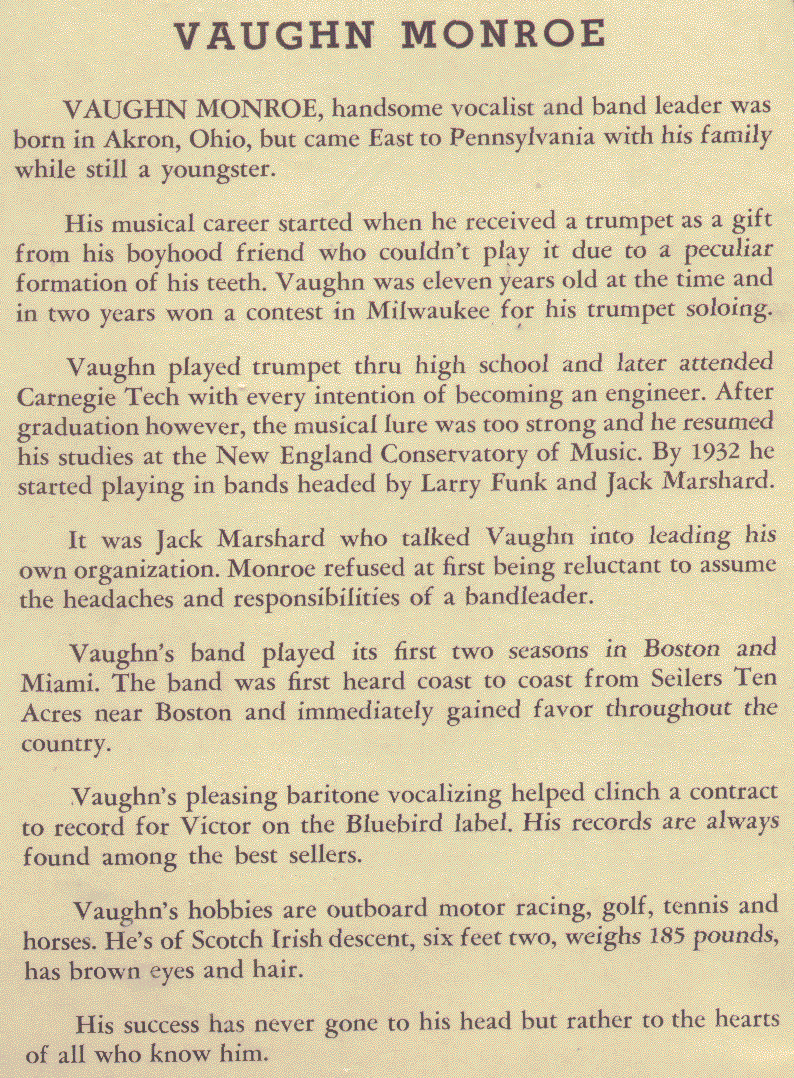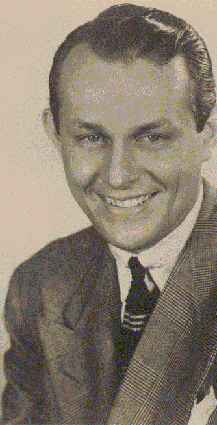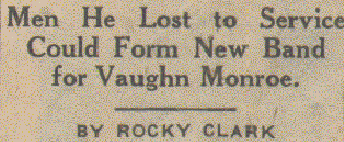 Though the draft snapped up a number of men from the band, others took their places or filled new positions.  The Three Murphy Sisters -- Muriel, Dottie, and Marjorie -- began on Jan. 21, 1943, and the band returned to the Commodore on Apr. 1.

    Eddie got his call to military duty in early 1943.

    Meanwhile, though Monroe remained a civilian and continued to lead his band, he made three special V-Disc recording sessions for servicemen, in Nov. 1943, Aug. 1944, and Oct. 1944, and featured a new "martial dance tune," Marching Through Berlin, which prompted a worried caricature of German leader Adolf Hitler

[ below ].

    "It is a real American marching song, adaptable to dancing," Monroe explained, "a song of assurance and optimism.  Boys in the Army ranks already have picked it up and are marching along to its strains."

    Another clipping in the scrapbook explained that Vaughn, trumpet and novelty vocalist Ziggy Talent [ below ], and most of the others in Monroe's band who had been there with Eddie were "solid 3A's - healthy, but with dependents.  In spite of the many difficulties connected with the frequent changes in the band and transportation problems, the Monroe aggregation carries on very successfully."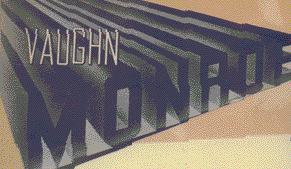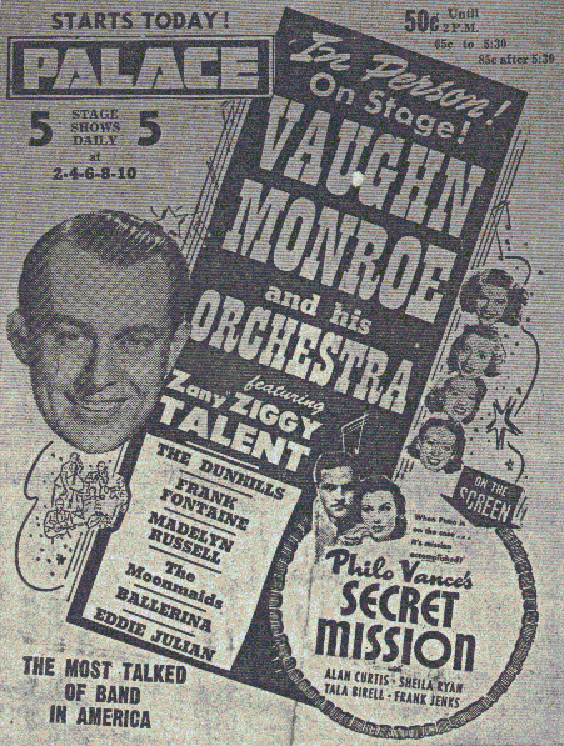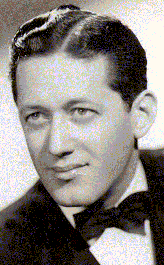 When Eddie left the Army, he re-joined Monroe in Nov. 1945 and stayed until Vaughn disbanded in 1953.  Besides playing with the band on its Camel Caravan broadcasts and touring with them all across the United States, his drumming was heard on such Monroe recordings as Seems Like Old Times, Gee! I Wish (The G.I. Wish Song), Dreams Are a Dime a Dozen, How Soon (Will I Be Seeing You?), and Melody Time. 

    Others became part of the band as the years went on, such as the Moon Maids, the girl singers who backed up Monroe's vocals.  Among the original members were Mary Jo Thomas and Tinker Cunningham, and clippings in the scrapbook [ below ] indicated the group had undergone a couple name changes.


    The Moon Maids' ranks changed in time, too, with later replacements including Ruth Wetmer in 1952. 

    "I was with them just for less than a year," she reported.

    She and Eddie were married on Jul. 11, 1953.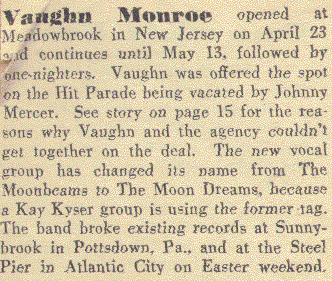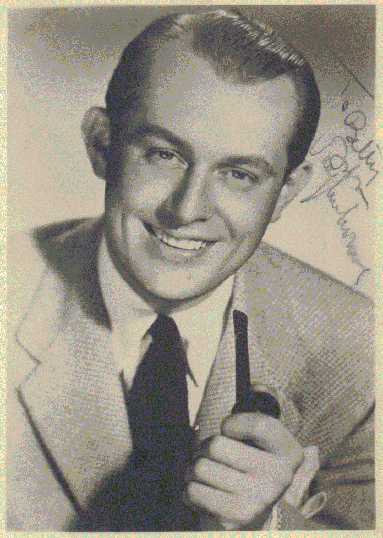 Newspaper columnist Nick Kenny once mentioned that Monroe disliked handing out publicity photographs with imprinted autographs, so during one tour, personally signed 70,000 [ sic! ] photos for fans.

    "And he didn't get writer's cramp," Kenny joked.  

    Several of the pictures in the scarpbook were, in fact, hand autographed by Monroe to Eddie's sister, Betty, including this mid-'40s portrait.