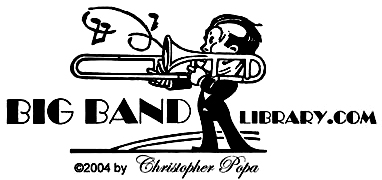 RUSS MORGAN

"The Path of Least Resistance"

by Christopher Popa  June 2004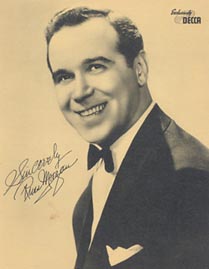 The tag line was a great idea, but who was responsible?

   "Well, that was my dad, but he kind of stole it a little bit," Jack, himself a trombonist and singer, admitted.  "Prior to having his own orchestra, he worked with Freddy Martin.  And Freddy Martin had a slogan, he doesn't use it too much anymore, but it was the 'Music in the Martin Manner.'  And not only that, but the Martin Men were the quartet.  Dad was the piano player, a trombone player, and an arranger for Freddy, so one day Freddy wanted to take a little vacation and when he came back, it was the Russ Morgan Orchestra [laughs]."

    "Music in the Morgan Manner" has been a famous big band slogan for almost 70 years, inviting countless couples to dance, beginning in 1935.  Initially associated with Russ Morgan, it has been used since 1969 by his son and musical successor, Jack Morgan.

    "The way that dad used to describe his band was it was 'the path of least resistance,'" Jack told me in 1983.  "It was the songs that everybody knew, they could sing, and they would remember.  We weren't trying to

re-educate the United States, you know, like some other bandleaders."

    The Morgan music was heard in such venues as the Biltmore Hotel in New York City, the Aragon Ballroom in Chicago, and the Orpheum Theater in Los Angeles.  In 1965, the band began a long series of  engagements at the Dunes Hotel in Las Vegas.

    Russ' most famous recordings were made for Decca from 1938 to 1958, including such popular discs as Dance with a Dolly (With a Hole in Her

Stocking), There Goes That Song Again, and Sentimental Me. 

    In 1949, alone, nine of his records entered the top 20, including Cruising Down the River, Sunflower, Forever and Ever, and Johnson Rag.   

    "If you are referring to dad's music, as such, strictly, of course, dad was known as one of the 'sweet bands,'" Jack noted.  "However, with due respects, I have probably, since I've taken over the band, I've made it more of a little potpourri of everything."   

vital stats:

given name:    Russ Morgan

birth:   Apr. 29, 1904, Scranton, PA

death:   Aug. 7, 1969, Las Vegas, NV

family heritage:   Welsh

father:   Eli, a foreman at a coal mine

mother:   former vaudeville pianist

education:   public schools

wife:   Shirley (Gray), m. 1939

son:   David, b. 1939

son:   Jack, b. Aug. 4, 1940

daughter:   Judy

daughter:   Patty

memberships:   ASCAP, 1939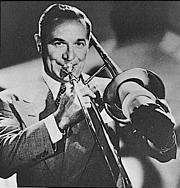 2004 marked the 100th anniversary of Russ Morgan's birth, and Jack and the band have continued to play to appreciative audiences.

    "It's just good old music that everybody can sing along to, they know all the tunes," he stresses.  "You could spend four hours on a dance with us and I doubt very much if you'd hear one or two songs that you couldn't even give the title to."

    "I used to be an exhibition ballroom dancer myself, so I enjoy all forms of dance.  If it's a dance of any kind, we can do it now," Jack reports.  "I probably have the largest Latin library in our book, for an American band.  We can swing like crazy, as far as the Latins go.  So today, we're doing it all."

    Just as it's always been, who can resist?

recommended new recordings

in the Morgan manner - select list:

Second Hand Rose

Danke Schoen

Dear Heart

Red Roses for a Blue Lady

Spanish Eyes

medley: Sweet Caroline / Bad,

    Bad Leroy Brown

The Love Boat Theme

medley: Say, Has Anybody Seen

    My Sweet Gypsy Rose? /

    Tie a Yellow Ribbon ('Round

    the Old Oak Tree)

    How true was that description of Russ Morgan, when he was called 'the old coal miner from Pennsylvania'?  Was he really a coal miner, or was that his father?

    "Yes and both is the answers," Jack said.  "Dad worked for his father, Eli Morgan, at the bottom of the Truesdale Mines in Nanticoke, Pennsylvania when he was 8-1/2 years old.  He developed bronchial pneumonia -- very sick, both lungs -- and as a result of that, the doctor told his parents that he should pick up a wind instrument (a brass instrument) to help stimulate the muscles in the lungs and everything else and get him back into shape.  That's exactly how he started playing trombone.  So it's kind of an ironic thing how it all started, but he definitely was a coal miner for a short spell."

sources:

"Jack Morgan & the Russ Morgan Orchestra,"

    russmorganorchestra.com

Popa, Christopher.  Interview with Jack Morgan, Mar. 10, 1983.

Whitburn, Joel.  Pop Hits: Singles and Albums 1940-1954

    (Menomonee Falls, WI" Record Research, Inc., 2002).

    How did Russ' famous wah-wah trombone sound come about?

    "As so many things do," Jack observed, "it was an accident.  Dad was working with the Ted Fio Rito band years ago, even before Freddy Martin.  And I think at that time, he was probably playing third trombone in this very large band.  He was sitting right alongside of a trumpet player.  So they were all swinging and the band was cooking real good, and he reached down to grab a mute of his.  You know, in those days, they didn't have mute holders and fancy, sophisticated racks like we do today.  He reached down to grab his mute, and, by mistake, he grabbed a trumpet mute.  It was too late to change, so he threw this trumpet mute in the horn, stood up, and [makes noise] he got this little, different sound.  So when the set was over, Ted Fio Rito came over to dad and said, 'Hey, I like that!  Leave it in,' and dad said, 'Nuts to you!  That'll be my gig later,' you know."

    It wasn't a made-up story, it really happened.

    "That's the truth," Jack pledged.  "That's exactly how it happened."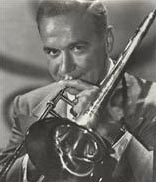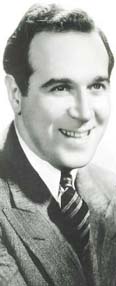 Jack has been leading the band for some 35 years, but first was a sideman with his father's group.

    "Right, I worked for dad," he responded.  "I joined him in 1958, I was 17-1/2 years old."

    Actually, fresh out of high school, he almost took another career path.

    "I had a scholarship to go to UCLA as a football player," he recalled.  "That's all I wanted to do was play football, and I had a scholarship.  I came home one day and said, 'Dad, sign these papers for me,' and he said, 'What is this?'  and I said, 'A scholarship for UCLA football.'  And, of course, he read me the riot act and he said, 'That's not the way to go and when you're 30 years old, they're going to call you "the grandfather" and you'll be out looking for a new job.'  I got mad... we were living in Los Angeles, and I ran downtown Los Angeles  and I joined the Army.  I said, 'I'll get even with you!'  So I joined the Army, I was in the Army band, the 63rd Infantry Band in Los Angeles, while I was still even a senior in high school.  So the day that I graduated high school," Jack continued, "z-i-p, off I went to Fort Ord for my basic training and advanced infantry training, and while I was doing active duty, they came around one day and said, 'We need some trombone players for the 52nd Army band, the big 6th Army band at Fort Ord.'  So I raised my hand and I said, 'Well, I used to play but I don't know if I can even hold a horn anymore.'  So they gave me about a week to practice.  And I got in the band.  I came home on a pass one weekend.  And I was just home having a vacation, so to speak, and the phone rang and it was one of dad's trombone players.  And his wife was going to give birth that night or something, and he couldn't make the job.  So dad was all panicky, and I said, 'Don't worry!  I'll cover for you!'  So I got my first taste, actually, of the music business while I was still in the Army, on a pass.  And about four months later, I came out... I was discharged and I came out, joined the band, and that's where I've been ever since."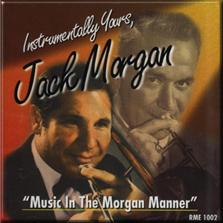 Before starting his own big band, Russ worked with several others.

    "Well, as I mentioned, Freddy Martin," son Jack began.  "But he also, years ago, in the '20s, Paul Whiteman, Jean Goldkette.  And he was a great arranger -- a lot of people don't know -- he arranged for 'Satchmo' (Louis Armstrong).  He even arranged in the 'teens for the John Philip Sousa orchestra . . . he didn't march with 'em, but he was writing for them."

    Another group Russ played with in the early days was located in his hometown.       

    "Scranton is absolutely right," Jack nodded.  "There was an old, kind of a dixieland band, called the Scranton Sirens.  At one time or another, I think, almost everybody of that era who later became a bandleader himself, had gone through and worked with the Scranton Sirens.  Both Jimmy Dorsey, Tommy Dorsey, I believe Bix Beiderbecke, you could go on forever... Chauncey Morehouse, names that you probably don't know, because I barely do myself.  It was a fantastic band, and when one guy would leave... Tommy Dorsey, I think was there was first, Tommy Dorsey left and dad came in, so there was just star after star...

stars-to-be, you know.  I don't know why Pennsylvania seems to have been a real source for so many great musicians, leaders and sidemen both." 


     Russ Morgan was also a prolific composer. 

    "Dad has about five or six which you can really call 'standards' now, today," Jack explained.  "The theme song of our band is Does Your Heart Beat for Me?.  He wrote that.  Probably his biggest, the most successful tune, is You're Nobody 'Til Somebody Loves You . . . Roberta [Sherwood] was one of the first people to recognize that song as being a good song.  She recorded it, it was a big hit for her, and we were very grateful.  Somebody Else Is Taking My Place dad wrote while he was up in New England, and he gave it to Peggy Lee; Peggy Lee recorded it, that was a big song for her.  So Tired was written in St. Louis, at the Chase Hotel; he gave that to Kay Starr.  Kay Starr recorded it, it was her very first hit recording.  So, in almost every case, the big tunes that dad wrote... he only wrote music, he never wrote a lyric.  So he wrote the melody and he would give it to a lyricist, they would put the words to it and then they would farm them out to an

up-and-coming star, at that time, and, together, it was a very nice marriage."

    After several decades, those songs remain an integral band of the Russ Morgan Orchestra's performances.

    "We better stay with those, for sure," Jack remarked.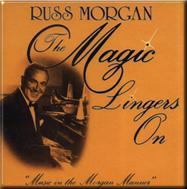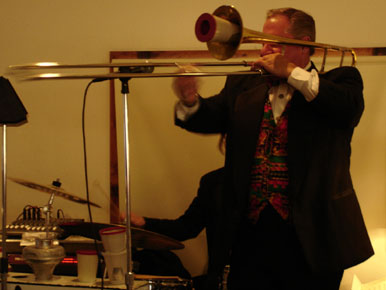 Since he seemed in good spirits, I commented that he must be enjoying himself on the road.

    "No, it's snowing and I'm cold and I'm numb," he joked.  "I think I'm nuts."

    Luckily, the Cavalcade's itinerary was filled with cities in warmer climates, followed by cruises aboard Holland America and Sitmar ships. 

    "This is the first time now that we've had cold weather since... we had one day in Hobbs, New Mexico that Mother Nature threw us a curve, but other than that, it's been great," he reported.  "We started up in San Francisco and we went through California, and it's been kind of a tour of the outer perimeter of the United States.  We followed California, Arizona, New Mexico, Texas, Oklahoma, Arkansas, Louisiana, Mississippi, all over through Florida, and then up to Georgia and the Carolinas, Baltimore, all the way up to Providence, Rhode Island.  Now we're working our way back, across New York, Pennsylvania, Ohio, and, as I said, this does end, I think, the 24th of March in Millbank, South Dakota." 

    By 1983, for example, not only had Jack introduced fresh sounds into the band's appearances, but there were new outlets for their music.

    "Well, for the very first time ever, we started this year doing 'The Big Band Cavalcade,'" he noted.  "It started January 18th, it's been solid one-nighters.  I think we'll have a total of four or five days off since January 18th until the 24th of March.  Right after that, we pick up again with my own band and we travel all over the United States.  I go until July 11th, [which] will be my first vacation this year.  I take three weeks off, we come back again and we do the rest of the whole year.  So I couldn't work anymore... I'm working too much now, according to my wife [laughs]."