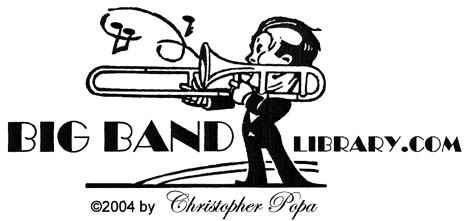 The big bands are back

in a new and exciting way!

JUNE 2012

"BIG BAND NEWS"

compiled by Music Librarian CHRISTOPHER POPA

AN ALL-GLENN MILLER ISSUE!  

IN FORT MORGAN

    The town of Fort Morgan, CO also celebrates the life and career of their favorite son with the Viareo Glenn Miller SwingFest on the 21st through the 24th of this month.

    Highlights of that weekend include a dance by the Miller band, a 1940s-type dinner show with vocalist Lynn Roberts, a presentation about Miller at the U.S. History Military Museum, and a 5K walk / run known as the "Little Brown Jug race" through Riverside Park.

    Ticket sales to the Fest raise money to provide scholarships to The School for Performing Arts in Fort Morgan, so that, according to the Fort Morgan Times newspaper, "no child is precluded from gaining an appreciation of the performing arts because of lack of funding."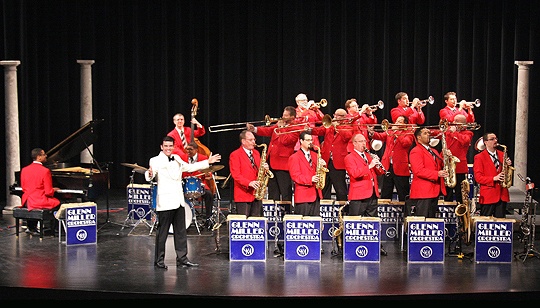 Today's U.S. Glenn Miller Orchestra.

Photo courtesy of Glenn Miller Productions, Inc.

ACROSS THE UNITED STATES

Glenn Miller Orchestra directed by Nick Hilscher.  June 1, Orpheum Theatre, Witchita, KS;

    June 4, Derby Dinner Playhouse, Clarksville, IN; June 6, Forest Lake Area High School,

    Forest Lake, MN; June 8-9, "Glenn Miller Birthplace Festival," Clarinda High School,

    Clarinda, IA;  June 11, Coleman Theatre, Miami, OK; June 13, Poncan Theatre, Ponca

    City, OK; June 14, McMahon Theatre, Lawton, OK; June 15, TCC Van Treace Pace

    Auditorium, Tulsa, OK; June 16, Rose State Performing Arts Center, Midwest City, OK;

    June 20, Sevier Valley Center Ecces Theatre, Richfield, UT; June 21, Capitol Theatre,

    Salt Lake City, UT; June 22, Steamboat Springs High School, Steamboat Springs, CO;

    June 23, "Viareo Glenn Miller SwingFest," Fort Morgan Airport, Fort Morgan, CO; June

    24, Platte Valley Community Center Theatre, Saratoga, WY.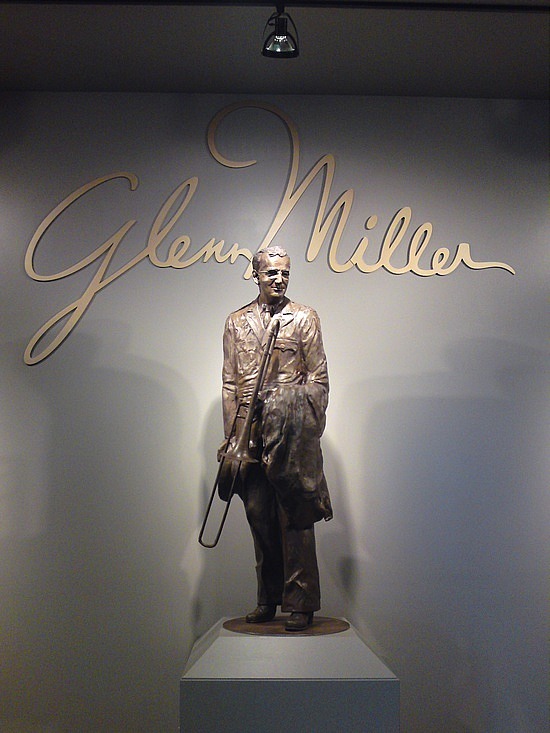 IN CLARINDA

    Visitors from around the world will converge on Clarinda, IA for the 37th annual "Glenn Miller Birthplace Festival," being held on the 7th through the 10th of this month.

    Featured events include tours of The Glenn Miller Birthplace Museum and The Glenn Miller Birthplace Home, two appearances by The Glenn Miller Orchestra directed by Nick Hilscher, a panel of Miller experts answering audience questions about him, and historical displays.

    The Museum held its grand opening in 2010 and is continuing fundraising for computerized, interactive exhibits.  As part of the Birthplace Society, a 501(c)(3) organization, charitable donations to it are tax deductible.

    Iowa Public Television (IPTV) recently taped a segment about the Museum for its popular "Iowa's Simple Pleasures" program hosted by Dan Kaercher.  It will be broadcast two additional times on the 2nd of this month over IPTV.

A statue at The Glenn Miller Birthplace Museum.

Image courtesy of The Glenn Miller Birthplace Society.

HAPPY BIRTHDAY TO YOU

Whitey Thomas, b.June 29, 1920.  Trumpeter with Miller AAF '43-'45; Miller Orch.-Beneke

    '46-'50.

NECROLOGY

George Price, 85, d.6/9/2012.  French horn with Kenton '51.

Ann Rutherford, 94, d.6/11/2012.  Actress including "Orchestra Wives" with Miller, '42;

    and "Dancing Co-Ed" with Shaw, '39.

Larry Barnett, 98, d.6/11/2012.  Booking Agent for Music Corporation of America (MCA)'s

    talent agency in 1930s-40s; served as President of MCA in 1960s.

NEW IN-PRINT AND / OR ONLINE

Max Davidson.  "Glenn Miller's last concert: a home with a musical history," [ London,

    England ] Telegraph, June 15, 2012.  A house where it is claimed that Miller gave his

     "last ever private performance" is up for sale.

Bob Hind.  "Footage of Glenn Miller at Southwick House sought," [ Portsmouth, UK ]

    News, June 9, 2012.  Looking for film footage of Miller's AAF band from August 4,

    1944.

"Leyden Returning to Festival," [ Glenn Miller Birthplace Society ] Notes, 2nd Quarter 2012,

    p.3.  Leyden, 94, one of the arrangers with Miller's AAF band and with the Miller

    Orchestra under Tex Beneke's direction, plans to attend the Birthplace Festival this

    month.

"One Man's Quest for the Holy Grail," [ Redhill, Surrey, England ] Croydon Advertiser,

    June 15, 2012.  Brief story about the "first and only Glenn Miller musical staged

    anywhere in the world."

Ed Polic.  "Ask Ed," [ Glenn Miller Birthplace Society ] Notes, 2nd Quarter 2012, p.4. 

    Polic, a Miller expert and author, responds to questions from Birthplace Society

    members.  One topic dealt with Miller's theme, Moonlight Serenade, which went

    through a succession of titles, including Wind in the Trees, Now I Lay Me Down to

    Weep, and Gone with the Wind.

---.  "Praise for Hilscher and GMO," [ Glenn Miller Birthplace Society ] Notes, 2nd Quarter

    2012, p.2.  Polic recently wrote to Charles DeStefano of Glenn Miller Productions, which

    owns and operates The Glenn Miller Orchestra, and to Marvin Negley, the President of

    The Glenn Miller Birthplace Society, giving his impression of the band under Nick

    Hilscher's leadership.  "Overall, I was VERY pleased with the band and with Nick," Polic

    stated.

"Two Different GMO Concerts Offer Different Music," [ Glenn Miller Birthplace Society ]

    Notes, 2nd Quarter 2012, p.7.  The Glenn Miller Orchestra will perform two different

    concerts while at The Birthplace Festival.  "Both of the two-hour shows during the

    Festival will contain some of Glenn Miller's big hits and the remaining fifteen or so songs

    will be different in each of the two concerts," it was noted.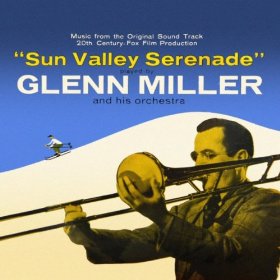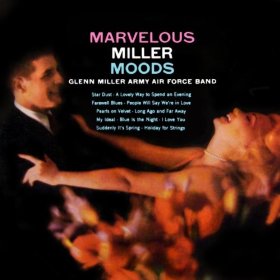 COLLECTOR'S UPDATE

    70 years ago this month, on June 17, 1942, Glenn Miller and His Orchestra recorded four selections for the Victor label at studios in New York City: That's Sabotage, from Miller's film "Orchestra Wives"; Conchita, Marquita, Lolita, Pepita, Rosita, Juanita Lopez, sung by Marion Hutton, Tex Beneke, and The Modernaires; a Jerry Gray arrangement, The Humming - Bird; and the beautiful Yesterday's Gardenias, with a vocal by Ray Eberle and The Modernaires.

    None proved to be big hits, but they are still available, though as downloads, rather than on records or CDs, at  Amazon.com.

    In fact, at this writing, Amazon.com has over 375 Glenn Miller-related compilations or separate tracks, including studio recordings, broadcast material, postwar Miller music, tributes and salutes, and songs in Miller's style being offered. 

    Some artwork shown on Amazon's website will be familiar to  Miller collectors, such as the 10" 1954 "Sun Valley Serenade" album (originally RCA Victor LPM-3064) and the 1957 "Marvelous Miller Moods" (RCA Victor LPM-1494).

   In respectful memory of the son of Glenn Miller, Steven Davis Miller (February 10, 1943-May 25, 2012). My condolences to his family and friends.

    For much of his life, Steven was reclusive, preferring not to capitalize on his dad's fame or to be involved in the music business.  Instead, he served in the Marine Corps from 1961-64 and had a long career as a police officer in the California cities of Arcadia and Monrovia.

    However, starting in the late '70s and early '80s, Steven was present at various celebrations of his father's life and music, such as the annual "Glenn Miller Birthplace Festivals" held in Clarinda, Iowa, where Glenn Miller was born, as well as others which took place California, Utah, and Colorado.  He became the music administrator for his dad's estate. 

    In 1996, when The U.S. Postal Service issued  commemorative stamps of the big band era, including one of Glenn Miller, Steven spoke at ceremonies held at The University of Colorado in Boulder, where Glenn Miller had attended.

    At the time of his death, Steven lived in Las Vegas.

    He is survived by his wife of 42 years, Lonna, and son, Don, of the home; daughters Darlene and Alaina; sister, Jonnie Dee (Miller) Hoffman of La Jolla, California; and cousins John Miller of England and Alan Cass of Colorado.

    Funeral services were private.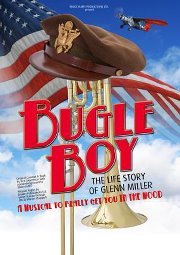 IN THE UNITED KINGDOM

    Last summer, Bruce James Productions was casting for a new stage musical, "Bugle Boy: The Life Story of Glenn Miller," based on an original concept by playwright Den Stevenson.  In recent months, it has been presented at various theatres around England.

    Stevenson came up with the idea in the late 1970s, while he worked as a booker for a band led by trumpeter Herb Miller, one of Glenn Miller's brothers. 

    "Whenever I write I hear - honest to God - the voice of the person I am writing about," Stevenson says. 

    His production premiered in 1992, but, because of disputes over the use of the music, it was shelved until 2004.

    "By now, I should be bored with it but every time I see it I feel Glenn's prescence," he comments.  "It is as if he is standing at my shoulder."

    The version now on tour in the UK uses a live, 16-piece band.

    Meanwhile, Tony Eaton, Miller expert and longtime member of the now-defunct Glenn Miller Society and regular contributor to its journal, the Moonlight Serenader, continues to be a guest speaker at various social clubs and organizations.  His talk on the 12th of this month, "The Curious Disappearance of Major Glenn Miller," will be given to the North East London Group Committee, when they gather at Bishop's College in Cheshunt.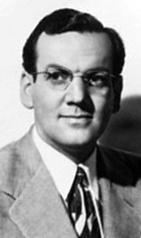 May They Rest in Peace

Glenn Miller (1904-1944)

Steven Miller (1943-2012)

Helen Miller (1902-1966)

read the first part of Christopher Popa's Glenn Miller biographical sketch

read the second part of Christopher Popa's Glenn Miller biographical sketch