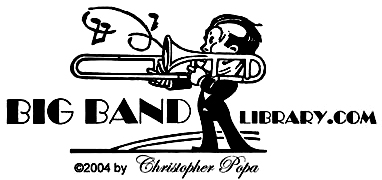 VINCENT LOPEZ

"Lopez Speaking"

by Christopher Popa   January 2005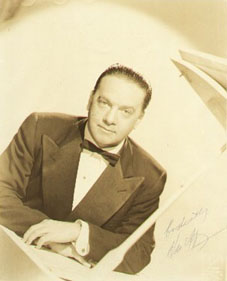 Since he led bands for 57 years, Vincent Lopez should,

more than anything, be credited for his longevity in the music business.

    "My feeling is he kept up back then with the times," his son, Vincent Lopez, Jr., told me recently.  "He was pretty much ahead of his time in some areas, being . . . one of the first to record on records, one of the very first to broadcast live on radio... just a lot of different things.  It was a new era at that time, and a lot of new inventions were taking over, and so I think he was at the forefront of that, for a while.  And then, of course, his longevity at the Taft Hotel in New York."

vital stats:  

given name:   Vincent Lopez

birth:   Dec. 20, 1895, Brooklyn, NY

death:   Sept. 20, 1975, Miami, FL,

    complications of a stroke

heritage:   Portugese-American

father:   Antonio Lopez, a piano teacher

mother:   the Baroness Gonsalvo, known

    to the family as "Virginia"

sister:   Marie

education:   (at age 12) became a

    confrater at Passionist Fathers'

    Monastery, Dunkirk, NY; (age 16)

    Kissick's Business College (local

    business school, to learn bookkeeping

    and stenographic skills)

wife:   Mae Kenney, m. 1916?, separated

    ca.1917, d.1941

daughter:   Kay

second wife:   Betty Long, a nurse, m.

    1944?

son:   Vincent Jr., b.1944

honors:   U.S. Treasury Dept. citation for

    selling U.S. bonds; star, Hollywood Walk

    of Fame

hobbies:   numerology; stamp collecting;

    writing

memberships:   ASCAP, 1941

residence:   south Florida (late 1960s-

    early '70s)

sources:

The ASCAP Biographical Dictionary of Composers, Authors and Publishers

    (New York City: ASCAP, 1966).

Bennett, Joseph E.  "The Vincent Lopez Years," Joslin's Jazz Journal, May 2002,

    pp.4-9.

Garrod, Charles.  Vincent Lopez and His Orchestra (Zephyrhills, FL: Joyce Record

    Club, 1994).

"Pioneer band leader Lopez is dead at 80," Canton, OH Repository?, Sept. 1975.

Popa, Christopher.  Interview with Vincent Lopez, Jr., Dec. 2, 2004.

"Vincent Lopez," International Musician, Aug. 1956, p.13.

Whitburn, Joel.  Joel Whitburn's Pop Memories 1890-1954: The History of American

    Popular Music (Menomonee Falls, WI: Record Research, Inc., 1986),

    pp.282-283.

send feedback about Vincent Lopez: "Lopez Speaking" via
e-mail
return to Biographical Sketches
index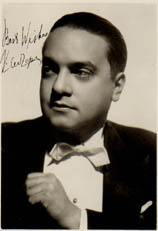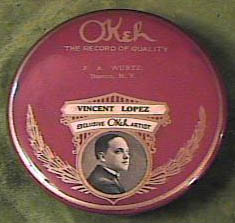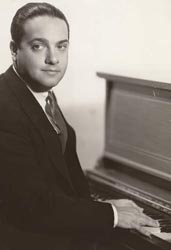 Vincent's career lasted into the early 1970s.

    "He was very personable," he said.  "He was a very vibrant personality.  I think that's what kept it going, for years.  Almost to the end... of course, his eyesight was failing towards the end, so he could hardly see the music.  Most of it was memory, and so at that point, it was time to go, time to give it up." 

    Originally, Vincent was expected to join the priesthood.

    "That's absolutely correct," Lopez Jr. confirmed.  "He always liked music... he played piano, took lessons... that type of thing.  Apparently . . . his mom and dad wanted him to become a priest.  Back then, you did what your mom and dad wanted you to do, or wanted you to become.  I think he tried to obey what their wishes were.  Obviously, it didn't pan out, so he probably relied on his second love, at that point."

   Vincent's band offered basic, pleasant sounds.

   "I think it basically was a little bit of a society-slash-sweet band.  Sometimes if you listen to Lawrence Welk, it's almost the same style," Lopez Jr. commented.  "I think if you were to watch the old films on television, from the '30s and '40s, where the scene is shot in a nightclub, most of the time they don't have swing bands there.  They would have this society band or sweet band, you know what I'm saying?  It's hard to really explain that . . . I mean, Guy Lombardo, he was a sugary-sweet band.  I remember talking to Guy many years ago and his brother, Lebert.  I was just curious about their success and he said, 'We really never had any intricate arrangements.  It was always the melody, and that was it.  The people like

. . . to hear the melody!'"

    At one point, Lombardo was a rival to Vincent.

    "When Guy and his brother came to the United States from Canada, they came in at a time, in the '20s, where, yeah, they were pretty much competitors at the time.  At any given time in the '20s and early '30s, my dad had five, six bands out under the Lopez name, much like Lester Lanin had out over the years.  There were different leaders, and so a lot of society events... like at Newport, there would be a 'Vincent Lopez Orchestra,' under the direction of ---.  When Lombardo came in, he almost captured the same kind of... I'm not going to say 'society sound,' but it was a sweet sound.  I would assume it did knock into some of the business, yes."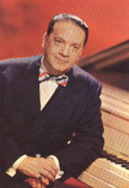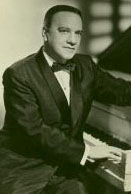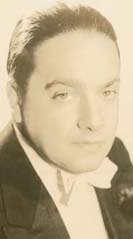 Today, carrying on the musical tradition is Vincent's son, 60, a trombonist, who, interestingly, never played in his father's group.

    "Back in the '60s or so, I was a young guy.  I didn't want to be tied down to a shlocky band.  I went out... I was doing things on my own, going with other bands and playing with other bands.  It never occured to me to play in my dad's band," he stated.  "Hindsight's 20/20, you know.  And back then, I thought it was a waste of time and nobody wanted to hear this stuff anymore.  And unbeknownst to me, they did.  Do I regret it?  Yeah, I regret it.  But you can't go back, unfortunately."

    Now, as leader of the so-called "Famous Vincent Lopez Orchestra" since its reorganization in 1979, he has to play the tunes with which his father was associated.

    "Well, first and foremost, is Nola," Lopez Jr. pointed out.  "There are a couple songs, after that... today's audiences don't remember that stuff . . . There's several out there, and we probably do maybe one or two of that.  Because once you get past that... Vincent Lopez wasn't like Glenn Miller, where there was a million tunes associated with the Glenn Miller Orchestra.  Once you got past Nola... There's another one we still use (it's the original arrangement, by the way), Isn't It

Romantic.  That was recorded in 1941, I believe, on the OKeh label.  The arrangement was so long, it was two sides to the record, so you had to get half the arrangement on one side, and get the rest of the record on the other side.  The other thing we do... Autumn Leaves, which he recorded for Columbia.  We also do Taking a Chance On Love that was recorded on Coral Records.  But once you get past that, there's nothing that was really saying it was really 'Lopez,' you know what I'm saying?  Like Glenn Miller was Moonlight Serenade.  So people don't request anything much more than the two or three that I already mentioned.  Beyond that, people don't remember [laughs]."

    So that gives Lopez Jr. a lot of freedom.

    "Absolutely," he agreed.  "The style of the Orchestra has changed a hundred percent, because once we do the Lopez 'shtick,' if I may, then we go into Les Brown, we go into Glenn Miller, we go into Benny Goodman - we go into Sing, Sing, Sing, I have a female drummer who plays Sing, Sing, Sing.  It's fantastic."

    Following in the footsteps of his father, Lopez Jr. has had some enviable achievements.

    "We were the house band at the Tropicana in Atlantic City, when they first opened," he noted.  "And we did all their special events down there, and we were down there for... I think we had a contract for a year down there."  

    Since then, the band has backed stars including singer Rosemary Clooney to actress Morgan Fairchild.

    "We got a lot of nice breaks and had a lot of nice jobs.  I'm very fortunate," he acknowledged.  "We still get people today who say, 'I danced to your dad's band in New York City.  My husband and I were married there.  We spent our honeymoon at the Taft Hotel.  I have people come up with pictures they had taken with my dad, on their honeymoon.  Then, over the years, we've done weddings and now we're running into the children of the couples that we married.  We did a wedding... hmm, a couple years ago... the mother and father had pictures taken with my dad at the Taft.  In fact, that's where the reception was.  And I did their daughter's wedding, which seemed interesting, you know - there was two different generations by the same band."

    Was it hard on Lopez Jr., growing up with a famous father, and, especially, being named after him?

    "People would ask me, 'cause I lived in the [Taft] Hotel for a while.  And I thought everybody's father worked in a hotel and everybody lives in a hotel.  And I was kind of shielded, I guess," he responded.  "I really never connected the name until my teenage years, when I was 13 or 14.  I'd say 'Vincent Lopez'... 'Oh, Vincent Lopez, the musician or the bandleader.'  And that's when I would really connect it.  Prior to that, I really don't have a recollection of saying, 'Oh, my dad's somebody special.'"

    However, Vincent got the jump on everyone else by doing one of the first remote broadcasts over radio. 

    "It was a station called WJZ," Lopez Jr. recalled.  "In fact, I have the exact date: it was November 27th, 1921 . . . What happened was, the announcer for the date was late.  The band went on the air, and there was nobody to introduce the band.  My father got up there at the last moment and he said, 'Hello everybody, Lopez speaking.'  And it stuck with him for years.  That became the 'password' synonymous with the orchestra."

    In 1922, Vincent first recorded the bouncy piano instrumental, Nola, and it became his signature tune, always included in any of his appearances.  (He later recut it for a number of different record labels, including stereo renditions on Columbia and Carlton in the late '50s.)

    Lopez Jr. interjected, "While we're speaking of Nola, one of the most-asked questions in the

New York Times crossword puzzle is 'What was Vincent Lopez' theme song?'."

    Having completed long, lucrative engagements at the Hotel Pennsylvania and the St. Regis Hotel in New York City, Vincent was hired in 1941 for the Grill Room of the Taft Hotel there.

    "First of all, it was steady work and staying in the same place, which was great," Lopez Jr. observed.  "The band was done early, and a lot of times back in those days, if you weren't traveling, New York was the mecca of all the hotel bands and of a lot of great musicians . . .

    The band became a big draw, and appeared there (with some interruptions) for more than twenty years.

    "He used to have a contest on the bandstand at the Taft Hotel called 'shake the maraccas,' Lopez Jr. recalled.  "Much like Sammy Kaye, he used to bring up people to shake the maraccas with the orchestra, and he used to give away the maraccas as a remembrance, much as the baton that Sammy Kaye used to give away.  Then there were shows called 'Luncheon with Lopez' - in those days, they had 15-minute shows, broadcasts... and he used to do five or six of those day, in the evening time, and so forth and so on."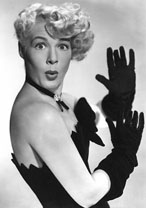 additional examples of Lopez recordings - select list:

What'll I Do   (OKeh, 1924)

I Want to Be Happy   (OKeh, 1924)

Always   (OKeh, 1926)

Swinging with the Goons   (Bluebird, 1939)

Igloo   Betty Hutton, vocal  (Bluebird, 1939)

Concert in the Park   Betty Hutton and Sonny Schuyler, vocal

    (Bluebird, 1939)

The Jitterbug   Betty Hutton, vocal  (Bluebird, 1939)

Kitten On the Keys   (Columbia, 1957)

Medley: Just One of Those Things / You Do

   Something to Me / I Know That You Know / Thou

   Swell / Fine and Dandy / Who   (MGM, 1961)

    Betty Hutton [pictured, l.] did novelty songs with Vincent during 1939, such as Old Man Mose Ain't Dead, Hold Tight, and Cuckoo in the Clock.

    "[She] and her sister both sang with the band at one time.  I believe my dad found them in Detroit," Lopez noted.  "And the other sister [Marion] had left, and Betty had stayed and she had gotten wind... some of the guys in the band had told her that things weren't working out and tonight might be her last night.  So, she figured, what-the-hell, she's gonna act crazy and she started this comic routine and my dad flipped out over it and the people went crazy over it, so he kept her."

    "In talking with different people over the years . . . you don't see your parent that way, but he was quite a ladies' man," Lopez Jr. remarked.  "Of course, he and Betty had a little thing going on there for a while.  I guess that's okay, I guess that's part of the business.  When you're around some people all the time, things happen, you know."

   Not everything turned out as favorably.  Vincent opened his own nightclub in New York City in 1925, to feature his own band in addition to other entertainers. 

    "It was called Casa Lopez," Lopez Jr. stated.  "At the time he had the nightclub . . . he was [also] doing one-night stands, so he wasn't always there.  It's funny... not only my dad, but other people of that time... you have to understand, people of that time... whether they be musicians or bandleaders or singers or vocalists... when they made money, if they made $35 a week, they spent 45 [laughs].  They went through a lot of money.  They lived fairly 'quick' lives, I guess much as the rock stars of today, but on $35 a week [chuckles]."

    But the place burned down less than a year later, and after it

re-opened at a different location, it became a financial disaster and closed permanently in 1928.

    Then there was Vincent's well-intentioned attempt about ten years later to re-write The Star-Spangled Banner.

    "Because it's so hard... if your singers-vocalists today try to sing it, sometimes if you hear them at sporting events, they get it all screwed up, because the notes and the keys were all over the place, he tried to make it simpler," Lopez Jr. commented.  "Of course, the public isn't readily acceptable of changing... that's a national icon, obviously."

    And despite his pioneering work in radio, he didn't find nearly the same kind of long success with the new visual medium, TV.

    "He had his own television show during the 1950s," Lopez Jr. said.  "I believe it only lasted a year or two . . . that was on the DuMont TV network."

    "I think if you listen to the recordings from, of course the '20s and '30s, to probably the last recordings that he had done, you can hear a progression.  It wasn't as sweet.  It wasn't as... what's the word I'm looking for... like, choppity notes that the sweet bands used to use," Lopez Jr. said.  "We're in the process now of putting a CD together.  It's called 'Vincent Lopez: Through the Years.'  We're going to be doing recordings, or actually re-recordings, from the late '30s through the '40s through the '50s, and then it's going to pick up from the second generation of the Lopez band.  There should be, I believe, around 20 or 22 cuts on the CD when it comes out.  We're just about done with it now." 

    Through nightclubs, hotel dining room, vaudeville, Broadway, radio, and records, Vincent relished the celebrity that went with being a popular musician.

    "He loved it," Lopez Jr. said. 

    In spite of chronic health concerns (not to mention rock and roll), he managed to keep his band together for well into five decades.

    "It did pretty well, up until the mid-'60s or so," Lopez Jr. reported.  "What actually happened was . . . we moved from New York to Florida, to Palm Beach, and he actually started a company called Vincent Lopez Entertainment.  We had trios going out, so forth and so on.  It was a weird time of transition, and a lot of the bands back in the mid-1960s were going off the road or even cutting down . . . I guess everybody was hurting because the whole musical tastes of the country had changed."

    The final curtain came a comparatively short time afterwards.

    "We had to put him into a nursing home," Lopez Jr. recalled, "because we couldn't really care for him.  He required 24-hour care."

     I suggested to Lopez Jr. that his father certainly gave a lot of people entertainment, enjoyment, and happiness.

    "Yeah, I think so, too," he said.  "Again, it all reverts back to those special eras, you know.  Back in the '30s when they had the Depression and stuff, the music was what kept the country going.  I think you're absolutely correct, because I run into people all time... older people, of course... who say, 'My God, I remember your being at the [Taft] Hotel there and we had so much joy there and we remember dancing to your dad's music.' . . . Today, you mention 'Vincent Lopez,' they're gonna say one of three things: they're gonna say 'Betty Hutton,' they're gonna say 'the Taft Hotel,' or they're gonna say 'Nola.' . . . when I do jobs, I say, 'Good evening, ladies and gentlemen, Lopez speaking.'  And people remember that."