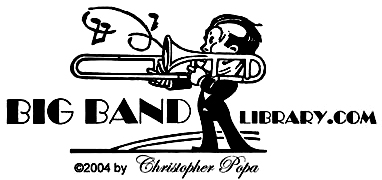 TOMMY TUCKER

"The Fundamental Things Apply"

by Christopher Popa   January 2006

    As Dare related, "One thing I always liked about Tommy was the fact that, for his students, he said he loved having them as music majors, but the smart thing would be to minor in music education, because it was very hard to make a living in music.  And if you have that education background, you could get a job teaching somewhere.  And he almost insisted that every one of his students do that . . . But, you see, Tommy knew how important that was and when television came in and he was up against it, teaching came to his rescue."

    After he left Monmouth College in 1979, Tucker spent much of his leisure time playing cards. 

    "Well, he played pinochle with his dad, but he really became a bridge addict in his last years," Dare recalled.  "He became so good at bridge that I gave it up.  Oh, he was just too serious about it, and I was used to, sort of, 'party' bridge.  But he loved it.  We went to Florence, Italy every year and we rented a condo over there for... I don't know how many years, and he got so that he could play with the Florence bridge club.  They accepted him."

    Back in the U.S., Tucker made a couple guest appearances with a band.

    "When we retired and went to Florida to live, there was a band down there that consisted of former musicians, all with name bands," Dare explained.  "It was interesting, 'cause there were about 8 players but they had each been with a band and they, too, had come to Florida to retire.  And it was called the Melody Booth band.  They were quite big, up and down the west coast of Florida."

    How did they contact Tucker?

    "The Melody Booth band was doing a program called 'A Tribute to Glenn Miller,'" she said.  "They were looking for someone still around < chuckles > to appear, and so Tommy came and so did Clyde McCoy." 

    Tucker's very last public performance was with them in Sarasota, around 1989. 

    "Actually, Tommy performed there, at the Van Wezel concert hall, just a couple nights before he . . . was operated on for open-heart [ surgery ]," she revealed.

    Following Tucker's passing, Dare might have taken life at a slower pace.

    "I feel kind of awful, 'cause I didn't do anything," she claimed. 

    I kidded her that it was ok, since she was retired.  But the fact is, she remains active, sharp, and energetic.   

    "I don't hear too much big band music anymore," she reported.  "I shouldn't say it, but I'm really not into the kind of music that's being put on today."

    Meanwhile, Dare can look back on Tucker's accomplishments with love and admiration. 

    "I think he was most proud of his family, to tell you the truth," she said.  "He was a wonderful father, and a terrific husband.  We were happily married for 50 years, so you can't beat that."

    To paraphrase a famous song, As Time Goes By, the fundamental things applied.  (No wonder it's one of Dare's favorite tunes.)

    His education helped him to become a popular bandleader, and it would lead him to another career several decades later.

    "Each band tried to have a different style, and Tommy was a music major in college and, actually, he was a Phi Beta Kappa, so he was rather intelligent when it came to music," his wife of nearly 50 years, "Dare" Tucker, told me recently.  "We had a sweet band, and we were mainly vocals . . . And we were known, as we came on the air, by 'tic-toc, tic-toc, it's Tommy Tucker time.'"

vital stats:

given name: Gerald L. Duppler

birth: May 18,1903, Souris, ND

death: July 11, 1989,

  Sarasota, FL, heart failure

education:  Bachelor of Arts,

  Univ. of North Dakota, 1924

father:   John L. Duppler

mother:  Emma (Kroll) Duppler

wife: Virginia "Dare" Miller

  Tucker, b.1918, m. Mar.

  24, 1941

daughter:  Trudy Dare Tucker

  Thomson, b.1947

son:  Lewis "Lew" Wiley Tucker,

  b.1950?

son:  Thomas Randall "Randy"

  Tucker, b. Feb. 15, 1954

memberships: ASCAP, 1947-

hobbies: pinochle, bridge,

  ham radio

residences: 583 N. Edgemere

  Dr., Allenhurst, NJ (1950s-           60s); 310 Crosby Ave., Deal

  Park, NJ (1970s); Florida

  (1980s)

    "Every band had to have a way of introducing their numbers on the air," Dare explained.  "Remember... wasn't it Shep Fields and His 'Rippling Rhythm'?  And he did it by taking a straw and just blowing in a glass of water.  We did the 'tic-toc' business by the drummer, you know.  He would go 'tic-toc,

tic-toc' [ by striking the drumsticks on a wooden temple

block ]."

    It was one of Tucker's famous trademarks, setting his

middle-of-the-road dance band apart from others. 

    "And we had an interesting theme song, I think," Dare noted. 

    That was I Love You (Oh, How I Love You), written by Tucker, and eventually waxed on four different record labels, including Brunswick, in 1935, and MGM, in 1951.

    I asked her to identify what else was characteristic of her husband's band.

    "I think the sweet vocals," Dare said.  "They were mainly vocals.  We did do a few instrumentals, but we didn't have too many of them in our charts, because we would open the show with an instrumental and close one with an instrumental.  But mainly they were vocals."

    As time went on, audiences seemed to prefer that the lyrics of a song be featured.

    "Well, I guess Tommy thought so, or he wouldn't have done it," she chuckled. 

    During World War II, the public took comfort in the words to songs, which often evoked loved ones at home or the prospect of peace.

    "I tell you, we were good friends with Irving Berlin, personal friends," Dare said.  "And Irving would call him [ Tucker ] in and say, 'What do you think about this?'  They would discuss the lyrics and stuff, 'cause Irving Berlin really couldn't play the piano very well.  He could just play chords . . . but he was good at lyrics."

    Tucker's music library included several of Berlin's songs; for example, Always, The Girl That I Marry, and I Left My Heart At the Stage Door Canteen.

    "I think that we recorded more Irving Berlin tunes than anyone," she claimed.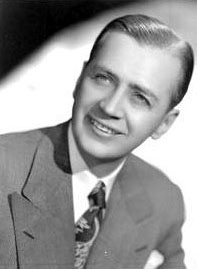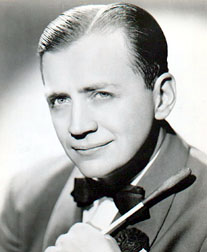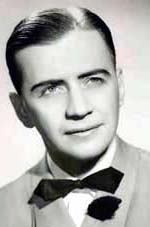 Heavenly, Isn't It?   Amy Arnell, vocal   Columbia, 1942

The Humming Bird   Don Brown, Amy Arnell and Voices Three, vocal

  Lang-Worth transcription, 1942

I Love You (Oh, How I Love You)   Voices Three, vocal  

   Lang-Worth transcription, 1943

How Many Hearts Have You Broken?   Kerwin Somerville, vocal

   broadcast, 1944

On the Sunny Side of the Street   Ben Homer, arranger  

   Lang-Worth transcription, ca.1944  

On the Atchison, Topeka, and the Santa Fe   Don Brown and

  the Voices Five, vocal   Lang-Worth transcription, 1945

Rocky Mountain Lullaby   Madeline Russell, vocal  

   Lang-Worth transcription, 1946

As Time Goes By   Peter Hanley, vocal   MGM, 1952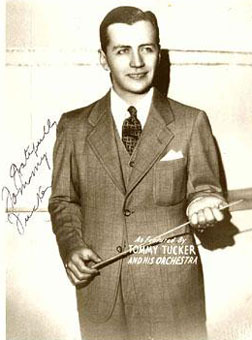 Tucker's career as a musician began around 1925, when he organized a small outfit, with himself on trombone, and played at the local fairground pavilion in Minot, ND. 

    But, according to Dare, Tucker didn't intend on leading a band.

    "No, I think back in those days, it was a way to make some money," she observed.  "It was the only job he could get.  And so he started a small group after college."

    That winter, they were hired as the orchestra for the Breen Hotel in St. Cloud, MN, then were awarded the contract to furnish music during the summer of 1926 at Pettibone Lodge, a popular resort in Detroit, MN.  Afterwards, they went on tour.

    "And he had no way of booking himself around, so he used Western Union," Dare reported.

    Western Union was a telegraph service which dated back to the 1800s, sending messages, for a fee, across the country.  

    As a discography of the band [ l. ] shows, in 1933 the group made their first recordings and, four years later, were signed by Vocalion, which labeled its releases as "Tommy Tucker Time."

sample performances - select list:

The Man That Comes Around   Kerwin Somerville, vocal   Vocalion, 1939

Buds Won't Bud   Al Knapp, vocal   Okeh, 1940

There I Go   Amy Arnell, vocal   Okeh, 1940

Seven Beers with the Wrong Woman   Kerwin Somerville, vocal   Okeh, 1940

You Walk By   Amy Arnell and Don Brown, vocal   Okeh, 1941

I Don't Want to Set the World On Fire   Amy Arnell and the Voices Three,

  vocal   Okeh, 1941

Johnny Doughboy Found a Rose in Ireland   Don Brown, vocal   Okeh, 1942

(1903-1991) was the

original person who used the stage name "Tommy Tucker."

    Photos show the group with Duppler dressed as one of the members of the band, ca.1928.  The man believed to be Bulowski is wearing a different outfit, seemingly in the role of leader.

    Kinkle states that Bulowski had a "lucrative business promoting and booking other bands," and maintains that, after a time, Duppler took over The Californians, as well as the name "Tommy Tucker."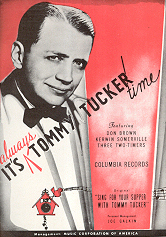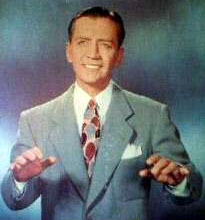 Dare still remembers when Tucker found the love song I Don't Want to Set the World On

Fire, which, surprisingly, became a gold record.

   "Yes, because it was a "B" side," she pointed out.  "We usually did a recording session, we made four sides."

    Bands typically made four sides during a three-hour session, which was enough to have two

double-sided 78s ready for release.

    "And one was called an "A" side, that was the tune you expected to do something," she said,

"and the "B" side was something you would hope, you know."

    The band recorded I Don't Want to Set the World On Fire for Okeh in June 1941, and it took off shortly afterwards.

    "We were playing at the Berkeley-Carteret Hotel in Asbury Park, New Jersey," Dare recalled.  "And we certainly didn't expect that... we never figured it out.  I don't know yet why it was popular.  Tommy didn't know.  But it hit!"

    Along with the love songs, Tucker's band played novelties, such as The Man That Comes Around.

    "Yes, it's interesting in a way, because that song... oh, he wrote that before I came along.  He wrote it in the late '30s, I guess, and it was a comedy song and we included it in every one of

our [ shows ]," she reported.  "It's funny to me, but I still get a small check every month, for the performance of The Man Who Comes Around and it's in Britain, all in London.  It's never played here, but it is in Britain!  Isn't that wild?"

    I also asked about one of Tucker's personal favorites, That Old Sweetheart of Mine, which was based on a poem by James Whitcomb Riley, which Tucker had studied in grade school and greatly enjoyed.  A nice title, but I guess it wasn't adapted with Dare in mind.

    "Yeah, I was hoping, too," she laughed.  "It was written about the same time I came along, because... I just remembered, we carried three arrangers with us, and Tommy arranged that himself.  That was what he loved to do: he loved to compose and arrange."

    It was an ability that not every leader of a big band had.

    "You're correct," she said.  "A lot of the leaders depended on their arranger to do their tunes."

    Tucker preferred that his music stuck close to the melody.

    "He didn't do much improvisation," she agreed.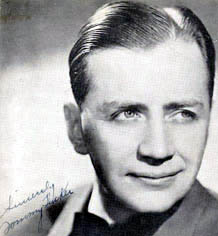 Tucker enjoyed the celebrity that went with being a popular bandleader.

    "He didn't mind any of the public appearances, no, no," Dare reported. 

    In fact, by the time he and Dare met, he had set down his trombone, instead concentrating on rehearsing and conducting the ensemble.

    "He didn't specialize in any one instrument," she said.  

    Still, he maintained a set of standards for the musicians in his band.

    "He wanted a man that could read," she began.  "And if the fella couldn't read, he wasn't hired."

    There was also a policy against drinking.

    Among the musicians with Tucker's band, at various times, were Clarence Hutchinrider, who played clarinet in the early years, before he joined Glen Gray's Casa Loma Orchestra in 1931; arrangers Van Alexander, Claude Hopkins, Ben Homer, and Gerry Mulligan, who were commissioned to write charts in the mid-'40s; and trumpeter Danny Davis and tenor saxophonist Cliff Hoff, who played in the band during the following decade.  Unfortunately, other than Alexander, who is age 90 at this writing, time has taken its toll on the list of sidemen.

    "There's only about one, that I know of, still living," Dare reported. 

    She's referring to Bud Lilly, a tenor saxophonist, with the band in the mid-'40s.

    "I do try to keep in touch with him," she said.

    Also believed to be still living is the wife of Tucker pianist Hal Dorfler (who changed his name to Dennis).

    "June's still alive.  I think I talked to her about a year ago," Dare said.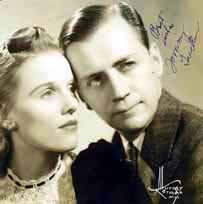 Vocalists featured by Tucker included Kerwin Somerville, who doubled on baritone saxophone and was present for over a dozen years, starting in 1933; Amy Arnell [ shown with Tucker,

l. ], who joined in 1937 during a tour stop in Portsmouth, VA; and Don Brown, who was hired in 1940 (he and another musician were killed in an auto accident while with the band in May 1951).

    There was also a popular and versatile vocal group.

    "We had three girls and we called them the Three Two-Timers," Dare said.  "And that fitted in with 'it's Tommy Tucker time.'"

    And we can't forget Eydie Gorme, who sang with the band in the summer of 1950, before she switched to Tex Beneke's orchestra.

    "Oh yeah.  She used to babysit for me," Dare recalled.  "She'd take care of [ daughter ] Trudy."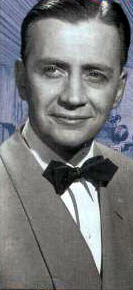 "I guess we were kind of 'prissy,' because we wouldn't allow any drinking," Dare observed.  "Tommy was very much against alcohol [ affecting ] performing.  If a man had a drink before the show went on, he was fined $5.  That was a lot of money then.  If he drank after the job, that was ok, we didn't care then.  But Tommy said if a fellow had to have a drink in order to perform, he wasn't the kind of musician he wanted.  He was very strict about that, and so, I have to confess, we were a little on the 'odd' side.  A lot of the leaders were alcoholics, at that point."

    The personnel of Tucker's band was fairly stable, and I took this to mean that his sidemen were loyal to him.

    "I'll tell you one of the reasons for that," she offered.  "During the War, the men were being drafted like crazy, you can imagine.  And a lot of the other bands were swapping... what I call 'swapping' musicians.  One of our fellows could get a nice bid from, say, Glenn Miller... someone that was above us in popularity.  We devised a plan - Tommy thought of  

this idea of letting a man travel with his wife or child under 6 years of age.  So we started traveling with wives, and it was, like, five wives and four children.  That kept our personnel steady.  You can see why if a man could take his wife . . . and we paid for her hotel.  We didn't pay for the food, but we paid for the man and the wife's traveling expenses, and the children's, too.  We were the only band doing that, that I know of."

    Astute and dedicated management also played a part in Tucker's success. 

    "We had a wonderful agent; his name was Joe Galkin.  And he latched on to Tommy 'way back in the '30s, when he was doing a lot of California work," Dare explained.  "Joe and Tommy never, ever had a contract between 'em, but they got along beautifully and he was our manager until he died, actually."   

   Galkin helped the band get work on the radio, which, during the 1930s and '40s, was one of the prime mediums of entertainment.

    "Well, that was all they had, it was all we had," Dare said.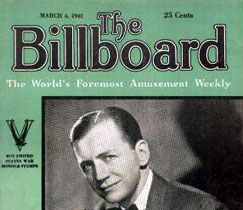 Tucker and his band were on the "Fibber McGee & Molly" radio show in early 1936, and the "George Jessel Show" in 1938.

    "Yes he was, but that was before my time, though," she confirmed.  "I don't take credit for any of this, because he did it before I came along.  We were married in 1941," she reminded me.  "I was younger than Tommy, and I grew up listening to the radio when I was a teenager, and I fell in love with his theme song, and that was the one I mentioned, I Love You (Oh, How I Love You).  So, when I met him, you know, I thought it was wonderful.  I still don't know why he married me, but he did."

    How did they get together?

    "I was an actress.  I was on Broadway for a couple years," she reminisced.  "Our show closed... I was in a show called 'What a Life.'  It was about Henry Aldrich, which became a radio show.  We ran for 2-1/2 years, but after we closed, I was still looking around for another job.  The only money I was able to make at that time was I was doing commercials, radio commercials.  You see, television hadn't come in yet.  I was doing commercials, and I did some modeling, and about that time, I met him.  He was playing in New Jersey." 

    That would be at the Berkeley-Carteret Hotel.

    "I . . . really wanted a record of his theme song and so I barged up and asked him for it," she continued.  "And he said why didn't I write his fan club and they would tell me where to get a record.  In about two weeks, I got up my nerve and I wrote him a letter.  And, bless that, if he didn't call me up in about two weeks to tell me he had the record and he'd like to bring it to me.  I was scared, so I told him I was busy.  I was too scared to see him.  And he called me again, and so I went out with him, that time . . . We were together for about a year, and then I decided I'd have to give up my career if I wanted the marriage to work, and that was more important to me than anything else.  And so I gave up my career and started producing his show, because I had learned a little bit about that.  I graduated from the American Academy of Dramatic Arts in New York, at Carnegie Hall.  I had been given lessons in producing, so I knew a little bit about it.  And at that time, theaters became important for bands, not just dance halls and parks and all, but a lot of theaters."

    On their itinerary were, to name a few, the Strand Theatre in New York City; the Adams in Newark, NJ; the Earle in Philadelphia; and the Oriental in Chicago.  

    "So we did many, many, 5-shows-a-day, for years, and we liked playing theaters 'cause we'd usually play them for about 2 weeks."

    What she means is the band could settle down in one spot for a while between its

one-nighters which stretched from New York to California.

    "Yeah, for two weeks," she quipped.  "We didn't have children for eight years.  We were busy, it was during the War and we were playing every Army camp and every Naval base in the country, I think.  And the interesting part that you might note is the fact that we didn't get paid for these."

    The band fulfilled an important role by performing in front of the service personnel.

    "Uh, yes, I think it was a great part of the entertainment that everybody needed at that time," she reminisced, "because we would play for, maybe, 20,000 young men.  I'll never forget... I was producing the shows at that point... I would have a crazy, very weak stage built quickly out of wood, and I would always be afraid that the drummer was gonna get carried away and, during one of his solo times, he'd pump away too much at the stage and the stage would fall down.  I used to worry about that, but it was a great thrill for us to play for the young men.  That was, sort of, our contribution.  And Tommy was too old, at the time, to be in the service."

    How hard was it for the band to get from place to place while the War was on?

    "We accepted coupons -- gas coupons," she revealed.  "And so the gas coupons gave us enough gas for our bus.  We had hired a bus from Greyhound, at the time, and, of course, had it outfitted for our specifications and had the name of the band on the side.  That was publicity as we traveled around, you know.  I think all the bands did that."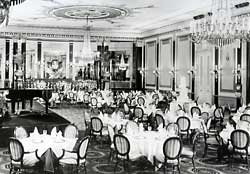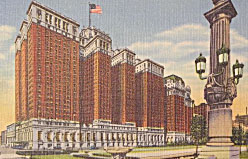 Hotel engagements also provided a respite from the rounds of one-nighters, including a couple in Chicago.

    "One of our favorite places... and my favorite place... I hope it's still there... is the Empire Room of the Palmer House [ pictured l., top ]," Dare commented.  "Is that still there? . . . And I loved the Palmer House.  I loved something about that room, I can't describe it now.  But I thought it was the most beautiful place to eat, and, as the leader, of course, we were given a beautiful suite in the hotel and, at that time, it was on the top floor. "

    But while the Windy City gets mentioned as having one of her favorite spots, it also was home to one of her least favorites.

    "There was also a hotel that we played every January, and I just hated it.  That was called the Stevens [ picture l., bottom ]," she said. 

    Why did she hate it?

    "'Cause it was so cold," she responded.  "How can you stand it?"

    Other hotels where Tucker's band performed included, at various times, the Essex House and the Astor Roof of the Hotel Astor in New York City; the Downtowner in Detroit; and the Ainsley in Atlanta.

    "We later did a radio show called 'Sing for Your Supper with Tommy Tucker.'  That was in the late '40s," she specified.  "And we were promised and hoping that 'Sing for Your Supper' would go on television, but through some... you know how a lot of the political stuff is... we didn't get it.  And pretty soon, television took over, and that was the downfall of the big bands.  No one went dancing anymore, they didn't go to the theaters.  They stayed home and watched the 'new box,' you know." 

    In the '50s, Tucker appeared on a few tv shows, such as "The Kate Smith Show," "Cavalcade of Bands," "Arthur Murray House Party," and "Strike It Rich."

    "I just think Tommy enjoyed music," Dare commented.

    Yet, Tucker, though personable, didn't have anywhere near the success with television that, for example, Lawrence Welk had.

    "I know," she observed.  "And he was a North Dakota fellow, too - Welk was."

In His Own Words

    ". . . I came to a fork in the road.  The left fork would take me to an open highway where I had spent a quarter of a century of endless miles and sleepless nights as we jumped from one city to another, the task of setting up the band, playing the job, packing up the instruments early in the morning, and getting on the bus to continue ever onward; but the fork to the right took me to the college and home every night."

                                - Tommy Tucker, 1981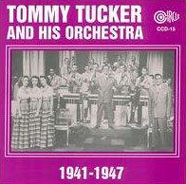 The band business had been ailing for a number of years. 

    "In the '40s, we were really working.  In the '50s, television came in and it killed us," she reflected.  "And we did a European tour in 1954, I believe it was.  But we came home, and, by this time, we had two children.  And the business was really falling apart."

    So, after having been in the band business for some twenty-five years, Tucker, following an engagement at the Shoreham Hotel in Washington, DC in May 1958, decided on a different direction.

   "He . . . became a professor of music at Monmouth College in New Jersey," Dare said.  "He opened up a music department there at Monmouth, and he was a professor for 20 years, until he retired."

sources:

1925 Dacotah, The (University of North Dakota, 1925), p.51.

Bennett, Joseph E.  "Tommy Tucker: A Musical Icon," Joslin's Jazz Journal, Feb. 1996, pp.9-13.

Folkart, Burt A.  "Tommy Tucker: Mellow Leader in Big Band Era," Los Angeles Times, Jul. 15, 1989.

Garrod, Charles.  Tommy Tucker and His Orchestra (Zephyrhills, FL: Joyce Record Club, 1990).

Kinkle, Roger D.  "Tucker, Tommy," in Leading Musical Performers (Popular Music and Jazz) 1900-1950:

  2150 Biographies updated to 1996 With Additions and Corrections Volume III (Mt. Vernon, IN: Windmill

  Publications, Inc., 1999), p.321.

Social Security Death Index.

"Tommy Tucker Dead; Band Leader Was 86," New York Times, Jul. 13, 1989.

"Tucker, Tommy," in Who's Who in America: Vol.26 1950-1951 (Chicago: The A.N. Marquis Company, 1950),

  p.2784.

"Tucker, Tommy," in Who's Who in America: 38th edition 1974-1975 Volume 2 (Chicago: Marquis Who's Who,

  Inc., 1974), p.3117.

Tucker, Tommy.  Liner notes, "Tommy Tucker and His Orchestra 1942 - 1947," Circle Records CLP-15, 1981.

Tucker, Virginia "Dare."  Interview with the author, Nov. 27, 2005.

U.N.D. Alumni Magazine, The, Apr. 1926, p.13.

U.N.D. Alumni Magazine, The, June 1926, p.12.

Whitburn, Joel.  Joel Whitburn's Pop Memories 1890-1954 (Menomonee Falls, WI,: Record Research Inc., 1986),

  p.425.

send feedback about Tommy Tucker "The Fundamental Things Apply" via
e-mail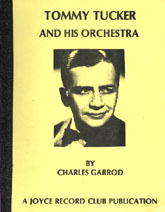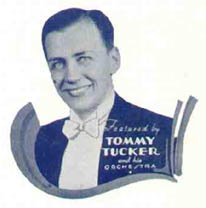 "And he would wire a chamber of commerce in Arizona or Texas or somewhere, and say that he had a group and would like to play there.  That was the way he [ found work ].    He didn't have an agent in those days," Dare related. 

    Details are sketchy, but it likely was then when he "combined" with Joe Bulowski, to form a 9-piece band they called "The Californians."

    "He then ended up playing mainly in California," Dare continued.

    According to author Roger D. Kinkle, Bulowski