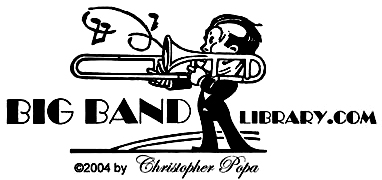 "He would not record anything that wasn't something that he wouldn't be proud of," Reynolds commented.

   1955 proved to be an important turning point for Tommy - after a tour of dates in Canada with comedian Bob Hope late that year, he decided to get off the road, and spent nearly all of the remaining 30 or so years of his life working for RKO in various capacities. 

    First, he became a house musician for the "Ted Steele" show on WOR-TV in New York City, and served for a couple of years as Producer of "Bandstand U.S.A.," a live jazz show which aired Saturday nights on the Mutual radio network.    

    In 1957, he joined RKO's flagship radio station, WOR-AM in New York City, as Music Director.

    Around that time, Tommy recorded Back From Eternity (from the 1956 RKO movie of the same name) and Sometimes I Wonder, as a 45 rpm single for the RKO-Unique label [ #359 ].

    By 1959-60, he became Director of Operations at WOR's TV station, and only made infrequent appearances leading a band or a small combo. 

    He went on to be named the first General Manager of WOR-FM. 

    "The last time I saw Tommy, I was playing with another band from New Haven," Swerling recalled.  "He lived in Danbury, Connecticut.  He moved there permanently, and I hadn't seen him since the New York days, after I got out of the service."

    At the time of his death in 1986, Tommy was Director of Broadcast Standards for RKO General, Inc.

    "He was an honest individual," Reynolds stressed, "who believed in all the right things."

    What other personal qualities did Tommy have that helped to make him a success?

    "He was quite a perfectionist," he responded.  "He was not a 'conniver,' if you know what I mean.  He said things the way he believed things.  He didn't try to exaggerate the truth, or however you might want to do." 

    "Tommy was a nice person," Swerling amplified.  "He was a nice guy.  I liked Tommy very much.  We were very friendly."

    What can Reynolds tell about Tommy's wife, Alberta?

    "She was from Braintree [ just south of Boston ] . . . She just recently died," he revealed.  "A couple of my brothers and sisters were in touch with her occasionally."

    Hopefully, those still around, along with younger generations who know of Tommy and his life, can keep the memories going.

    Personally, I would recommend listening to his recordings of Two Guitars, made April 17, 1940 for Vocalion, or I Don't Want to Cry Anymore, done July 25, 1940 and issued on Okeh, as examples of Tommy's band at its best.

    "Well, I think he'd like to be remembered as a musician who played good music, and really enjoyed presenting good music to the general public," Reynolds concluded. 

    "We need to preserve this era of music," Galasso Jr. urged.  "What a glorious era that was, wasn't it?"

    Based on those remarks alone, it appears that Tommy's legacy is in good hands.

Sources:

"Deaths: Tommy Reynolds," Broadcasting, Oct. 13, 1986, p.102.

Feather, Leonard.  The New Yearbook of Jazz (New York City: Horizon Press, 1958), p.144.

---.  The New Edition of the Encyclopedia of Jazz (New York City: Horizon Press, 1960), p.395.

Galasso, Frank Jr.  E-mails to author, Feb. 13 and Feb. 22, 2006.

Hoffman, Franz, comp.  Jazz Advertised in the Negro Press, Vol.2: Of New England 1935 - 1949

  (Berlin, Germany: Franz Hoffman, 1980), p.745.

---.  Jazz Advertised in the Negro Press, Vol.3: Of New England 1950 - 1967 (Berlin, Germany:

  Franz Hoffman, 1984), p.901.

Jovien, Harold.  "Hot Air," Down Beat, Dec. 15, 1939, p.24.

Kinkle, Roger D.  The Complete Encyclopedia of Jazz and Popular Music 1900-1950, Volume 2:

  Biographies L Through Z (New Rochelle, NY: Arlington House Publishers, 1974), p.1630.

"Okeh Phono Label Issued Again," Down Beat, Aug. 1, 1940, p.11.

"Orchestra Personnels: Tommy Reynolds," Down Beat, Dec. 15, 1939, p.18.

"Reynolds at Door," Down Beat, Apr. 1, 1941, p.7.

Reynolds, Frankie.  Interview with author, Nov. 29, 2005.

Reynolds, Tommy.  "'So My Clarinet Is Commercial!': Tommy Reynolds Fires Back at Reviewer Who

  Knocked His Outfit," Down Beat, Jul. 1, 1940, p.2.

Rust, Brian.  The American Dance Band Discography 1917-1942, Volume 2: Arthur Lange to Bob Zurke

  (New Rochelle, NY: Arlington House Publishers, 1975), pp.1482-1483.

"Stereo Shopping with Tommy Reynolds," Down Beat, 1959, p.24+.

Swerling, Dave.  Interview with author, Nov. 29, 2005.

"Tommy Reynolds Hires a Singer," Down Beat, Jul. 1, 1940, p.21.

"Where the Bands Are Playing," Down Beat, Sept. 1939, pp.38-39.

---.  Down Beat, Apr. 1, 1940, p.22.

---.  Down Beat, Nov. 15, 1940, p.22.

---.  Down Beat, Mar. 15, 1941, p.22.

---.  Down Beat, June 15, 1941, p.22.

---.  Down Beat, Aug. 1, 1941, p.22.

---.  Down Beat, June 1, 1942, p.22.

---.  Down Beat, Jul. 1, 1942, p.22.

---.  Down Beat, Oct. 1, 1942, p.22.

---.  Down Beat, Apr. 15, 1943, p.18.

---.  Down Beat, Oct. 15, 1943, p.18.

---.  Down Beat, Dec. 1, 1943, p.18.

---.  Down Beat, Jan. 1, 1944, p.18.

---.  Down Beat, Apr. 15, 1944, p.14.

---.  Down Beat, May 1, 1944, p.14.

---.  Down Beat, June 15, 1944, p.14.

---.  Down Beat, Sept. 1, 1944, p.14.

send feedback about Tommy Reynolds: "Collective Memory" via
e-mail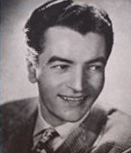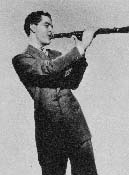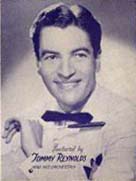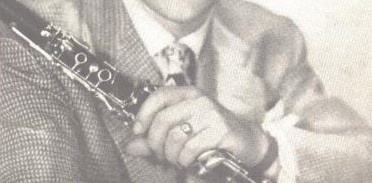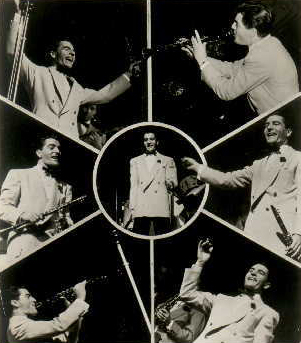 TOMMY REYNOLDS

"Collective Memory"

by Christopher Popa   August 2006

    Visitors to the 1939 New York World's Fair were invited to take a look at exhibits showing "the world of tomorrow."  And when Tommy Reynolds formed an orchestra in Cleveland, OH that same year, its billing asked the public to listen and dance to "Your Band of Tomorrow."

    "The band was excellent!  It really was," Dave Swerling, one of Tommy's saxophonists in 1940, recalled for me recently. "We had some awfully good players in that band."

     To help document Tommy's life and career, I also talked with one of his younger brothers, Frankie Reynolds, and made contact with Frank Galasso, Jr., son of one of Tommy's trombonists from 1946-52, Frank Galasso, Sr., who went by the professional name "Frankie Gale."      

Vital Stats:

given name:  Thomas Anthony Rinaldo

birth:  Jan. 17, 1917, Akron, OH

death:  Sept. 30, 1986, Beth Israel

  Hospital, New York City,

  ruptured aorta

education:  public schools, Akron, OH;

  attended Akron University,

  Akron, OH

siblings:  9, incl. brother Frankie,

  b.1919?  [ 6 were still alive as of late 2005 ]

wife:  Alberta, d.

hobbies:  golf; stereo equipment

membership:   ASCAP, 1946

residences:  Manhattan [ apartment ];

  Danbury, CT [ home ]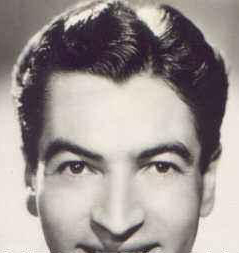 So he decided to organize an orchestra, featuring himself on clarinet, in Cleveland, OH.

    During the summer of 1939, they began a successful location engagement at Playland, a casino in Rye, NY, and it wasn't long before Tommy's band became known on the northeast college prom circuit and throughout the midwest.

    "He started working for Charlie Shribman, out of Boston," Reynolds explained.

    Shribman and his brother, Si, owned and / or operated a string of ballrooms around New England, and were, in part, responsible for the success of a number of bandleaders.

    "Charlie Shribman had the [ Glenn ] Miller band and several other bands," Reynolds noted.  "And when he started working for Charlie Shribman, [ they ] started really pushing the band, you know."

    Tommy went into the State Ballroom in Boston, and during December of '39, CBS broadcast over the radio some late-night airshots from there.   

    Also, he was signed to a recording contract with Vocalion, a subsidiary of Columbia, and the band's first session took place on December 21st, when they waxed Marcheta, Night After Night with You, Deep Night, It's a Blue World, and Promenade Strut (the latter was rejected and not issued).  

    That month, Down Beat reported the personnel of Tommy's band as Marshall Hutchins, Peter Abramo, and Chuck Hill, trumpets; Don Cavanaugh and Dick Hathaway, trombones; Louis Colombo and Joe Fandel, alto saxophones; Harold Raymond and Tino Isgro, tenor saxophones; George Kohler, piano; Parker Lee, guitar; Wilfred Dufresne, bass; and Penny Porter, vocals.  They left out the name of the drummer, but did state that Hill doubled on French horn.

    Within a year, the band was hired at the Roseland Ballroom in Brooklyn, NY, and Dave Swerling was on the band by that point, in the saxophone section.

    I asked him how he came to meet Tommy in 1940.

    "Well, that's a good question.  It was a couple of years ago," Swerling joked.  "I was a boy musician at the time, and I had a friend of mine who was from out west, Don Cavanaugh . . . We had played together in a band."

    Cavanaugh was still there as one of Tommy's trombonists, and the band was appearing at a club in Masschusetts, so Cavanaugh invited Swerling, a native of Fall River, MA, to stop by.

    "Tommy came to the club and I met [ him ]," he reminisced.  "Tino Isgro was with the band at that time, and Tino left the band, and so I got the call and went to play with the band.  And I stayed with Tommy... let's see... the first time was about a year. And then I came home for about three months, and then I went back and I stayed for another three or four months."

    Though vision loss forced Swerling around 2002 to give up playing, he still likes talking about the era in which he performed with Tommy.

    "I was only a kid, and in those days, it was a big thing, you know," he commented.  "Yeah, I enjoyed it very, very much."

    During the '40s, Tommy's star was on the rise, with jobs at, for example, the Meadowbrook in Cedar Grove, NJ.  Choosing a few more examples from their itineraries, they worked the Paramount Theatre in New York City, co-starring with actress Frances Langford, in 10/40; went into the Famous Door in New York City on 3/14/41; played Loew's State in Manhattan, starting 6/26 for a week; and the Million Dollar Pier in Atlantic City, NJ, starting 8/4 for a week.  In 1942, they performed several days each at Dell's Lake in Lansing, MI and Gypsy Village in Louisville, KY during June; at the New Casino in Walled Lake, MI in July; and the Rainbo Randevu [ sic ] in Salt Lake City, UT that October.  Engagements in 1943 included the Happy Hour in

Minneapolis, MN, closing 4/25; the Palomar in Norfolk, VA, closing 10/23; and Club Madrid in Louisville, KY, opening 12/7.  During 1944, they closed on 5/4 at the Palisades in Santa Monica, CA; closed 6/26 at Sherman's in San Diego, CA; and appeared, with Stuart Foster as guest vocalist, at the Apollo Theatre in New York City 9/8-14.  In 1946, Tommy played the Band Box in Chicago, and he returned to the Apollo in Harlem two more times, in 7/47 and 10/53.

A photo montage of Tommy Reynolds on-stage.

    "Well, gee, hold onto your hat - my mother had 10 children," Frankie Reynolds began.  "Tommy and I were the only musicians in the family.  But God bless my father and mother - I don't know how in the heck they got through it.  You could see they were quite a devoted, Catholic family."

    Tommy first played violin at age 8, and concert clarinet by 14.

    "He started playing clarinet when he was in high school," Reynolds confirmed.  "Then he picked up the saxophone.  He played alto saxophone, I played tenor saxophone."

    Tommy enjoyed attending school, but the post-Depression economy cut short his schooling.

    "When he graduated from high school, he had excellent, excellent grades," Reynolds boasted.  "And then he went to Akron U., but because of the economy, he didn't graduate, and it was a shame, because he was a fantastic student."

    Having to earn a living somehow, Tommy decided to fall back upon his musical training.

    "I don't think his intention was to be a bandleader," he stated.

    According to Reynolds, Tommy's first name-band experience was, briefly, as an alto saxophonist with drummer Ben Pollack.

    "He needed a saxophone player," Reynolds said.  "So anyway, he [ Tommy ] went down and they hired him right away . . . He wasn't with Ben Pollack very long."

Tommy Reynolds' left hand grips a clarinet.

    Next, Tommy made music with  bandleader - composer Isham Jones, for about 6 weeks in late 1938 and into early '39.   

    "He liked the clarinet and, of course, started playing more clarinet," Reynolds reminisced. 

    At that time, Tommy couldn't have helped but notice the popularity of Benny Goodman and Artie Shaw, each of whom had built distinctive big bands around their clarinet playing.

    "There really weren't too many people that could compare with him, including Benny Goodman and Artie Shaw," Reynolds claimed.  "That's where I put him, and I don't say that because he's my brother, I say that because it's true."

    With no disrespect, some would argue otherwise.

    "No comparison.  It just doesn't work that way," Swerling remarked.  "Artie Shaw was Artie Shaw . . . of course, maybe I'm biased... but he was my favorite all the way through.  I got to meet him a couple of times, and I thought he was the greatest clarinet player in the world.  He had all the technique he needed, he had a beautiful sound, he could play ballads, he could play jazz.  Very unusual man - he was brilliant, as you know."

    Perhaps comparisons of Tommy to others were inevitable, since it was a time when Goodman and Shaw were the two most celebrated clarinetists and bandleaders.

    "Tommy played well," Swerling acknowledged.  "I mean, he knew what he was doing and he did it.  Maybe it was just a little cold; you can follow that, right?  He didn't have a lot of 'hot' in his playing.  I mean, that's the way I feel about it, but I'm not putting him down 'cause he was a good clarinetist."    

    "If you played an Artie Shaw record, I could tell you that it was Artie Shaw.  And if you played Tommy Reynolds, I could see the difference also, in that," Reynolds said.  "So they all had individual, explicit talent that was defined in the way they played their instruments."

    I prodded for more about Tommy's clarinet.

    "His tone was a very piercing tone, and it was a true tone," Reynolds charged. "He was such a fine instrumentalist.  You can tell by the technique he used in playing.  It was just... great!" 

    "Technically, he was fine.  He did everything he had to do," Swerling looked back.

    "He was a technician.  There's no question about it," Reynolds agreed.         

Tommy Reynolds - In His Own Words

" . . . I have knocked around a couple of years or so and after taking the hard knocks I have discovered that showmanship is above musicianship.  But if a little leeway is given to commercialism, a happy medium is accomplished without hurting anybody . . . Leaders must be business men as well as musicians.  I felt it was good business to play clarinet the way I do because it proved successful . . . Fortunately, since I have adopted the style I now employ, my band has been working steadily and we have proven a profitable investment for the promoters who have used us . . . still the most important thing I have learned is to satisfy the kids who pay to hear my

band . . . "

Tommy Reynolds

holding a baton.

    Tommy recorded another 30 or so sides (Vocalion was replaced by Okeh on July 15, 1940, and the band switched to the Hit of the Week label in '41), including Pipe Dreams (the band's theme), Once Over Lightly, and Jungle Jive.

    "He made a lot of recordings," Reynolds stated.  "The way he used the clarinet in his arrangements... it was always defined."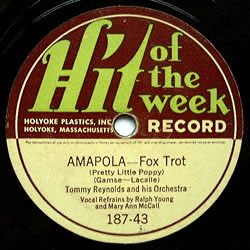 Tommy also cut "cover" versions of what became hits for other bands, such as Sierra Sue, Missouri Scrambler, Everything Happens to Me, and Amapola (Pretty Little Poppy).

    "The arrangers that were writing for them didn't try to copy one another," Reynolds mentioned.  "They could define it by the approach to the tune he was playing."

One of the big hits of 1941, but for

bandleader Jimmy Dorsey, not Reynolds.

    A personnel listing for September 1940 shows a completely new band: Hank Maddalena, Julio Tancredi, and Cy Siok, trumpets; Tom Bell and Nick DiMaio, trombones; Al Anthony and Lenny Ross, alto saxophones; Floyd Smith and Nick Peters, tenor saxophones; Joe Cribari, piano; George Robinson, guitar; Eddie Spear, bass; and Joe Kurts, drums. 

    Sally Richards had taken over as the band's female vocalist, and Gene Sanders was hired as male singer that June; they were replaced by Mary Ann McCall and Ralph Young, respectively, no later than September.  

    Years afterwards, Hal Linden, who would go on to become an actor and star in the TV comedy "Barney Miller," sang with the band.

    Tommy always had good musicians around; at various occasions starting in 1939, they included baritone saxophonist Serge Chaloff, alto saxophonist Benny West, tenor saxophonist Peanuts Hucko, and trumpeters Conrad Gozzo and Fats Navarro. 

    And certainly a very important part of Tommy's success from 1946-52 was his lead trombonist, arranger, and road manager, Frank Galasso, Sr., who used the professional name "Frankie Gale."  He is now deceased, but today, stories about him, including his service with Tommy's band, are proudly re-told by his son, Frank Galasso, Jr.

    "Tommy's orchestra was fairly well-known, but not to the point where there is a lot of details," Galasso Jr. acknowledged. 

    Very kindly, Galasso, Jr., an award-winning Sports Cartoonist, generously offered to share a number of vintage photographs and tales of Tommy's band.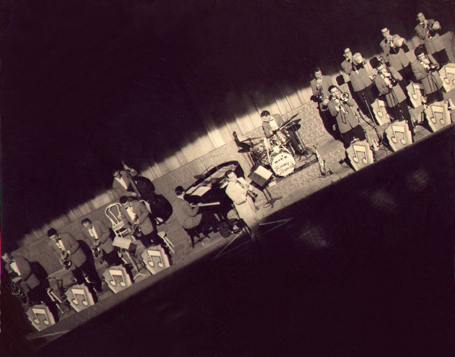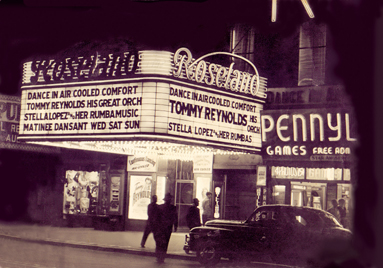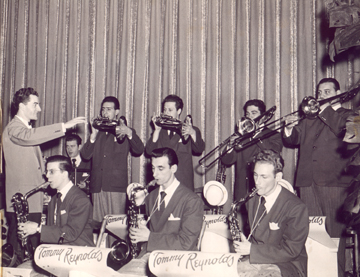 Tommy Reynolds and "his great orch"

played for listening and dancing. 

Photograph ©1960 by Frank Galasso, Jr.

Restoration ©2006 and used with permission.

All rights reserved.

An overhead angle of Tommy Reynolds [ light-colored suit, ctr. ],

Frankie Gale [ trombonist, l. ], Arthur Tancredi [ trumpet ]

and the rest of the full band on-stage.

Photograph ©1960 by Frank Galasso, Jr.

Restoration ©2006 and used with permission.

All rights reserved.

    Tancredi's brother, Carmine, was also a musician, and was on the band from time to time.

    "He would trade with his brother, Art [ not shown ]; they would take turns with Tommy, to get to come home and take a break," Galasso, Jr. stated.  "Carmine confirmed that my father really was road manager, which meant he had to take care of all musicians' needs, instruments, and did the driving in the main car.  My father came from a driving family which owned trucks and taxicabs."

    Tommy continued to make records, putting his clarinet with a quintet of all-stars, including trumpeter Chris Griffin, trombonist Cutty Cutshall, and drummer George Wettling, on an Atlantic date in April 1950.

    He played "shuffle rhythm" to accompany vocalist "Bon Bon" Tunnell on songs originally done with Jan Savitt's band,  including 720 in the Books and It's a Wonderful World, for the Derby label in 1953. 

    Two years later, Tommy made a King album of tunes connected to Louis Armstrong, "Jazz for Happy Feet," with himself on clarinet and another group of studio men, including trumpeters Billy Butterfield and Pee Wee Erwin, trombonist Lou McGarity, tenor saxophonist Boomie Richman, and drummer Cliff Leeman.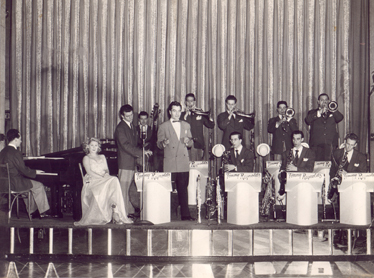 Tommy Reynolds and band in Syracuse, NY, with Carmine Tancredi [ Fr. horn, l. ], Frankie Gale [ trombone, 2nd from r. ], and his friend "Fat Eddie" [ trombone, r. ].

Photograph ©1960 by Frank Galasso, Jr.

Restoration ©2006 and used

with permission.  All rights reserved.

Tommy Reynolds directs

the brass section.

Photograph ©1960 by Frank Galasso, Jr.

Restoration ©2006 and used

with permission.  All rights reserved.

    "The Syracuse photos are what they called 'Split Band or Split Orchestra,'" Galasso, Jr. explained.  "Tommy would have high-society gigs up in Syracuse and would bring up the key players for this.  This was not the full, 14-piece big band that played regularly, especially at Roseland.  In the back row, 3 of the four guys, one being my father on trombone, were all childhood friends from the same neighborhood."

    Galasso, Jr. confirmed that, on several occasions in theatres, Tommy shared the bill with such entertainment stars as Lucille Ball, Abbott & Costello, Martha Raye, and The Mills Brothers.  He says additional images that he has capture the fun and excitement between members of the band and their audience.      

    "I mean, this is the real deal, roadside shots of the band goofing around, etc.," he said.   "My father used to play cards with Mrs. Reynolds while Tommy played golf.  Tommy used to ask him to keep her occupied, so she wouldn't get mad at him playing golf all day."

    One time, when the band was at a hotel in Atlanta, Galasso, Jr. told me, the men in the band sat with the waiters, who were African-Americans.

    "The Negroes were stunned and finally said, 'You boys must be from back east!," he related. "And my father said, 'Yes, why?'  They said, 'Because down here, no White folks would ever sit and eat with us!'"

    Times were much different then.

    "I think that's a very powerful setting and story," Galasso, Jr. observed.  "I think we should try and give some credit to these musicians, for they were actually integrating our society before anyone else, and never got the credit for it.  That's the beauty of music: there are no prejudices with these people."