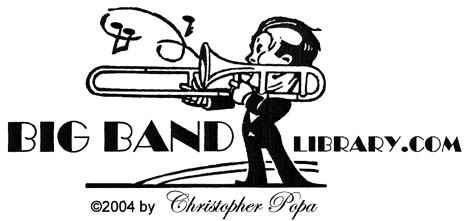 The big bands are back

in a new and exciting way!

Special Collections and Archives

JACK TEAGARDEN

researched by Music Librarian Christopher Popa

    The most comprehensive assemblage of materials related to Jack Teagarden was held by jazz collector Joe Showler of Canada, who passed away on February 10, 2009.

    At this writing, efforts continue to secure his collection, the "Joe Showler Archive," as the centerpiece of a new Teagarden Museum in Vernon, TX.

    According to the Museum's website, what Showler had was incredible: over 1,000 78 rpm records ("including rare and scarce pressings not available anywhere else"); another 1,000 albums of studio and live performance recordings ("including rare pressings"); more than 500 hours of reel-to-reel tape ("including private recordings & unpublished material"); "scrapbooks containing 20,000 clippings from newspapers and trade magazines"; 5,000 photographs ("from Jack's baby picture to the end of his life"); over 500 hours of film ("commercial films plus home movies"); some 50 hours of interviews ("surviving band members and wives"); programs, souvenirs, and other ephemera "from the whole" of Teagarden's musical career; a travel itinerary for Teagarden "that is now 80% complete"; unpublished manuscripts "from former band members and jazz critics"; research materials "from the two previous books about Teagarden, much unpublished"; and over 400 books on the history of jazz and motion pictures.

see http://www.teagardenmuseum.org/

    The photograph of Teagarden and his orchestra below is from "Hi, Good Lookin'!," a 1944 Universal motion picture.