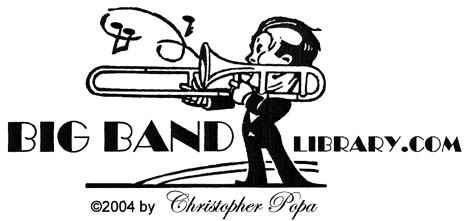 The big bands are back

in a new and exciting way!

Special Collections and Archives

CLYDE McCOY

researched by Music Librarian Christopher Popa

   Clyde McCoy's wife, Maxine, has, at this writing, survived him by more than 15 years.  Among the mementos she has held onto is his gold record award.

    "I have it right now in my possession, and I have his last trumpet that he played," she told me in November 2005.  "He got a new trumpet every year, and when he had to stop playing, well then, he had one trumpet when he died and I have it."

    Other memorabilia, such as the LP of recordings made for the small Todd label, is in the hands of private collectors.

source:

McCoy, Maxine.  Interview with author, Nov. 1, 2005.