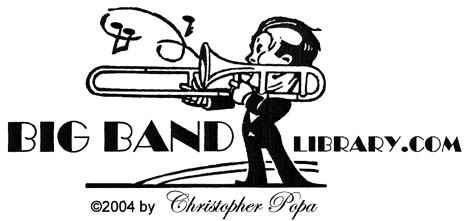 The big bands are back

in a new and exciting way!

Special Collections and Archives

BOB CROSBY

researched by Music Librarian Christopher Popa

    Photographs, correspondence (1952-1969), some music, and other materials are part of the "Bob Crosby Papers, 1913-1993" which are held by the University of Wyoming's American Heritage Center in Laramie, WY.

    The Center also has six audiocassettes of recordings made from the 1930s to the 1960s by saxophonist-arranger Deane Kincaide, including some while he was with Crosby.

    Other memorabilia, such as the drawing of Crosby shown below, which was on the cover of the Sept. 1936 issue of Metronome, is in the hands of private collectors.

sources:

Entertainment Industry Resources, http://ahc.uwyo.edu/documents/

    use_archives/guides/Entertainment_Industry_Resources.pdf