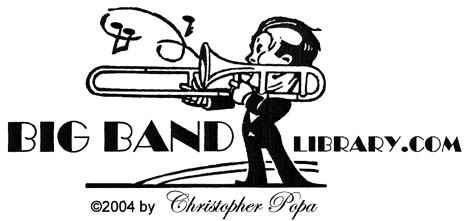 The big bands are back

in a new and exciting way!

Special Collections and Archives

C.P. MACGREGOR COMPANY

researched by Music Librarian Christopher Popa

    Stan Kenton's band, for one, made many of their 1940s recordings at the C.P. MacGregor studios in Los Angeles, CA.  The files of the C.P. MacGregor Company are now held at the University of Wyoming's American Heritage Center in Laramie, WY.  They include business records, such as legal and financial files, correspondence, and two scrapbooks.

    Other memorabilia from that period, such as the Kenton portrait by photographer Murray Korman shown below, is in the hands of private collectors.

sources:

Entertainment Industry Resources, http://ahc.uwyo.edu/documents/

    use_archives/guides/Entertainment_Industry_Resources.pdf