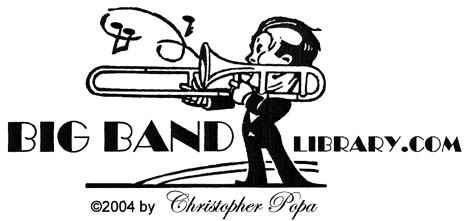 The big bands are back

in a new and exciting way!

Special Collections and Archives

HENRY BUSSE

researched by Music Librarian Christopher Popa

    Officially, there is not much left relating to Henry Busse.

    His son, Henry Busse, Jr. responded to me in 1995, "I'm sorry to say there is nothing left.  I have the horns in a wall case but thats it.  [ The ] library was sold for taxes and papers well???????????? and thats all I can tell you."

    An RCA 77A ribbon microphone formerly owned by Busse, acquired from the son in 1997, was offered for sale for $6,000 on eBay in January 2010.

    Other memorabilia, such as the Busse portrait shown below, from the period when his band was booked by the Music Corporation of America, is in the hands of private collectors.

source:

eBay Item Number 360199808896.

Henry Busse, Jr.  E-mail to author, Dec. 14, 1995.