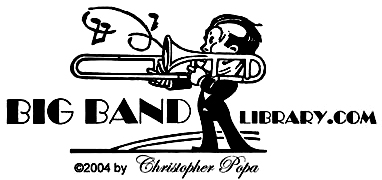 RAY ANTHONY

"Mr. Anthony's Band"

by Christopher Popa   July 2004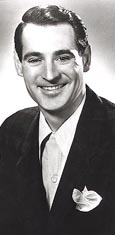 Ray formed a new, civilian orchestra in 1946, but the big bands were facing some challenges.

    "Certainly it was a struggle," he acknowledged.  "It was on its way down at the time that television came in and the War came in.  So we were running against a declining kind of business when we started."

    Ray used several successful bands as his inspiration.

    "Well, what happened is when I went into the service, the most popular band, of course, was Glenn Miller.  So the logical thing for me to do was to use some of that  styling of music, along with some of his arrangements and songs.  That, overseas especially, reminded the kids out there more of home than anything else.  I remember one time we were playing on Okinawa, we'd play one song, they'd be cheering.  We'd go into a pretty ballad and you'd see tears in their eyes.  It was the sound of the Glenn Miller band.  So when we came out of the service, we incorporated the sound of the Miller band and my trumpet and the trombones a la Dorsey.  And with the combination of all three, we had soft of formed a sound of our own."   

    Because we shared connections to northeast Ohio, we talked about that.

   "Well, I was raised there, for one thing.  I went to school there," Ray said.  "I was born in Pennsylvania - a small town near Pittsburgh.  Moved up to Cleveland when I was 5 years old.  At the same time, my dad started me on the trumpet."

    His father led a family orchestra, so Ray played in that, as well in school groups.

    "Oh yeah," he said.  "In fact, I had my own band during the time I was in junior high school.  We played for school dances.  I also played with another band, Vincent Patti's band, around Cleveland for many years, playing college dances and so forth.  And then I started a bigger orchestra, you know, off and on.  You do one thing, then you go with a band, then you come back and you have your own again.  But it all had to do with music."

recommended Capitol recordings,

each arranged by George Williams:

Tenderly, 1950

Sleepy Time Gal, 1950

The Man with the Horn, 1950

Harlem Nocturne, 1950

Mr. Anthony's Boogie, 1950

The Fox, 1951

Rollin' Home, 1951

Trumpet Boogie, 1951

Deep Night, 1951

Bandstand Matinee, 1952

True Blue Lou, 1952

It's Delovely, 1952

Dancing in the Dark, 1953

Dragnet, 1953


    Some big bands may have gone into decline after World War II, but for trumpeter Ray Anthony, things were just beginning.

    "We started in 1946," he recalled to me, during an interview at his home in Los Angeles.  "1950, we were the number one band.  By 1954 we grossed a million dollars in that one year.  So, even in a declining business, we still were able to gross that kind of money.  So it wasn't too dead a business."

    Years later, in the 1980s, he returned the favor and helped the music industry -- especially radio stations -- to re-discover big band music.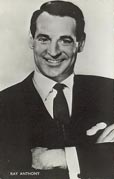 vital stats:

given name:   Raymond Antonini

birth:   Jan. 20, 1922, Bentleyville, PA

father:   leader of the "Antonini Family

    Orchestra"

mother:   Mary

sister:   Jeanette

brother:   William ("Bill")

brother:   Leroy ("Leo"), a saxophonist

education:   John Adams High School,

    Cleveland, OH

military service:   U.S. Navy, 1942

wives:  singer Dee Keating; film actress

    Mamie Van Doren, m. 3 years,

    1955-1958

son:   Perry, b. 1956?

hobbies:   tennis

memberships:   AFM Local 47

residence:   Beverly Hills, CA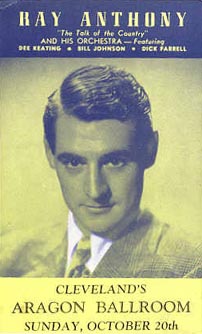 Ray left Cleveland at age 16, to go on the road.

    "A band called Jack Crawford," he recalled.  "A lot of people don't know him.  He was called 'The Clown Prince of Jazz', at the time.  I ran into somebody the other day who knew him, or who knew of him, and I was really shocked."

    Whatever the setting, Ray's horn continued as his band's most prominent voice.     

    "There are different kinds of styles of music as well as instruments," he explained.  "A Charlie Spivak or Harry James or Randy Brooks . . . all that you could put into the class of a 'singing' trumpet, 'sweet' trumpet.  There are certain kind of songs that lend themselves to that: Oh Mein Papa, Sleepy Lagoon, songs of that nature.  Then you get into the 'soul' trumpet.  To me, that is the same kind of songs, except with more of a jazz feel to 'em.  Basin Street Blues, I Wanna Be Around, West End Blues, I Almost Lost My Mind, those kind of songs.  They're pretty ballads, but they have that jazz feel with a little more... uh, 'soul' is a strange word to be using, 'cause you put emotion into all of it.  Of course, the 'swinging' trumpet is an

up-tempo thing where the trumpet moves along like a clarinet, like a Benny Goodman or an Artie Shaw, or something like that."

   In 1940, Ray moved on to Al Donahue and His Orchestra.

    "Well, he was actually a society band that played the Rainbow Roof in New York, the NBC building at Rockefeller Plaza.  And then in the '40s when the big bands stated to swing . . . he changed over to a swing band, and that's the time that I joined him.  He wasn't in the class of... never became as big as Glenn Miller's and Dorsey's and so forth, but he was one of the established name bands."

    He and Ray renewed their friendship towards the end of Donahue's life. 

   "I saw him, we had these big band reunions here -- Leo Walker's -- and he attended each one of 'em, so we had a good chance to have a reunion for the last two or three years, and, of course, he died right before the last big band reunion in March [1983]," Ray stated.  "So, at least I was seeing him right to the end."

    Glenn Miller's band was next, with Ray on the payroll from November 1940 to July 1941.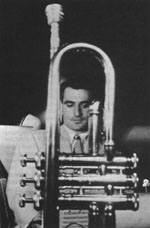 Then, in early 1942, Ray became a member of Jimmy Dorsey's band.

    "I was back in Cleveland, waiting to go into the service.  They talked me into joining the band for what time I had remaining, on the basis that they would back my own band, financially, after the war," he explained.  "So, on that basis, I joined and stayed about 3 or 4 months, and then joined the Navy."

    Besides, Jimmy Dorsey was often described as a "nice" guy.

    "He was a very sweet man," Ray commented.  "He wasn't a very forceful person, like [his brother] Tommy was just the opposite.  Benny Goodman was the opposite.  Glenn Miller was a 'strong' bandleader.  I think I am, because we know what we want and that's the way we want it and we want discipline, etc.  In the case of Jimmy, he was almost like one of the guys in the band.  He didn't want to have anything to do with the business, and he was never hard on anybody, he was a sweet man.  If another musician or bandleader came into the room, he'd light up and really shine.  So he was that nature, a very sweet man."

    So was it fun to play for Miller, who had the reputation of being a taskmaster?

    "It was for me, an

18-year-old kid," he said.  "I was excited as could be.  But with some of the other guys, I think the only fun is that it was the number one band, it was so popular.  And it's like, you know, if you left that, you'd have to go to work for a living kind of a thing, like the ball players.  But other bands, that related to jazz more, which is what most musicians do, offered more fun because of the type of music that they were playing."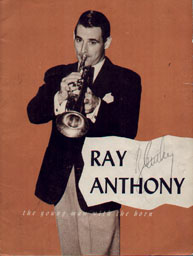 In the Navy, Ray spent his time making music. 

    "I joined . . . Eddie Peabody, the banjo player, [who] was a commanding officer.  And he had a whole entertainment division up at Great Lakes [Illinois].  Billy DeWolfe was there, Larry Storch, a lot of musicians... Ralph Marterie was in my band there.  They had a symphony, they had a concert band, they had four or five dance bands or show bands.  So we were in that music division and we entertained, of course, the other sailors at Great Lakes.  When I went to the Pacific, I was attached to the submarine force and we were at Midway and Honolulu and Okinawa.  And that's where I did most of my growing with the band, and eventually took it into civilian life, when the War was over."

    Did he say, 'Now I'm ready to have my own band'?"

    "Naw, I was ready to have my own band since I was 14," he responded.  "What experience it did give me is talking in front of a band, communicating with an audience, which I had never really done, up to that time.  And that was a lesson in itself.  You know, you have 2,000 sailors out there, or soldiers or something... you have to do something besides play music.  So that's exactly what happened at that time."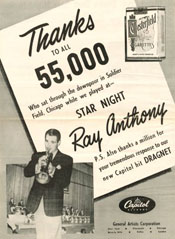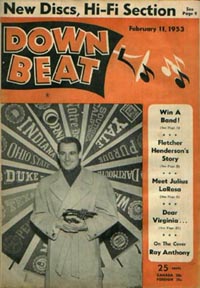 When a Miller revival occured in 1949, using the Glenn's reed sound helped to give Ray some commercial success. 

    But the Anthony band didn't reach the very top until it featured the dynamic arrangements of George Williams with its new record contract.

    "Capitol signed us in 1949 and we were with them for 19 years," Ray noted.

    Among Ray's sidemen were his brother, Leroy, on sax; trombonists Ken Trimble and Dick Reynolds; and drummer Mel Lewis.

    "And the only time they get recognition is when they go out on their own, start their own band, or something," he observed.  "But we've had some pretty nice people in our group."

    Good singers, too.

    "Oh yeah.  We had Tommy Mercer and Marcie Miller in those days," he reminisced.

"We had Vikki Carr since - she was with us for a year.

    Seeing a renewed interest in big band music, Ray formed "Big Bands '80s," hoping to organize big band musicians with their fans and the media, including radio disc jockeys.  He also launched a "Big Band Record Library," selling all sorts of records and tapes out of his home, including those on his own label, Aero Space. 

    "I'll bet there are up to 2,000 stations that play big band music, at one time or another, in their programming - mostly on the weekends, but some of 'em full-time.  That's one thing," he reported.  "Another thing is we started this mail-order service.  People hear this music and they want to buy it, but there's no place to buy it. The record stores have stopped selling it.  So we've started a, sort of a, clearinghouse.  We order from every major record company and from overseas... every available big band album... and put it in our catalog, and people can buy those albums now, through us.  These are just two of the more important things that we've done."

    He also gave some thought to how big band music might survive in the future.

    "My whole contention is that we've got to get the stage bands in schools to start playing dance music.  And playing dance music for the other kids their age, in that same school," he told me.  "It's a program that we're working on  where we're trying to round up enough money to provide them with a dance library, so they have something to start off with.  And then, work together with the boards of educations, to have them involved in having these dances in schools. Now, I did this when I was in junior high school - but it had nothing to do with the school itself, except that they would throw the dance.  They'd have chaperones, they'd have dance instructors, and it was a very healthy, happy sort of thing.  There was a relationship between the age bracket of the band and the audience.  That is what I think is the next step."


sources:

"...Band Leader on the UP-BEAT," International Musician,

    Sept. 1957, p.14.

Bellamy, Peter.  "Big Bands: Ray Anthony: He's a hit single,"

    Cleveland Plain Dealer, Nov. 25, 1983. 

Garrod, Charles.  Ray Anthony and His Orchestra

    (Zephyrhills, FL: Joyce Record Club, 1988).

Popa, Christopher.  Interview with Ray Anthony, 1983.

Strassmeyer, Mary.  "The People Page: Upbeat '80s,"

    Cleveland Plain Dealer, 1984.