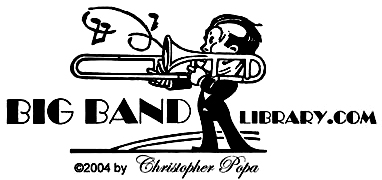 RALPH FLANAGAN

"Prime Time"

by Christopher Popa   December 2005

   "Flanagan was just a so-so piano player," Prime reflected.  "He was an arranger, and like most arrangers, they did their best work in what I'd call the 'shadows' of the band.  And I think it proved true, because as soon as he got what he considered enough money to get out of the business, he got out fast and retired to Florida and [ became ] almost reclusive in his lifestyle.  He [ had ] a chain of motels down there, or something like

that . . . He's a guy that never sought the limelight and was uncomfortable in the limelight."

    Still, Prime looks back on his vocals for Flanagan with satisfaction.

    "No matter what key he put me in, I could sing it," he said.  "And there were tempos that would have killed Ray Eberle, like You're Breaking My Heart and things like that

. . . [ the Miller band's ] arrangements were so much kinder to Ray Eberle . . . While I was vocalizing up front, Flanagan would be calling . . . 'Play louder, play louder!'  You had to battle the band all the time." 

    No wonder Prime is excited about the freedom he has enjoyed during the last few years, singing with recorded backgrounds each Thursday night at the Roasted Pepper restaurant in Chalfont, PA, about 30 miles outside of Philadelphia.  (He's a native of the East Falls neighborhood in Philly.)

    "The people that stick out in my mind as the best group of people that I ever met

[ are ] musicians and waitresses," Prime reported.  "I think waitresses are the kindest, most generous people I've ever met in my life . . . decent people.  I find that waitresses are so compassionate and so warm, so generous.  The nature of the job, I think, makes them that way."

    Prime was famous before, but, nowadays, singing in front of family and friends at the restaurant, he's content, too.  He picks the songs and sets the mood.

    "This has got to be, probably, the most wonderful chapter of my whole life, the last four or five years.  What a reward," he said.  "And I have my four kids around me, they come to see me with their kids, and it's just a beautiful time for me."

vital stats:

given name:   Ralph Elias Flenniken

birth:   Apr. 7, 1914, Lorain, OH

death:   Dec. 30, 1995

father:   George Elias Flenniken,

  b.1882, d.1930

mother:   Charlotte "Lottie" (Dunbar)

  Flenniken, b. ca.1890

education:   graduated from Lorain High

  School, Lorain, OH, 1931

school activities:   member of Student

  Senate, Hi-Standard student newspaper

  staff, Hi-Y Club, National Honor Society,

  League Chorus

military service:   U.S. Merchant Marine,

  Oct. 1942-1946

hobbies:   piloting his own plane,

  woodworking, photography

sports:   tennis, baseball

dislikes:   "loud-mouths, wild clothes, bad

  drivers, and city life"

wife:   Hannah Wingert Flanagan

residences:   Malverne, NY (early 1950s);

  Miami, FL (1960s-1990s)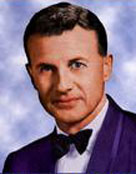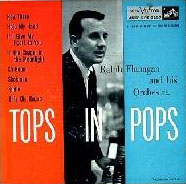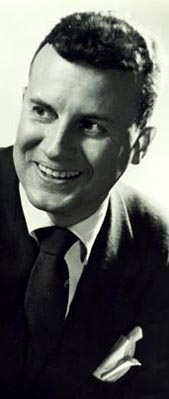 "I had been with two or three other bands before him," Prime reported.  "You know, I sang with Randy Brooks, I sang with Jack Fina, and then I had a... I didn't travel with the Tommy Dorsey band... but I did ten recordings with them, when they were anticipating a musicians' strike in 1948.  So Tommy - and all the other artists on the different labels - recorded in advance of the strike, so they would have records to release during the year 1948.  And I did the last million-selling tune that Tommy did . . . a tune called Until."

    Flanagan had worked as pianist and arranger for Sammy Kaye's band from 1937 to 1941, and went on to write arrangements for Charlie Barnet, Boyd Raeburn, Tony Pastor, and, starting in 1946, Perry Como's "Chesterfield Supper Club" radio show on NBC.  

    "He had been an arranger and was a rather obscure guy in the recording business," Prime reflected.  "But they found out that he had a flair for imitating other sounds, and probably his best imitation was doing the Miller sound."

    Evidently, Flanagan approached Herb Hendler, a producer at Rainbow Records, in 1946, desiring to make a set of 78-rpm discs, "A Tribute to Glenn Miller."

    Flanagan conducted the orchestra, which was built around a number of Miller alumni, including Bobby Hackett and Dale McMickle (trumpets), Al Klink and Ernie Caceres (saxophones), and Trigger Alpert (bass).

    Hendler suggested using Miller's "something old, something new, something borrowed, something blue" as a guide.

    Selections chosen were Make Believe and Always, two songs written in the 1920s

(old); Low Gear and Come On In, two Flanagan originals (new); I'm Getting Sentimental Over You and Goodbye (borrowed from Tommy Dorsey and Benny Goodman, respectively); and St. Louis Blues and Basin Street Blues (blue).

    Without question, the man most responsible for Flanagan's success as a bandleader was Hendler.

    "He was a manipulative guy," Prime commented.  "He was shrewd and he was energetic.  He was very clever."

    Hendler knew, for instance, the various artists-and-repertoire, or "a&r" men, at the record company.

    "He had the contacts at RCA Victor, and once he got in with Victor, with Joe Csida and some of those other guys down there... [ Hugo ] Winterhalter and all, and Henri Rene... he had that contact," Prime went on.  "He was a guy that would smile at you, but he would be picking your pockets while he was smiling, you know."

    I asked how true was the story that RCA had confused Flanagan with the marvelous arranger Bill Finegan.  Had Prime heard that?

    "I heard it constantly," he laughed.  "And I was constantly denying it.  No, they wouldn't make a... when you think about it, they knew who Bill Finegan was.  He had a big reputation . . . And he was around New York all of the time."

    So the story was a phony.

    "You gotta remember, these people that were the major players in that world of the big band business and the entertainment business were usually crossing one another's paths every day, walking on the street, where they had lunch, you know.  And it was a big thing where they converged on the Brill Building or the Gateway Restaurant or Lindy's or Jack Dempsey's Restaurant.  And there was no way that RCA Victor could have mistaken Bill Finegan for Ralph Flanagan.  But, what happened was the two guys that handled Flanagan realized that this would be a very big talking point and . . . they didn't deny it, they just let it fly.  And the thing had legs, the story grew, and it became a story that looked good everywhere we went."

    By 1949, the strike had been resolved and Hendler had joined RCA Victor.  When the company wanted to revive interest in dance music, he turned to Flanagan.

    "They decided to go for the big challenge and put out a Miller-type dance band, under Ralph Flanagan's name," Prime recalled.  "So that's when they contacted me to be the singer with the band."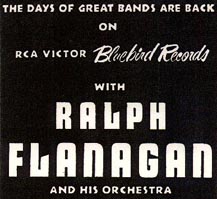 He was voted the "favorite band" in a number of early 1950s polls, played for over two million people in a year's time, and racked up big grosses, including some $600,000 in 1951 alone.

    "Actually, his contributions were in what I'd call 'the arranging field,'" singer Harry Prime, who worked with Ralph Flanagan's band from 1949 to 1953, told me recently.  "He was not a very personable guy.  He was nice enough . . . but he was kind of shy . . . He didn't have many smarts about the music business, and I would call him a guy that was, sort of, 'a fish out of

water,' because many times when we were playing ballrooms, as we traveled the country . . . we played every major ballroom and casino and hotel in America, and did it numerous times... and he would constantly be coming up to me and saying, 'What am I doing here?  I just can't stand this being "in the fishbowl," all these people coming up and talking to me.'  He was really not a guy that enjoyed the spotlight at all . . . He had been mainly a 'background' man."

recommended listening - select list:

You're Breaking My Heart   Harry Prime, vocal /

RCA Victor "Bluebird Series," 1949

Penthouse Serenade, (When We're Alone)

RCA Victor "Bluebird Series," 1949

Rag Mop   the band, vocal / RCA Victor, 1950

Spring Will Be a Little Late This Year   Harry Prime, vocal /

  RCA Victor, 1950

Joshua   Ralph Flanagan, arranger / RCA Victor, 1950

What, Where and When   Ralph Flanagan Trio, vocal /

RCA Victor, 1950

If I Had a Magic Carpet   Harry Prime, vocal / RCA Victor, 1950

Singing Winds   RCA Victor, 1950

Nevertheless   Harry Prime, vocal / RCA Victor, 1950

On the Road to Mandalay   RCA Victor, 1951

Stouthearted Men   RCA Victor, 1951

A-Flat Swing   RCA Victor, 1951

Save the Last Dance for Me   Harry Prime, vocal / RCA Victor, 1951

Slow Poke   The Singing Winds, vocal / RCA Victor, 1951

Just One More Chance   Harry Prime, vocal / RCA Victor, 1951

Only Fools   Harry Prime, vocal / RCA Victor, 1951

Winter Wonderland   RCA Victor, 1954

I Belong to You   The Singing Winds, vocal / RCA Victor, 1955

On the Beat   RCA Victor, 1955

Apple Blossom Time, (I'll Be with You in)   RCA Victor, 1957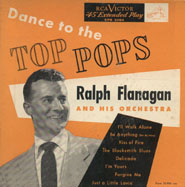 "You gotta remember as we're talking about him that this was not the kind of guy that I would spend... When we would be off the bandstand, Flanagan was an entity unto himself.  He didn't mix much with the other guys," Prime said.  "When we were looking for a place to go have a beer, or something good to eat, he would be looking for a hobby shop.  He loved to come on the stand with all these, like, cufflinks that lit up, and he was a strange guy to be in the music business . . . He just wasn't a party-type guy, and was totally different from most of the musicians that I knew . . . So there was no putting our heads together, consulting . . . He never said to me, ' What do you think you'd like to do?,' anything like that.  He was a very hard guy to be real friendly with."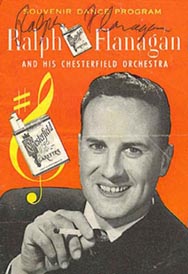 To complement Prime's vocals, Flanagan's band also featured a singer on the distaff side.

    Prime recalled, "A girl who showed up on the George Gobel Show, and had a nice TV role in it, on the Gobel Show, and was herself an excellent singer.  They called her 'pretty, perky Peggy King.'"

    Flanagan, again mirroring Miller, even had a vocal group, which was called The Singing Winds.  (Singing Winds was the name of Flanagan's theme song.)

    "Well, he pulled two guys out of the band, and Peggy King and I... and there was another girl by the name of Rita Hayes . . . and she was an excellent singer . . . What he would do, he would augment Peggy King and I with two guys from the band, and he would sometimes join in.  So we'd have a group of five," Prime explained.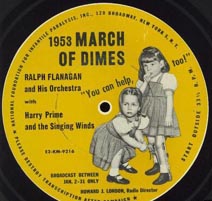 Prime left Flanagan in 1953, hoping his experience of singing with America's #1 band would help him to launch a successful solo career.

    "I'm listening to the radio and hearing guys like Eddie Fisher, Jerry Vale, Tony Bennett, Vic Damone, Steve Lawrence... and not a one of them ever sang with a band," he observed.  "The format was changing while I was out there, trying to do what everyone said, 'This is the way you do it... the way Sinatra did it, the way Haymes did it, the way Como did it.'"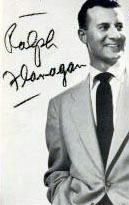 "But the format changed in those years after World War II," Prime said.  "People didn't give a damn whether you sang with a band.  In other words, if you were with Tommy Dorsey prior to World War II, that was the top of the rung . . . you were known all over America.  After World War II, there were guys that sang with Tommy Dorsey and nobody even knows them today.  That's how it slipped, the prestige angle."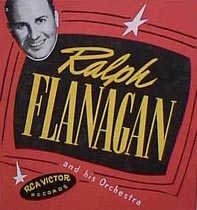 with him . . . He'd put the arrangements in front of them and they'd play his music.  And I went up to Sunnybrook to see him . . . but that's the last time I saw him."

    At this writing, it's been a decade since Flanagan's death, and more than 50 years (!) since Prime was the singer with his group.


   Although Prime 

[ pictured r., kneeling under the second "A" ] was there from the start, recorded and traveled with Flanagan, and sang on a large portion of the band's selections, he was not given any choice in his material.

    "He had an excellent band.  I thought his band was better than Flanagan's," Prime told me.  "But, he just didn't like that idea of playing the ghost band of Glenn Miller . . . He wanted to sound like the Tex Beneke Orchestra, and, believe me, to me that was a great sound.  I loved the way the band played and sounded, and the things that they did.  He had an excellent boy vocalist in Garry Stevens, and they did some real good things . . . RCA Victor was so insistent on continuing that [ original ] Miller sound that they looked around for a guy and found Flanagan."  

    With Flanagan sometimes quoting, almost note-for-note, various bits and pieces of Miller's original arrangements on his new records, RCA's big promotional push behind Flanagan angered one of the men who had actually been a huge part of that sound with Glenn, Tex Beneke.

    "It did, but Tex... I felt sorry for him in a way... but his demise was much his own [ doing ]," Prime observed. 

    Beneke was, at the time, leading the 'official' Glenn Miller Orchestra, also signed to RCA Victor, and wanted the group to progress, musically.

    "They created a demand by recording for about two or three months, in New York, with the best musicians in the city, what they call 'studio men,'" Prime noted.  "And then when the band became popular, and people were demanding to see it, they auditioned young men who wanted to travel with the band and make a reputation with them.  So the men who hit the road... the only one from the original group was me.  The rest of them were guys that did not make the original records."

    Hendler and his business partner, Bernie Woods, pushed it to the point that Flanagan's band, following in Miller's footsteps, opened at the Cafe Rouge of the Hotel Statler in New York City on September 11, 1950, and was featured on the radio in a show sponsored, like Miller had been, by Chesterfield cigarettes.

    Prime last saw Flanagan in 1958, when Flanagan appeared with a pickup band at a one-night stand in Pottstown, PA.

    "He came to Sunnybrook Ballroom, but what he was doing... he had disbanded his regular band, and he'd come

into a town [ and ] he'd go to the

union and get a bunch of musicians that . . . weren't really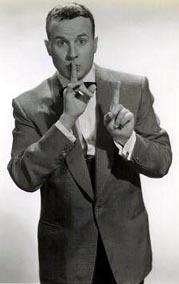 Some musicians then had reputations as drinkers; Flanagan would have a drink or two only occasionally.

    "All he needed was to get two or three drinks in him and then he was like a guy who drank 'til he got stoned," Prime remarked.  "But then he wouldn't drink again for about three months . . . He was an occasional drinker, but what an occasion when he did drink!"

    Perhaps the most embarassing moment occured when Flanagan was arrested for public nudity.

    "It happened in Atlantic City," Prime remembered.  "He started drinking, one of those nights he decided he was going to 'pop a few,' and he went down on the beach and disrobed.  And he was walking on the beach with no clothes on.  They locked him up < chuckles >.  I had to lead the band on [ the ] Steel Pier for about two nights."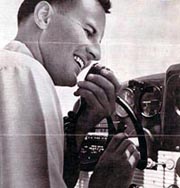 Flanagan enjoyed flying his own single-engine plane to jobs, when possible.  He escaped injury in 1954 when the light plane he was piloting crashed, as he was taking off from a Chicago airport.  His plane was caught in the propwash of a four engine aircraft.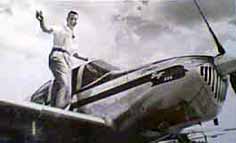 sources:

"Band Leader Escapes Injury in Plane Crash," Chicago Tribune,

  Jan. 6, 1954, p.A4.

Fenton, Jacob.  "Swing-era crooner still packs in the crowds,"  

  The [ Lansdale, PA ] Reporter, thereporteronline.com,

  Mar. 4, 2005.

Knox, J.E.  E-mail to author, Dec. 5, 2005.

---.  The Ralph Flanagan Discography (Portland, OR:

  Metolius Music, 2004).

Prime, Harry.  Interview with author, Mar. 9, 2005.

S.S.S.  "Rapid Rise of Ralph Flanagan, The," International

  Musician, June 1950, p.15.

Strick, Sue.  Post to "OHLorain-L Archives [ Internet genealogy

  forum ]," Aug. 3, 2002.

send feedback about Ralph Flanagan: "Prime Time"