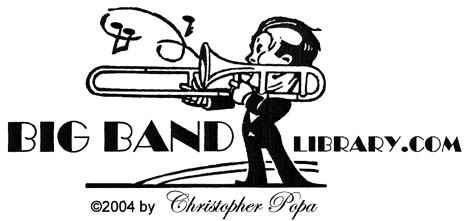 The big bands are back

in a new and exciting way!

    Weston's so-called "mood" music took a couple of forms on recordings.

    In the late 1940s, Capitol released a series of his "Music for ---" albums, first on 78 rpm and later on 10" LPs, such as "Music for Romancing," "Music for Easy Listening," "Music for Dreaming," "Music for Memories," and "Music for Reflection."

    Then at Columbia, there were more "Music for ---" titles ("Music for a Rainy Night" and "Music for Quiet Dancing"), as well as "Mood Music By Paul Weston," "Dream Time Music," "Mood for 12," and "Solo Mood."

    One source I ran across claimed that Weston didn't care for the "mood" music billing.

     "I don't know.  I never heard him say anything against it," Stafford reported.

    But it was not likely his thought.

    "Oh no, no.  I don't think it was his idea," she said.  "I don't know whose idea it was."

    Similarly, some of his Columbia albums took on a "Hollywood" or movie theme, such as "Sound Stage: Hi-Fi Music From Hollywood," "Love Music From Hollywood," and, simply, "Hollywood." The latter credited "Paul Weston and His Music From Hollywood," something that the sales department probably cooked up.

    "I guess," she laughed.  "I'm sure he didn't."

    Like both Weston and Stafford, the musicians whom he employed were typically veterans of the name bands, including, to identify a few, trumpeters Ziggy Elman and Clyde Hurley, saxophonists Babe Russin and Eddie Miller, clarinetist Matty Matlock, and guitarist Barney Kessel. 

    "Oh, yes.  Most of the guys were from the bands," she acknowledged.

    Did they ever go out live and appear in-person on dance dates, as Paul Weston and His Orchestra?

    "Uh, I think a couple of times here, locally, but not much," she said.

    Since rock and roll, rhythm and blues, and other '50s and '60s pop sounds had captured the public's attention, the sidemen enjoyed the chance to play on big band sessions with Weston.

    "They were very complimentary with him," she recalled.  "Well, there was always an audience for that music, even thought the rock stuff seemed very popular.  It never lost the audience of his kind of music."

    For fun, Weston and Stafford dreamed up two alter-egos, Jonathan and Darlene Edwards (Paul at the piano and Jo on vocals, respectively), and between 1957 and 1967 made a number of deliberately off-key albums that never failed to provoke laughter for unsuspecting listeners.

    They also continued to make occasional, tuneful recordings together into the late 1960s and early '70s, including a couple of batches for Reader's Digest, though she modestly has no out-of-the-ordinary memories of them. 

    "Gee, I don't think so," she remarked.  "It's a long time ago.  We just did our work.  Usually nothing very spectacular happened, we just went to work and did them."

    At one point, Weston started his own label, Corinthian Records, intending to distribute religious sounds.

    "Yeah, uh-huh," she confirmed.  "The first things were religious music, yeah."

    Are they still available?

    "I don't know.  My son is in charge of all that now," she said.  "I really don't know what's available."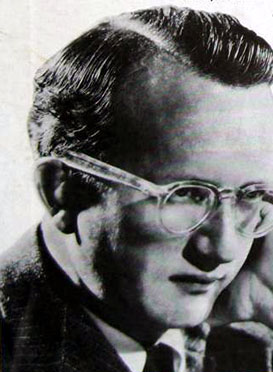 PAUL WESTON

AS LONG AS THERE'S MUSIC

by Christopher Popa  December 2007

   He was called a master of "mood" music, recording numerous LPs of melodies presented with impeccable taste.  He also wrote arrangements and conducted for some of the most popular singers of the 1940s and '50s.  But whatever the setting, Paul Weston kept a robust big band sound flourishing in his orchestra. 

    "Yes, it had a little more 'band feeling' to it," Jo Stafford, his wife of almost 45 years and a musical partner for an even longer time, observed.

    To my ears, Weston's music had a lot more swing to it, compared to such easy-listening conductors as Andre Kostelanetz or Mantovani.

    "I think so," Stafford agreed.  "It was more of a 'band feeling' in his stuff than just an orchestration.  He used more of the 'winds than most of them did.

Uh, saxophones, I mean.  And so I think he always felt the impact of being a band arranger . . . Part of his arrangements always had that sound… the band sound."

    When Weston and Stafford first met, he was working for Tommy Dorsey's orchestra, which was appearing at the Palomar Ballroom in Los Angeles.

    "We met at what you might call a singer's jam session one Sunday afternoon when the Dorsey band was out here," she reminisced.  "He and Axel Stordahl had rented a house while the band was out here playing the old Palomar.  And they had, kind of uh… oh I guess you could just call it an open house, fun afternoon, but every singer's group in town was there, including me and the Pied Pipers.  And that's the first time I ever met him."

    About what year was this?

    "'38, I think," she said.  "I'm not sure, but I think '38."

    He had already made an impression, thanks to his arranging for Dorsey and, prior to that, for Rudy Vallee, Phil Harris, and Joe Haymes.

    "Well, I knew of him because… you know, being a singer, musician… I followed the arrangers with the big bands," she explained.  "So I knew of his work before I knew him, and was an admirer of it."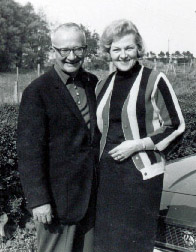 Weston and Stafford, ca.1960s

vital stats

given name   Paul Wetstein

birth   March 12, 1912, Springfield, MA

death   September 20, 1996, Santa Monica, CA, natural causes

heritage   German and Irish extraction

father   Paul Wetstein

mother   Anna Grady ("the original Irish lady of the world,"

    according to Stafford)

brother   Frank

wife   Jo Elizabeth Stafford, b. November 12, 1917;

    m.February 26, 1952

children  Tim, b.1952; Amy, b.1953

education   Columbia University, New York City; Dartmouth

    College, Hanover, NH (Phi Beta Kappa / BA, Cum Laude,

    1933)

memberships   ASCAP, 1945; The National Academy of Recording

    Arts and Sciences (NARAS), 1958

    It was reported that Weston began to take piano lessons at the age of 8.

    Did his family have any musical inclination?

    "Not to the degree that Paul had it," Stafford responded.  "They were great appreciators, but I think Paul was the only one that really had the knack that he had."

    Initially, Weston had a goal other than music while at Dartmouth College.

    "I think he studied… wait a minute, let me make sure… accounting," she said.  "It had nothing to do with music – I think music was secondary.  I'm not sure, but it had more to do with being an accountant."

    It was only because of something unexpected that he turned away from accounting.

    "Yeah, he was in a [ train ] accident," she related.  "A very bad [ train ] accident.  And he was hurt pretty badly.  And he spent a lot of time after that recuperating in bed.  And to pass time, he got some books on arranging.  And was just studying it for [ a ] pastime, and learned a lot."

    Weston was very intelligent, so he likely would have been successful at whatever he chose.

    "He was straight-A.  He was Phi Beta," Stafford noted.

    Also, according to the BMI Meet the Artist directory, "[ He ] learned to play the clarinet so that he could travel to football games with the school band, and subsequently organized a dance orchestra, an enterprise that enabled him to pay his own tuition."

    It was in 1934 that he was hired by bandleader Joe Haymes.

    "Let's see… how did that happen?" Stafford asked.  "Oh, I think he made a couple of arrangements and sent them to the band.  And then, kid-like, hanging around the hotel where the band was playing, and he was there the night he heard his arrangements played twice.  So he, sort of, had the idea that maybe he'd 'hit home'.  And he had!"

    Haymes' group was admired for its high level of musicianship; it included such stellar

instrumentalists as trumpeter Pee Wee Erwin, trombonist Ward Silloway, and saxophonists Toots Mondello and Bud Freeman.

    Was that what made Haymes' band so appealing that Tommy Dorsey took it over, more or less, intact after he split from his brother Jimmy in 1935?

    "I don't know," she admitted.  "That I can't tell you much about."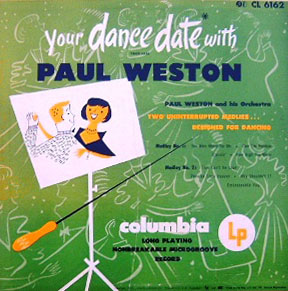 recommended listening

What a Diff'rence a Day Made  Andy Russell, vocal

    Capitol, 1944

Magic Is the Moonlight  Andy Russell, vocal   Capitol, 1944

Candy  Johnny Mercer, Jo Stafford, and The Pied Pipers, vocal  Capitol, 1945

Personality  Johnny Mercer, Jo Stafford, and The Pied Pipers, vocal

    Capitol, 1945

Laughing On the Outside (Crying On the Inside)

      Andy Russell, vocal   Capitol, 1946

Shanghai  Doris Day, vocal   Columbia, 1951

After Hours  Sarah Vaughan, vocal   Columbia, 1951

Planters Punch   Columbia, 1953

Embraceable You   Columbia, 1953

You Were Meant for Me   Columbia, 1953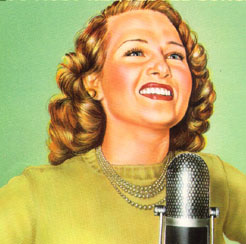 Some bandleaders took an editor's pencil to any sketches or arrangements submitted to them, but not Dorsey. 

    "No," Stafford recalled.  "No, Tommy was not that way.  He believed in his arrangers and he just let them alone."

    She came into the band around February 1940, as a member of the vocal group, The Pied Pipers, which had originally been an octet.

    "That was in the very beginning," she cautioned.  "By the time we joined the band, we were a quartet."

    Weston was still with TD's band.

    "Um hmm," she said.  "He was there only for a very short time.  After we joined the band as a group, he was only there for a couple of weeks."

    Dorsey was making some changes in his music and band style, going from a Dixieland-based approach to a more swinging feel, and had lured Sy Oliver away from Jimmie Lunceford.

But Oliver's hiring was not what prompted Weston's leaving.

    "No, Sy was already there when Paul left the band," she said.  "He [ Weston ] came back to California, I think to write for Paramount studios, in the music department."

    There was hardly any opportunity for Weston to do any charts for the Pied Pipers and Dorsey's group.

    "I think he wrote one thing for us before he left the band," Stafford recalled.  "It was I Thought About You."

    Many people have expressed the opinion that the Dorsey band was an excellent showcase for singers.

    "Oh, I think so," she commented.  "I think so, 'cause I think Tommy liked singers, and that makes a difference – if you're working for a leader who likes singers."

    In fact, I read that Dick Haymes once claimed that Tommy knew every word to every song he sang with the Dorsey band.

    "Probably," she chuckled.

    Among Stafford's wonderful solo recordings with Dorsey, made starting in 1941, are Little Man with a Candy Cigar, Let's Just Pretend, and For You.

    "Uh, Little Man was the thing that did it, because I brought the… I brought Tom Adair and Matt Dennis to Tommy's attention," she revealed.  "They were songwriters.  And I knew both of them before I joined the band out here.  And I introduced Tommy to the two of them, and, of course, he hired them.  They were with the band for quite a while."

    Adair and Dennis wrote such pop classics are Oh! Look at Me Now, Let's Get Away From It All, and Violets for Your Furs.

    Of course, vocalist Frank Sinatra made a major impression on each of those with Dorsey's orchestra.

    "I never heard him until he joined the band.  And I never saw him or met him or heard him until we were on-stage," she admitted.  "I think it was in Milwaukee.  The Pipers sat on the stage during the stage show, and Tommy introduced this new, young fellow and he walked out… that's the first time we'd ever seen him.  And heard him."

    Sinatra's ballad style was different from Jack Leonard, his predecessor with Dorsey.

    "Completely," Stafford agreed.  "The sound was absolutely, completely different.  I think he was the first to sound the way he did.  Up until then, everybody was imitating Bing [ Crosby ]."

    Sinatra was an evolutionary singer.

    "Well, he was… it was new," she looked back.  "I never heard anybody sound like that.  And it was a pretty good sound."

    So did Sinatra have any influence on her when she went solo?

    "No, huh-uh," she answered.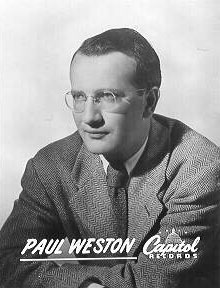 But back to Paul Weston.  I told Stafford that one of the reasons that I wanted to write a biographical sketch about him was that I didn't think he got all the credit that he deserved.

    "I agree," she said.  "He was probably the best at backing a singer, of any of them.  And he knew how to write… so many of them in those days didn't… he really knew how to write for strings.  He had wonderful sounds in his head."   

    After leaving T.D., Weston wrote for the Bob Crosby band and for singer Dinah Shore, including, for example, If It's You, which she recorded for Bluebird.

    In October 1943, Weston joined the newly-formed Capitol Records, a move that would prove to be mutually beneficial.

    "Well, I think that they both contributed a great deal to each other," Stafford suggested.  "He was there in the very beginning and was very instrumental in setting up the music department."

    Happily, Capitol was one place where talent and creativity was appreciated.

    "The record company was always very oriented towards music," Stafford pointed out.  "It was a good place to work."

    He served first as an important arranger and conductor for the label's singers -- including Andy Russell and Johnny Mercer (who not only sang and wrote songs but was one of Capitol's owners) -- knowing just what and how to write for each.

    "I guess filling in where it needs it and not filling in where it doesn't need it," she explained.  "And giving you kind of a… oh… maybe you could call it like a cradle to relax in."

    I proposed that one can have a beautiful diamond, but it's also important how you frame it and the setting you put it in.

    "I think that's very, very true," she concurred.  "Very true."

    When The Pied Pipers began recording for Capitol, Weston did their recording sessions, though by that time, June Hutton had become their lead singer.

    "I left the group in, I guess, '44," Stafford recalled.  "And Junie took over."

    The chance to be a solo singer had beckoned to Stafford.

    "I met a man named Mike Nidorf, who became my manager – the only one I ever had," she stated.  "He told me, he said, you know, 'You can go on doing  whatever you want, but you can have a solo career if you're interested.'  And so he took over.  He was a wonderful manager."

    So when she, too, began recording for Capitol backed by Weston's music, was she given any input into what she sang?

    "It was a mutual agreement," she said.

    She remained an admirer of Weston's and they became good friends.

    "Yes we were," she responded.  "Uh-huh."

    Had the notion of being romantically interested in him occurred?

    "Huh-uh.  Not yet," she said.  "That didn't occur until after I went to New York.  He made a couple of visits to New York, and that's when the idea that we were, kind of, special came up."

    In 1944, Weston had been promoted to A&R Director and continued to work with various singers there, as well as cut sides under his own name with a big band. 

    When he moved over to Columbia Records in 1950, Stafford followed not long afterwards.

    "As I remember, it was probably strictly business," she remarked.  "Financial, you know.  It's been so long ago, I can't remember details."

    It might have been difficult to leave Capitol's environment.

    "I was very friendly with everyone at Capitol," she reminisced.

    I have the impression that Johnny Mercer was a great guy.

    "Oh he was… Yeah, he was," she stated.  "And a very great friend."

    Weston remained her preferred conductor.  

   "Yeah, yeah," she said.  "I liked working with him."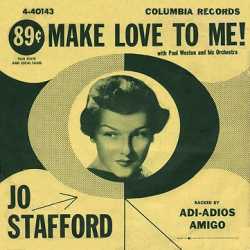 Make Love to Me!  Jo Stafford, vocal   Columbia, 1953

We'll Be Together Again  Rosemary Clooney, vocal  

    Columbia, 1954

I See Your Face Before Me   Columbia, 1954

It's a Lovely Day Today  Capitol, 1959

September in the Rain   Capitol, 1959

Dardanella   Capitol, 1959

I Love You  chorus, vocal   Capitol, 1960

Time On My Hands  chorus, vocal   Capitol, 1960

Dream  chorus, vocal   Capitol, 1960

Sometimes I'm Happy  chorus, vocal   Capitol, 1960

If I Had You Reader's Digest, ca.1967

You Belong to Me  Jo Stafford, vocal  Reader's Digest,

    ca.1967

Blue Moon  Jo Stafford and The Pied Pipers, vocal  

    Reader's Digest, 1970

sources

ASCAP Biographical Dictionary, Fourth Edition (New York: R.R.

    Bowker Company, 1980), p.538.

BMI Meet the Artist (New York City: Broadcast Music, Inc., 1957),

    p.W-7.

Stephen Holden, "Paul Weston, 84, Who Wrote And Arranged Big

    Band Hits," New York Times, September 24, 1996, p.B9.

Roger D. Kinkle, The Complete Encyclopedia of Popular Music

    and Jazz 1900-1950, Volume 3: Biographies L Through Z (New

    Rochelle, NY: Arlington House Publishers, 1974), pp.1937-1938.

---, Leading Musical Performers (Popular Music and Jazz) 1900-1950

  (Mt. Vernon, IN: Windmill Publications, Inc., 1999), p.337.

Gene Lees, "The Westons' Gag That Got Out of Hand," Los Angeles

  Times, July 20, 1975, p.T77.

Richard Dyer MacCann, "Weston Discusses 'Pop' Music," Christian

  Science Monitor, October 6, 1953, p.11.

George T. Simon, The Best of the Music Makers  (Garden City, NY:

  Doubleday & Company, Inc., 1979), pp.603-604.

Jo Stafford, telephone interview with author, June 1, 2005.

Tim Weston, e-mail to author, April 21, 2008.

send feedback about "Paul Weston: As Long As There's Music" via
e-mail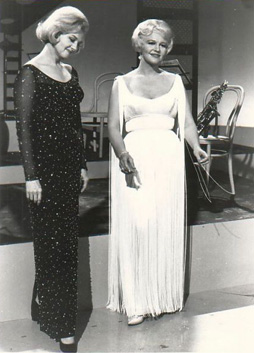 On television, Weston became a pioneer, with a show of his own on CBS in 1951-52.

    "Yeah, he was on early," Stafford recalled.

    They didn't always get to work together, but if given a choice, she would ask for him.

    "Well, if I was doing a television show or a radio show, it might have been a different conductor," she allowed.  "It wasn't for choice, 'cause I loved working with Paul."

    However, other than Lawrence Welk, the big bands never really caught on, on TV.

    "Well, it's a sound more than a visual thing, really," she reasoned.  "You know, visually there's not much going on.  Just some guys holding horns.  So it's not really very good for television, except for the sound."

    Weston did find success conducting for, among others, TV shows starring Bob Newhart, Danny Kaye, Jim Nabors, and Jonathan Winters.  He was even the Musical Director for the "The Rowan & Martin's Laugh-In Pilot Special," in 1967.

Peggy Lee [ r. ] on Jo Stafford's TV show, 1961

In His Own Words

" . . . the criterion of what the public will accept has gone down in the last three or four years.  Popular music has no place to go but up."  - 1953

"All I did was add strings to a dance band.  The reason it still swung was because I used good jazz musicians."

"Leading a classical orchestra is eighty per cent acting.  Leading a dance orchestra is a waste of time.  But conducting for a live television show, well-for that a conductor should also receive a stuntman's check!"

" . . . [ Jonathan and Darlene Edwards ] won a Grammy.  Jo and I never did."

- 1975

    I still have more achievements of Weston's to relate.

    He certainly made a mark as a composer, with several hit songs and melodies to his credit.

Which were the best?

    "I guess probably Day By Day, although there's nothing wrong with I Should Care," she answered.

    The rest included Shrimp Boats and No Other Love, plus an instrumental work titled Crescent City, which was a musical portrait of New Orleans.

    "Uh, I don't think he'd ever been there when he wrote it," she revealed.  "He knew all about it, 'cause it was a cradle of music and he knew all about it and knew a lot of people from there.  And so he knew the essence.  I think he caught it, beautifully."

    Weston was the Founder and First President of the National Academy of Recording Arts and Sciences (NARAS).  What was his goal wth NARAS?

    "I just think some recognition that the recording industry hadn't had, you know, along, you know, like TV and the movies," she said.

    Then he was a success there, too.

    "I think very," she replied.

    In 1971, he was given NARAS' "Lifetime Achievement Award," which meant a lot to him.

    "Oh, a great deal," Stafford agreed.  "He was very, very pleased."

    Something that isn't well-known is that Weston volunteered with the Crippled Childrens' Society of California for over three decades.

    "Oh yeah, he was President of that for a while, and he worked for years with the people," she said.

    In talking with her about Weston, he comes off as a truly good guy.

    "I think 'unpretentious' kind of names him," she continued.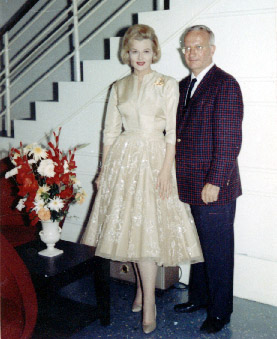 Mr. & Mrs. Paul Weston, 1961

    Further, his sense of humor made him easy to be around.

    "A wonderful sense of humor," she stated.  "Being able to laugh at yourself . . . is a good thing for anybody."

    So even though they were together for a lot of time (whether at work or at home), there were no difficulties.

    "Not in the least with us," she recalled.  "I can't speak for everybody, but we never had… the minds just met.  No problems."

    I had read that their favorite song was All the Things You Are, so I asked her to explain why.

    "Oh my gosh," she began.  "Harmonically, melodically, it's a great piece of music."

    Ironically, the musical for which it was written in 1939, "Very Warm for May," was not popular.

    "It wasn't," she remembered.  "It was a very unsuccessful show.  But the song stood out."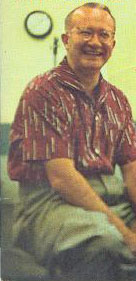 In the 1990s, daughter Amy was a vocalist withthe Bill Elliott Swing Orchestra, but she no longer performs in public.

    "Not professionally," Stafford said.  "I guess I'd have to say no, because she just does it for pleasure."

    Does Stafford herself still sing?

    "Uh, not at all," she said.   "I still love it.  I still listen.  But, uh, it come and went."

    She's okay with that.

    "Yes, I'm very, very content," she chuckled.

    One of the joys of her life during the last decade was spending time with her four grandchildren.

    "Oh yeah, they're great," she beamed.  "They're the most fun!"

    What if the grandkids ask about Weston?

    "I don't sit down and try to educate them," she confided.  "I answer questions, but they don't have many along that line."

    I hope that Paul Weston's legacy will always be recognized.

    "I think he would like his music remembered," she concluded.  "That would be good for music, wouldn't it?"