Record Labels

MAJESTIC

information and images compiled by

Music Librarian CHRISTOPHER POPA

FACTS + FIGURES:

STARTED   1944

PERSONNEL   Eli Oberstein; Jimmy Walker (former Mayor of New York City),

  President, 1945 until his death on Nov. 18, 1946; Ben Selvin, A&R

ENDED   1948

DISPOSITION   masters sold to Pickwick International

SOURCES:

"Ben Selvin Joins Majestic Records As Asst. to Prexy Jimmy Walker," Variety,

    May 2, 1945, p. 51.

Diehl, David.  "The Blue Pages," hensteeth.com.

"Majestic Radio Reported to Have Bought Eli Oberstein's Hit Record Co.," Variety,

    Feb. 7, 1945, p. 41.

"New Majestic-Hit Firm Pacts Jerry Wald Orch," Variety, Feb. 21, 1945, p. 40.

"Oberstein Ends Majestic Tieup," Variety, June 20, 1945, p. 37.

"Walker Heads Company," New York Times, Feb. 14, 1945,  p. 22, col. 6.

send feedback about Majestic Records via
e-mail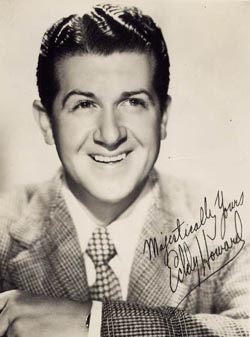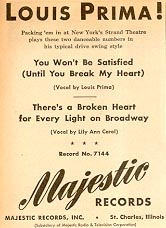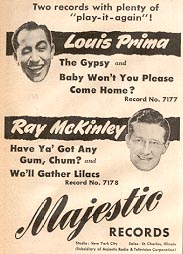 In the mid-1940s, Majestic signed a number of bands, including Eddy Howard, Ray McKinley, Louis Prima, and Jerry Wald. 

    It was Howard with whom they had their greatest success.  His record of To Each His Own was a best-seller in 1946, followed by (I Love You) For Sentimental Reasons, My

Adobe Hacienda, and I Wonder, I Wonder, I Wonder in 1947.

    But Majestic suffered from poor pressings, and artists soon jumped ship to other labels.  For example, Howard went to Mercury, and Prima and McKinley switched to RCA Victor.  Majestic ceased operation.

    In the early 1950s, Majestic's masters were absorbed, along with Allegro, Royale, and other "budget" labels, by Eli Oberstein into the Record Corporation of America (initials, RCA!), which was later sold off.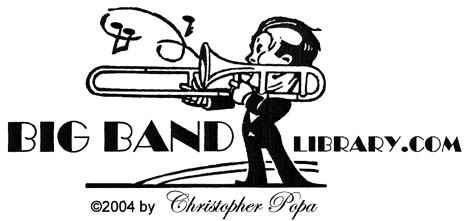 The big bands are back

in a new and exciting way!