LUCKY MILLINDER

"Big Band Rhythm & Blues"

by Christopher Popa   November 2005

    He sometimes sang or danced, but could not read music - yet he was considered an excellent conductor, a "dynamaestro."  He also was called a fine master of ceremonies, a great showman, colorful and eccentric, clever and shrewd.  And his group was said to have been the greatest big band to play rhythm and blues.

    According to drummer Ed ("Eddie") Shaughnessy, who joined him at the Savoy Ballroom in New York City, "The truth of the matter is, Chris, he was one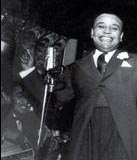 of the best bandleaders I ever worked with. I say it, first of all, because he was a master of pacing the music to keep the dancers happy.  I mean, sometimes - I don't know what the count was... it used to look like 1500 to 2000 people up there dancing.  I don't know the exact count, I might be exaggerating - but, then again, I might not.  It was a huge dance floor, and, man, it was packed."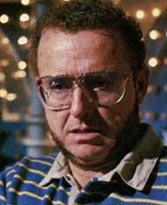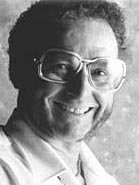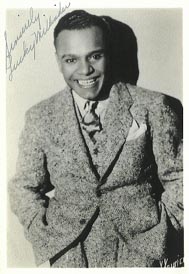 vital stats:

given name:   Lucius Venable Millinder

birth:   Aug. 8, 1900, Anniston, AL

death:   Sept. 28, 1966, New York City,

  kidney ailment

education:   Wendell Phillips High

  School, Chicago

wife:   Sally Nix (1940s)

wife:   Vivian Brcwington (1960s?)

children:   Tami; Lucius Leroy Jr.

    In June 1933, Millinder took a different personnel to Europe, playing residencies in Monte Carlo and Paris, before returning to New York City that October.  But an even better opportunity was about to take place. 

    Millinder assumed leadership of the Mills' Blue Rhythm Band in late 1933, and directed, at various times, such excellent instrumentalists as Henry "Red" Allen, Charlie Shavers, and Harry "Sweets" Edison (trumpets), J.C. Higginbotham (trombone), and Billy Kyle (piano).

    A completely new orchestra under Millinder's own name was organized in September 1940, employing more fine players, including Buster Bailey (clarinet), Bill Doggett (piano), George Duvivier (bass), and "Panama" Francis (drums), and, a few years later, Lucky Thompson and Eddie "Lockjaw" Davis (saxophones).

    "I'd always heard he had a good band," Shaughnessy commented.  "He always had very good musicians, you know."

    At age 17, Millinder was supposed to have spread a story around Chicago, where he grew up, that he was the son of a millionaire New York showman.  As a result, it was reported that the owner of the Cotton Club in Cicero, IL hired him at a huge salary.

    Millinder did, in fact, work as an m.c. at various ballrooms and clubs around Chicago during the late 1920s.

    Another tale claimed that, once, gangster Al Capone lost $10,000 at a dice game, and Millinder offered to "rub the dice for luck."  Capone then won $50,000, nicknamed him "Lucky" and, so the story goes, bought him his first band in gratitude.

    Research showed that Millinder did front a band for a tour of RKO theatres in 1931, then took over leadership of "Doc" Crawford's orchestra in 1932 and appeared at the Harlem Uproar House in New York City.

    "I think I was, then, maybe about 21 or so," Shaughnessy [ pictured l. ] calculated. 

    And, therefore, it was more than a half-century ago, around the late 1940s, that he first came in contact with Millinder.

    "Oh, I can't remember," he told me.  "I think he knew I was trying to stay off the road, in New York, and I think - if I remember - he called me up and he said, 'Hey Ed...'  You know, I had met him once, and he had come to hear me play with Charlie Ventura's little band, which had, kind of, gotten me somewhat of a name, you know, in the previous one or two years.  And I said, 'Yes, Lucky, I'm staying home.'  He said, 'Well, I've got a contract with the Savoy Ballroom.  We'll be up there for a certain amount of weeks, and then we're going out on tour.  Would you be interested?'  And I said, 'Sure!'"

recommended performances - select list:

Trouble in Mind   Sister Rosetta Tharpe, vocal / Decca, June 27, 1941

Ride, Red, Ride   Lucky Millinder, vocal / Decca, June 27, 1941

Big Fat Mama   Trevor Bacon and band, vocal / Decca, Sept. 5, 1941

Shout, Sister, Shout   Sister Rosetta Tharpe + band, voc. /

Decca, Sept. 5, 1941

Apollo Jump   Decca, Sept. 5, 1941

When the Lights Go On Again   Trevor Bacon, vocal /

Decca, Jul. 29, 1942

All the Time   Decca / June 22, 1945

Let It Roll   Anisteen Allen and band, vocal / Decca, Apr. 11, 1947

Berserk Boogie   Decca, Oct. 3, 1947

I Ain't Got Nothin' to Lose   Big John Greer, vocal /

RCA Victor, Jan. 3, 1949

Awful Natural   RCA Victor, June 27, 1949

Ram-bunk-shush   incl. Eddie Shaughnessy, drums / King, Apr. 2, 1952

    It's a matter of historical record that, on December 7th, 1941, when the Japanese attacked Pearl Harbor, the Millinder band was on the air from the Savoy Ballroom in New York City.

    On tour, they always drew big crowds, too, as shown by a photo [ l. ] taken when the band performed in a gymnasium in 1943. 

    Their '40s California itineraries included such spots as the Casa Manana in Culver City, the Orpheum Theatre and Plantation Club in Los Angeles, and the Silver Slipper in San Diego.  But it was always back to the Savoy (or Apollo).   

    Millinder disbanded in 1952, but occasionally assembled a group for the odd Apollo or Savoy date, and recorded as late as 1960.

    He became active in music publishing and, as was commonly reported, a liquor salesman.

    "I heard that," Shaughnessy agreed.

    In fact, Millinder's smiling face appeared in a print ad for Schenley whiskey.

    Some of the other jobs Millinder took were as a disc jockey on WNEW in New York City, a public relations agent, even as a clairvoyant and fortune-teller.

    He passed away from a liver ailment at age 66.

    Shaughnessy, meanwhile, left the band in favor of studio work in New York City (and, later, in Los Angeles), spending a total of 30 years at NBC as drummer with the "Tonight Show" big band.

    Now age 76, he remains busy with music.

    "And that's how come it happened," Shaughnessy explained. "He called me up, and I proceeded to work with him a few times at the Savoy Ballroom, and then we went on tour.  I had to come in after a really hot chair.  I took Art Blakey's place, and that is never easy

< chuckles >."

    Dancers at the Savoy were among the best anywhere, so did that mean that, as the drummer, Shaughnessy had to have the highest level of energy in the house?

    "No, I wouldn't say I had more energy than anybody, because they would dance up a storm!," he recalled.  "But the one thing < chuckles > Lucky Millinder said to me the first time... 'I'm going to give you a drum solo on the next number.'  This is, maybe, after I'd worked with the band a couple of nights, you know.  And he said, 'Let me tell you something, sonny < chuckles > - if you don't keep 'em dancing during the drum solo, they will come toward the stage < laughs uproariously >.'  So, man, when I played my drum solo, I made sure to play things like < imitates an infectious drum beat > 'bap-boop-bah bap-bap-a-boop-a-doo.'  I mean, stuff that an elephant could dance to.  You know what I mean, I didn't try anything too sophisticated.  I played with a real good, strong beat.  And afterwards, he gave me the two fingers with a circle [ the 'ok' sign ], 'That's the way,' because everybody kept dancing.  He was very big on that.  That's why he was a popular bandleader up there, because he knew the crowd."

    Shaughnessy's role was to keep the beat going.

    "I didn't play a lot of solos," he stated.  "He'd give me a chorus or two, on one or two tunes a night.  No, I did not play a lot of extended solos.  It really wasn't called for, up there.  Maybe Chick Webb did, maybe Gene Krupa.  But I did not.  And I was very happy being a team player in the band.  I always felt I was learning a great deal with that band."

    That same formula was used when Millinder's outfit appeared elsewhere.

    Shaughnessy reminisced, "We did in those days a tour of what's called the chitterlin' circuit, at that time, which would have been the Apollo Theatre in New York - actually, you ended up at the Apollo - and the Royal Theatre in Washington, D.C., and I can't think of the one in Baltimore, and then there was one other.  I think there were a series of four on the chitterlin' circuit.  Naturally, they were in the Black neighborhoods, at that time."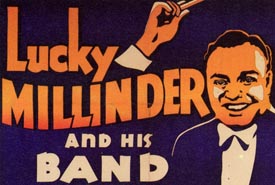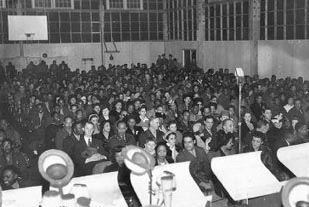 "The thing I found interesting was that - since prejudice was certainly rampant during that period - the bands couldn't stay at really good hotels, right?  So, they got something going that beat staying at hotels," he said.  "At that time, for one or two dollars, you'd have a room in some lovely older lady's house, where, you know, you could eat off the floor, the place was so clean, and the bedding and the sheets were just immaculate.  And for another dollar, you could have a great supper in her kitchen at night, and I said to the guys after a few nights of this, 'This beats the hell out of any place I stayed with a white band < laughs >!'  Because I was not making that much money with other bands, and you stayed at, sort of, 'Motel 6'-type places.  So, I learned a good lesson: that is, that the Black musicians circumvented a bad racial situation with an actual, better lifestyle.  And I thought that was most interesting, but I'll be honest with you, I've never seen anyone write about it."

sources:

Bernholm, Jonas.  Liner notes, "Shorty's Got to Go" [ LP ],

  Jukebox Lil JB-609, 1984.

---.  Liner notes, "Let It Roll Again" [ LP ], Jukebox Lil JB-613,

  1985.

Chilton, John.  "Lucky Millinder," in Who's Who of Jazz:

  Storyville to Swing Street (Philadelphia: Chilton Book

  Company, 1972), p.224.

Driggs, Frank.  "Lucky Millinder," in The New Grove

  Dictionary of Jazz (New York City: Grove's Dictionaries

  of Music Inc., 1988).

Garrod, Charles.  Lucky Millinder and His Orchestra

  (Zephyrhills, FLA: Joyce Record Club, 1994).

"Lucky Millinder Dies," Down Beat, Nov. 3, 1966, p.11.

Shaughnessy, Ed.  Telephone interview with the author,

  Oct. 28, 2005.

send feedback about "Lucky Millinder: Big Band

return to the Biographical Sketches
directory
    It could have been very awkward, perhaps dangerous, for a White drummer to be in an otherwise all-Black band.  (This was several years before Rosa Parks, an African-American, refused to give up her seat on the bus to a White man; she was arrested and jailed, and became a pioneer of the Civil Rights movement. She lived until last month, when she died of natural causes, at age 92.)

    "Well, the thing is, I stayed in the Black section of town.  I didn't cross over and try to go wandering around in the other sections, just because I thought it was cooler," he explained.  "'Cause people accepted you if you were one of the band, you were one of the people, you know.  If we were traveling by bus, I, kind of, sat in the back - < chuckles > it sounds funny to say - and slumped down, and usually kept a cap over myself.  Because we'd heard about some sheriffs and some police, that if they saw a White guy with a Black band, sometimes they would abuse them.  Take them off and abuse them.  That never happened to me, but I did take the word of the older guys and I kept a low profile while we were traveling.  I'm not trying to over-dramatize this, because I didn't have any bad experiences, but they told me you could, so be cool.  So I, of course, listened to everything they told me."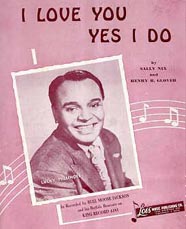 "Oh, I'm pretty active," he related.  "I do quite a bit of clinic work at high schools and colleges where I go, and I'm like a guest artist at their festival, and I do an educational session in the day and I'm the guest artist playing with their band at night.  I send my music out about a month before.  I do a lot of that.  And I'm the director of a thing called the Skidmore Jazz Institute every summer.  I've been doing that for 18 years, where we teach high school kids how to play jazz.  Skidmore College is up in Saratoga Springs, New York.  And I'm very proud of that program.  Aside from that, I do a couple of jazz festivals, like the Elkhart [ Indiana ] Festival, the L.A. Jazz Festival, and a few other festivals around the country.  And, altogether, I manage to stay pretty busy." 

    It's meaningful that, many decades (and bands) later, Shaughnessy can still recall his work with Millinder.

    As he told me, "Well, Lucky Millinder had -- I think the way we've sometimes referred to it, historically... a blues-based band.  I thought playing a lot of blues with him, and a lot of shuffle blues, funky blues, and different kinds of blues (along with a lot of other stuff, of course) . . . I thought was a good experience for a relatively young drummer . . . I think that's the main reason - that it was a band with a good sense of the blues.  And I hate to sometimes racially divide music, but very, very much representative of the Black feeling in music, at that time."

    No wonder that the band was so popular at the Savoy.

    "And," Shaughnessy continued, "he knew how to keep those people happy, with a slow tune, medium tune, whatever.  Not only that, but he was a great showman, with a lot of pizzazz and a lot of showmanship in front of the band.  He used to have a little tambourine, and he would beat on [ it ] and, you know, do a few dance steps and things.  And, on top of that, he knew how to get a band to sound good.  Some people might say, 'Well, he just hired good musicians.'  Well, that's a skill in itself! . . .   And he knew how to make a band swing and to play in good time, and, to me, these are the requisites of a good bandleader.  I don't care if he couldn't read a score or he couldn't read stuff.  I know guys who can read but weren't anywhere near as good bandleaders 'cause they didn't have what he had, you know."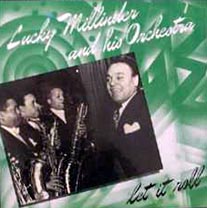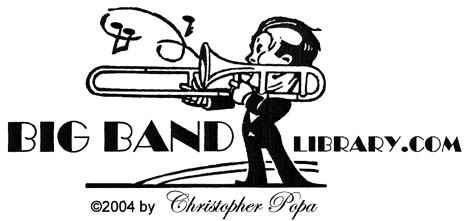 the big bands are back

in a new and exciting way

FEEDBACK AND FOLLOW-UP:

    Drummer Ed Shaughnessy had the hot seat, during a tribute concert to Buddy Rich, held October 3, 2007 in the California Ballroom at the Sheraton Hotel in Los Angeles.  Tunes performed included Love for Sale and Big Swing Face, and Shaughnessy, in the demanding role of Rich, was quoted as saying, "I'm doing the best I can."