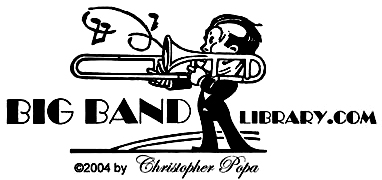 LES AND LARRY ELGART

"Fluid Drive"

by Christopher Popa   February 2005

    Their names are credited with a new, refreshing big band sound in the 1950s, one which even today continues to bring people to the dance floor though the Elgarts themselves moved apart long ago.

    "Well, in a way, I think that's not too unlike a lot of brothers," Larry once explained to me.  "You know, siblings have problems and when it comes to leading a band, really there can only be one band leader."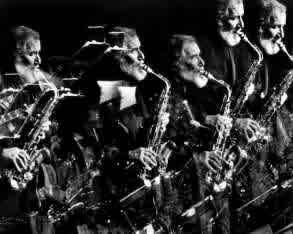 sources:

"Les Elgart, 77, Dies; Led a Dance Band," New York Times, Jul. 31, 1995,

  p.B7.

Palmer, Richard.  "Interview: Les Elgart," Cadence, Nov. 1986, pp.17-18.

Palmer, Richard F. and Charles Garrod.  Les and Larry Elgart and Their

  Orchestras (Zephyrhills, FL: Joyce Record Club, n.d.).

Popa, Christopher.  Interview with Joerene Elgart, Jan. 27, 2005.

---.  Interview with Larry Elgart, Jan. 16, 1983.

"Space Age Musicmaker: Les and Larry Elgart," spaceagepop.com

"Swingin' your way soon - Les Elgart [advertisement]," Down Beat,

  Jun. 1961, p.52.

Whitburn, Joel.   Top Pop Albums 1955-2001 (Menomonee Falls, WI: Record

  Research, Inc., 2002).

send feedback about Les and Larry Elgart: "Fluid Drive" via
e-mail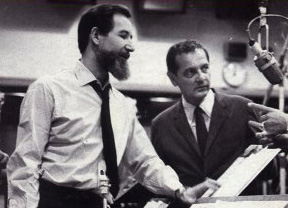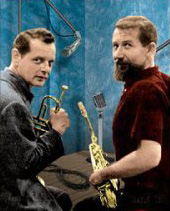 The group's billing shifted around a couple times over the decades, but the very first edition, in 1944, was, simply, Les Elgart and His Orchestra.

    "That was a completely different sound," Larry stressed.  "That was all orchestrations of Bill Finegan, Nelson Riddle, and there were a lot of doubles (woodwind doubles and so forth), and it had a totally different sound.  There were a lot of jazz guys in the band and so forth."

    Despite those promising elements, as well as support from the General Amusement Corporation which secured engagements at, for example, the Hotel Lincoln and Paramount Theatre in New York City, the band lost money and broke up in 1949.  It was reported that Les and Larry sold some of Finegan's charts to Tommy Dorsey for $150 a-piece, just so they could eat and pay for their laundry. 

vital stats:

given name: Les Elgart

birth:  Aug. 3, 1917, New Haven, CT

death:  Jul. 29, 1995, heart attack

father:  Arthur Elgart, a

  manufacturer's representative,

  also in real estate business

mother:   Bessie (Aisman) Elgart, a

  concert pianist and singer

education:  Pompton Lakes High

  School, New Jersey

military service:  U.S. Navy, WWII

wife:  Joerene Ingram, b.July 17,

  1927, m.Oct. 12, 1977

stepchildren:  Beth Fountain, Scott

  Ingram, Paul Ingram

grandchildren:

residences:  Chicago; San Antonio,

  TX; Dallas, TX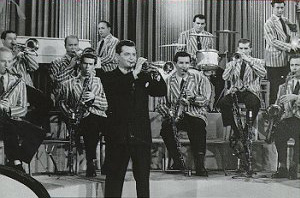 Les Elgart [in dark suit, holding trumpet ]

and his brother, Larry [ seated, holding alto sax ]

    Les initially became interested in music around age 10, when he joined the Cub Scouts and took up the bugle.  About three years later, he began studying the trumpet.

    "He also was a good athlete," his widow, Joerene, noted.

"He [played] with a Yankee farm team as pitcher."

    But music prevailed.

    "He got a chance to audition for Bunny Berigan's band.  I think it was [in] a big auditorium, he told me, and they needed a first trumpet," she recalled.  "It was like a big bunch of people, he had no idea he would win, but he did and he became real close to Bunny Berigan."

   Berigan, a beloved trumpeter who died shortly afterwards at age 33 in 1942, was one of Les' idols.

  "Yes he was," Joerene agreed.  "They even roomed together when they were on the road, you know."

   Les also worked with trumpeter Charlie Spivak later that year and with saxophonist Hal McIntyre's group in 1943.

vital stats:

given name: Larry Elgart

birth:  Mar. 20, 1922,

  New London, CT

education: public

  schools, Connecticut

wife:  Grace

children:   two boys

wife:  Lynn

residence:  Longboat

  Key, FL

    Joerene continued to reminisce about Les.

    "He was such a very sweet, kind person," she sighed.  "You know, people who are in show business, they're all different, just like everyone else. Some of 'em are more kind and some of 'em are not.  He was just,

completely, a very wonderful man to anyone."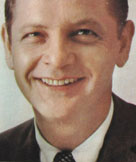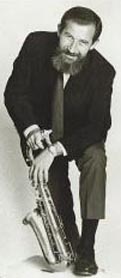 Larry, meanwhile, had also worked with several big bands, including trombonist Bobby Byrne's.  While playing in the pit band for the 1951 Broadway show "Top Banana," which starred comedian Phil Silvers, Larry met Charlie Albertine, a saxophonist and arranger who soon became a close friend. 

    Larry enjoyed trying different musical ideas, which resulted in "Impressions of Outer Space," a 10-inch Brunswick album recorded in June 1953; "Until the Real Thing Comes Along," a 10-inch Decca album, done with strings in January 1954, and "Music for Barefoot Ballerinas," another Decca project, completed in January 1955 and released as a 12-inch LP.

    "I recorded . . . some experimental things, some jazz ballet things, some little vignettes of tonal pieces called 'Impressions of Outer Space,'" he recalled.

    As unusual as those albums were, the biggest surprise came from

a big band project conceived with Albertine.  At that time, the bands had, for the most part, fallen out of favor with the public, so Larry and Albertine conjured up a fresh take and recorded some demo cuts at Fine Studios in New York City during late 1952.   

    "I think I tried peddling that record for about 2, 2-1/2 years before I could give it to Columbia Records," Larry revealed to me.  "And when I gave it to Columbia Records, since I was so involved in the very creative things that I was doing (the jazz ballets and that kind of stuff), I didn't really want to travel at that time and be a bandleader then.  And so I just put the name 'Les Elgart' on it, although he really wasn't involved with that project."

    "He had a different sound," Joerene described.  "Most everyone copied Glenn Miller, but he did not . . . it really was kind of an ensemble band, where every instrument was heard all the time.  But there would be solos, but not as much as some of the other bands."

    The Elgart concept did not use a piano.  The ensemble's brass section played in a light, clipped manner, and utilized a bass trombone.  The saxophones were rich, and the band, overall, played at easy tempos.

    Larry recalled, "CBS decided (it was called Columbia Records then) that they were going to put out a college prom record, and they called it 'Sophisticated Swing' and it was an absolute smash.  It was called 'Les Elgart and Sophisticated Swing' because I was very, very much involved in the things I felt were more serious and meaningful to me."

   The label asked for more, releasing a few cuts as singles, but mostly making full albums. 

Top-notch instrumentalists were hired on the dates, including Bernie Glow (trumpet), Danny Repole (trombone), John Murtaugh and Boomie Richman (saxophones), and Russ Saunders (bass).

    As Larry observed, "It was an interesting development because the Les Elgart Orchestra of 1952 was really not Les, except of course that Les is an entity and a musician and my brother and he wanted to be a bandleader, and since that band in the '40s was called 'Les Elgart,' I was very happy to let him go out and front a band called 'Les Elgart.'  And soon it was necessary for me to actually travel with it, because I had no idea that it was going to be such a tremendous success.  And therefore I had a product and I had something that needed nurturing and guidance and so forth, and with all the input I had made, I felt that I had to be in the central part of that band."

recommended listening - select list:

* as Les Elgart and His Orchestra; ** Larry Elgart and His Orchestra; *** Les and Larry Elgart

* I Never Knew   Boomie Richman, tenor sax solo   (Columbia, 1953)

* The Gang That Sang "Heart of My Heart"   (Columbia, 1953)

* Bandstand Boogie   arranged by Charles Albertine   (Columbia, 1954)

* Night and Day   (Columbia, 1954)

* I Had the Craziest Dream   (Columbia, 1956)

* I Hear a Rhapsody   (Columbia, 1956)

** Honeysuckle Rose   (RCA Victor, 1959)

** Mountain Greenery   arranged by Roger Middleton   (RCA Victor, 1959)

* These Foolish Things (Remind Me of You)   (Columbia, 1959)

* When I Take My Sugar to Tea   (Columbia, 1959)

* Cocktails for Two   (Columbia, 1960)

* East of the Sun   (Columbia, 1960)

* I Concentrate On You   (Columbia, 1960)

* The Continental (You Kiss While You're Dancing)   (Columbia, 1960)

* In the Still of the Night   (Columbia, 1961)

* It's De-lovely   (Columbia, 1961)

*** My Heart Belongs to Daddy   arr. by Charles Albertine   (Columbia, 1964)

*** Caravan   arranged by Charles Albertine   (Columbia, 1964)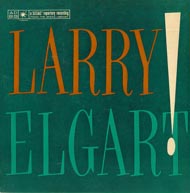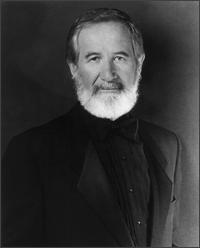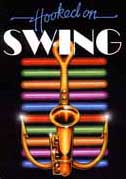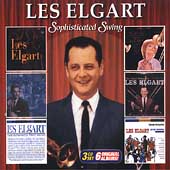 Larry concurred with me that Charles Albertine deserved a lot of credit for the Elgart band's distinctive sound.

    "Oh sure, Charlie Albertine was a wonderful, creative arranger who had the abilty to... very easy to communicate with Charlie," Larry recalled. "You'd say, 'Charlie, this is the kind of thing that I can envision,' and that's a very important key to an arranger, to be able to pass on ideas and the arranger be able to understand and grasp what it is you're saying.  If you're talking, particularly when you're talking in a very loose, non-musical form, you're talking about ideas and about creativity, and you're not actually saying, 'Look, the first chord should be this and the second chord should be that.'  If you're not actually laying something out, you're just talking ideas and you're talking about emotions and you're talking about feelings and you're talking about the kind of swing and you're talking about the harmonies that you like and you're talking about feels and you're talking about sensuality and you're talking about spirit and swing.  Whatever you're talking about, if you can communicate on that level with a writer and he understands exactly what you mean, then you have a wonderful... you can develop a wonderful kind of rapport with that kind of a talent.  Charlie was that kind of a guy.  He was very creative . . . and he was very easy to communicate with."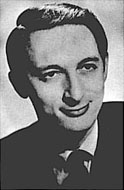 Charles Albertine     (1929-1986)

    Although Les conducted on the stand, in truth it was the vision of Larry and Charles Albertine which gave the ensemble its real musical direction, with Larry's alto saxophone providing a sensual coloring.

    "In 1955, we changed the name to 'Les and Larry,' since it wasn't something that I could just take and do in the studio and then send my brother out with it, that wasn't terribly fair to him, nor was it actually too workable," Larry explained.  "So I had to travel with the band, and we changed it to 'Les and Larry' and about 1959 we had some minor differences and we decided it might be better if we each had our own bands . . . whatever little differences we had, they seemed magnified.  They seemed to get under his skin, under my skin, and so we separated for a couple of years."

    Larry signed with RCA Victor and was nominated for a Grammy Award for his 1959 album, "New Sounds At the Roosevelt."  From 1960-62, he released music on MGM.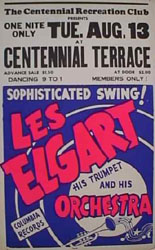 It was in 1977 that Les invited Joerene on a date.

    "When Les called, he said, 'Well, you can have lunch with me.  That isn't going to hurt you, you know,'" she laughed.  "And it just went on from there."

    When they met, she hadn't really heard of him.

    "No, I didn't.  I didn't [laughs]'," she admitted.  "I think he thought I knew all about him.  I didn't [more laughter]."

    They were married a few months later and, eventually, Joerene became manager of his band.

    "Well, it was a swing band, and it had sharp, crisp notes on some of the instruments," she observed.  "I enjoyed it very much.  It's the main dance band in the world, really.  I used to be a dancer and it was really great.  People wherever we played, in whatever country or city, just loved it.  Everything was just for dancing, although we did play concerts."

    "Then . . . we went back together again on Columbia Records, 'cause I didn't like what was happening with Columbia Records at the time and so I sort of stuck my own two cents in there and sort of took over," Larry continued.

    Together, Les and Larry were part of a memorable Jackie Gleason Show telecast on CBS in 1966, in which a number of big bands appeared, but within a couple years afterwards, they split up again.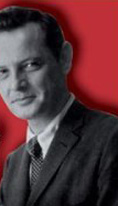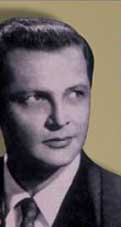 Sadly, the brothers remained apart, this time for good.

    "It's been a long time since the two of us have actually done anything together," Larry told me in the early '80s.  "Les went his own way and I continued using the name of 'Les and Larry Elgart and Their Orchestra' until about four or five years ago, when it wasn't really fair to him, nor to me -- nor to you -- to say 'Les and Larry Elgart and Their Orchestra,' so I just made a complete break .  So whatever Les does is Les, and whatever I do is mine."

    In 1982, Larry produced for K-Tel and RCA a "Hooked On Swing" album, billed as "Larry Elgart and His Manhattan Swing Orchestra."  The disc sold two million copies worldwide and he recorded a couple of follow-up LPs.   

    "Record companies don't cooperate unless they think they have something to cooperate with," he remarked.  "Record companies are the most difficult people in the world to convince.  They're no different than advertising agencies.  If you tell them you have something, if you show them that you have something that they can merchandise, they'll do it.  And if they think they can make a lot of money with it, and if they think that it actually, really, has a market, they'll go out and they'll work hard, 'cause I've seen it.  I've seen both extremes, of them doing nothing and I can see what a combination of K-Tel Records and RCA can do with a product, if they really believe in it.  I've seen it and I'm abosultely amazed what the difference is, if they are behind it and if they are enthusiastic themselves.  There's no stopping them, if they want do do it.  And they will do it, and they're always looking for new things, but you, sort of, have to feed them a little bit at a time.  The record company is only interested in what the public is going to grab at, and what they're going to accept and what they're not going to accept.  If they see that you've got something that people are responding to, then they are absolutely willing... they're dying to merchandise whatever is merchandisable."

    Since then, Larry has continued to pursue new musical thoughts.

   "I have some new arrangers that I'm extremely fond of working with," he said.  "And I'm always looking for new people who have new things to bounce things off and to respond with."

    At the same time, he remains proud of the music he and Les made.

    "I am," he confirmed.

    "He is, I think, probably the best alto sax player around.  He's very good," Joerene said in 2005.

    Earlier this month, Larry played a couple dates in Florida.  And to keep Les' memory alive, Joerene calls the shots with a Les Elgart "ghost" orchestra, presently directed by drummer Russ Dorsey, who had worked with him in the late 1960s.

    Who knows?  The Elgart touch -- Les and / or Larry -- might again get young people switched back to swing!

          Larry Elgart's music in motion

Les Elgart summer 1960 itinerary - excerpt:

Jul. 1-6, Steel Pier, Atlantic City, NJ                                  Jul. 21, Prom Ballroom, St. Paul, MN

Jul. 8, Hershey Park, Hershey, PA                                    Jul. 22, Terp Ballroom, Austin, MN

Jul. 10, Midway Ballroom, Cedar Lake, IN                          Jul. 23, Mentor, MN

Jul. 11, LaCrosse, WI                                                       Jul. 24, Harbor Inn, Nisswa, MN

Jul. 12, Electric Park, Waterloo, IA                                    Jul. 26, Edgewater Hotel, Madison, WI

Jul. 13, Serf Ballroom, Mason City, IA                                Jul. 28, Pavilion, Fruitport, MI

Jul. 14, Interlachen Country Club, Minneapolis, MN             Jul. 29, Cedar Point Ballroom, Sandusky, OH

Jul. 15, Valaire Ballroom, Des Moines, IA                           Aug. 1, Pier Ballroom, Toronto, Ontario, Canada

Jul. 16, Shaw Acres Ballroom, Sioux City, IA                      Aug. 2, Dunns Ballroom, Toronto, Ontario, Canada

Jul. 18, Skyline Ballroom, Carol, IA                                    Aug. 4, Country Club, Jackson, MI

Jul. 19, Roof Garden, Arnold's Park, IA                               Aug. 5, Chippewa Lake, OH

Jul. 20, Arkata Ballroom, Sioux Falls, SD                           Aug. 7, Country Club, Lima, OH