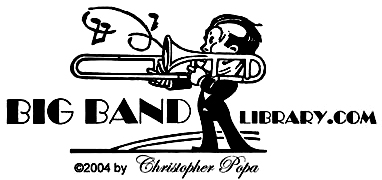 JERRY GRAY

                    "A String of Pearls"

                                 by Christopher Popa

    Arranger - composer - violinist Jerry Gray had a flair for writing catchy, imaginative charts, and with them he certainly contributed a lot to the big band era.  In the years which followed, the music he did under his own name may not have had quite as high a profile, but nevertheless included some fine works.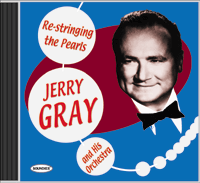 his arrangements for Artie Shaw - select list

Begin the Beguine

What Is This Thing Called Love?

Carioca

Jungle Drums

Softly, As in a Morning Sunrise

his arrangements for Glenn Miller - select list

Chattanooga Choo Choo

At Last

Tuxedo Junction

Polka Dots and Moonbeams

Anvil Chorus

his originals for Glenn Miller - select list

A String of Pearls

Pennsylvania 6-5000

I Dreamt I Dwelt in Harlem

    At the very least, during the early 1950s he put a new spark of life in the dance band business with his own orchestra.  On February 13, 2001, 25 wonderful recordings by him were issued on CD (most commercially for the first time) by Soundies, a music licensing and marketing firm.  I was asked to choose the songs and write the liner notes, and hearing that music a half-century after it was made proved to me that Gray's efforts remain pleasant listening.

"Re-Stringing the Pearls," Soundies SCD 4138

Re-Stringing the Pearls (A Ball of Twine)

Accidents Will Happen   Tommy Traynor, vocal

Sound Off   The Crew Chiefs, vocal

Crazy, She Calls Me   Tommy Traynor, vocal

Loch Lomond (By Yon Bonnie Banks)

V-Hop (V for Victory Hop)

Sitting By the Window   Tommy Traynor, vocal

Dig-Dig-Dig for Your Dinner

Desert Serenade   [ theme song ]

    Richard March, Secretary of the London-based Glenn Miller Society, wrote me afterwards that the CD "was SUPERB, in sound, quality and last, but not least, the music."  Mark Greenfield, who reviewed the disc for Big Bands International, called it "very enjoyable, one of the better CDs of Miller derivatives."

    "Violin was obviously his first musical experience," trumpeter Zeke Zarchy, who became a friend of Gray's in the mid-1930s, told me.  "Actually, I was not in Jerry Gray's band.  We worked together in the short-lived first Artie Shaw band in 1936-37, where he played first violin and wrote all the charts.  The next time it was with the Glenn Miller civilian orchestra in 1940.  After that," Zarchy continued," it was in the Glenn Miller Air Force band, where he joined us as an arranger.  After the war he came to Los Angeles, where he established himself in radio."

vital stats

given name:   Generoso Graziano

birth:   Jul. 3, 1916, East Boston, MA

death:   Aug. 10, 1976, Dallas, TX, heart attack

description:   5'7", 185 lbs., brown eyes and hair

father:   Albert Graziano, a music teacher

mother:   Mary Sarno

brother:   Tony Gray, an accordionist

education:   public schools, Boston, MA

musical training:    taught solfeggio by his father; began

    violin study at age 7, later study with Emanuel

    Ondricek in Boston; principally self-taught in

    harmony and orchestration

wife:

son:   Albert Gray, an attorney

son:

daughter:

awards:   earned a Bronze Star for meritorious

    service, U.S. Army Air Force, World War II

hobbies:   golf, photography

memberships:   A.F.M Locals 802 (New York City)

    and 47 (Los Angeles); ASCAP, 1942-

residences:   5058 Willowcrest Ave., North

    Hollywood, CA (1951); Dallas, TX (ca.1969-76)

    In 1949 a number of musicians who had little or no connection with the Glenn Miller style began using it, including arranger - pianist Ralph Flanagan on RCA Victor and trumpeter Ray Anthony at Capitol.  Another major record label, Decca, responded by asking Gray to cut four Miller-styled sides. 

    During the previous couple of years, Gray had been quietly conducting the band on "Club 15," a popular radio show named for its 15-minute length.  Hearing others play what they thought was Miller music, Gray decided to fully enter the dance field the following year and produce the real stuff, supported by a big build-up from the Music Corporation of America (MCA) booking agency.

    That first session for Decca was a success and he was asked to do many more, similar recordings for them.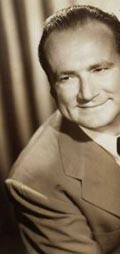 other recommended singles - select list

Crew Cut   Decca, 1949

Minuet in G   Decca, 1950

Oh, So Good   Decca, 1952

Solid As a Stonewall, Jackson   Decca 1952

And the Bull Walked Around, Olay   Decca, 1953

    Unlike some bandleaders who took new songs and tried to make them sound like old ones, Gray had originality, fashioning his own famous A String of Pearls anew, into Re-Stringing the Pearls (A Ball of Twine).  He slightly altered at least a half-dozen of his other pieces, namely Sun Valley Jump, Caribbean Clipper, Jeep Jockey Jump, V-Hop (V for Victory Hop), Flag Waver, and The Spirit Is Willing.

    "We played many of his old compositions, as well as new ones," guitarist Al Hendrickson, a member of Gray's band over several years, recalled for me. 

    Also in Gray's music books were Don't Be That Way, My Isle of Golden Dreams, Loch Lomond (By Yon Bonnie Banks), The Dipsy Doodle, Mood Indigo, Holiday for Strings, and Long, Long Ago, each an instrumental that he had earlier arranged for Miller's civilian and / or service bands.

    The many requests which he received for Miller numbers indicated there was still a great demand for that style, so he always kept that legacy a part of his own ensembles.

    "Jerry used the Miller sound because it was his," Hendrickson emphasized. 

    Especially well-crafted by Gray were Accidents Will Happen (written by Johnny Burke and Jimmy Van Heusen for the film "Mr. Music"), the variety of tone colors on George and Ira Gershwin's Bess, You Is My Woman, and the beautiful, rich Miller sounds on Desert Serenade, the Gray band's theme.

    Additional titles transcribed were the soothing Flow Gently, Sweet Afton, a bouncy St. Louis Blues,

then-current pops Sound Off, Dig-Dig-Dig for Your Dinner (written by Mack Gordon and Harry Warren for the motion picture "Summer Stock"), Crazy, She Calls Me and Sitting By the Window, the latter two sung by Tommy Traynor.

    Under Gray's direction, each recording sparkled with precision and authority.

    "Sessions with him never had to go into overtime," Zarchy told me.  "Having written everything himself, he knew just what he wanted to hear; and hiring excellent players, most of them personal friends, made everything move right along smoothly without problems."

    Besides Gray, veterans of the Miller outfit in his own band included trumpeters Zarchy, Johnny Best and Dale McMickle; trombonist Jimmy Priddy; and clarinetist Willie Schwartz.

    "We had a very good band," Hendrickson stated.  "The finest musicians available, I think, and Jerry's arrangements were very good."

    Other than Gray's brother, Tony, on accordion, everyone in the group has previous affiliations with other big-name bands. 

    "John Best, Conrad Gozzo and Frank Beach made a great trumpet section," Hendrickson said.  "Of course Murray McEachern was a one of a kind trombonist ... Ted Nash was an outstanding tenor man."

    It was Best and Ray Linn, not Zarchy, who played the trumpet solos heard on the Soundies CD.

    "No solos; I was primarily a lead player," Zarchy confirmed.

    Hoyt Bohannon did the trombone breaks, and Nash blew the saxophone solos.  Complimenting those players was a rhythmic beat which awakened interest from dancers and ballroom operators alike.

    "Most of the time, we had my favorite rhythm section," Hendrickson enthused to me,  "Alvin Stoller [drums], Joe Mondragon [bass], and Jimmy Rowles [piano]."

    Other personnel in and out during the early '50s included trumpeters Pete Candoli and Charlie Teagarden, trombonists Tommy Pederson and Johnny Halliburton, and saxophonists Dave Harris and Jimmy Giuffre.

    When "Club 15" was on hiatus, Gray and his "band of the day," as they were billed, performed at the Palladium in Hollywood, and also made cross-country tours.  Their 1951 itinerary, for example, included the Vogue Terrace nightclub in McKeesport, PA (5/28-6/2); Chicago's Edgewater Beach Hotel (6/8-7/13); the Highlands Ballroom in St. Louis (7/13-19); and the Casino Ballroom in Walled Lake, MI (8/3-5).

    "The band was very well accepted on those dates, and Jerry was very good with the public," Hendrickson reported.  "I'm not sure of the year, but when we played the Meadowbrook in New Jersey, the roof was blown off.  It was repaired quickly, and we had a very good time there.  We did a remote broadcast nightly, and Jerry asked the band to stay away from the bar until after the broadcast.  Bars were very popular in those days, and the band was there on the first ten-minute break.  We did a good show for him, anyway!"

    If one of the musicians couldn't make a job, didn't want to travel, or decided to leave the band, Gray never had trouble filling a chair, since there were so many excellent former big band sidemen then living in the Los Angeles area, from which the band worked.

    "I had already been in L.A. for some years and could not give up all the accounts I had established to do his radio shows or go on the road with him," Zarchy noted.  "Consequently, the only time I worked for him were on recordings."

    "Club 15" continued into January 1953.

    "Yearly he [Jerry] had a party at his home for the band and stars and staff of 'Club 15,'" Hendrickson reminisced.  "He and his mother and father made it a real Italian holiday.  Great food, Bocci, etc.  I was on the 'Club 15' show for all but a few weeks."

    In a music appreciation course that I completed while a student at Kent State University in Ohio, the professor (strictly a classical lover) asked each person in the class to write on a form "our favorite composer"... obviously expecting to read the names "Bach," "Beethoven," "Mozart," etc.  I wrote "Jerry Gray" and meant it.

    I happily compiled a Jerry Gray discography for Joyce Music Publications in 1984, including -- besides the traditional performance details -- biographical information, a list of his compositions, and a select bibliography.

    While his own voice introduces several of the tracks on the aforementioned Soundies CD, thanking listeners along the way, I think that, instead, we should thank him, for all the musical gems that he helped to create during his career.  I trust that my efforts in some small way expressed that acknowledgement.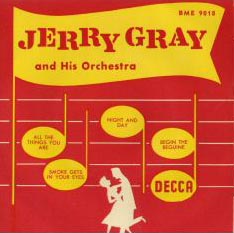 sources

Allen, Stuart.  "U.S. Personal Points: Jerry Gray," Melody Maker, 25 June 1949, p.4.

Greenfield, Mark.  "UK CD Reviews," Big Bands International.

Hendrickson, Al.  Letter to author, 19 Sept. 2000.

"Jerry Gray," in Who Is Who in Music (Chicago: Who Is Who in Music, Ltd., 1951).

"Jerry Gray, 61, Band Leader, Composer and Arranger, Dies," New York Times, 11 Aug. 1976,

    p.38, col.1.

March, Richard.  Letter to author, 21 Feb. 2001.

Popa, Christopher.  Jerry Gray and His Orchestra (Zephyrhills, FL: Joyce Music, 1984).

Zarchy, Zeke.  Letter to author, 19 Sept. 2000.

send feedback about Jerry Gray: "A String of Pearls" via
e-mail
return to Biographical Sketches
index
Jerry Gray's personal favorites

musicians:   Artie Shaw, Mel Powell

bands:   Duke Ellington, Dizzy Gillespie

records:   Rhapsody Espanol by Leopold Stowkowski, Passion Flower by

    Duke Ellington

composers:   Ravel, Debussy

arrangers:   Bill Finegan, Duke Ellington

    In the 1960s and '70s, Gray continued leading fine bands, writing appealing arrangements, making LPs, and gradually developing new sounds until his death.

    "His band was equal or better than most," Zarchy observed.

    "Working with him was a pleasure," Hendrickson concluded.