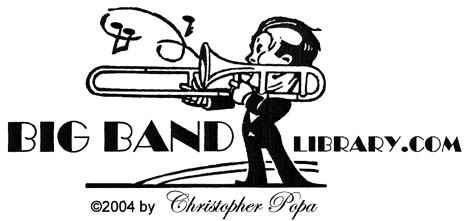 the big bands are back

in a new and exciting way

JAN SAVITT

"THE SWING-HAPPY YEARS"

by Music Librarian Christopher Popa  

September 2007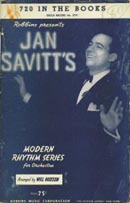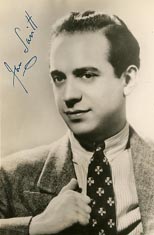 Jan Savitt Orchestras necrology - select listing:

Joseph Gabriel "Gabe" Gelinas, saxophonist, d.1949, age 39?

Robert "Cutty" Cutshall, trombonist, d.Aug. 16, 1968, age 56

George "Bon Bon" Tunnell, vocalist, d.May 20, 1975, age 62

Johnny Austin, trumpeter, d.Feb. 14, 1983, age 72

Maria Kramer, manager of Hotel Lincoln, d.Mar. 12, 1986, age 103

Carlotta Dale, vocalist, d.Dec. 1, 1988, age 73

Jack Pleis, pianist - arranger, d.Dec. 5, 1990, age 73

Buddy Schutz, drummer, d.Feb. 24, 2007, age 92

    As for Leopold, he returned to Philadelphia after World War II was over.

    "Oh, I had a whole career since then.  You know, it's been, like, 160 years ago," he kidded.

    How did he hear of Savitt's passing?

    "I was at KYW - I went back to the station," he recalled.  "I was at the station when he passed on."

    Now, at age 90, Leopold shares his knowledge and experience with others.

    "I teach," he reported. 

    He told me about a new project of his that should be of interest both to those who lived through the big band days and others who weren't born until many years afterwards.

    "I have an album that's going to be finished shortly, I hope, that contains an awful lot of information, including my autobiographical experience with the Savitt band and also my own band which I formed after that," he said.

    Originally six 90-minute tapes, the album has been edited down to 3 CDs.

    "It's a combination commentary and music," Leopold explained.  "It'll give you a pretty good insight . . . Of course, half of it is Savitt and half of it is me."

    What if, after hearing Leopold's album, one of his current students will want to join a big

band?

    "I encourage them to go into education, and play that on the side," he confided.  "You know, don't try to make a living of it."  

sources:

Abbott, Charles.  "Buddy Williams Writes Good Jump Tune," Down Beat, June 1, 1942,

  p.17.   [ mentions Lepol ( sic ) was working with "Lew Shrader's Earle Pit Band" ]

"Al Lepol [ sic ] with Jan Savitt: Sensational Hot Stylist Plays Rudy Muck '155' Trombone

  Exclusively," Down Beat, Nov. 15, 1940, p.13.   [ advertisement ]

"Bon Bon-Jan Are Parted," Down Beat, Nov. 1, 1940, p.1.

"Conniff Joins Jan Savitt," Down Beat, Aug. 1, 1941, p.5.

Danko, Stephen.  "Bandleader's Changing Birthdate, The," Steve's Genealogy Blog,

  stephendanko.com, Jul. 14, 2006.

---.  "Brief Biography of the Joseph Sarvetnick Family," Steve's Genealogy Blog,

  stephendanko.com, Jul. 21, 2006.

---.  E-mail to author, Apr. 18, 2007.

---.  "Immigration of David Sarewetnik [ sic ], The," Steve's Genealogy Blog,

  stephendanko.com, Jul. 16, 2006.

---.  "Jan Savitt in the Census," Steve's Genealogy Blog, stephendanko.com, Jul. 15, 2006.

---.  "Josef Sarwetnik [ sic ] and the Kaiserin Auguste Victoria," Steve's Genealogy Blog,

  stephendanko.com, Jul. 18, 2006.

---.  "Visit to the Family History Center, A," Steve's Genealogy Blog, stephendanko.com,

  Aug. 2, 2006.

---.  "Where's Morris?," Steve's Genealogy Blog, stephendanko.com, Jul. 19, 2006.

---.  "World War I Draft Registrations of David Sarvetnick and David Savitt," Steve's

  Genealogy Blog, stephendanko.com, Jul. 17, 2006.

---.  "World War II Draft Cards for David and Morris Savitt," Steve's Genealogy Blog,

  stephendanko.com, Jul. 20, 2006.

Dexter, Dave Jr.  Liner notes, "The Uncollected Jan Savitt And His Top Hatters: 1939,"

  Hindsight Records HSR-213, 1985. 

"Durham-Savitt Settle Cash Fight," Down Beat, Jan. 1, 1941, p.1.

Hall, George.  Jazz Discographies Unlimited Presents Jan Savitt and His Top Hatters

  (Laurel, MD: Jazz Discographies Unlimited, Apr. 1971).

"Jan Savitt, Band Leader, Dies in California Hospital," Chicago Daily Tribune,

  Oct. 5, 1948, p.20.

"Jan Savitt Gets On That Fiddle Kick, Himself: Leader Debuts His Ork in Hollywood With

  Gut-Scrapers," Down Beat, July 1, 1942, p.6.

"Jan Savitt Plays Strand Next Week," Down Beat, Apr. 1, 1943, p.2.

Leopold, Al.  Interview with author, Aug. 24, 2007.

---.  "'N'goma' Morehouse Wins Drummer Award," Down Beat, Oct. 1938, p.30.

"No Plans to Keep Savitt Ork Intact," Capitol News, Nov. 1948.

"Rudy Muck Exclusive Artist: Al Lepol [ sic ]," Down Beat, Dec. 15, 1941, p.11   [ advertisement ]

"Savitt, Jan" in ASCAP Biographical Dictionary of Composers, Authors and Publishers,

  3rd Edition (New York City: ASCAP, 1966), p.642.

"Still Popping . . . ," Down Beat, Jan. 1, 1942, p.24.

"To The Savoy," Chicago Defender, Mar. 2, 1940, p.9.

"Today's Radio Broadcasts," Chicago Tribune, Aug. 23, 1934, p.21.

Tumpak, John.  "Sidebar: Jan Savitt - From the Classics to Swing: Part I," Dancing USA,

  Jul./Aug. 2003, pp.22-23.

---.  "Sidebar: Jan Savitt - From the Classics to Swing: Part II," Dancing USA,

  Sept./Oct. 2003, pp.22-24.

"Where to Tune in On the Hot Air," Down Beat, Nov. 1938, p.5.

FEEDBACK AND FOLLOW-UP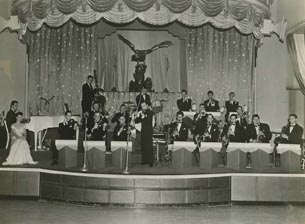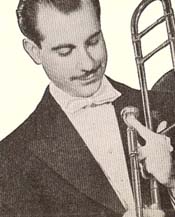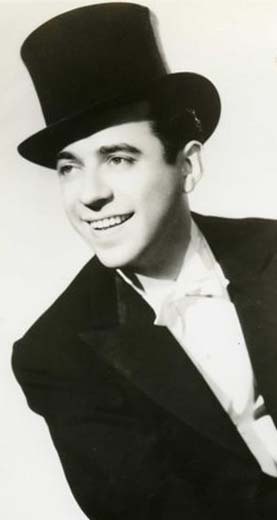 How unusual was it for him to have been a violinist with a major U.S. symphony orchestra, then put together a popular big band?

    "That's a good question," Al Leopold, one of his featured trombonists, laughed.  "Now, I'm sure that Jan Savitt was not a purveyor of swing music.  But what he did, he surrounded himself with the men and the arrangers.  So all he had to do was to give us the tempo.  Although he knew exactly what he wanted."   

    Reviewing Savitt's life and career, he seemed to have been successful at nearly everything he did, right from the very start. 

    "He was a boy genius," Leopold said.  "Well, he had ambition, and that, I think, was his big point.  He had ambition, he wanted to do something, and he did it."

    Savitt filled his band with fine musicians, first making a name for himself in Philadelphia and then building his band's fame across the country.

    "He made sure he got the people that could do it for him," Leopold interjected.  "If he saw somebody he wanted, he got 'em." 

    Most people associate Savitt with shuffle rhythm, but his band (which I think was underrated) did play other things; for instance, they recorded a dozen classical pieces in 1941.

    "The band was very diverse, all different kinds of stuff," Leopold stressed.  "It wasn't just one style."

vital stats:

given name   Jacob Sarvetnick

birth   Jul. 4, 1908 (or Sept. 4, 1907?), Shumsk, Russia

death   October 4, 1948, cerebral hemorrhage

heritage   Jewish (Hebrew)

father   Joseph Sarvetnick, b.Dec. 10, 1869, "a maker of feather dusters" and, later, "a motor

  mechanic in a motor brushes manufacturing factory," m.ca.1891

mother   Ida, b.Aug. 1877, m.ca.1891

brother   Morris, b.Sept. 8, 1895

brother   David, b.Apr. 2, 1901

brother   William, b.Apr. 9, 1903

wife   Barbara Stillwell, m.Apr. 7, 1940, m. (later, div.) Steve Brody, d.1995 in a home

  swimming pool accident

daughter   Devi Marilyn, b.ca.Oct. 1941

daughter   Jo Ann

education   Philadelphia High School for Boys (later known as West Philadelphia High

  School), Philadelphia, PA; The Curtis Institute of Music, Philadelphia, PA, 1924-30

residence   235 Monroe St., Philadelphia, PA (1910); 1628? S. Reese St., Philadelphia, PA

  (1918); 4056? 62nd St., Philadelphia, PA (1920); 6221 Pine St., Philadelphia, PA (1930);

  1619 Walnut St., Philadelphia, PA (1938); Riverside Dr., New York City (ca.1940); Toluca

   Lake, CA (1947)

    Genealogical research done by Stephen Danko has unearthed much information about Savitt's relatives.  For example, Savitt's father immigrated to the U.S. in 1906, with the rest of the family probably following within a few years. 

    There has been uncertainty with the date of Savitt's birth, typically given as 1913 or 1914.  Danko cautioned, "Nearly every official document lists a different date of birth for the members of Joseph Sarvetnick's family." 

    When he was around 5 years old, Savitt was given a violin as a present by his father (who had purportedly been a drummer in Czar Nicholas II's Imperial Regiment Band).  He took lessons and was playing violin with the Civic Symphony Club Orchestra in Philadelphia by the time he was in high school in 1919 (the same year that his father legally changed the family's surname to Savitt).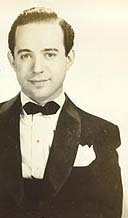 In the fall of 1924, Savitt applied for admission and received a full scholarship to The Curtis Institute of Music.  For the first four years, he studied under violinist Carl Flesch, including a summer spent with him in Germany in 1927.  Savitt also received instruction from other renowned musicians, namely Arthur Rodzinski, Richard Hartzer, and Fritz Reiner.

    So talented was Savitt that Leopold Stokowski, conductor of the prestigious Philadelphia Orchestra, personally offered him a position in the Orchestra's second violin section.  He

accepted, becoming the group's youngest member, up to that point.  Eventually, Savitt advanced to the second position in the section, which was composed of 18 musicians.

    "He was, pretty much, Stoki's favorite," according to Leopold.

    In fact, some early 1940s advertisements billed Savitt, by then leading his own dance band, as the "Stokowski of Swing."

    Savitt left The Curtis Institute in mid-1930 (and officially received his Bachelor's Degree in Violin at a ceremony in 1935).

    In 1932, he formed his own ensemble, The Savitt String Quartet, which broadcast twice-weekly on the 50,000-watt Philadelphia radio station WCAU. 

    Savitt resigned from the Philadelphia Orchestra in 1934, to accept the position of Music Director at WCAU and form a house orchestra.

    "He conducted that," Leopold reported, "and that was a combination concert orchestra and a jazz orchestra.  That was one of his achievements . . . When he left the Philadelphia Orchestra, he didn't just walk in to that job.  I think he promoted it . . . He was very ambitious." 

    WCAU was a CBS network affiliate, so within a number of months, Savitt's music was being carried throughout the country, such as on WBBM in Chicago, another CBS station.

    "At CAU, it was 'Jan Savitt and the orchestra.'  We did some coast-to-coast everyday, programs

at 5 o'clock," Leopold recalled. 

    "And besides Jan Savitt, which he did when we were concertizing, the jazz band had taken the name 'Top Hatters.'  And that's the name that remained with him."

    Where did the name "Top Hatters" come from?

    "We had to have a uniform," Leopold explained, "and, rather than the old tuxedos, he decided that we would use full dress and top hat.  In other words, the long tails - white tie and tails.  Hence the name 'Top Hatters.'"

    If a live audience wasn't present for a radio broadcast, the band didn't have to dress up. 

    "No, no.  We used those when he went out on club dates - one-nighters at surrounding ballrooms," Leopold said. 

    A cursory examination of the band's itineraries from 1936-38 shows stops at the Arcadia Restaurant in Philadelphia; the Steel Pier and Million Dollar Pier in Atlantic City; and two tours of Charlie Shribman's New England ballroom circuit.

    "We played colleges and ballrooms and different dances," Leopold offered.  "You know, like whatever comes up."

    An early fan of the band was Metronome critic George T. Simon.

    "Yes, he was supportive," Leopold acknowledged.  "Yeah, he used to pop in once in a while, and in his columns he used to give a boost."

    WCAU's local rival, radio station KYW, persuaded Savitt to come work for them starting in the fall of 1936. 

    "KYW came into Philadelphia," Leopold recalled, "and they built a building quite near 'CAU.  And so when Jan's contract was up at WCAU, he had made arrangements to move to KYW as the house band there."

    At KYW, Savitt started a new radio program, called "Music for Moderns."

    He also signed his first recording contract, with Variety Records, and cut a total of 8 sides in February and March of '37, including one called Shuffle Rhythm, which, ironically, was not released at the time. 

    Shuffle rhythm would become one of the Savitt band's most infectious and familar devices.

    "It was a great commercial seller," Leopold stated.  "In other words, he was known for his shuffle rhythm."

    Although trumpeter Henry Busse had, at times, used a shuffle-like rhythm with his band a few years earlier, the sound was brought to the Savitt band by arranger Johnny Watson.

    "I'm pretty sure that that originated with him," Leopold agreed.

    How can Savitt's shuffle rhythm be explained, with words?

    "It's like a... let's see if I can describe it for the lay person," he proposed.  "Uh, can you hear something like a 'rumpty-dumpty-rumpty-dumpty-dumpty'?"

    "Yes," I responded.

    "Could you describe that?," he asked.

    "A bouncing kind of rhythm," I answered.

    "Bouncing rhythm is good," he allowed.  "That's good and that's what they would understand. A bounce rhythm."

    Others have explained that the piano plays double-time, but the way I would put it is that the piano sounds like it's sneaking around or up some stairs in a cartoon. 

    "Actually, some of the rock bands use the shuffle rhythm," Leopold stated.

    One night in early 1937, while returning from a performance at a country club in the suburbs of Philadelphia, the band's singer, Carlotta Dale, was injured.

    "Somehow . . . she got thrown out of the car, and she ended up in the hospital and Dr. Dorrance ([ who invented condensed soup for ] Campbell's Soup), he operated on her eye and lip and stuff - you know, that facial stuff," Leopold stated.  "But while she was in the hospital, we had a promotional gig where we were going up to do a broadcast from a TWA plane."

    The date was April 28th, and it was touted as the first live broadcast from an airplane, circling the city at 5,000 feet.

    "So we're going up into the plane and, of course, we were supposed to have some vocals there," Leopold said.

    But Dale was still confined to the hospital. 

    "We did the program and shot it through to the hospital and back to the station.  So she sang from the hospital," Leopold confirmed.  "A little wild!"

    Savitt made an even more important historical achievement in 1937 when he hired George Tunnell, who used the stage name "Bon Bon," as his male singer.

    "We were the first white band to have a black vocalist," Leopold confirmed. 

    Unfortunately, some of the general public had very closed minds because of the color of a person's skin.  Nonetheless, Bon Bon's vocals were a delight. 

    "Great voice, good scat singer," Leopold remarked.

    "Bon Bon [ pictured l., with Savitt ] was the greatest gentleman you'd ever want to know," Leopold continued.  "And it was very hard in those days, because, you know, when we went on the road and we got a little west or a little south or something, there was just no hotel, no restaurant, very few where he could go in with the band.  So if there wasn't anything handy, he would stay in the bus and we would bring him food out.  But, most of the time, if he couldn't eat there, we wouldn't eat there.  We would wait 'til we found something where, you know, we could."

    In November 1937, the band switched to Bluebird Records, making a total of 42 sides for them during the following twelve months, including originals like Futuristic Shuffle and pop tunes such as You Go to My Head.

    Leopold served as a correspondent for Down Beat, reporting local music news from Philadelphia, in their October 1938 issue.  He wrote, "Jan Savitt, heard on the Top Hatter programs and Music for Moderns series, just returned from a South American cruise, and is denying rumors that he is moving the outfit to New York, but adding that a night spot is in order for the fall season."

    According to Stephen Danko's genealogy research, Savitt had, in fact, sailed on the S.S. Volendam, roundtrip to the West Indies, from August 27 to September 8, 1938.

    The band resumed a "heavy schedule" on KYW during the day, and worked the Arcadia Restaurant in Philadelphia at night, with airshots on the NBC red network Mondays at 12 midnight and Saturday afternoons between 4:30 and 6 pm, "schedule being dependent on final of day's football game."

    "Now, of course, building up a nationwide audience, Jan was besieged by offers from the booking offices to go on a tour," Leopold said. 

    Savitt's contract with KYW was up in January 1939, giving him the opportunity to leave Philadelphia.

    "Some of us decided we did not want to go," Leopold told me.  "Most, I would say most of the studio musicians stayed.  They did not leave with Jan."

    Including Leopold?

    "Including me," he confirmed.  "Jan told me, 'Look, if you ever decide to leave, give me first refusal, right?  Give me first shot.'  I said, 'Okay,' and promptly forgot."

    The tour took place, without Leopold.

    "Jan went on a tour and he had to get the scrubs.  You know, whomever he could pick up.  They were good musicians, but ones who were willing to go.  And he did the tour," he reported.  "I don't know how far he went out and he came back and he established himself at the Hotel Lincoln, as the band there."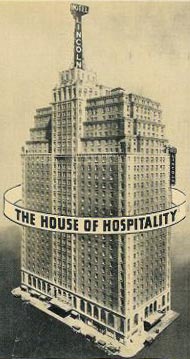 Having both a booking at a major New York City location and plenty of network radio airtime would be invaluable to any musician, so Savitt quickly accepted the offer to play the Blue Room at the Hotel, which was managed by Maria Kramer.

    "She loved the band," Leopold said.  "Whatever was necessary for that band, she got it.  She made sure we got the coast-to-coast."

    How did Leopold re-join Savitt?

    "I had been getting offers from Tommy Dorsey, and Jimmy

[ Dorsey ], and a few of the others," he recalled.   "I decided that I would go with Jimmy, so I went out and played a couple of things with him out at... was it Glen Island?  Well, I don't know where, one of the places he was working.  He said , 'Okay.'  It was not a signed agreement, but I said, 'I'll see what I can do at the station to get out of my contract.  And I got the phone call from Jan Savitt, who heard I was going to leave.  He said, 'Do you remember what you promised me?'  I said, 'Oh, I remember now, but I had forgotten.'  He said, 'Well, you know, here it is.'  So blah-blah-blah and I ended up with Savitt at the Lincoln."

    Leopold became known for his trombone solos on Savitt recordings such as Rose of the Rio Grande.

    "Oh yes," he said.  "He knew what I could do, and he gave me a free hand.  And, of course, a lot of the arrangements were built around me because I was getting the most money, for one thing.  And they wanted their money's worth, you know.  A lot of lip trills in certain things, and featured choruses.  I would be the main man, if you want to put it that way."

    And that was his horn on the band's theme, Quaker City Jazz.

    "Yes, I did it all," he boasted.  "See, we didn't use shuffle rhythm all the time, but when we didn't, our jazz tunes were Ellington-like and Count Basie.  As a matter of fact, Count Basie's manager came with the band."

    Leopold couldn't think of the man's name, but I think he meant Milt Ebbins.

    "And he brought with him two arrangers that arranged for Count Basie - Billy Moore and Eddie Durham," he continued.  "We had quite a few charts that were exactly like that kind of form, of Basie.  And we used other arrangers, jazz arrangers.  Johnny Watson did a lot of the shuffle stuff."

    The arranging staff also included Johnny Warrington, who played sax with the band.

    "He was an excellent arranger," Leopold commented.

    Meanwhile, Bon Bon sang a batch of goodies, including Vol Vistu Gaily Star and It's a Wonderful World.

    "Bon Bon made up the words," Leopold said.  "He just sat around and, you know, made the words up."

    And there were still other memorable records.

    "Bon Bon did Paper Picker, which was good," Leopold offered.  "He had a beautiful tune, never went anywhere, I'm sure: There's a Boat That's Leavin' Soon for New York.  It's from 'Porgy & Bess.'  That's an excellent arrangement and he does a wonderful job on it."

    It seems that the Savitt band played quite a variety of music.

    "I think, from a musical standpoint, he was more diverse in his music than most of the other bands," Leopold asserted.  "In other words, Benny Goodman had a style.  Tommy Dorsey had a style.  You listen to . . . Sammy Kaye . . . you know you're going to hear the same... they were rubber-stamped, pretty much.  But Savitt did a lot of different things.  His ballads were different.  The vocals were pretty standard.  But doing the classic things and the shuffle rhythm and the little dance things like, you know, like 720."

recommended listing:

Quaker City Jazz    9/15/38 broadcast

Tell Me with Your Kisses  12/2/38 broadcast

Vol Vistu Gaily Star   Bon Bon, vocal   8/29/39, Decca

It's Funny to Everyone But Me   Carlotta Dale, vocal  

   Thesaurus, 8/39

Meadowbrook Shuffle  Billy Moore, arranger   1/3/41, Decca

My Own   Bon Bon, vocal  12/2/38 broadcast

The Last Two Weeks in July   Bon Bon, vocal   9/21/39, Decca

How Strange  Carlotta Dale, vocal   4/39, Thesaurus

Tuxedo Junction  Eddie Durham, arranger   4/12/40, Decca

Love Doesn't Grow On Trees   Bon Bon, vocal   9/38, Thesaurus

When Buddha Smiles   6/1/39, Decca

The Things I Love   Allan DeWitt, vocal   4/3/41, Victor

Love, Your Magic Spell Is Everywhere   1/39, Thesaurus

I'm in a Fog About You   Carlotta Dale, vocal   12/2/38 broadcast

Get Happy   6/1/39, Decca

It's a Wonderful World  Bon Bon, vocal   11/5/39, Decca

Sugar Foot Stomp  10/21/38, Bluebird

Put That Down in Writing  Bon Bon, vocal   8/39, Thesaurus

Blues in the Groove  Eddie Durham   2/3/40, Decca

I Won't Tell a Soul  Carlotta Dale, vocal  12/2/38 broadcast

Good Morning  Bon Bon, vocal   10/3/39, Decca

Horizon   Jack Pleis, arranger   4/3/41, Victor

Kansas City Moods   1/24/40, Decca

Rose of the Rio Grande  Bon Bon, vocal   2/3/40, Decca

Green Goon Jive  Billy Moore, arranger   1/3/41, Decca

720 in the Books   Bon Bon, vocal / Johnny Watson, arranger

   9/21/39, Decca

That's a-Plenty   Johnny Watson, arranger   7/22/38, Bluebird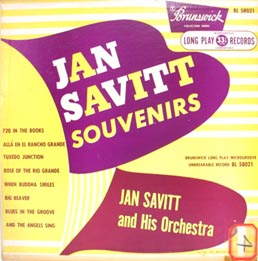 Leopold witnessed Kramer's support of the band.

    "If somebody was sitting near the band and the band was loud, and, you know, we were a loud band," he reminisced, "she didn't quiet the band.  She said, 'We'll give you a table at the other end of the place.'  Anything that Jan did was fine.  So that was a big boost.  He lucked out when he got that job at the Lincoln."

    As it turned out, the band broadcast from the Blue Room a lot.

    "It was at least, maybe, 2 or 3 shots a day," Leopold said.  "We had a dinner shot, a 9 o'clock, and an 11 (that was coast-to-coast)."    

    1939-40 saw the band score some popular records, with a new contract at Decca.  The biggest hit was 720 in the Books.

    "I think it was Johnny Watson, he wrote a tune," Leopold recalled.  "A little jump tune, you know.  There was no name on it, but it was number 720 in the books.  So people kept asking, you know, 'What's the name of that tune?'"

    So it actually was number 720 in the band's music library?

    "The big number?  Yes, yes," he laughed.  "It wasn't our best number, by far."

    Well, wait - then what, in his opinion, was?

    "The jazz record I like is Ring Dem Bells and a few like that," he responded.   

    During 1940, the band worked around New York City. 

    Savitt was one of the comparatively few white bands which played the Savoy Ballroom there, appearing in a Sunday matinee performance on March 10th. 

    In November, the band had an engagement at the Paramount Theater.

    Did Savitt play his violin on the stage?

    "No, never played," Leopold reported.  "There were really no numbers that would be acceptable for violin work."

    Wouldn't that be frustrating, not to be able to play your instrument?

    "Uh, I don't think he minded it," Leopold observed.  "No, no."

    The band's base continued to be the Blue Room at the Hotel Lincoln, and that stability provided time to strengthen its personnel even more.

    Among new sidemen with the Savitt band were Cutty Cutshall (trombone), Gus Bivona (saxophone), and Jack Pleis (piano - arranger).

     "Top guys, and so it was a top band again," Leopold observed.  "I guess we were there for a year or so, and here come the bookers again.  Naturally, the money was on the road - the top money for the bands. 

    Savitt took the group on the road, but Bon Bon left in October 1940.

    "I don't know when he left the band, 'cause we had Allan DeWitt [ another vocalist ]," Leopold said.  "This time, I was with the band, so I went.  We started... I think it was in a December, whatever it was... and we played 31 consecutive one-nighters all the way out to Hollywood.  We did all the big ballrooms and we did some of the theaters - you know, a week at the theaters here and there.  And we did the Panther Room in Chicago, and all the big places.  And we ended up in Hollywood where we played at the Casa Manana."

    The band traveled by bus.

    "However, wherever I could, I drove - or rather, Helen (my wife) drove," Leopold recalled.  "We would go along and, you know, maybe get there before and get a little extra sleep.  Or be able... have a day off here and there, so we used our car as much as we could.  But I had to use the bus quite often."

    The band switched recording affiliations to Victor.

    "We did recording for RCA Victor, in Camden, New Jersey, at that time.  They did it in an old church, which had tremendous acoustics," Leopold revealed.  "See, in those days, you didn't have all the technique of echo chambers and individual microphones - you know, all of the stuff that they have today.  Today, they can take a bad band and make it sound great!  Where our problem was we had a great band, but we had to make it sound decent, because, in those days, they only had . . . two mics - one microphone for the band and one for the vocalist.  The only way we got balance was by seating.  Now, they have balance because they have a microphone on everybody; each one gets a mic, and they can tune it 'til it's perfectly balanced.  But ours, if you're in the back, you got a solo, you got to rush up to the microphone.  Sometimes you get caught - you have a solo and can just barely hear it."

    The tunes recorded in 1941 included a number of classical pieces, such as Prelude to Carmen, The Sorcerer's Apprentice, In the Hall of the Mountain King, and La Cinquantaine, each arranged by Jack Pleis.

    "He did a lot of those classic things," Leopold remembered.

     "And he did one on a Bach fugue that was excellent, called The Little Fugue [ Fugue in G Minor ] . . . You know, I appreciate these - they're not the great jazz records . . . It was concertizing a lot of the classical music . . . stuff like that, put to swing music.  I guess it was commonly called 'swinging the classics.'  That was not 'shuffle.'"

    So would it be correct to say that Leopold preferred the classical over the dance band charts?

    "I preferred the money," he answered.  "Well, we had to do both, you know.  In other words, it was the same band."

    Since Leopold brought it up, how was the money?

    "Well, let's put it this way: you could starve on it today," he quipped.  "The bands had a basic wage.  Some were as low as $65 a week; that was the average for that time.  Anybody that was a little better . . . might get 75 or 85.  I was getting 125, which was unheard of.  And then recording is extra.  So, you know, I was doing, maybe, 3 or 3 and a half - which is not bad today, you know, for hanging around."

    Leopold was either ill or left Savitt's band in late 1941.  A June 1942 Down Beat report placed him in the pit band at the Earle Theater in Philadelphia and running a music store in Upper Darby, a suburb of Philly.   

    He then entered the service for about 3 years.

    "I was in when the war ended," he observed.   

    Savitt was ineligible for duty because he suffered from acute hypertension.

    "Oh yes," Leopold confirmed.  "Well, that's what did him in - high blood pressure.  And his brother had it.  His brother [ Bill ] used to travel with the band . . . he was a manager for a while.  Now when I went into the service, I heard that Jan had gone out to the Coast.  And what he did out there was a little different from what he did out of New York."

    In July '42, Savitt enlarged his band to include a 6-man string section (counting himself).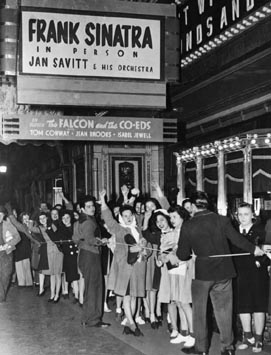 "I know when he went to the coast, he adopted a much different format," Leopold noted.  "He used strings, and I think he played [ his violin ] with the strings.  And a lot of vocals."

    Savitt's band opened at the Strand Theater in New York City on April 9, 1943, with singer Ethel Waters sharing the bill.

    Savitt also toured with Frank Sinatra twice, once in 1943 and again in 1945.  This photo shows a

line of kids waiting to see the show in Philadelphia on December 11, 1943.    

    Besides theatres, Savitt and his mid-'40s band continued broadcast, record,  and even appeared in several grade-B motion pictures.

    But tragedy struck on October 2, 1948, while Savitt was en route to a performance at Memorial Auditorium in Sacremento, California.  His orchestra played the job without him, and, two days later, he died of a cerebral hemorrhage in a nearby hospital.    

  Sinatra served as one of the pallbearers at his funeral.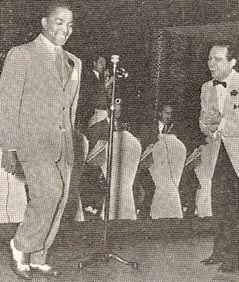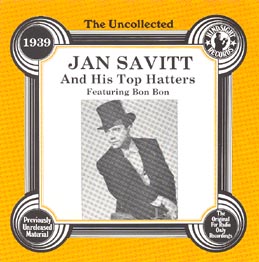 Christopher Popa follows up -

I was gratified by the phone message which Al Leopold left me after I posted my Savitt biographical sketch:

". . . It was a sensational write-up!  I hope that the information I gave you is reasonably correct, and I really enjoyed every sentence.  It was awesome!  And I wish to thank you for including me . . . I certainly enjoyed reading it, and I will read it over and over . . ." 

- Al Leopold

Christopher Popa continues -

I was also happy to hear from the young trombonist and swing collector Gary Letts who has researched the Savitt band and, in 2002, wrote the liner notes to an excellent CD issue, "Jan Savitt and His Top Hatters Orchestra: 1938 & 1939 Broadcasts" (Jazz Band TMCD 2188-2):

". . . Here's a few things I can add to your article:

John (Johnny)T. Warrington obit of July 12, 1978, age 67

Charles 'Chic' Jensen (Trumpet) obit of April 29, 1979, age 64

Frank C. Langone (Reeds) obit of January 26, 1988, age 80

Joseph Morris Cohen (Piano) April 2, 1991, age 73

Irving R. Leshner (Piano) obit of January 22, 1994, age 81

Francis (Buddy)J. Welcome (Reeds/Vocal) March 3, 1955, age 46

Johnny McGhee (Trumpet) obit of July 6, 1978, age 72

On Sunday September 7, 1975 a reunion of the WCAU / KWY bands was held at Charles 'Chic' Jensen's Lansdale, PA home. Attending were Tom Johnson (Bass), Dick Wharton (Guitar), Irving Leshner (Piano), Johnny Warrington (Reeds/Arr.), Maurice 'Moe' Evans (Trombone), Joey Kearns (Reeds), Harold 'Bud' Kearns (Trumpet), Jimmy Schultz (Reeds/Arr.), Jack Hansen (Trumpet), Bill Davies (Arr.), Carlotta Dale (Vocals) and Kay Tunnell (Bon Bon's widow). In [ a ] newspaper article of the event it's stated that George 'Bon Bon' Tunnell's death on May 20, 1975 is what sparked the reunion 'while most of us are still around'.

Al states that arranger Johnny Watson brought the 'shuffle' to the band but actually it goes as far back as the early Variety sides. Johnny Warrington wrote a chart that had a 'shuffle' feel (more like a 12/8) and Savitt liked it and wanted more like it. Watson, however, refined it to what we consider the 'Savitt Sound'.

Savitt did play some Violin with the '39 - '40 band as I have a photo of him at the Hotel Lincoln. I also believe he hired Glenn Osser about that time to write some charts featuring the Violin. I also have a newspaper review of a stage show where he was featured with the band. He played a lot more once he added the string section in the mid 40's.

I don't remember if I told you before but I acquired a large Savitt collection from a fellow named Thurlow Cannon. He had been collecting all of his life and passed away quite suddenly just a year or so after we started corresponding. His widow was kind enough to send me his collection just for the cost of the shipping. It contains photos, news paper clippings, letters from sideman, etc. and was a real find for me.

Keep up the great work and Keep Swingin' !!!!!"

- Gary Letts

"Your article on Jan Savitt was superb!"

- John Tumpak

Christopher Popa goes on -

Another person who wrote urged greater recognition of the talents of Johnny Austin, Savitt's distinctive

jazz trumpet soloist from late 1938 into 1940: 

" . . . Johnny Austin had an 'all-out', 'gutsy', 'no-holds-barred', 'brash', 'driving' style . . . "

- Bill Land

Austin came in 8th place among the trumpeters named to DownBeat's 1940 All-American Swing Band. 

send feedback about "Jan Savitt: The Swing-Happy Years" via
e-mail