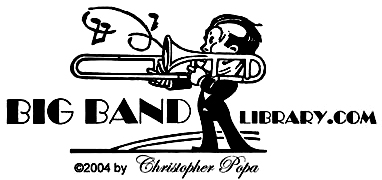 "GRAND TERRACE SHUFFLE"

Phil Pospychala's 2005 Chicago Bus Tour

photos and text by Christopher Popa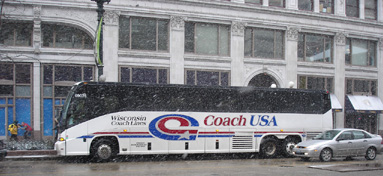 The bus stopped in front of what once was the State/Lake Theater, 190 N. State St., where, for instance, Duke Ellington and His Famous Orchestra played from Feb. 2-8, 1940 (roughly a month before they began their new Victor contract with recordings made in Chicago). 

    The building now primarily houses studios and offices of WLS-TV, an ABC network affiliate.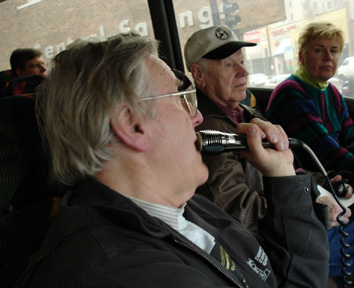 Jazz expert Phil Pospychala [ l., holding microphone ] has presented tributes to cornetist Bix Beiderbecke for many years in Wisconsin.  As part of Pospychala's 2005 celebration, he took some 50 friends aboard a charter bus on March 10th, to visit several locations of interest around Chicago. 

    Though the trip was intended to focus on Beiderbecke and the 1920s, I tagged along, hoping to note a big band connection or two.  It turned out the highlight for nearly everyone was a stop at the former Grand Terrace ballroom.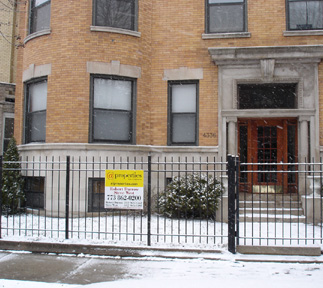 I was allowed to hop on at Montrose Ave., just around the corner from 4336 N. Kenmore Ave., the apartment house [ r. ] where singer Ruth Etting lived at one time. 

Some of her recordings for Columbia in 1930 and 1931 included Benny Goodman on clarinet. 

    The building is now for sale.

    In the early 1920s, pianist - arranger Roy Bargy conducted the Benson Orchestra of Chicago during floor shows at the Marigold Gardens, 817 W. Grace St.  The Marigold was one of the area's premier beer gardens, and the property now belongs to the Faith Tabernacle Church [ below, l. and r. ].

    Bargy joined Isham Jones in 1924, and became Paul Whiteman's assistant conductor in 1928.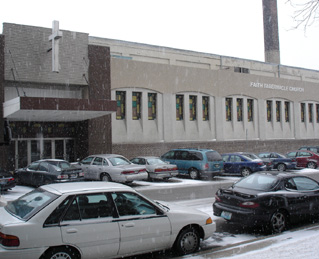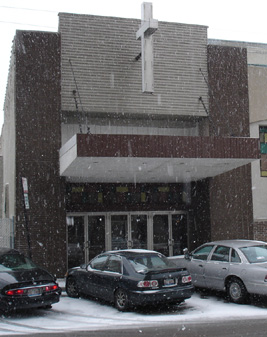 sources:

New Grove Dictionary of Jazz, The (New York City: Grove's Dictionaries of Music Inc., 1988).

Rayno, Don.  Paul Whiteman: Pioneer in American Music: Volume 1, 1890-1930 (Lanham, MD:

    The Scarecrow Press, Inc., 2003), pp.343-344.

Sengstock, Charles A.  That Toddlin' Town: Chicago's White Dance Bands and Orchestras, 1900-1950

    (Urbana, IL: University of Illinois Press, 2004), p.61.

send feedback about "Grand Terrace Shuffle" via
e-mail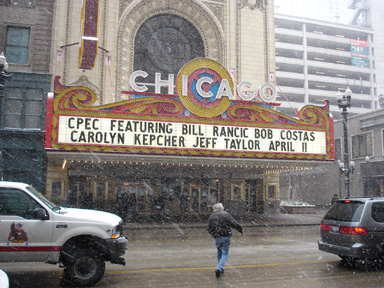 Having arranged a tour of the Chicago Theatre, 175 N. State St., (across the street from the former State/Lake Theater), Pospychala headed inside [ l., dodging traffic ] to announce the group's arrival.

    Many big bands played at the Chicago in the '30s and '40s, including, to name a few,  Benny Goodman, Dick Jurgens, Harry James, and Orrin Tucker.

    Looking westward past a chandelier in the front lobby [ below, l. ], a window still shows the logo of the Balaban & Katz chain, which originally owned the theatre.

    Having narrowly survived demolition in the mid-1980s, the Chicago Theatre continues to operate, with most of its elegance still evident. 

    Frank Sinatra appeared at the Theatre for a grand re-opening Sept. 10, 1986, and returned Mar. 18-20, 1988.  During the latter visit, he signed a door [ below ] backstage.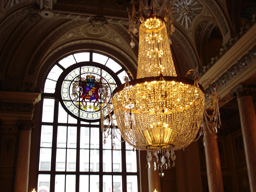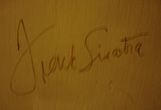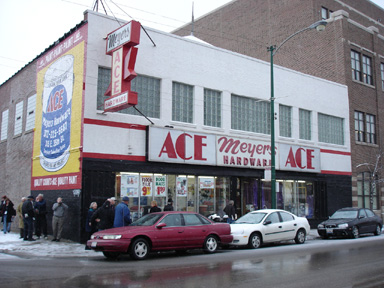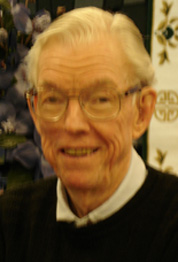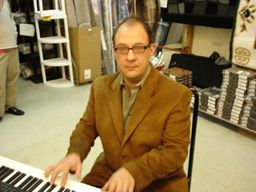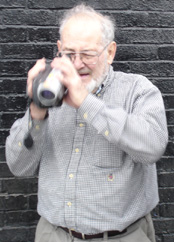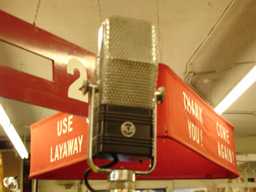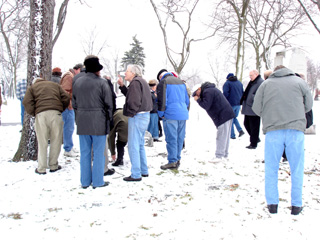 Then it was on to the South Side of Chicago, where the Grand Terrace ballroom once operated, at 315 E. 35th St., following its relocation (from 3955 South Parkway Blvd.) in 1937.  The building, whose exterior looks very much as it did during its musical heyday, is now Meyers Hardware [ below ]. 

    Of course, Earl Hines enjoyed great success there, though other big bands, including Fletcher Henderson, Count Basie, and Horace Henderson, also played the Grand Terrace before World War II.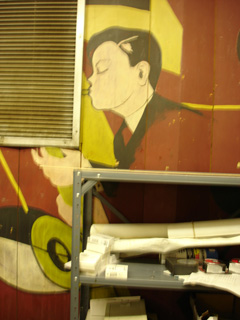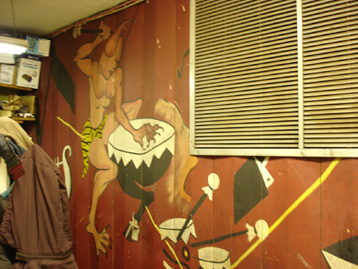 Also, the owner of Meyers Hardware kindly allowed interested members of the group access to the store's office, which long ago was part of the raised bandstand overlooking the Grand Terrace's dance floor.  The back of the bandstand was a large mural depicting jazz rhythms, and a portion is still

visible [ above, l. and r. ] as the back wall of the office.

    A space near the front of the store had been cleared, in order to permit a small jazz band to perform in honor of the structure's history. 

    As people came through the entrance, local musician Alan Gresik [ r.] showed off his skills on an electric piano with a medley of Yancey Special / Honky Tonk Train Blues,both tunes which Bob Crosby's band used to perform.

    To document the historic gathering, record producer Bob Koester had RCA 44-BX microphones [ r., above ] placed in a store aisle, feeding the live music to a digital recorder.  Koester

[ r., below ] was nearby, taping the proceedings on a digital camera. 

    His Delmark CD label includes performances by Cab Calloway, Coleman Hawkins, Illinois Jacquet, and alto saxophonist Bobby Smith with other Erskine Hawkins alumni.

  The bus tour concluded with a visit to the Krupa family plot [ l. ], including the grave of Gene Krupa, at Holy Cross Cemetery, 801 Michigan City Rd. in Calumet City.

    The audience at the store included author Charles A. Sengstock

[ above ], who has written about Griff Williams, Art Kassel, Eddy Howard, and other big bands which became favorites of Chicago audiences.