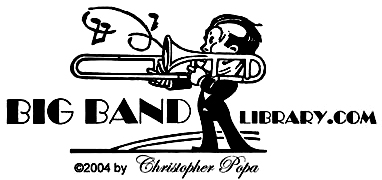 "FEEDBACK AND FOLLOW-UP"

RE: WARREN COVINGTON

". . . Warren and I were introduced by a mutual friend when he relocated to Tampa in 1989 and we were married in our home on Dec. 19, 1990.  Buddy Morrow was the best man and Connie Haines sang.  Connie and Warren performed together often . . . she remains a close friend.  Warren and I shared a passion for music and, as I was a retired dancer from The Tampa Ballet, a mutual appreciation and understanding of life in 'show business.'  We also shared a combined family of 10 children and ever-increasing grandchildren . . . People closest to Warren attributed his success to an incredible energy that would electrify a room.  He actually glowed on stage.  He never lost it.  Warren practiced every day of our ten years together until just before he died . . . Another more interesting fact is that Warren's first professional gig was at the Steel Pier on Tybee Island, GA and 52 years later, also his last professional gig . . . "

-Sylvia Covington

return to Warren Covington "For You, Mr. Covington"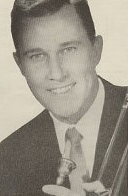 Christopher Popa follows-up:

"The variety of recordings on which Warren Covington played trombone during the '50s to the '70s is impressive.  They included Bobby Short "Sing Me a Swing Song" (Atlantic); Astrud Gilberto "Beach Samba" (Verve); George Benson "Bad Benson" (CTI); Yusef Lateef "Part of the Search" (Atlantic); and Bob Thiele and His New Happy Times Orchestra "The 20s Score Again" (Doctor Jazz).  And I'm delighted that his widow, Sylvia, contacted me in November 2005."