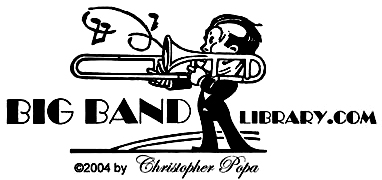 FATS WALLER

"Mesmerizing"

by Christopher Popa   July 2006

    His many talents, including playing a piano so marvelously, singing with joy and humor, and composing great jazz and pop tunes with ease, have transcended time.

    "He was a vibrant personality, and he communicated, and he had such a terrific sense of rhythm.  That's what comes through," Dan Morgenstern, Director of The Institute of Jazz Studies at Rutgers University for the last 20 years, explained to me.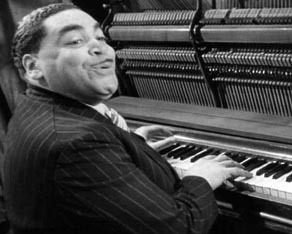 "I mean, it's no coincidence that his band was called 'Fats Waller and His Rhythm,'" Morgenstern continued.  "And when I saw him as a kid, one of the things that struck me -- and he was performing solo -- was the tremendous rhythmic energy that he exuded.  He was so alive and vibrant and funny."

    The calendar read September 1938 when his mother took him to see Waller perform live in concert, in Copenhagen.

    "It was my first exposure to a genuine African-American jazz performer, or performer of any kind.  I was just a month shy of my ninth birthday, I guess," Morgenstern recalled.  "He made a great impression on me.  I had never seen anything like him or heard anything like him < laughs >.  I mean, I couldn't understand what he was saying or singing about.  But, whatever... his facial expressions and his movements and just the whole aura that he gave off..."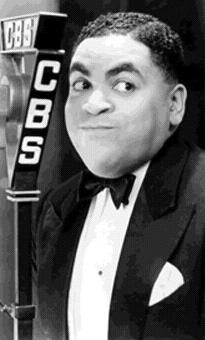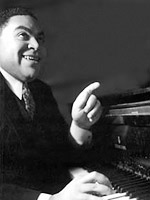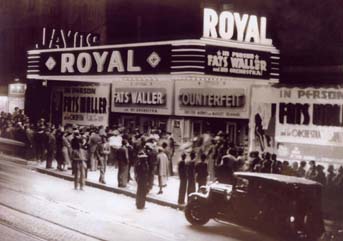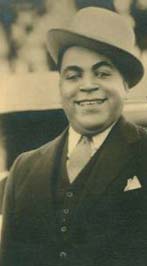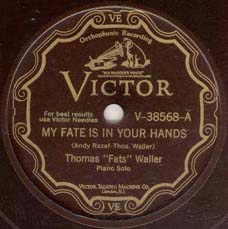 Waller seemed to have a zest for life, and it came through in his music.

    "In a sense, there are some who say he never really fully grew up.  And, in a way, you can say that, because he never learned to control his impulses," Morgenstern offered.  "He drank too much and he ate too much and he stayed up... He didn't take care of himself, but, you know, he certainly didn't hurt anybody in the process.  On the contrary, he always wanted to have a good time and he wanted to have everybody who was with him to have a good time."

    But doesn't a musician (and, as Waller would later become, a bandleader) have to have discipline?

    "Well, that's the amazing thing about Fats!  As self-indulgent as he may have been with his appetites, he was also a very disciplined performer," Morgenstern noted.

"So we have all these anecdotes about how he may have consumed astonishing quantities of liquor, but, nevertheless, he showed up on time for record dates and got everything done . . . There would have been times when he recorded that . . . he should have been 'four sheets under the wind,' but he's all there . . . I think he must have had some fabulous genes, to be able to withstand what he did to himself."

An early Waller record of a song from the 1929 stage show, "Hot Chocolates," written with

friend and lyricist Andy Razaf (1895-1973).

vital stats:

given name:  Thomas Wright Waller

birth:  May 21, 1904, New York, NY

death:  Dec. 15, 1943, on train enroute to

  Kansas City, MO, bronchial pneumonia

physical description:  5'11", 285-310 lbs.,

  black hair, brown eyes

father:  Edward Martin Waller, b.1870?, d.1928

mother:  Adeline Lockett, b.1872?, m.1888,

  d.Nov. 10, 1920

grandfather:  Adolph Waller, a violinist

brother:  Charles A. Waller, b.Sept. 1890

   [ died as an infant ]

brother:  Edward Lawrence Waller, b.1892

brother:  William Robert Waller, b.1893

brother:  Alfred Winslow Waller, b.1895, d.1905

sister:  Ruth Adeline Waller, b.1902, d.1905

sister:  May Naomi Waller, b.1903

sister:  Esther Waller, b.1906

brother:  Samuel, b.1907 [ died as an infant ]

brother:  unnamed, b.1909 [ died during childbirth ]

sister:  Edith Salome Waller, b.Jul. 25, 1910

wife:  Edith Hatchett, m.1922, div., d.1954

wife:  Anita Priscilla Rutherford, m.1926

son:  Thomas, Jr., b.spring 1923?

son:  Maurice Thomas Waller, b.Sept. 10, 1927

son:  Ronald, b.Oct. 26, 1928

residences:  107 W. 134th St., New York City

  [ childhood ]; 173-19 Sayres Ave., St. Albans,

  Long Island, NY [ 1942 ]

    Waller's father, a minister, might have imagined a much different life for his son.

    "I think what his father would have preferred was for Fats to have become an organist, and probably to play in church, which he did a little bit," Morgenstern said. 

"His father took him... famously took

him to see Paderewski, in concert.  But, at the time, I think Waller's father, undoubtedly, would have been aware of this: for an African-American boy early in the second decade of the 20th Century, when he was about to decide what he was gonna do with himself, to get into classical music was impossible.  There wasn't anybody!  There were a few singers, like Roland Hayes, and he had problems, so there was no career opportunity there.  And I think his father was well-aware of that."

    Waller was 10 years old when he started playing piano and organ at students' concerts, and he had been a member of the orchestra in grade school and high school.

A candid of young and dapper Thomas Waller.

      One day in 1918, while attending De Witt Clinton High School in the Bronx, NY, he got to fill in at the Lincoln Theatre, when the regular organist became ill.  Not long afterwards, he was hired as regular organist, and his schooling was cut short.

    "We have no indication that his father broke with him, or anything like that.  I don't think his father would have been at all, in any way, ashamed or upset about what Fats accomplished," Morgenstern asserted.  "The concept of 'jazz' wasn't really that much of a reality around that time, if we're talking when Fats' mother died, and he left home, and got out from under his father's thumb.  Fats would have made a pretty good preacher, wouldn't he < laughs >?  But it took a while, anyway, before Fats got involved with what we would identify as 'jazz.'"         

noted Waller compositions - select list

  Squeeze Me  ( with Spencer Williams ), 1925

  Ain't Misbehavin'  ( with Andy Razaf - Harry Brooks ), 1929

  I've Got a Feeling I'm Falling  ( with Billy Rose - Harry Link ), 1929

  Honeysuckle Rose  ( with Andy Razaf ), 1929

  (What Did I Do to Be So) Black and Blue  ( with Harry Brooks - Andy Razaf ), 1929

  Blue Turning Grey Over You  ( with Andy Razaf ), 1930

  I'm Crazy 'Bout My Baby (And My Baby's Crazy 'Bout Me)  ( with Alex Hill ), 1931

  Keepin' Out of Mischief Now  ( with Andy Razaf ), 1932

  Handful of Keys  ( with Andy Razaf ), 1933

  Stealin' Apples  ( with Andy Razaf ), 1936

  The Joint Is Jumpin'   ( with Andy Razaf - J.C. Johnson ), 1937

  The Jitterbug Waltz  1942

      Judging by titles like Flat Tire Papa, Mama's Gonna Give You the Air and The Spider and the Fly, Poor Fly, Bye-Bye, Waller's sense of humor traveled through his pen, yet he also wrote serious music.

    "I think that there may have been times when Fats wanted to explore the serious nature a bit more," Morgenstern reflected.

    "Like The London Suite, in 1938?" I inquired.

    "Yeah, The London Suite, which he tossed off on the spot, more or less," he agreed.  "Just as he was able to, when he was short on alimony or needed some money . . . Even at times, when he was broke, he would just toss off some songs and sell 'em... and do that in no-time flat. Somebody (I forget who) said that music just 'poured out' of him.  He was a natural.  He had a gift.  It's almost like Mozart, in a way... you know, just pours out.  And God knows how many tunes there are that he [ Waller ] really wrote that other people took credit for, because he sold it."

    As his fame increased, how well did Waller the entertainer and Waller the jazzman co-exist?

    "It's a good question, because nowadays, we tend not to separate the two," Morgenstern said.  "We have this very well-known cliche of jazz history that the beboppers didn't want to be entertainers, that they wanted their music to be taken seriously.  Well, when you take someone like Dizzy Gillespie, without whom there wouldn't have been any bebop, Dizzy was definitely < chuckles > entertaining."

    For what things should Waller be thought of today?

    "Well, it's a hard question to answer, because there were so many facets to Fats," Morgenstern responded.  "He was a great composer, he was a marvelous pianist, he was a great recording artist." 

    Earlier this year, one of Waller's few screen opportunities, in the 1943 movie "Stormy Weather," was re-released, on DVD.

    "Of course, he would have been wonderful, if there had been more of him on film," he said.

    And a recent book documents that Waller was very big on radio, one of the first African-American performers to have a regular show. 

    "That tends to be something we forget, because it's ephemeral.  It's gone, unless there is an aircheck or something," Morgenstern pointed out.

    "I think for Fats, as for Louis Armstrong, there was really no great dichotomy between the two," Morgenstern continued.  "I think there were times, certainly, when  Fats got tired of being fed inferior material and having to try really hard to make something of it, he would have no doubt have preferred to just deal with good tunes and good material, although the others were, kind of, a challenge for him.  Also, you sometimes hear that he got frustrated with having to entertain people, and one can see that.  The same thing sometimes happened with Louis, whom I got to know quite well.  And there were times when he just wasn't in the mood to go out there and [ be ] 'mister cheerful,' but he did it anyway and he always did it convicingly, and knew that that was what people wanted."

Waller broadcast over WLW,

a high-powered radio station in Cincinnati, OH, and on WABC, a network affiliate of CBS, located in New York City. 

    "The impression that we get from everybody who had contact with him, was that Fats was an extremely lovable person.  Everybody who came into contact with him seems to have loved the guy," Morgenstern claimed.

    During our conversation, he recounted a charming story involving Waller, one which guitarist Eddie Condon originally told.

    "In the '20s . . . when Fats was already signed by Victor, apparently there was some concern that he would be ready for a record date," he said.  "The producer, which it wasn't called in those days... uh, the 'recording supervisor'... who knew Eddie, kind of gave him the assignment to make sure that Fats would show up and be prepared.  He was supposed to record with a band and all that, and Eddie tells the story about how he goes up and he finds Fats a couple of days before, and they hang out together.  And < chuckles > they wake up, sleeping on a couch somewhere, in the morning, a couple hours before they're supposed to be at the studio, and the thing that Fats always repeats whenever Eddie brings up the record date, he says 'Fine.  Perfect.  Wonderful.'  They wake up, it's about 10 o'clock and they're supposed to be at the studio at 1 o'clock.  Fats says, 'Fine.  Perfect.  Wonderful.'  He makes a few phone calls - he calls up more musicians.  They all meet somewhere.  They pile into a cab, and while they're going downtown, Fats spells out a couple of numbers...  You know, 'You do this, you do that...   One is minor, one is major...'  And so on . . . And he said to Eddie, 'We're gonna pick up your banjo on the way.'  So he had him join in, and they made these two wonderful records, Minor Drag and Harlem Fuss, and then Fats recorded a couple of piano solos, and the recording supervisor was delighted < chuckles >.  It would have happened without Eddie, too.  He just, somehow or another, he managed to do all these things, in spite of the fact that he was a 'bad boy' in many ways."

    Subsequent Waller piano solos, such as Smashing Thirds, Turn On the Heat, African Ripples, Alligator Crawl, and Viper's Drag, became favorites of jazz collectors. 

    "It's a pity that he didn't record [ even ] more piano solos, because they're so great," Morgenstern remarked.   "We get a bunch of them . . . in the late '20s, and then we get a few more of them in 1934 (all originals), and then we have another date in 1937, and then the last one [ in ] 1941.  There should have been more, because he was such a great solo pianist." 

    As enjoyable as those recordings were, his small band "Rhythm" sides were, arguably, Waller at his best. 

recommended listening - select list:

Do Me a Favor   Fats Waller, vocal   May 16, 1934, Victor

Then I'll Be Tired of You   Fats Waller, vocal   Aug. 17, 1934, Victor

Have a Little Dream On Me   Fats Waller, vocal   Aug. 17, 1934,

    Victor

Night Wind   Fats Waller, vocal (and organ) Jan. 5, 1935, Victor

(Oh Suzannah) Dust Off That Old Pianna   Fats Waller,

   vocal   Mar. 6, 1935, Victor

I'm Gonna Sit Right Down and Write Myself a Letter  

   Fats Waller, vocal May 8, 1935, Victor

I've Got My Fingers Crossed   Fats Waller, vocal

    Nov. 29, 1935, Victor

Functionizin'  [ instrumental ] Dec. 4, 1935, Victor

Fractious Fingering   Fats Waller, asides June 8, 1936, Victor

Until the Real Thing Comes Along   Fats Waller, vocal

    Aug. 1, 1936, Victor

Every Day's a Holiday   Fats Waller, vocal Dec. 16, 1937, Victor

Something Tells Me   Fats Waller, vocal Mar. 11, 1938, Victor

Stop Beatin' 'Round the Mulberry Bush   Fats Waller, vocal

    Jul. 16, 1938, broadcast

Two Sleepy People   Fats Waller, vocal Oct. 13, 1938, Bluebird

Love, I'd Give My Life for You   Fats Waller, vocal

    Dec. 7, 1938, Bluebird

Everybody Loves My Baby   Fats Waller, vocal Nov. 16, 1940,

    Bluebird

Mamacita  [ instrumental ]  Fats Waller, organ Jan. 2, 1941,

    Bluebird

Chant of the Groove  *  [ instrumental ]  Jul. 7, 1941, Bluebird

Come and Get It  *  Fats Waller, vocal  Jul. 7, 1941, Bluebird

Moppin' and Boppin'  [ instrumental ]  Jan. 23?, 1943, soundtrack

    Waller also became known for his skill in backing singers; he would eventually record with such blueswomen as Sara Martin, Clara and Bessie Smith, and Alberta Hunter. 

    "I think that what a great accompanist does," Morgenstern proposed, "is that he realizes

[ about ] the performer that he is accompanying, what their strengths and weaknesses are, and he knows how to bring out the best in them, so to speak.  It's a matter of making sure that if the singer is not a musician, that they are solidly... that they have an underpinning, with all the right changes and right harmonies.  And then also, it's a matter of not getting in the way, that you know where to play a fill, and that's what he knew so well with his musicians - how to make them sound good.  One of the other things that Fats did, with that great rhythmic drive of his, was that he pushed them along.  He really inspired them . . . And it's just a matter of having a great ear, and being sensitive to what the identity of the performer you're working with is like, so that you know how to bring out the best in them, cover up whatever weaknesses they may have, and emphasize their positive aspects."

    How could one tell that it was Waller (and not someone else) at the piano?

    "I think the way we recognize him is by his touch and his beat," Morgenstern told me.  "He is in the stride tradition, although certainly not everything is played in the stride format.  But he has that very strong left hand and he has a very firm, but . . .  his touch is varied.  He doesn't pound on the piano . . . He knows how to work the pedals, and he can be very subtle.  But there is this very strong rhythmic impulse, always, in what Fats does."

    Count Basie credited Waller as an early influence on him.

    "They're the same age, actually," he noted.  "But Fats was, you know, more precocious than Basie, and also, Basie was out in the sticks, in New Jersey.  When he came to New York, Fats was already established, sort of . . . He was doing the stuff in the movie theaters.  Fats . . . liked Basie and, kind of, took him under his wing, and he taught Basie the essentials of the organ.  Now, he didn't exactly teach him, but he had Basie sit next to him and he showed him how he was working the pedals and the stops and all that.  And that's why Basie always said that he was the one who taught him the organ."

    As another bit of trivia, I wondered if the report that Waller once played piano and violin (!) in a school orchestra, alongside Edgar Sampson (later a famous big band arranger) was true.

    "He and Edgar Sampson were, kind of, contemporaries.  I think they were in the same orchestra; at least, they knew each other.  And Sampson, of course, was a very accomplished violinist," Morgenstern confirmed.  "Yes, in the school orchestra, Fats may have played some fiddle.  I think he also played bass, maybe.  Piano was definitely the main thing."

    By 1928, Waller's musical abilities had developed to the extent that he shared with Johnson composing honors for the Broadway show "Keep Shufflin'".  Eventually, more than 150 of Waller's tunes, including so-called "swincopations" and "piano antics," were published during his lifetime.  (An equal number supposedly went unpublished.)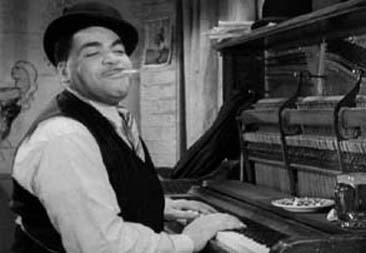 Waller sitting on a stool, in front of an upright piano.

    About this period, he met James P. Johnson (1891-1955), a fine Harlem pianist and composer.  Johnson taught him about piano styles, especially ragtime.

    In 1919, while on tour in Boston with a vaudeville act, Waller wrote his first tune, which he called Boston Blues.

    Besides vaudeville, Waller played at parlor socials (known as "rent parties"), and in cabarets and nightclubs.

    "So, what we think of being a 'jazz' musician really wasn't a reality, at that time," Morgenstern stressed. "As the '20s moved along, it became more so."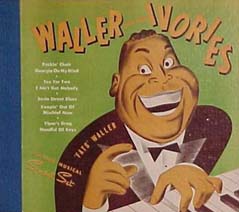 A 1942 anthology, "Waller On the Ivories,"

released on 78 rpm discs (Victor P-109). 

Time magazine reviewed, "No clowning, no singing, not quite the carefree honky-tonk mood, but high-powered, sure-fingered work."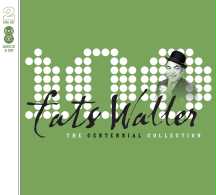 The 100th anniversaries of Waller's birth and the founding of Victor Records

were commemorated in 2004 by

"Fats Waller: The Centennial Collection,"

a CD + DVD (Bluebird 59951).

    A few of the above records were by Waller's big band, as "Fats Waller, His Rhythm and His Orchestra," rather than the small group, and are marked with an asterisk (*).

    "He toured quite extensively with the big band, and they record on occasion, as well.  They did a lot of tours . . . some of the tours were very strenuous, actually - the one-nighters and such," Morgenstern stated.  "Of course, early on, we get Fats on piano with Fletcher Henderson's band, sitting in.  We have those 1929 'Fats and His Buddies' records.  He's an excellent big band pianist."

Waller in-person, at the Royal Theater in Baltimore, MD.

    "I never force fed my sons, as far as getting them to listen, but they're both... one is 30, one is 27... they're both very much into the music and enjoy it greatly," he revealed.  "They would respond to Fats, although he died, you know, decades before they ever saw the light of day.  So, yes, he still comes through.  His humor is, kind of, timeless.  I mean, some of it may seem dated, but I don't know... It doesn't seem to me that it is, because it deals with very basic things. For instance, if you listen to Lounging At the Waldorf, which is a favorite of mine, there's no vocal, but there are all those comments and they're hilarious!  And they still stand up, because it's a little bit of social satire, and when he . . . < laughs > In a way, he's taking on the persona of a, kind of, major domo at the hotel, obviously showing a friend around.  He says, 'Good morning, Mrs. Frogbottom,' or whatever... And then he says, at one point, 'What's that?  They don't pass no chitterlings around... ' < laughs > That's still funny!  He even manages to make silly things... Actually, a song like Your Feet's Too Big - I mean, it's really not very clever, but he makes it work."

    For Morgenstern himself, thinking of Waller can still bring back images of that 1938 program in Copenhagen. 

    "As I remember him, he was pretty towering," he said.  "He was well-proportioned, and he didn't seem obese, or anything like that . . . He was big-boned, I guess.  He had broad shoulders and he was well-proportioned.  Of course, what he did to himself, it's hard to imagine (and, probably, some of the stories are exaggerated), but some of them are not.  And he had an enormous capacity for alcohol and for food.  Now, what he did to himself, it's a wonder that he didn't die of a heart attack or he didn't seem to have had diabetes, anything like that.  He died of pneumonia, probably as a result of this long exposure . . . [ at the ] last gig he had in

[ Los Angeles ], where he was sitting right under the air conditioning unit.  Undoubtedly, that was not healthy, and, undoubtedly, nowadays, with antibiotics and something, he would probably not have died when he did."

    Sadly, every member of Waller's "Rhythm" band has now passed away, including trumpeter Herman Autrey (d.1980), clarinetist - saxophonist Eugene "Gene" Sedric (d.1963), guitarist Albert "Al" Casey (d.2005), and drummer Wilmore "Slick" Jones (d.1969).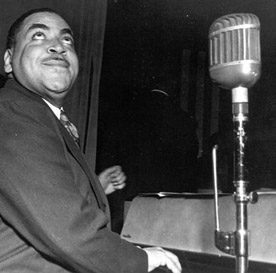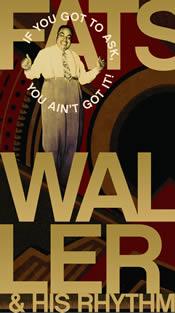 Next month, a new 3-CD set, "Fats Waller: If You Got to Ask, You Ain't Got It," with 66 tracks and annotation by Morgenstern, will be issued on Sony-BMG.

    "His most lasting achievement, I guess, would be his recorded legacy, which, fortunately, is huge," he observed.  "Because he was a gifted composer, he was also a fine arranger.  All those little touches that we hear on those records, those are his ideas - the introductions, the little riffs, and all that."   

    Much of Waller's music already has made it onto CD, including a half-dozen volumes from Bluebird between 1989 and 1997 to finish "The Complete Fats Waller," a series started on LP in the '70s, but seemingly abandoned. 

    In fact, Morgenstern also wrote the notes for "Breakin' the Ice," one of those CD sets.  

    "It was something that was aimed at completists and really serious collectors," he said. 

    "So then they did the 'Centennial,' with the DVD that came out in '04, and I think that was successful, and that may have caused them to think about doing this," he suggested.  "Orrin Keepnews, who masterminded the 'Complete' Fats, produced this, as well."

    Now age 76, Morgenstern remains a scholar of the music.

    "Oh, I love Fats and I always will," he acknowledged to me.  "It's just a shame that we had to lose him so early.  As he says in one of his songs, 'It's mesmerizin!'  < laughs >  He was mesmerizing, and he still comes across."

    Presumably, the latest release will be aimed at younger ears, who likely know little about Waller.

    "Older fans have been pretty well served with Fats over the years," Morgenstern stated.  "And one would hope that this would reach a new audience."

    One never knows, does one?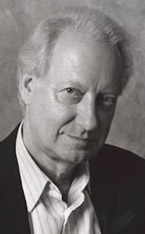 send feedback about "Fats Waller: Mesmerizing" via
e-mail
sources:

Feather, Leonard.  The Encyclopedia of Jazz (New York City: Horizon Press,

  1955).

Morgenstern, Dan.  Interview with the author, Jul. 12, 2006.

"Music: Popular," Time, Apr. 20, 1942.

Social Security Death Index.

"Waller, Fats," in Current Biography: Who's News and Why 1942,

  Maxine Block, ed. (New York City: The H.W. Wilson Company, 1942),

  pp.862-864

Waller, Maurice and Anthony Calabrese.  Fats Waller (New York City:

  Schirmer Books, 1977).

Dan Morgenstern has won four Grammy Awards

for his liner notes.