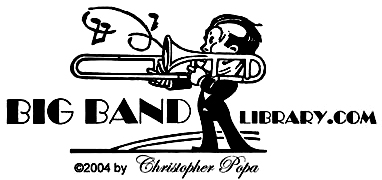 By the time I spoke with him, Gillespie's days with an organized big band - whether his own or someone else's - had long been over, but he was still spending a lot of time on the road.

    "Quite a bit, quite a bit," he agreed.  "I was in Hamilton, Ontario for two days with the symphony orchestra, and I got a day off now, and then I go to Kalamazoo, Michigan, and I got another day, and another day, and then I got another day off, and then I go to Philadelphia, and then I go to Europe."

    Performing as leader with others dictated that he couldn't take too many days off.

    "No, you have a group together," he acknowledged.  "I'm not one of the big stars that can work three days a week, you know, like the weekend, like, say, Chuck Mangione, for one.  Like he can keep his men on payroll and work two days a week, at the end of the week, 'cause he gets s-o-o-o much m-o-n-e-y for those two days, brother! [laughs]."

    Mangione was then riding high with a breezy instrumental, Feels So Good, so I asked Gillespie what he had been recording most recently.

    "My latest album probably was 'Free Ride,' with Lalo Schifrin," he said.  "I think I'm gonna make an album now with Supersax, and I've got an album with Count Basie and Ray Brown and Mickey Roker.  That's gonna be pretty nice.  I'm waiting for that to come out."

    Arguably, Gillespie's most influential records were the bop anthems recorded for Musicraft in the

mid-'40s, and the sides made with his big band on RCA Victor from 1948 to 1950.  In the mid-'50s, he  put together a big band for overseas tours sponsored by the U.S. government and made some albums with the group for Verve.

    It wasn't surprising that Gillespie made an effort to stay current with disco and other sounds. 

    "Yeah, of course," he said.  "Well, we started doing that...  Manteca [which he had performed that evening] was sort of disco, a sort of Afro-Cuban disco.  See, disco music is a mish-mash of all of the music of the Western Hemisphere, you know - got a little bit of Jamaican influence, got a little bit of Brazilian, a little bit of Cuban, got a little bit of our rock and roll, got a little bit of everything, you know.  And I think that it's healthy . . . Well, I don't go for that all... I go for some electric, you know.  But I can just say, listen.  I was --where was I? -- I played with Ramsey Lewis one time.  Now, Ramsey Lewis is sorta like I am.  He'll go for a little bit of that electric - he'll play the synthesizer.  But Herbie Hancock... We went to a rehearsal, and Herbie Hancock was fooling around with that voice thing that he does like that for four hours!  And we waited for him to let us have the stage.  For four hours, he was fooling around!  So those things, it's good if you want to spend that time with them, but I don't want to spend me time with that.  I'd rather spend my time playing."

    Would he prefer concerts or clubs? 

    "Oh, it's according to the situation," he answered.

    More definitively, he told me of some plans for his future.

    "Well, later on, I'm gonna teach, for one thing," he pledged.  "But before that, I'm gonna play with a lot of symphony orchestras, with my compositions.  And I got that in the works now.  Some great composers have consented to arrange some of my compositions for symphony orchestra.  There's J.J. Johnson, there's Tom McIntosh, there's Clarice Taylor-Perkinson, there's Quincy Jones, there's Lalo Schifrin, there's Robert Farnon, there's Michel Legrand, Thad Jones, there's Gil Fellow, and then there's Benny Carter.  There's ten people; all of them are writing one of my compositions for symphony orchestra and me.  It's gonna be nice, man.  I'm gonna get it together."

    And what if people missed him in Alliance that night we talked?

    "Shame on 'em," he laughed.

                                         DIZZY GILLESPIE

                                                       "Things to Come"

                                                                                      by Christopher Popa

   He helped to bring bop, a whole new vocabulary, to jazz, and, naturally, featured that style with his big band.  But, whatever musical setting he played in, from the 1930s to the '90s, Dizzy Gillespie kept his ears open and embraced change.

   "Oh man, I enjoy so, so much the diverse types of music," he once said to me, after consenting to a backstage interview in Alliance, Ohio.  "But my favorite artist is Charlie Parker, was Charlie Parker.  And I had many, many, many other ones that I liked: Art Tatum, Coleman Hawkins, Lester Young, Ben Webster, Don Byas, Clifford Brown, Miles Davis, Louis Armstrong.  Oh man, I got a long list, very long list!  Most of 'em I played with, too."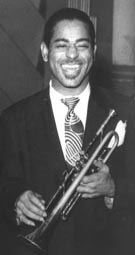 Gillespie started off as a sideman with a bunch of orchestras, among them Cab Calloway's, who (not digging bebop) told Gillespie to "stop playing that Chinese music" with the band.

    I asked him in 1979, "Do you ever run into Cab nowadays?"

    "Yeah," he replied.

    In his autobiography, Calloway wrote that he thought he owed Gillespie an apology, for firing him due to a misunderstanding. 

    "Why, I have a book coming out later on this month and you can look in my book and you can read the story, the true story, about it," Gillespie joked.

    Calloway believed Gillespie had thrown some spitballs at him on-stage, but, in fact,  bassist Milt Hinton was the culprit. 

    "So there's no ill feelings about it?" I prodded.

    "No, no, I call him.  I'm the only one who calls him on his birthday, on Christmas, only one that worked with his band," Gillespie revealed.  "And when I call, a lot of times, lotta times, he cries on the phone."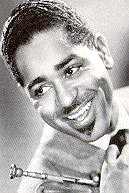 vital stats:

given name:   John Birks Gillespie

recording pseudonyms:   "B. Bopstein"; "John

    Birks"; "Gabriel"; "Izzy Goldberg"

birth:   Oct. 21, 1917, Cheraw, SC

death:   Jan. 6, 1993, Englewood, NJ

father:   John Gillespie, a teacher and band

    director, d.1927

mother:   Lottie Gillespie

siblings:   eight brothers and sisters (he

    was the ninth and last child of his

    parents)

education:   public schools, South Carolina

musical training:   won a scholarship to the

    Laurinburg Institute, an industrial

    school, where he studied theory and

    harmony under a Professor Hall but

    withdrew a few months before

    graduation in 1935

physical description:   brown eyes, black hair,

    5'9-1/2", 162 lbs.

memberships:   A.F.M. Local 802

hobbies:   collecting modern jazz records

residences:   1342 Catherine St.,

    Philadelphia, PA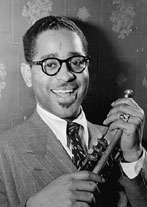 recommended listening as a sideman or arranger - select list:

King Porter Stomp   with Teddy Hill and His Orch., Bluebird, 1937

Blue Rhythm Fantasy   with Teddy Hill and His Orch., Bluebird, 1937

Pickin' the Cabbage   with Cab Calloway and His Orch., Vocalion,

    1940

Paradiddle   arranger / with Cab Calloway and His Orch., Vocalion,

    1940

Fifteen Minute Intermission   with Cab Calloway and His Orch.,

    Vocalion, 1940

Jersey Bounce   with Les Hite and His Orch., Hit, 1942

Down Under   arranger, Woody Herman and His Orch., Decca, 1942

Opus X   with Billy Eckstine and His Orch., DeLuxe, 1945

recommended listening with his own big band - select list:

He Beeped When He Should Have Bopped

Dizzier and Dizzier

Emanon

Two Bass Hit   RCA Victor, 1947

Stay On It   RCA Victor, 1947

Manteca

Good Bait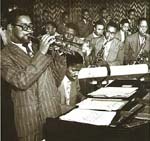 sources:

"Dizzy Gillespie," in Who Is Who in Music (Chicago: Who Is Who in Music, Ltd., 1951).

Popa, Christopher.  Interview with Dizzy Gillespie, Jan. 21, 1979.

Walker, Leo.  The Big Band Almanac (Pasadena, CA: Ward Ritchie Press, 1978), p.141.

send feedback about Dizzy Gillespie: "Things to Come" via
e-mail
return to Biographical Sketches
index