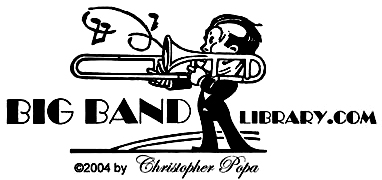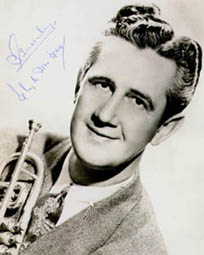 CLYDE McCOY

"Sugar Blues Was Just the Sweet Beginning"

by Christopher Popa   November 2005

    He first recorded his signature, Sugar Blues, in 1931, and, ever since then, he and the tune were inseparable.

    When I asked his good-natured widow, Maxine, who worked with his band from 1937 to 1941 as one of the singing Bennett Sisters, how she thought he would like to be remembered, even she gave that familiar response.

    "Sugar Blues," she laughed.  "Oh yes.  See, that's what made him so famous.  Of course, nobody could ever... I think he was the most impersonated leader that was ever known.  All young boys . . . who wanted to play the trumpet, that's the first number they tried to play.  Nobody could ever copy it just like he did it.  But they gave it a try < laughs >."

    I can't help but feel that the memory of their great love, not to mention her ability to laugh, has kept Maxine in good spirits and health since his passing.

    "I'm doing fine, I couldn't be better," she remarked.  "He's been gone 15 years.  Of course, I miss him, but I've been able to carry on with my life very well.  I'll be 90 years old in a month < laughs >.  I'm very grateful for my health . . . Sorry he couldn't have lived longer.  He died at 86.  He wanted to live to be 100; he didn't quite make it < laughs >.  And he was in good health, too.  He started getting senile dementia.  He didn't get to the Alzheimer's, but that was the beginning, you know.  Ordinarily, he was in good health all his life, he really was.  He was proud of the fact that he took care of himself.  He really did do that.  I think he, in all his [ career of ] 60 years, he missed one night on the bandstand, and that's when he had a nosebleed one-time.  They rushed him to the hospital.  One night in his whole career . . . Nothing kept him off the bandstand."

    McCoy should be known for a lot more than just Sugar Blues.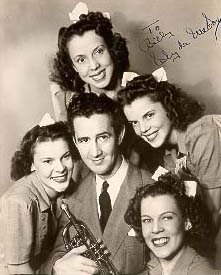 So how did they wind up with McCoy?

    "We had a booking agent who told us that Clyde McCoy was looking for a girl singer," she continued.  "[ The agent

said ] I'm going to try to talk him into hiring the three of you . . . He [ McCoy ] said, 'Well, I don't think I can afford it, but let me give it a try,'" she recalled.  "So we were in Chicago and we came down [ to ] Memphis, to the Peabody, and we met him and started rehearsing and joined the band.  He was going to try us out for 2 weeks, and that was more than 65 years ago

< laughs >.  We're still here < laughs again >.  So anyway, we stayed with the band.  We sang with the band for years.  You know, he had a big band at that time, 16 men, and the three of us.  And then my youngest sister finished school and then she joined us, so we were a quartet for quite a while, until three of us got married during the War.  And then my youngest sister kept singing with the band.  That's briefly how it happened."

    Now age 89, Maxine kindly shared with me quite a number of memories about her husband.

    "He loved playing and he loved traveling," she reminisced.  "He had, oh gosh, more than 60 years in the business . . . We were together 45 years.  Wonderful, wonderful marriage."

    They met, as the calendar documents, many moons ago, while McCoy was performing in Memphis.

    "Well, he was playing the Peabody in 1937, can you believe?" she said. 

    Maxine and her sisters had formed a vocal group, similar to the popular Boswell or Andrews  Sisters.

    "Yes, yes," she agreed.  "We were a trio at the time.  Later, my youngest sister got out of school and then we became a quartet . . . Only we never did have a name like that."

    The girls decided to use a stage billing.

    "We made a theatrical name, the Bennett Sisters," she said.

    Taking a chance, I asked if they were inspired by two famous movie actresses of the 1930s, Constance and Joan Bennett.

    "Exactly," she confided.  "What happened was, our real name was Means, m-e-a-n-s, which was not a good stage name.  It sounded like 'mean,' m-e-a-n.  So we all got together, my sisters, and tried to think of a good name.  And my favorite movie star was Constance Bennett, and so I thought of that, and my sisters agreed, and that's what we came up with - the Bennett Sisters . . . We were -- my sisters and I -- were in Chicago, playing club dates on our own."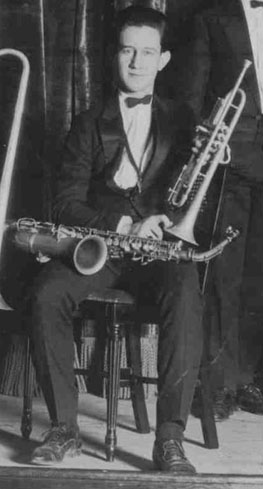 vital stats:

given name:   Clyde Lee McCoy

birth:   December 29, 1903, Ashland, KY

death:   June 11, 1990, Memphis, TN

father:   a Chesapeake & Ohio Railroad detective

wife:   Maxine Means, m. Jan. 20, 1945

children:   none

memberships:   Masons (Daylight Lodge No.760,

  Louisville, KY)

    I asked Maxine if it was true that Clyde was related to the McCoys of the famous Hatfield-McCoy feud.

   "I guess he was," she said.  "His great granddad from way back was one of the McCoys.  Way, way back.  He used to talk about that a lot."

   The feud evidently resulted from a clash of cultures between the North and the South.

    "I never did quite understand about the Hatfields and the McCoys," Maxine admitted.  "It was just a feud that came from way back.  But he did have relatives from way back there < laughs >."

    The feud supposedly dragged on for more than fifty years, but I kidded Maxine that I hoped it was over now.

    "I think so," she chuckled.

    By the time the railroad transferred the McCoy family to Portsmouth, Ohio, Clyde had already begun playing the trumpet. 

    "Well, he started when he was 9 years old," Maxine related.  "He didn't even finish school.  He started a little band in church, and then he started a band of his own when he was just, you know, so very young.  That's all he could think about.  But he still taught himself music . . . Everything he didn't get to learn in school, he taught himself.  He was a very smart man, he really was."

    As a teenager, in 1917, he was hired on two riverboats out of Cincinnati, the Island Queen and Bernard Swain.  In 1920, finding out from a friend that the Whittle Springs Hotel and Spa in Knoxville, TN needed a band for a two-week booking, he quickly rounded up some players and rehearsed for the audition during the train ride to there.  The two-week stay expanded into eight.

   "He just formed his own way of playing, his own style," Maxine said. 

recommended listening - select list of early examples:

Sugar Blues   Columbia, 1931

Readin', Ritin', Rhythm   vocal by the band / Columbia, 1931

It Looks Like Love   Columbia, 1931

Creole Love Call   Columbia, 1931

I've Found a New Baby   Columbia, 1931

Some of These Days   Columbia, 1933

New Basin Street Blues   Bud Prentiss, vocal / Columbia, 1933

Wah-Wah Lament   Columbia, 1933

Tear It Down   vocal by the band / Columbia, 1933

    McCoy developed a mute that made a "wah-wah" sound, like his trumpet was "talking."  Once perfected, he patented it and sold manufacturing rights to the King Instrument Company.

    "Yes, yes, he was very good at business," Maxine said.  "They used to make fun of that

wah-wah thing, but now, everybody does it and everybody copies it < laughs >."

    McCoy and his band, which included his brother, Stanley, on bass, continued to travel, working their way to New York City.  In 1925, they headed out West for a job at the Dome Theater in Ocean Park, CA.  While on the Coast, he and Stanley decided one day to take a ride in open biplane, for fun.  The pilot for the flight, Charles A. Lindbergh, would go on to become a famous aviator. 

    "Well, when Lindbergh was just, uh, not even known or anything," Maxine related.  "He

[ Clyde ] and his brother took a ride somewhere -- I think it was in California -- they paid for rides . . . you know, take a ride in a plane.  This pilot happened to be Lindbergh."

    In 1930, McCoy's outfit was hired to play the Drake Hotel in Chicago.  Radio station WGN began a series of broadcasts from the Drake, which helped to expose him to a wider audience.  Only a year later, he made his first recordings, including Sugar Blues.  That original version was for Columbia; asked to re-record it for Decca in 1935, his celebrity was definitely on the rise. 

   "Oh yes," Maxine confirmed.  "He had been made famous with Sugar Blues."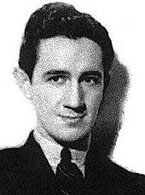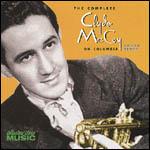 The Bennett Sisters (initially, Maxine, Charlie Bell, and Marguerite) joined McCoy just as he hit that stride.

    "Of course, we did everything," Maxine remembered.  "We played clubs, we played theaters, we played hotels."

    Among the songs they recorded with him on Decca from 1938-40 were One More Dream, Ya Got Me, Don't Look Now, and Love Can Do the Darndest Things.

    "Well, we all decided on that, between my sisters and him," Maxine said.  "We all, you know, made decisions about different numbers like that."

    Did she ever get to sing a solo, apart from her sisters?

    "No, we just always sang together," she said.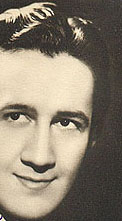 Working with McCoy, night after night, she observed many admirable personal qualities. 

    "He really was talented and he was a real gentleman," Maxine told me.  "He was so outstanding in every way.  He was handsome.  He was a wonderful person, and just had all the good qualities anybody could have."

    "He had a wonderful sense of humor," she continued.  "He had his own little sense of humor up on the bandstand, you know."

    Still, eight years passed before they became man and wife.

    "That took a long time," she laughed, "because I never did want to mix marriage with a career.  We started going together for quite a few years."

    Though there were some capable musicians who were in McCoy's band, such as drummer "Pee Wee" Longo [ shown,

l. ], few of his sidemen later made it big.

    "No, not really," according to Maxine.  "He just always had a good band.  He was a marvelous director.  He used to play vaudeville years ago . . . accompanying acts that we used to play [ with ] years ago."

    Members of the orchestra did achieve a bit of notoriety when they enlisted together with McCoy in World War II.

    "He took the whole band into the Navy, in 1942," she recalled.  "He said they all went in 'cause they were all 4-Fs.  They stayed at Millington for 3 years... Millington, Tennessee, which is right outside of Memphis.  And when he was released from the Navy . . . that's when we got married."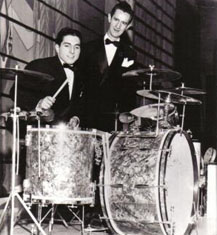 After the War, McCoy formed a new, 15-piece orchestra, which featured the youngest of the Bennett (Means) Sisters, Billie Jane, on vocals.

    Since some musicians were reputed to have a taste for liquor and/or an eye for the ladies, was it hard for Maxine to be married to a bandleader?

    "No, not him," she responded.  "Maybe some there was.  He was a true gentleman in the business.  They weren't all like that.  There were some wonderful leaders, personally, but there were some that weren't, you know.  He was one of the outstanding leaders, personally, and he was known for that.  No, it was not difficult at all."

    While the band was signed to Mercury Records, from 1946-51, they waxed such instrumentals as Basin Street Blues, Memphis Blues, St. Louis Blues, and even a new Sugar Blues.  Switching to Capitol in late 1951, he made more sides, backed by an all-star Los Angeles studio band.  Sugar Blues was once again (!) included, along with, believe it or not, Sugar Blues Boogie.

    During the last couple of years, big bands had lost some of their audience.   McCoy held on until 1955.

    "There was a time when all of the bands... they just broke up and weren't popular anymore, so he gave up the big band," Maxine explained.

     I asked for her thoughts on the cause of the decline of the big orchestras.

    "Oh, I don't know.  I think the new people coming on the scene, you know.  The rock and roll

. . . and all that kind of stuff.  It kind of hurt it," she observed.  "And, of course, you know there's nothing [ now ] like in those days when the people dressed up and all the dancing and all like that.  We kept hoping it might come back, but it's not going to anymore.  It'll never be like that again.  Older people still talk about how wonderful that was, to dress up and have dinner and go dancing to the big bands."

    McCoy then took a shot at running a nightclub in Denver, with his own Dixieland band entertaining.  The club ultimately failed, so he went back on the road, but with the 7-piece ensemble.  In 1960, they opened at the Round Table in New York City and made two albums for Mercury in 1961 and '62, respectively.

    "He really did love having a dixieland band," Maxine noted.  "We finally settled down, here in Memphis, actually.  And then he'd have a tour once in a while, and play dates every so often.  They would get bands together for him to front, and he made personal appearances that way, after he didn't have [ as many ] bookings anymore."

    A week or so at clubs in, for example, Las Vegas or Lake Tahoe, NV almost seemed like a vacation. 

    "We did a lot of photography.  We loved doing that," Maxine revealed.  "We just had fun, just in general, you know.

    McCoy continued to perform into the mid-1980s.

    "The last concert he ever did, we flew down to Sarasota, Florida," Maxine recalled.  "And they honored him.  That was the last time he ever played.  He was 80 at that time, and he still never got tired of playing."

    Not even of Sugar Blues?

    "Never, never," she insisted.  "He used to say to people who asked, 'Do you get tired of playing Sugar Blues?'  He said, 'Do you get tired of having shucks in the cash register?'

< laughs >  Or words to that effect < laughs >."

    Though he mostly featured oldies but goodies, McCoy at one point added some comparatively recent novelties, including Winchester Cathedral, Yakety Yak, and Tijuana Taxi, to his repertoire.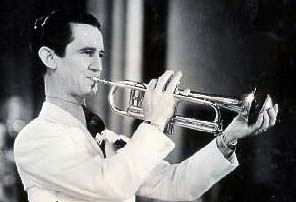 "Well, his second big request was called Tear It Down, which he wrote," Maxine reported.  "It's kind of a silly number < laughs >, but it was.  He had a lot of wonderful numbers, but the one thing that everybody associates with him is Sugar Blues.  It's like so many singers and bandleaders.  They had many, many, many hits, but they always go back to the one... like Patti Page with her Tennessee Waltz, you know.  And different ones, they still go back to that one that made them famous.  Even though he had many wonderful records . . . that's always the one that they associate with him."

   Which reminds me of how trumpeter Bunny Berigan is always linked to I Can't Get Started.

    "Oh, yeah, that was his idol.  He was Clyde's idol, he really was," Maxine claimed.

    McCoy admired or was friends with a number of other bandleaders, too.

    "Oh yes, we had a very close relationship with Russ Morgan," she said.  "Freddy Martin,

umm-hmm . . . Dick Jurgens and Tex Beneke . . . and Les Brown was another dear friend."

    Even though McCoy sometimes played his trumpet hot, he liked sweet sounds, too.

    "Yes he did," she concurred.

    There were a couple of other things which aren't generally known about McCoy that I also inquired about, such as his interest in the Federal Bureau of Investigation (FBI).

    "He was a big fan of the FBI - that was his second love, if he hadn't been in the music business, he would have been in that < laughs >," she told me.  "He made friends all over the country with FBI men . . . He was a great admirer of all of them, you know."

    How about the story that he had been, in 1934, one of the original partners in DownBeat, only to get a negative review of his band not long afterwards?

    "Yes, he had invested in DownBeat.  Sure did," Maxine confirmed.  "Well, I guess it didn't make him very happy.  But, I don't know.  I don't exactly remember most of that.  That was so long ago, I had kind of forgotten about that.  There are, of course, a lot of things written about that are not true, as you well know . . . I don't exactly remember about that, but he was an investor in that, uh-huh."

    Something that generally didn't make the press was his generosity toward those less fortunate.

    "He would run into different children who were having a hard time.  A little boy selling newspapers on the street, something like that, he'd do something for them," she recalled.  "He did a lot of things like that, as we traveled." 

    Could she share what McCoy's secret was, how he retained fans all around the country, over so many decades?

    "You know, that's a good question," she said.  "It's kind of hard to answer . . . His trumpet playing just, kind of, appealed to them, the way he played, his style and everything.  He was very personable on the bandstand . . . That's the way I felt about it < laughs > . . . Of course, I'm prejudiced < laughs >, but he really was that way, and I think you'll find most people that knew him said that he truly was.  In our business there weren't too many like that."

    What did McCoy himself consider his greatest achievement?

    "I don't know... Just playing with a band.  He loved playing," she said.  "He was proud of a lot of things.  He was proud of me.  He truly loved me and I loved him.  We really had quite a love affair, for 45 years.  We really did . . . I just couldn't say anything more wonderful."


sources:

Bennett, Joseph E.  "Clyde McCoy - Daylight's 'Famous Mason,' Knight Templar Magazine, Jul. 2004.

Garrod, Charles.  Clyde McCoy and His Orchestra (Zephryhills, FL: Joyce Record Club, 1990).

McCoy, Maxine.  Interview with the author, Nov. 1, 2005.

send feedback about "Clyde McCoy:
Sugar Blues
Was Just the Sweet Beginning" via
e-mail
return to the Biographical Sketches
directory