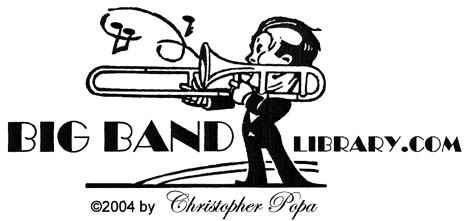 The big bands are back

in a new and exciting way!

     Given his decisive job on Berigan's life and career (and, in light of the death of Berigan's youngest daughter, Joyce, in July), Zirpolo must now be given his rightful place as most honored guest at the next "Bunny Berigan Jazz Jubilee," which will be held May 18-20, 2012 in Fox Lake.

Big Band Library rating: SUPREMELY EXCELLENT

MORE NEW IN-PRINT AND / OR ONLINE

Christina L. Baade.  Victory Through Harmony: The BBC and Popular Music in World War

    II (Oxford University Press, 2011).  288-page book that, according to publicity, "explores

    how popular music and jazz broadcasting helped redefine notions of war, gender, race,

    class, and nationality in wartime Britain.  Baade looks in particular at the BBC's

    pioneering Listener Research Department, which tracked the tastes of select

    demographic groups including servicemen stationed overseas and young female factory

    workers in order to further the goal of entertaining, cheering, and even calming the public

    during wartime.  The book also tells how the wartime BBC programmed popular music

    to an unprecedented degree with the goal of building national unity and morale, promoting

    new roles for women, virile representations of masculinity, Anglo-American friendship,

    and pride in a common British culture."

Bob Knack.  "Ralph Kramden's Favorite Bands," The Great Escape! / dixieswing.com,

    Issue No 26 Fourth Quarter 2011, p.1+.  Knack recalls the names of some real bands

    mentioned in the 1950s TV show "The Honeymooners," which starred Jackie Gleason

    as bus driver Ralph Kramden.

Alan Luff.  "Anecdotage," Jazz Journal, Volume 64 No.11 / Nov. 2011.  Luff writes about

    Artie Shaw.

Jennifer Odell.  "Caught: Definitive Armstrong Box Set Unveiled at Satchmo Summer Fest,"

    Down Beat, Nov. 2011, p.15.  The new 10-CD "Satchmo" set on Universal.

"Woody's One-Liners," The Great Escape! / dixieswing.com, Issue No 26 Fourth Quarter

    2011, p.6.  From a Facebook group administred by a Colonel Gaddy, former Woody

    Herman sidemen share humorous stories about their time with the band.

NEW COMPACT DISCS

Louis Armstrong.  "The Armstrong Box," Storyville [ Den ] 1088609.  7 CDs and 1 DVD.

Count Basie.  "April in Paris," Phoenix Records 131533.  Equals the 1956 Verve LP + ten

    tunes recorded during the same sessions.

Les Brown.  "The Reader's Digest Sessions," Reader's Digest Music.  CD-R. 

Les Brown's Band of Renown directed by Les Brown Jr.  "Music of Your Life with Les

    Brown Jr. and His Band of Renown, Starring Neal McCoy, and Special Guests Charley

    Pride and Janie Fricke," DPTV Media.  Contains 13 songs.

Duke Ellington.  "The Rough Guide to Jazz Legends: Duke Ellington Reborn and

    Remastered," Rough Guides.  2-CD set.

Shep Fields.  "Those Were the Days," Reader's Digest Music.  Vocals by Gene Merlino.

    CD-R.

Benny Goodman.  "AFRS Benny Goodman Show Volume 10," Sounds of YesterYear [ TK ]

    DSOY871.  Includes Hallelujah, Swanee River, Somebody Stole My Gal, Hora Staccato,

    Red Horse Boogie Woogie, and more.

Harry James.  "The Reader's Digest Sessions Vol. 2," Reader's Digest Music.  CD-R.

Stan Kenton.  "At the Hollywood Bowl 1948," Sounds of YesterYear [ UK ] DSOY870.  2-CD

    set of a June 12, 1948 concert.  Vocals by June Christy and Ray Wetzel.

Syd Lawrence Orchestra directed by Chris Dean.  "The World's Biggest Big Band,"

    Hanssler Classic [ G ] 93.278.  The Syd Lawrence Orchestra and The SWR Big Band

    combined, live at Theaterhaus Stuttgart.  Contains 11 tunes.

Lawrence Welk.  "Calcutta! / Yellow Bird," Sepia [ UK ] 1181.  2 Dot LPs on 1 CD.

Various artists.  "Big Band Broadway," Reader's Digest Music.  Includes Crosby, Brown,

    Goodman, Beneke.  CD-R.

---.  "In the Mood: Big Band Jazz," Reader's Digest Music.   Includes Crosby, Brown, James.

    CD-R.

---.  "Joggin' Jazz: Big Band Workout," Reader's Digest Music.  Includes Brown, James,

    Crosby, Goodman.  CD-R.

---.  "Yesterdays," Montpellier [ UK ] MONTCD081.  2 LPs on 1 CD: Hal

    McIntyre "It Seems Like Only Yesterday" (Roulette R 25079) and Frank Comstock

    "Swing with Real Gusto" (Mark 56 MLP 513).

Bunny Berigan at Lakeside State Park, Dayton, OH, May 5, 1939. 

Photograph courtesy of the Harriet O'Connell Historical Room at

Fox Lake Public Library, Fox Lake, WI.

NOVEMBER 2011

"BIG BAND NEWS"

compiled by Music Librarian

CHRISTOPHER POPA

ZIRPOLO "CAN'T DO NO WRONG" IN BERIGAN TALE

    There have been intelligent articles, commentary, books, and record liner notes about Bunny Berigan in the past, but this new, panoramic biography by Michael P. Zirpolo, Mr. Trumpet: The Trials, Tribulations, and Triumph of Bunny Berigan (Lanham, MD: The Scarecrow Press, Inc., 2011), easily surpasses any previous efforts and not simply because of its length.

    By seemlessly threading together so many facts, quotes, fragments, reasoned thoughts, and opinions, it presents the fullest, truest picture ever of Berigan that there can likely ever be.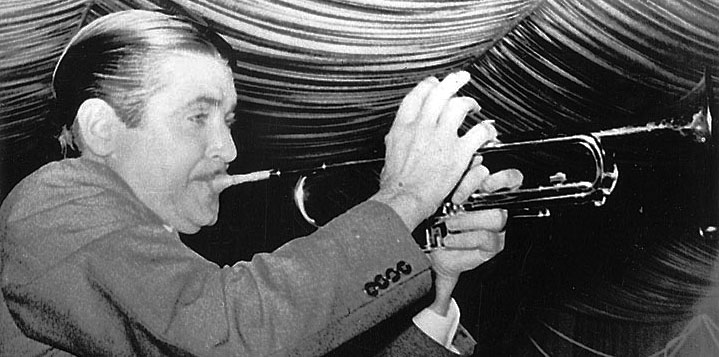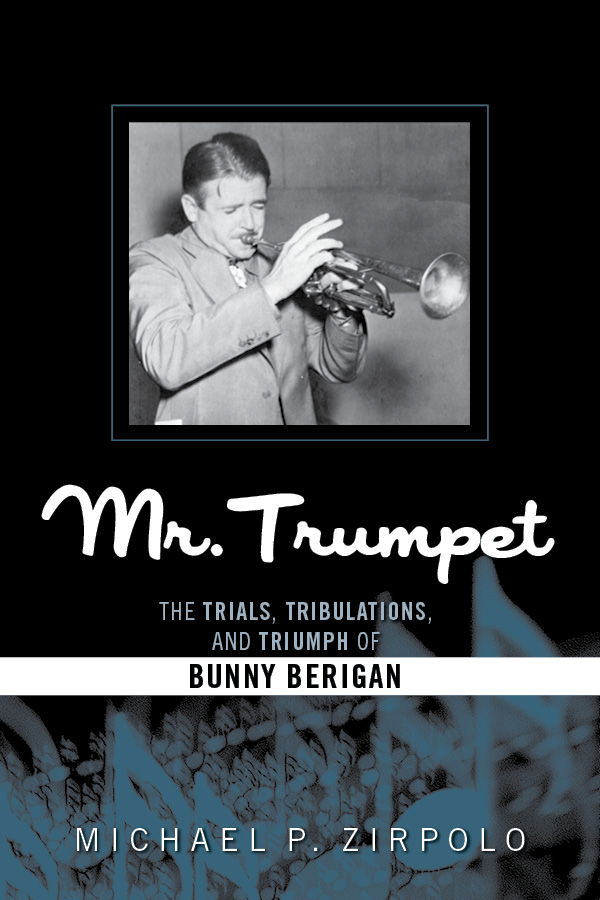 Zirpolo certainly has the "chops," if you will, to have taken on this project.

    A jazz and swing aficionado for nearly 50 years, he first learned of Bunny Berigan through his father, Michael P. Zirpolo Sr., who related to him a first-hand description of seeing Berigan and his band perform in-person, on-stage at the Capitol Theatre in Steubenville, OH in August 1938. 

    One of the most-cherished records in his father's collection was "The Great Dance Bands of the '30s and 40s-Bunny Berigan and His Orchestra" (RCA Victor LPM-2078), a January 1960 long-play compilation of some of Berigan's best. 

    So this book grew out of the interest and music he shared with his father.

    I know that Zirpolo listens... really listens... to vintage jazz (again, just like his father did), and has used his sensitivity and skill to remaster on computer vintage sound recordings from the 1930s and '40s, achieving impressive results.  So when he, for example, identifies the soloists or suggests who the arranger of a Berigan tune likely is, it's grounded in study.

    In fact, he was once a guest on my radio show, "The Big Band Songbook," providing commentary for a 1981 Berigan commemorative program, and has been frequently consulted by other writers and collectors from around the world about the music, recordings, and musicians of The Swing Era.

    Since 1998, Zirpolo has submitted scholarly articles about Artie Shaw, Duke Ellington, Gene Krupa, and Tommy Dorsey to the IAJRC Journal, and won writing awards for nearly all of them.  (He recently visited New York City, in part to gather material for an upcoming profile of musician Vince Giordano, who specializes in the jazz styles of the 1920s and early 1930s.)  

    A few years ago, following the senseless murder of longtime Berigan historian Bozy White in 2004, Zirpolo was granted permission to use White's copious research.  Zirpolo was the ideal choice, as he has the curiosity and patience and ability to analyze facts and to get to the heart of a story, something I suspect comes from his having been a respected practicing attorney in Ohio since 1975.  By piecing together many bits of information from White's materials (that, taken alone, would mean little), he was able to come to a deep understanding of Berigan.    

   As explained on the back cover of Zirpolo's book, he observes that Berigan's life "resembles an ancient Greek tragedy: a heroic figure rises from obscurity to dizzying heights, touches greatness, becomes ensnared by circumstances, and comes to a disastrous early end." 

    In contrast to Robert Dupuis' 368-page Bunny Berigan: Elusive Legend of Jazz (Baton Rouge, LA: Louisiana State University Press, 

Image provided by Michael P. Zirpolo,

© 2011The Scarecrow Press, Inc.

1993), I suspect that with such perception, Zirpolo didn't find Berigan elusive at all. 

    Throughout the 550 pages and 25 chapters, Zirpolo provides, in an interesting narrative, all the necessary facts, and gives the work a proper and thorough context - something that has often been lacking in other book-length writings about the big bands.  While as knowledgeable a swing fan as they come, he retains the objectivity needed to write the definitive biography of Berigan, and tells his story with understanding, compassion, and respect.

    He recognized the scope of Berigan's talents, the importance of his artistic achievements, and his standing in the big band business, way beyond the classic Victor recording of I Can't Get Started.  Significantly, he explains or corrects many heretofore misunderstood events in Berigan's life and the years leading up to World War II, including how Berigan became an alcoholic, why his marriage was unsuccessful, the nature of his friendship with Tommy Dorsey, and his relationship with Music Corporation of America (MCA).   

    As part of his comprehensive investigation, Zirpolo visited Hilbert and Fox Lake in Wisconsin, where Berigan grew up and now is buried; the University of Wisconsin-Madison which holds, in its Mills Music Library, the official Bunny Berigan archive; even to The National Jazz Museum of Harlem, where one-of-a-kind Berigan airchecks from the Bill Savory Collection await full audition and documentation. 

    The 48 photographs, many previously-unpublished, that he chose for his book are interesting on their own, but to help publicize and increase appreciation of the work, Zirpolo has created a website, bunnyberiganmrtrumpet.com, which, among other features, includes several dozen additional Berigan-related images. 

    He is seeking contact by others who might possess rare or unknown Berigan broadcast performances.

    The book also contains six worthwhile appendices; a thorough General Index; and an accurate Name Index.

    From cover to cover, Zirpolo's Berigan book has raised the jazz scholarship bar yet again, and deserves a spot on the bookshelf alongside such pioneering and esteemed writers as Walter C. Allen, Whitney Balliett, John Chilton, D. Russell Connor, Stanley Dance, Chip Deffaa, Charles Delaunay, Leonard Feather, John Flower, Edward F. Polic, Brian Rust, Gunther Schuller, Chris Sheridan, George T. Simon (whom, by the way, Zirpolo takes issue with for Simon's sometimes less-than-enthusiastic reviews of Berigan's talents), Richard Sudhalter, and Leo Walker.  In other words, bar none!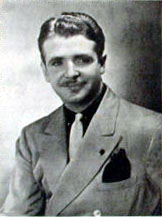 From now on, should someone ask me what authors I enjoy most, perhaps I can start by paraphrasing what Louis Armstrong once said about Berigan in a 1941 issue of Down Beat.  Responding to a question about his favorite trumpeters, Armstrong stated, "First I'll name my boy, Bunny Berigan.  Now there's a boy whom I've always admired for his tone, soul, technique; his sense of phrasing and all.  To me Bunny can't do no wrong in music!"

    So I might explain, "First I'll name my friend, Mike Zirpolo.  Now there's a man whom I've always admired for his awareness, interest, and knowledge; his sense of analysis and insight and all.  To me Mike can't do no wrong!"

    Selfishly, I can only hope that this will be just the first in a series of books about the big bands by Zirpolo, who is age 61.    

Various artists.  "Swing Parade of 1946," Warner Bros. Archive Collection DVD-R.  With

    Osborne, Jordan, others.  The Monogram Pictures film, previously available on DVD in

    2000 as GoodTimes Video 05-81124.

NEW DANCES AND CONCERTS

Tommy Dorsey Orchestra directed by Nick Hilscher.  Nov. 27, Strand Theatre, York, PA.

Jan Garber Orchestra directed by Howard Schneider.  Nov. 11, Lake Robbins Ballroom,

    Woodward, IA.

Hal McIntyre Orchestra directed by Don Pentleton.  Nov. 20, Rockingham Ballroom,

    Newmarket, NH.

Glenn Miller Orchestra directed by Gary Tole.  Nov. 1, private, Canton, OH; Nov. 3, Bear

    Creek Farms, Bryant, IN; Nov. 4, Sandusky State Theatre, Sandusky, OH; Nov. 5, Park

    Theatre Civic Center, North Vernon, IN; Nov. 6, Long Center for the Performing Arts,

    Lafayette, IN; Nov. 11, Ryutopia, Niigata - Niigata, Japan; Nov. 13, Sapporo Concert

    Hall, Sapporo - Hokkaido, Japan; Nov. 15, Olympus Hall Hachiouji, Hachiouji - Tokyo,

    Japan; Nov. 16-17, Tokyo Kokusai Forum Hall, Yuurakuchou - Tokyo, Japan; Nov. 18,

    Yokohama Minatomirai Hall, Yokohama - Kanagawa, Japan; Nov. 19, Sun Plaza Hall,

    Sendai - Miyagi, Japan; Nov. 20, Outa Kumin Hall Aprico, Kamata - Tokyo, Japan; Nov.

    22, Kokofu Kouryu Center, Kokofu - Gifu, Japan; Nov. 23, Kameyama-shi Bunka Kaikan,

    Kameyama - Mei, Japan; Nov. 24, Advanscope ADS Hall, Nabari - Mie, Japan; Nov. 25,

    Hashima-shi Bunka Center, Hashima - Gifu, Japan; Nov. 26, Ishikawa Kenritsu

    Ongakudou, Kanazawa - Ishikawa, Japan; Nov. 27, Osaka Kokusai Kaigijyo, Osaka -

    Osaka, Japan; Nov. 30, Okinawa Convention Center Hall, Ginowan - Okinawa, Japan.

Artie Shaw Orchestra directed by Matt Koza.  Nov. 19, Whitney Chapel, Hackettstown, NJ.

NEW BIRTHDAY WISHES

Herb Geller, b.Nov. 2, 1928.  Alto saxophonist with Thornhill '50.

Jim Harwood, b.Nov. 4, 1923.  Trombonist with McKinley '42; Miller AAF '43-'44.

Louise Tobin, b.Nov. 11, 1918.  Vocalist with James '39; Goodman '39; Bradley-McKinley

    '40.

Johnny Mandel, b.Nov. 23, 1925.  Trombonist - arranger with Raeburn '45; Rich '46 / '48;

    Shaw '49; Basie '53.  Composer of The Shadow of Your Smile.

Jack Sheldon, b.Nov. 30, 1931.  Trumpeter with Kenton '58-'59; Goodman '59-'60 / '65 /

    '76 / '78.

NECROLOGY

Marion Holmes, 93, d.Nov. 17, 2011.  Vocalist with Busse '35; Kassel '38-'41.

Russ Garcia, 95, d.Nov. 20, 2011.  Arranger - conductor for Armstrong albums "Louis Under

    the Stars," "I've Got the World On a String," and "Porgy and Bess" '57; participant in

    Kenton band clinics '60s and composer of An Adventure in Emotion for Kenton's

    Neophonic orchestra '66.

SNEEK PEEK

    In the "Big Band News" next month, a sneak peek at two CD sets which Mosaic Records is presently at work on, one featuring Coleman Hawkins, due for imminent release, and the other, Chick Webb, which will have to wait at least until 2012. 

    And from a different label, the very first big band blu-ray discs.

NEW DVDS

Les Brown's Band of Renown directed by Les Brown Jr.

    "Music of Your Life with Les Brown Jr. and His Band

    of Renown, Starring Neal McCoy, and Special

    Guests Charley Pride and Janie Fricke," DPTV

    Media.  Contains 21 songs.  "I grew up on pop music

    and Great American Songbook, and I love melody

    and good phrasing in whatever I'm singin'," McCoy

    stated.  "People love the old songs because it's just

    great writing all around."

Xavier Cugat.  "A Date with Judy," Warner Bros.

    Archive Collection DVD-R.  The MGM motion picture

    originally released on July 28, 1948.

Tommy Dorsey.  "Ship Ahoy," Warner Bros. Archive

    Collection DVD-R.  The MGM motion picture originally

    released April 30, 1942.  Previously released on

    VHS tape.

More TD on DVD.

© 2011 Warner Bros. Entertainment Inc.