THEIR 32ND GATHERING

    One of the first day's events is a picnic with homemade ice cream as The Glenn Miller Birthplace Society holds its annual Festival June 7th through the 10th in Clarinda, Iowa.  Besides the world-famous Glenn Miller Orchestra directed by Larry O'Brien and the so-called Glenn Miller Birthplace Society Big Band, other groups from Colorado, Nebraska, California, Sweden, and Japan will perform, and discussions and remembrances of Miller's life and music will take place.  For more information, view the website glennmiller.org.

MORE SOUNDS FOR SUMMER

Count Basie Orchestra directed by Bill Hughes: June 8-9, Las Vegas, NV; June 16, "Playboy Jazz

   Festival," Hollywood, CA; June 30, Interlochen, MI

Cab Calloway Orchestra directed by C. Calloway Brooks: June 7, Coral Gables, FL; June 10-17,

   Ocho Rios, Jamaica

Jimmy Dorsey Orchestra directed by Bill Tole: June 2, Batesville, AR; June 16, Rutland, VT

Sammy Kaye Orchestra directed by Roger Thorpe: June 15, Elks Lodge, Arlington, VA; June 17-21,

   American Queen cruise, Pittsburgh, PA to Cincinnati, OH; June 22, Bear Creek Farms Theatre, Bryant, IN;

   June 23, private dance, Milton Athletic Club, Dayton, OH; June 27, Waldorf-Astoria Hotel, New York, NY

Guy Lombardo's Royal Canadians with Al Pierson: June 11-June 17, cruise on American Queen;

   June 22, Crossville, TN

Glenn Miller Orchestra directed by Larry O'Brien: June 1, Lexington Music and Theater Company,

   Lexington, MI; June 2, Kirtland Community College, Roscommon, MI; June 3, LSSU Arts Center, Sault

   Ste. Marie, MI; June 5, Forest Lake Senior High School, Forest Lake, MN; June 8-9, "Glenn Miller

   Birthplace Society Festival," Clarinda High School, Clarinda, IA; June 10, Surf Ballroom, Clear Lake, IA;

   June 11, Lakes Arts Center, Okoboji, IA; June 13, Oster Regent Theatre, Cedar Falls, IA; June 17, The

   Scottish Rite Cathedral, Peoria, IL; June 20, Harrah's North Kansas City Casino & Hotel, Kansas City, MO;

   June 23, Onion Shed. Fort Morgan. CO; June 26, Twin Falls High School, Twin Falls, ID; June 27, Nampa

   Civic Center. Nampa, ID; June 29, Blackfoot Performing Arts Center, Blackfoot, ID

Russ Morgan Orchestra directed by Jack Morgan: June 6-10, cruise, American Queen riverboat

   (debark at Louisville, KY); June 15, Col Ballroom, Davenport, IA; June 16, Geneseo Music Festival,

   Geneseo, IL; June 17, Dubuque, IA

COMPACT DISCS OF THE MONTH

Charlie Barnet: "The Chronological Charlie Barnet: 1940, Vol.2,"

Classics ( Fr ) 1439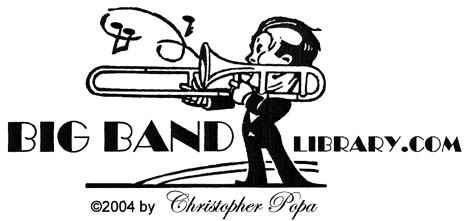 "BIG BAND NEWS"

JUNE 2007

compiled by Music Librarian Christopher Popa

A REAL BOULDER BUFF

    During his life, Richard C. "Dick" March of England put together an impressive lot of Glenn Miller memorabilia, including records, books, photographs, posters, and manuscripts.  He joined The Glenn Miller Society there in 1956, and served as its Secretary from 1970 until his death at the age of 74 in November 2005. 

    Now, his wife, Patricia, has donated his collection to the Glenn Miller Archive at the University of Colorado at Boulder.  The materials arrived this spring in two crates, each said to have weighed 1,800 pounds.

    "It is with great pride that the March family has donated his extensive collection to the Glenn Miller Archive," she said.  "May it enrich those that wish to study, but most of all, enjoy it.  I am sure that Richard would be very proud that his treasured collection is to be housed in such a prestigious instution as the University of Colorado where future generations can both access and appreciate it."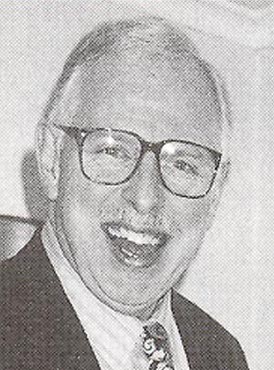 "Dick" March in 1992

[ photograph by Pat Taylor, courtesy of

The Glenn Miller Society ]

OTHER NEW CDS

Count Basie: "Dance Sessions," Jasmine ( UK ) 423 [ 2-CDs, 1952-54 ]; "The Count Basie

  Orchestra [ sic ]: Moonglow," Collectables 82027 [ = Groove Merchant LP GM2201 "Evergreens" +

   Flight of the Foo Birds ]

Benny Carter: "The Chronological Benny Carter 1954," Classics ( Fr ) 1438 [ = Verve MG-V 2025

   "Moonglow" and Verve MG-V 2039 "New Jazz Sounds" LPs ]

Benny Goodman: "The Chronological Benny Goodman 1949-1951," Classics ( Fr ) 1436

  [ incl. little-known BG vocal, Spin a Record, + other 1949-50 Capitol and Columbia recordings + the Goodman Trio's April 1, 1951 program given on

   WNEW, later issued as Columbia CL 516 ]; "Solid Gold Instrumental Hits," Collectables 785928 [ = Columbia

   2-LP set PG33405 ]; "Benny Goodman and Helen Forrest: The Original Recordings of the 1940's,"

  Collectables 786123 [ = Columbia 2-LP set KG32822 ]

Lionel Hampton: "Complete Jazztone Recordings," Fresh Sound ( Sp ) 446 [ "Lionel Hampton

   Concert Hall All Stars," 1956 ]

Harry James: "Eight Bar Riff - 1943-50," Hep ( UK ) CD 83 [ 23 broadcast performances by James "and His

   Music Makers" ]

Stan Kenton: "Greatest Hits Live," Sounds of Yester Year ( UK ) DSOY735 [ 2-CD set ]

Pete Rugolo, "Exploring New Sounds," Fresh Sound ( Sp ) 2243 [ 2-CDs = EmArcy LP MG36122 /

   SR80003 "Percussion At Work" + Mercury LP PPS2001 / PPS6001 "Ten Trombones Like Two Pianos" + Mercury LP PPS2016 / PPS6016

   "Ten Trumpets & Two Guitars" + Mercury LP PPS2023 / PPS6023 "Ten Saxophones and Two Basses" ]

Jess Stacy: "Pianist Personified," Vintage Music Productions VMP 0220 [ = the 1960 LP

   Hanover HM 8010 "The Return of Jess Stacy" + various select solo, duo, and trio recordings from 1951-56 made for Brunswick and Atlantic ]

Tommy Tucker: "The Light Turned Green," Circle CCD-153 [ 20 more Lang-Worth transcriptions from 1943-47 ]

Teddy Wilson: "The Touch of Teddy Wilson,"  Jazz Beat 510 [ = 1957 Verve LP MG-V 8330 ]

NEW DVDS

Tommy Dorsey: "Du Barry Was a Lady," Warner Home Video 79631

HAPPY BIRTHDAY TO YOU

Zeke Zarchy, trumpeter (Haymes '35-36; Shaw '36; Crosby '36-'37 / '38-'39; T. Dorsey '39-'40; Miller '40 / '41-'42; Miller AAF '43-'45),

  b.June 12, 1915

Pete Candoli, trumpeter (Dunham '41; Bradley '41; McKinley '42; T. Dorsey '43-'44; Herman '44-'46; Beneke-Miller '47-'48),

  b.June 28, 1923

Lena Horne, vocalist (Barnet '40-'41; Shaw Love Me a Little Little and Don't Take Your Love From Me, Victor '41), b.June 30,

  1917

NECROLOGY

Bill Barber, 87, tuba player (Thornhill '47-'48; Sauter-Finegan '52-'53), d.June 18, 2007, congestive heart

  failure

Donna King, 88, of the King Sisters (Heidt '35-'38; Shaw '39 Old Gold "Melody & Madness"; Rey '39-'43),

  d.June 20, 2007, "had asthma and cancer"

HOME, SWEET, HOME

    A Toluca Lake, California estate which once belonged to trumpeter Mannie Klein (Dorsey Bros.

'29 / '30 / '33-'34; Goodman '31 / '33-'34 / '36 "Big Broadcast of 1937" / '46 / '56 "Benny Goodman Story" Carnegie Hall sequence [ Ziggy Elman on

screen ] / '58 / '61) has been sold for more than $1.4 million. 

    It was built in 1939, and includes a 2,500-square-foot house, a two-story guesthouse, a pool, and a cabana. 

    According to Ruth Ryon, a reporter for The Los Angeles Times, the property is zoned for apartments, but the new owner plans to restore the home. 

    Klein died in 1994.

NEW IN-PRINT AND/OR ONLINE

Davis, Barry.  "'In the Mood' in Ra'anana," Jerusalem [ Israel ] Post / jpost.com, June 14,

  2007.   [ Wil Salden leads the overseas Glenn Miller Orchestra in a concert June 23rd at Amphi Park ]

Hurd, Maureen.  "Benny Goodman: the Classical Clarinetist, Part 1," The Clarinet,

  June 2007, pp.32-38. 

McGinn, Andrew.  "Vibraphonist, big band leader represent Springfield," Springfield [OH]

  News-Sun / springfieldnewssun.com, June 15, 2007.   [ recalling famous musicians associated with

   Springfield, including bandleader Freddy Martin, who grew up in the Ohio Pythian Children's Home there ]

Peck, David.  "The night 'The Duke' played in Lovell," Lovell [WY] Chronicle / stpns.net,

  June 14, 2007.   [ Duke Ellington performed there May 7, 1954 ]

Tumpak, John.  "The Scene: Big Band Academy of America Annual Reunion," L.A. Jazz

  Scene. June 2007, p.29.   [ report on the Reunion which was attended by over 300 people ]

send feedback about "Big Band News" June 2007 via
e-mail
    Following that catastrophic fire at the Palomar Ballroom in Los Angeles in October 1939, during which the Barnet band lost its music library and instruments, things got back to normal surprisingly fast; it could be argued that, with the addition of Billy May's composing, arranging, and trumpeting skills, they became better than ever.    

    This disc offers acceptable sound and decent Barnet material not presently available elsewhere, like several of May's charts, such as Pompton Turnpike, The Sergeant Was Shy, and All This and Heaven Too.  Also included are No Name Jive Parts 1 and 2, arranged by Skippy Martin; Southern Fried, arranged by pianist Bill Miller; and Night and Day, a head arrangement. 

    The listing of the band personnel and original record issues are appreciated, but otherwise, the liner notes are minimal. 

    At least the spelling of "chronological" in the title artwork has been fixed (finally).

    Big Band Library rating: GOOD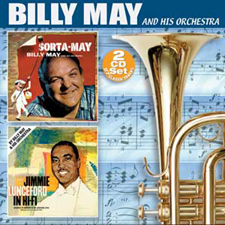 Billy May: "Sorta-May / Jimmie Lunceford in Hi-Fi,"

Collectables COL-CD-2916

    A well-done transfer of two May Capitol LPs (T 562 + TAO

924), which were in hi-fi (1954) and stereo (1957), respectively.  The pairing seems appropriate, for May was a fan of the old Lunceford two beat and his famous "slurping saxophones" sound was inspired by the way Willie Smith, one of Jimmie's alto men, played.  The "Hi-Fi" sessions are especially enjoyable, with the participation of Smith and fellow Lunceford alumni Trummy Young, Joe Thomas, and Dan Grissom.

    The only caveat is that the "Sorta-May" album was previously available on CD (joined with "Sorta-Dixie" as GNP Crescendo STD-1051).

    Big Band Library rating: VERY GOOD