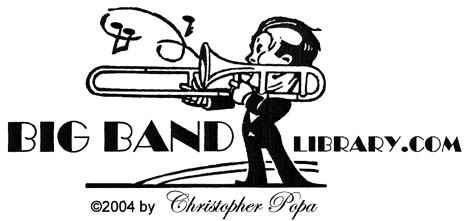 The big bands are back

in a new and exciting way!

JULY 2011 "BIG BAND NEWS"

compiled by Music Librarian CHRISTOPHER POPA   

he had done at some point, or whether he was formally interviewed by Dmytryk.)

    At one point, Stacy talks about the use of alcohol and marijuana by musicians.  "I've tried just about everything, and I can tell you honestly, nothing beats a Hershey Bar," he claimed.

    Later, he remembers his days as a sideman with Benny Goodman's band and their breakthrough success at the Palomar in Los Angeles on August 21, 1935.  "The Palomar Ballroom looked big enough to land a jet in," he said.  "A mile in all directions.  And it was packed.  Mostly high school and college kids.  The faces I could see were smiling and ready . . . we burst forth with the beginning of 'Let's Dance,' then went into 'Blue Room.'  Dancers gradually spilled onto the floor until it was filled and at the finish of the number the applause was deafening.  As we went into 'King Porter Stomp,' there were cheers from the audience to let us know that this was what they had been waiting for."

    Stacy went on to play for other legendary leaders, including Bob Crosby ("... nice to work with," according to Stacy), Tommy Dorsey ("Dorsey's band was great and it was a fine experience for me."), and even Horace Heidt ("... the band was just not my style.  And he tried to make a showman out of me, which is not only ridiculous, it's impossible.  I can't be on!  I just wanna play.").

    In his personal life, Stacy found lasting love with his third wife, Patricia, and they happily spent time gardening and relaxing at home on Lookout Mountain Ave. in West Hollywood, CA.  I made note of the statement that on August 11, 1994, "Jess celebrated his 90th birthday, playing occasionally, laughing a lot."  He died only a few months later, on January 1, 1995, but what a loving and peaceful way to grow old!

Big Band Library rating: VERY GOOD

MORE NEW IN-PRINT AND / OR ONLINE

Vic Bellerby.  CD Reviews: Jimmy Dorsey Orchestra / Patti Page "Let's Go to Town"

    (Sounds of YesterYear [ UK ] DSOY 822), Jazz Journal, Volume 64 No.7 / July 2011,

    p.23.  "Jimmy's own liquid style clarinet gives neither leadership nor solid swing

    invention," Bellerby remarks.

JoEllen Black.  "Big-time big band Glenn Miller a hit in Richmond," Richmond [ MO ] News,

    Jul. 5, 2011.  Positive review of The Glenn Miller Orchestra directed by Gary Tole's

    July 3rd performance.

Joe Carlton.  "Swing and Sweat with Charlie Barnett [ sic ]," The Great Escape! /

    dixieswing.com, Issue No. 25 Jul. / Aug. 2011, p.2.  Carlton recalls Barnet's record of

    The Wrong Idea, a lampoon of Sammy Kaye's sweet band, that supposedly caused

    Kaye not to speak to Barnet for 10 years.

---.  "Yet Another Challenging Quiz," The Great Escape! / dixieswing.com, Issue No. 25

    Jul. / Aug. 2011, p.2.  Carlton presents some trivia questions for fans of big band

    music.

Bruce Crowther.  CD Reviews: Roy Eldridge "Three Classic Albums Plus" (Avid [ UK ]

    AMSC 1024), Jazz Journal, Volume 64 No.7 / July 2011, p.23.  Crowther writes, ". . .

    fine music by some of the giants in a package that is thoroughly excellent."

Sascha Feinstein.  "Hawaii Swings: Bobby Hackett and the exotic '50s," Jazziz, Summer

    2011, pp.62-66.  Feinstein recalls Hackett's Capitol LP "Hawaii Swings."

Alan Gerstel.  Swing: The Search for my father, Louis Prima (CreateSpace, 2011).  A

    320-page book tracing the circumstances surrounding Gerstel's birth in 1944.

Bob Knack.  "Nobody Doesn't Like 'Em," The Great Escape! / dixieswing.com, Issue No. 25

    Jul. / Aug. 2011, p.1.  Knack suggests that people of all ages and walks of life enjoy

    The Mills Brothers, Nat "King" Cole, Count Basie, and Glenn Miller.

Jeff Korbelik.  "Glenn Miller Orchestra to perform at Pla Mor," Lincoln [ NE ] Journal Star,

    Jul. 7, 2011.  A famous venue, a popular band, and its present leader.  "The orchestra

    may be even more popular now than in the 1970s," Gary Tole, director of the Miller

    Orchestra, suggests.

NPR staff.  "The Gerald Wilson Orchestra: A Living 'Legacy,'" npr.org, Jul. 16, 2011.

    Wilson, 92, a former trumpeter with Lunceford '39-'42, has a new CD titled "Legacy."

    His grandson, Eric Otis, comments about Wilson's style.

Howard Reich.  "My Kind of Jazz: L.A. jazz giant pays homage to Chicago," Chicago

    Tribune, Jul. 19, 2011.  Positive review of the new CD, "Legacy," by Gerald Wilson,

    former trumpeter with Lunceford '39-'42, including Wilson's Yes Chicago Is ... suite.

Anthony Troon.  "Jacquet in a jam," Jazz Journal, Volume 64 No.7 / July 2011, p.40.  Troon

    recalls an encounter with Illinois Jacquet in 1982 in which "the saxophonist disdained

    the jam session style adopted by many jazz festivals."

"Truth behind the mystery of Glenn Miller revealed?," Bedford [ United Kingdom ] Today,

    Jul. 6, 2011.  Quotes an 89-year-old woman who "believes she was one of the last

    people to see Glenn Miller alive" and that she "served Mr Miller coffee before he boarded

    the plane that left the airfield, but never arrived at its destination in Paris."  She

    remarked, "He had three coffees and he just kept staring into space . . . I remember that

    morning so vividly, he just looked like he had a lot on his mind.  It was very odd." 

Bob Weir.  CD Reviews: Various Artists "Jazz: The Smithsonian Anthology" (Smithsonian

    Folkways SFWCD 40820), Jazz Journal, Volume 64 No.7 / July 2011, pp.33-34.  "The

    problem with such anthologies for experienced collectors is that they probably have

    many, perhaps most, of these classic tracks already," Weir observes.

Bert Whyatt.  CD Reviews: Red Norvo "The Complete V-Disc Recordings" (Sounds of

    YesterYear [ UK ] DSOY 843), Jazz Journal, Volume 64 No.7 / July 2011, p.32.  Whyatt

    calls it "an excellent set" with "mostly wonderful" music. 

NEW KAY KYSER BOOK

IS IMPERFECT BUT WORTHWHILE

    "Our main desire is to have the reader learn about the things Kay Kyser did," co-authors Raymond D. Hair and Jurgen Wolfer promise in Thinking of You: The Story of Kay Kyser, their 471-page book published by BearManor Media of Georgia.

    Sadly, Hair, a longtime Kyser fan who contributed to Joyce Music's 1986 Kyser discography, didn't live to see the attractive cover of this fresh, well-intentioned title - he died at the age of 80 in 2007.

    When one of Kyser's friends, Hal Kemp, who led a dance band for various campus activities at the University of North Carolina, decided to fully move into the world of professional music, he encouraged Kyser to form an orchestra to take his place at school.  "I'm not a musician," Kyser protested.  "You don't have to be," Kemp said.  "You can hire all the musicians you need.  Besides, you've done just about everything else."  That's how Kyser organized his first band, in 1926; he remained a bandleader until 1950, then followed other interests including  lecturing on behalf of Christian Science.

© 2011 Raymond D. Hair and Jurgen Wolfer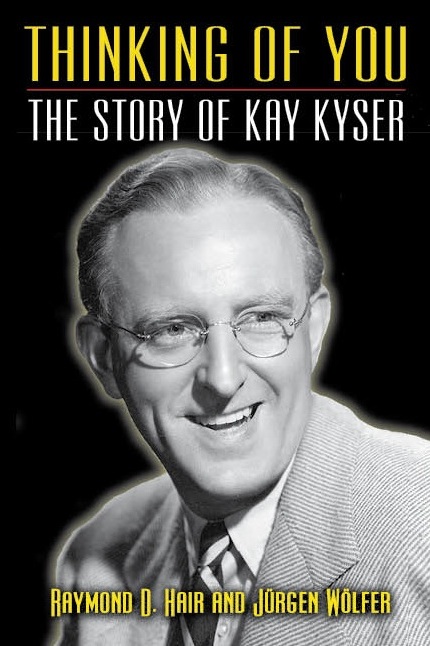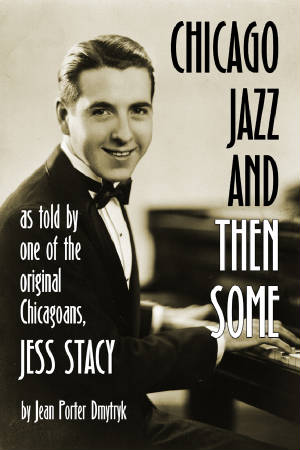 © 2011 Jean Porter Dmytryk

NEW JESS STACY MEMOIR

FOLLOWS HIS HEART AND SOUL

    "Jess Stacy was the kindest, sweetest, most generous man to grace this Earth," his neighbor, Jean Porter Dmytryk, recalled.  And she evidently thought so highly of him that she has written Chicago Jazz and Then Some: as told by one of the original Chicagoans, Jess Stacy, a 138-page book incorporating many of Stacy's own thoughts and 27 black and white photographs.  It is published by BearManor Media of Georgia.

    Stacy was born in Birds Point, MO (a little town which was since washed completely away by the Mississippi River).  But, because he hit the big time as a pianist in Chicago at an early age and helped form the jazz music associated with that exciting period there, he was considered a Chicagoan.

    Dmytryk's writing follows Stacy throughout his entire life, but it never gets bogged down in uninteresting minutiae.  In part because of the bountiful, charming quotations of Stacy himself, it is interesting and easy-to-read.  (It isn't revealed whether these were, perhaps, from taped or written reminiscences which

    In the fall of 1934, Kyser and his band started an engagement at the Blackhawk Restaurant in Chicago, and, within a short time, Kyser and what evolved into his so-called "Kollege of Musical Knowledge" - with their appealing dance music plus gags and antics - became one of America's most popular attractions. 

    According to Billy May, who wrote a few arrangements for Kyser in the 1940s and conducted the recording sessions for Capitol's "Kay Kyser's Greatest Hits" stereo LP in August and September of 1961, "The only man I ever knew Glenn Miller to be envious of was Kay Kyser, because he was the only bandleader making more money than Glenn did."

    Still, Kyser felt a little dissatisfied.  "For 150 years, members of my family had been . . . doctors, professors, lawyers - practically everybody in the family had done something worthwhile," he explained.  "And here I was, a faker and a hoax, because I couldn't read a note of music or play an instrument.  I'd made it just acting the dern fool."  But then he realized that people needed recreation and entertainment, that "You can serve God that way."

   Every now and then, in my opinion, the book veers off-topic, perhaps in an attempt to provide context for the era.  Also, there are some factual errors and typos, such as mentioning Kyser vocalist Harry Babbitt as "Harry Battitt" in the Introduction; calling Kyser within a space of three pages of the chapter titled The Beginning "the Ol' Professor," then "the Old Professor," and, then "Ol', Fess" [ sic ]; referring to Glenn Miller's saxophone sound as his "read style" on p.114; and claiming that Artie Shaw walked away from his band at the Hotel Pennsylvania in New York City on "December 19" of 1939.  Curiously, too, in the Appendix which summarizes the careers of more than 100 of Kyser's sidemen, vocalists, and associates, guitarist Roc Hillman is shown as deceased (he only died on May 31, 2011 at the age of 100, after the book was published) and p.206 states that vocalist Louise Tobin died in 2006 (she's still alive at the moment). 

    Though the text frequently quotes, for example, former Kyser players or his wife, Georgia, evidently from various press interviews, I was surprised that the Sources shown cite just a single unpublished interview, of Kyser trumpeter-vocalist Merwyn Bogue (aka "Ishkabibble"), and nothing from anyone else (arranger George Duning, described as "the most important addition ever made to the band," lived until the year 2000). 

    Yet, clearly, the authors valued their subject and their work, which includes 26 images, is, ultimately, an enjoyable read.  I appreciated, for instance, the matrix numbers and other details of that Capitol "Kay Kyser's Greatest Hits" re-creation.  (Kyser himself declined to take part in those recordings and his voice was imitated by, of all people, the comedian Stan Freberg.)  Also included, at the end of the book, are a number of lists, including Kyser films, LPs, CDs, and more, and a helpful Index.

Big Band Library rating: GOOD

left off), as well as a variety of Slack's own Capitol sides which were offered in toto in 2005 on Mosaic Select. 

    Of prime interest, therefore, is Slack's less-heard June 2, 1941 session for Decca, with his own arrangements of Strange Cargo and Boogie Woogie On Kitten on the Keys, and Don Raye's vocals about Pig Foot Pete and That Place Down the Road a-Piece, as well as several tracks from his 1955 hi-fi EmArcy album.  Had it been me, I would have replaced the Bradley sides with the rest of that LP.

Big Band Library rating: VERY GOOD

MORE NEW CDS

Louis Armstrong.  "The Complete Louis Armstrong and the Dukes of Dixieland," Solar

    Records 4569905.  3-CD set of tunes recorded for Audio Fidelity in 1959-60.  WARNING:

    includes, as is stated, "both the master takes and all of the alternates.  Half of this music

    appears here on CD for the first time ever" - which is word-for-word what was said when

    this material was earlier released on CD in 2007 by Essential Jazz Classics (EJC 55404).

Earl Hines.  "Earl's Pearls," American Jazz Classics 99038.  Equals the 1960 MGM LP

    (SE 3882) by Hines' quartet, plus his solo piano session from the same year previously

    issued on LP in Italy by Europa Jazz (EJ 1054).

Stan Kenton.  "Back to Balboa / Rendezvous with Kenton," Solar Records 4569906.  Equals

    the Capitol LPs ST 995 (in stereo) and ST 932.  NOTE: "Back to Balboa" was issued in

    mono on CD in 2004 by Capitol Jazz (7243 5 93094 2), but "Rendezvous with Kenton"

    has not been on CD at all until now.

Various artists.  "Britain's First Number Ones 1939 -1945," Fantastic Voyage (UK) FVTD104. 

    3 CDs of chart-toppers from England, including Kemp, T. Dorsey, J. Dorsey, Miller,

    Vallee, Brown, and Lombardo.

---.  "Conversations / Repercussion," Vocalion [ UK ] CDLK 4436.  2-CD set combining

    the LPs "Conversations" with Rich, Bellson, and Kenny Clare + "Repercussions" with

    Bellson and Eric Delaney.

---.  "Jazz at the Hollywood Bowl: Expanded Edition," Hip-O Select.  Taped on August 15,

    1956, it features 11 previously-unreleased Armstrong selections, plus Jacquet, Eldridge,

    Rich, and others.

---.  "Jazz at the Philharmonic: Complete Live in Stockholm November 21, 1960," Solar

    Records 4569907.  3-CD set by the JATP All-Stars, including Gillespie, Eldridge, C.

    Hawkins, and Carter, originally issued on four separate LPs and titled "Jazz at the

    Philharmonic in Europe" (Verve V-8539 / 8540 / 8541 / 8542).

NEW DATES BY THE NAME BANDS

Harry James Orchestra directed by Fred Radke.  Jul. 2, Boston, MA; Jul. 4, "Montreal Jazz

    Festival," Montreal, Canada; Jul. 31, Arlene Schnitzer Concert Hall, Portland, OR.

Hal McIntyre Orchestra directed by Don Pentleton.  Jul. 17, Gannon Country Club, Lynn,

    MA.

Glenn Miller Orchestra directed by Gary Tole.  Jul. 1, Municipal Hall, Anthony, KS; Jul. 2,

    Downtown Clinton Square, Clinton, MO; Jul. 3, Farris Theatre, Richmond, MO; Jul. 4,

    Lions Park, Urbandale, IA; Jul. 5, Grand Island Liederkranz, Grand Island, NE; Jul. 6,

    Midwest Theatre, Scotts Bluff, NE; Jul. 8, Pla Mor Ballroom, Lincoln, NE; Jul. 9, Muse

    Ballroom, Salina, KS; Jul. 10, Fox Pavilion, Hays, KS; Jul. 14, Festival Hall, Embroke,

    Ontario, Canada; Jul. 16, Lexington Music Theatre, Lexington, MI; Jul. 18, ArtPark,

    Lewiston, NY; Jul. 19, Valley Manor Apartments, Rochester, NY; Jul. 21, East Side Park,

    Norwich, NY; Jul. 22, Ocean City Music Pier, Ocean Pier, NJ; Jul. 24, Leominster Elks,

    Leominster, MA; Jul. 26, The Pavilion, Old Orchard Beach, ME; Jul. 28, Lake Placid

    Center for the Arts, Lake Placid, NY; Jul. 30, Bala Arena, Bala, Ontario, Canada.

SOPHISTICATED SWING

    On the 12th of this month, as part of its "Book Beats" Loop Film Series whose theme this year is music, Chicago Public Library presented a showing of Duke Ellington "Live in Montreal," as filmed on the band's opening night on April 20, 1964 at Le Jazz Hot (formerly the Casa Loma club) in Montreal, Quebec, Canada. 

    Ellington and his famous orchestra played Take the 'A' Train, Never On Sunday, Afro Bossa, Prowling Cat, Boo-Dah, Happy Reunion, and others.

NECROLOGY

Joyce Berigan-Hansen, 75, d.Jul. 4, 2011, "after suffering a long battle with Alzheimer

    Dementia."  Youngest daughter of Bunny Berigan.

Gil Bernal, 80, d.Jul. 17, 2011, congestive heart failure.  Saxophonist with S. Jones '56-'59.

Sid Cooper, 92, d.Jul. 18, 2011.  Saxophonist with T. Dorsey '43-'49.

Lil Greenwood, 86, d.Jul. 19, 2011.  Vocalist with Ellington '58-'59.

Frank Foster, 82, d.Jul. 26, 2011.  Saxophonist with Basie '53-'64; leader of Basie Orch.

    '86-'95.

Al Leopold, 96, d.Jul. 31, 2011, complications from lung cancer.  Trombonist with Savitt

    '37-'41.

NEW BIRTHDAY WISHES

Doc Severinsen, b.July 7, 1927.  Trumpeter with Fio Rito '45; Barnet '47-'49; S. Donahue

    '48; T. Dorsey '50.

Buddy Moreno, b.July 13, 1912.  Vocalist with Griff Williams '40?; Jurgens '40-'42; James

    '43-'44. 

Larry O'Brien, b.July 15, 1933.  Trombonist with T. Dorsey Orchestra '61-'65 and leader of

    Miller Orchestra '81-'83 / '88-'10.

Kay Starr, b.July 21, 1922.  Vocalist with Crosby '39; Miller '39; Venuti '39-'42; Barnet

    '43-'45.

Michael P. Zirpolo, b.July 22, 1950.  Jazz historian and author (various pieces for IAJRC

    Journal; forthcoming Bunny Berigan biography to be published by Scarecrow Press).

Gloria DeHaven, b.July 23, 1925.  Singer with Savitt '42.

Ronny Lang, b.July 24, 1927.  Saxophonist with Ennis '47; Brown '49-'90? [ not continuous ].

Peter Duchin, b.July 28, 1937.  Son of Eddy Duchin and pianist - bandleader.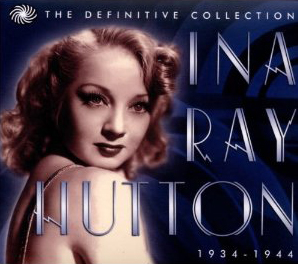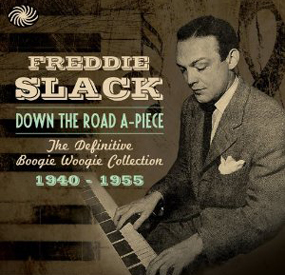 COMPACT DISC REVIEWS

    Based on just two releases, Future Noise Music of London, England has made a promising entry into big band music as part of their Fantastic Voyage label!

    "Ina Ray Hutton: The Definitive Collection 1934 - 1944" (Fantastic Voyage [ UK ] FVTD110), a 3-CD set of 53 tracks, represents what's described as "all known sides by her Melodears, her      commercial 78-rpm recordings, soundtrack and radio-broadcast performances."

    It starts with attractive cover artwork worthy of something like the mammoth marketing of Reader's Digest, housing the discs in billfold-type packaging illustrated with portraits of Hutton.

    While this set duplicates tracks already issued on other CDs (Sony Music Special Products A 33632, Vintage Music Productions VMP 0081, and Soundcraft SC-5008), it adds Hobo On Park Avenue, Devil's Kitchen, Earthquake, Jazznocracy, Organ Grinder's Swing, A Handful    of Stars, Gotta Have Your Love, At Last, Madelaine, A Sinner Kissed An Angel, Everything I Love, You Made Me Love You, Don't Tetch It, Was It Worth It?, Georgia On My Mind, Johnny Zero, King Porter Stomp, Blue Moon, Milkman Keep Those Bottles Quiet, and Take It Easy.  The sound quality varies from pretty good to merely acceptable.

    The 19-page booklet features Athan Maroulis' interesting liner notes which shed needed light on Hutton's career, additional portraits of Hutton, images of a couple artifacts, plus complete personnels and other recording information.

    Maroulis has done a commendable job producing this title, compiling in one place the largest-ever collection of Hutton's music.  Seeing and hearing all of this together, especially for those unfamiliar with Hutton's work, does make for a fantastic voyage!

Big Band Library rating: VERY GOOD

    Younger collectors may want "Freddie Slack: Down the Road a-Piece: The Definitive Boogie Woogie Collection 1940 - 1955" (Fantastic Voyage [ UK ] FVDD111), a 2-CD set of 43 tracks featuring Slack, described as "the most gifted of the white exploiters of what was a black folk blues idiom, and there was an authenticity to much of his work which his contemporaries lacked."

    The artwork on this cover reminds me more of the Smithsonian Institution's packages, and, again, it's amply illustrated and includes Slack's story, the personnel of his bands, and recording data.

    However, this set duplicates some of the big boogie-woogie hits by Will Bradley and His Orchestra featuring Ray McKinley, with Slack on piano, that have already been on CD in great sound on Hep (so I think that those could have been

cover artwork © 2011 Future Noise Music