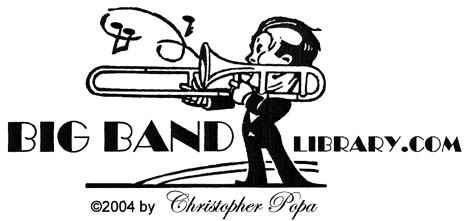 the big bands are back

in a new and exciting way

    Curiously, my website is nowhere to be found in Sher's list of "Research Resources" on pp.332-333.

    If Sher had to steal any of my work, it's regrettable that she didn't steal more of it, because the incorrect information that she included elsewhere in her book - some of which is appalling - can only result in her being humiliated by historians, collectors, and fans.

    For example, Sher alleges on p.26 that Charlie Barnet died "from AIDS, possibly as a result of his drug addiction."  What?  As reported in The New York Times ("Charlie Barnet, 77, Saxophonist And a Band Leader of Swing Era," Sept. 6, 1991), Barnet's wife, Betty, said that he "had Alzheimer's disease and died of pneumonia." 

    Sher also claims on p.268 that bandleader Tommy Tucker died "in 1982 from inhaling carbon tetrachloride while finishing the hardwood floors of his home.  He was 48 years old."  Wrong again!  She has him confused with the blues singer-songwriter of the same name.  For the right person, see again The New York Times ("Tommy Tucker Dead," Jul. 13, 1989).  Tucker's own wife told me that he succumbed not long after undergoing open-heart surgery.

    There are plenty of other errors in Sher's book, too.

    To name a few: Tex Beneke received a Star on the Hollywood Walk of Fame on Sept. 12, 1991, according to their official website, walkoffame.com, not in "1972," as Sher writes on p.33; Bunny Berigan died on June 2, 1942, as documented nearly anywhere, including in Michael P. Zirpolo's Mr. Trumpet-The Trials, Tribulations and Triumph of Bunny Berigan (Scarecrow Press, 2011), not on "May 30, 1942," as Sher reports on p.35 of her book; one of Will Bradley's hits was Celery Stalks At Midnight, shown exactly as such on the label of the original 78 rpm disc and all subsequent issues, not Celery Stalks, as Sher calls it on p.39; Les Brown never recorded with "Ella Fitzgerald, Nat King Cole and Tony Bennett," as Sher thinks on p.41; Harry James' given name was Harry Haag James, according to Peter J. Levinson's Trumpet Blues: The Life of Harry James (Oxford University Press, 1999), not "Henry" Haag James, as Sher claims on p.135; Freddie Slack never accompanied rock'n'rollers Chuck Berry or Jerry Lee Lewis, as Sher claims on p.252; and Helen Ward was not a vocalist with Glenn Miller's band, as Sher states on p.183.

    Sher's spelling typos include Billy "Ekstine," rather than Eckstine, on p.30; identifying Billy Butterfield as Billy "Butterworth" on p.44, even after she wrote Butterfield elsewhere; and on p.91, Shep "Field," even after she spelled Shep Fields' name properly in other places.

    Sher even used wrong photographs in a couple of cases.  Rather than showing Sonny Dunham on p.75, she has a picture of trumpeter Pete Candoli, and instead of Jean Goldkette on p.101, she shows a photo of Bix Beiderbecke.

    I also question some of Sher's choices for a book about the big bands.  Of what importance to the genre were Hoagy Carmichael, Mickey Katz, Kid Ory, or Perez Prado?  I say little to none, but she gave each of them equal coverage to Basie, Goodman, Miller, et al.

    Enough!  I won't devote any more of my time to it and I hope that no one will waste their money on Sher's book as I did!

Big Band Library rating: NOT RECOMMENDED

ALSO IN-PRINT AND / OR ONLINE

Brian Belton.  "B.B.'s Big Band Beat: Brian Belton takes a look at the big band scene,"

    In Tune International, No.239 / Jan. 2012, p.35.  Belton gives a positive review of the

    Kenton CD "Back to Balboa / Rendezvous with Kenton" (Solar Records 4569906).

John Bingham.  "Glenn Miller death: teenage planespotter's logbook 'scotches conspiracy

    theory,'" The [ Chatham, Kent, England ] Telegraph / telegraph.co.uk, Jan. 7, 2012.

    Bingham writes that the Glenn Miller mystery "has spawned dozens of theories ranging

    from friendly fire to more elaborate tales involving spies and secret missions.  Last year

    one book, written by a former US colonel, concluded that Miller had been dispatched to

    Berlin by Eisenhower for a secret meeting with Rommel and other Nazi figures as part

    of a plot to topple Hitler.  It went on to suggest that he [ Miller ] eventually met his end in

    a Paris brothel, assassinated by German agents."

Judy Carmichael.  "Artist's choice: Stride Piano," JazzTimes, Jan. / Feb. 2012, p.15

    Carmichael picks some classic stride performances, including Handful of Keys and

   I Got Rhythm by Fats Waller and Prince of Wales by Bennie Moten's Kansas City

    Orchestra featuring Count Basie.

Matthew Garrahan.  "Keeping up with Mr. Jones: The legendary producer and performer

    wants to save the industry that saved him," Financial Times Magazine, Jan. 13, 2012.

    Quincy Jones (1933- ) was a trumpeter with Hampton '51-'53 and Gillespie '56; and a

    composer for Basie '58 ( Rat Race / The Midnight Sun Never Sets / Meet B.B. ).

Nat Hentoff.  "[ final ] Chorus: Ellington moves Into Public School Systems," JazzTimes,

    Jan. / Feb. 2012, p.72.  Hentoff discusses the book Riding on Duke's Train by Mick

    Carlon.

Gordon Jack.  "Richard Cox: Cutting it with Claude," Jazz Journal, Volume 65 No.1 /

    Jan. 2012, pp.16-17.  Saxophonist Richard Cox, who worked on the Claude Thornhill

    band in 1952, gives some insights to life on the road.

Sherl Linden.  "The Girls in the Band: Film Review," The Hollywood Reporter /

    hollywoodreporter.com, Jan. 31, 2012.  Director Judy Chaikin's documentary received

    the Audience Award for Best Documentary Feature at the recent Palm Springs Film Fest.

    The film includes interviews with trumpeter Billie Rogers, formerly with Woody Herman's

    band, and Viola Smith, a former drummer with Phil Spitalny's band.

"Ohio State gets $6 million gift for arts," Columbus [ OH ] Dispatch, Jan. 17, 2012.  The

    money was given by Larry Barnett, a former big band booking agent, and will be used

    "to train students how to become professional artists or handle the business side of the

    arts."

"Please welcome new Music Director - Nick Hilscher," [ Glenn Miller Productions ] On the

    Road, Newsletter #098 / Jan. 2012.  Hilscher became leader of The Glenn Miller

    Orchestra this month.

Robert W. Rice.  "Stateside with Robert W. Rice,"  In Tune International, No.239 / Jan. 2012,

    p.15+.  Rice discusses and lists the tracks on the upcoming Chick Webb Mosaic set.

Linda Serck.  "Glenn Miller clue found in Reading plane-spotter's log," BBC News /

    bbc.co.uk, Jan. 11, 2012.  Serck writes that "Miller's disappearance remains one of

    World War II's most enduring mysteries."

John Tumpak.  "Helen Humes - The Happy Singer," L.A. Jazz Scene, Jan. 2012, pp.3-5.

    Humes (1909-1981) was a former vocalist with Basie '38-'41 and recorded with James

    '37-'38 [ Jubilee; (I Can Dream) Can't I; Song of the Wanderer; It's the Dreamer in Me ].

David Wilkes.  "Sighting of Glenn Miller's doomed plane by amateur spotter shatters theory

    that aircraft was downed by falling WWII bomb," [ London, England ] Daily Mail Online /

    dailymail.co.uk, Jan. 6, 2012.  A 17-year-old wrote in his notebook the afternoon of

    December 15, 1944 that he spotted a "Norseman going ESE" [ i.e.,east or southeast ]

    towards the Sussex coast.  According to some, a Norseman C-64 was the type of plane

    in which, they believe, Miller met his death over the English Channel.  This latest report

    seems to contradict another supposed scenario in which Miller's aircraft "was hit by a

    bomb jettisoned by an RAF Lancaster after an aborted raid on Germany."

A MOST HAPPY BIRTHDAY

    Marian Monroe, the widow of Vaughn Monroe, was born 100 years ago this month, on January 7, 1912.  She was married to Monroe from April 2, 1940 until his death on May 21, 1973. 

    For more than three-and-a-half decades afterwards, she lived on her own in Florida, with frequent visits from the couple's two daughters, Candy and Christina, and other family. 

    According to Vaughn Monroe aficionado Herb Wasserman, Mrs. Monroe has now been moved to an assisted living facility, but remains in reasonably good health. 

    I wish Mrs. Monroe a most happy birthday!

HAPPY BIRTHDAY TO YOU, TOO

Frank Wess, saxophonist, b.Jan. 4, 1922.  With Eckstine '46; Millinder '47; Basie '53-'64.

Bucky Pizzarelli, guitarist, b.Jan. 9, 1926.  With Monroe '43 / '46-'52; Goodman '67 / '69

    Reader's Digest / '70 / '71 / '72 / '73 / '74 / '75 / '77 / '79 / '80 / '81 / '85.

Nat Peck, trombonist, b.Jan. 13, 1925.  With Miller AAF '43-'45.

Ray Anthony, trumpeter, b. Jan. 20, 1922.  With A. Donahue '40; Miller '40-'41; J. Dorsey

    '42.  Own band '46- .

Benny Golson, tenor saxophonist, b. Jan. 25, 1929.  With Gillespie '56-'58.

Dick Nash, trombonist, b.Jan. 26, 1928.  With S. Donahue '47; G. Gray '49; Beneke '50;

    May '53.

Ed [ "Eddie" ] Shaughnessy, drummer, b.Jan. 29, 1929.  With Byrne '48; Ventura '48-'50;

    Millinder '51-52.

NECROLOGY

Phil Kraus, 93, d.Jan. 13, 2012.  Percussionist with Goodman '59 "Swing Into Spring" / '67

    Schaefer jingle.

Kay Davis, 91, d.Jan. 27, 2012.  Vocalist with Ellington '47.

Glenn Miller Orchestra directed by Larry O'Brien.  "Fascinating Sound," Victor [ Japan ].

    Previously-released material, but this time mixing secular and non-secular titles such as

    Moonlight Serenade and Rudolph, the Red-Nosed Reindeer.

Various artists.  Peter Appleyard and the Jazz Giants: "The Lost 1974 Sessions," Linus

    Records.  Includes Bobby Hackett, Hank Jones, Urbie Green, Zoot Sims, and Mel Lewis.

---.  "The Best Years of Our Lives: The Most Popular Songs of 1943," Sounds of YesterYear

    [ UK ] DSOY875.  Includes James, T. Dorsey, Goodman, Miller, and Cugat.

---.  "The King Sisters Featuring Alvino Rey and His Orchestra: Imagination: The Blend and the

    Elegance," Jasmine [ UK ] JASCD 183.  2-CD set of 71 of the Sisters' Capitol recordings

    backed by Rey.

---.  Elizabeth Wallace: "Choo-choo me home with The Glenn Miller Orchestra UK & The South

    London Jazz Orchestra," EWE [ UK ].  Includes Wallace's vocals on In the Mood,

    Pennsylvania 6-5000, and A String of Pearls.  More often than not, the sound balance

    seems off, as her voice fights the instruments and, at times, she shouts the lyrics (as with

    In the Mood).  Big Band Library rating: NOT RECOMMENDED

SAD NEWS

    On the 27th of this month, Jane Addams' Hull House in Chicago, where Benny Goodman received some of his early musical education, closed its doors.  The organization simply ran out of money, in debt for an estimated several million dollars.

    Hull House was founded in 1889 and, according to the Chicago Tribune, "provided foster care, domestic violence counseling, child development programs and job training to 60,000 children, families and community groups each year."

    Goodman and two of his brothers, Harry and Freddy, were members of the boys' band at Hull House.

    He later remembered that "during the winter Pop used to put us all on a sled and drag us over for our lessons."

ANOTHER SURPRISE ANNOUNCEMENT

    Members of The Glenn Miller Orchestra recently returned from their annual Japan tour and have been on a short break before they head back out on the bus on the 12th.   

    Surprisingly, Gary Tole's contract as leader has not been renewed, so the band will have a new director, vocalist Nick Hilscher. 

    Hilscher lately had been fronting The Tommy Dorsey Orchestra, following Buddy Morrow's death, and working with his own big band. 

    In 1998, Hilscher was the featured male vocalist with The Miller Orchestra for a year, then returned to Samford University in Birmingham, Alabama to finish his degree.  After earning a Bachelor of Music in piano performance, Hilscher returned to the Miller band and stayed with them until February 2005.

    I wish Nick Hilscher good luck as the new director of The Glenn Miller Orchestra, and will share exclusive comments from him in next month's "Big Band News"!

ON THE ROAD AGAIN

Count Basie Orchestra directed by Dennis Mackrel.  Jan. 14, Center for the Performing Arts,

    Carmel, IN.

Jimmy Dorsey Orchestra directed by Bill Tole.  Jan. 8, Del Webb Senior Estates, Palm Desert,

    CA; Jan. 9-10, Erie H. Meyer Civic Center, Gulf Shores, AL; Jan. 14, Yavapai College

    Performance Hall, Prescott, AZ; Jan. 15, Wickenburg, AZ; Jan. 29, Neel Performing Arts

    Center, Bradenton, FL.

Les Elgart Orchestra directed by Russ Dorsey.  Jan. 14-21, "small band," Southern Caribbean

    cruise aboard the Crown Princess, embarking from Ft. Lauderdale, FL.

Jan Garber Orchestra directed by Howard Schneider.  Jan. 10, Las Palmas Grand, Mesa, AZ.

Harry James Orchestra directed by Fred Radke.  Jan. 18, Palmetto, FL; Jan. 20, Naples, FL;

    Jan. 21, Surfside, FL.

Glenn Miller Orchestra directed by Nick Hilscher.  Jan. 12, Clover School, Clover, SC;

    Jan. 14, Alabama Theatre, Myrtle Beach, SC; Jan. 16, Lake Mary High School, Lake

    Mary, FL; Jan. 17, Ruth Eckerd Hall, Clearwater, FL; Jan. 18, Olympic Heights Community

    High School, Boca Raton, FL; Jan. 19, Lyric Theatre, Stuart, FL; Jan. 21, Grove Park Inn,

    Asheville, NC; Jan. 22, Newberry Opera House, Newberry, SC; Jan. 25-28, Busch

    Gardens, Tampa Bay, FL; Jan. 29, Clayton State University, Morrow, GA; Jan. 31, Lely

    High School, Naples, FL.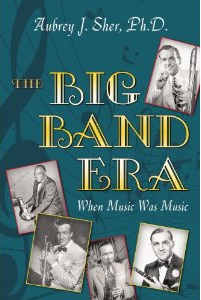 JANUARY 2012

"BIG BAND NEWS"

compiled by Music Librarian

CHRISTOPHER POPA

BOOK REVIEW

   A love for music may have prompted Aubrey J. Sher to write The Big Band Era: When Music Was Music (Shelbyville, KY: Wasteland Press, 2011), but, to my mind, she has failed at some basic aspects of her task. 

    Among other sins in this book, Sher is guilty of plagiarism.

    Right away, it's apparent to me that Sher used my list of biographical sketches of famous bandleaders from my website as a guide.  Frankly, I only included some names, like Skinnay Ennis, Little Jack Little, and Sy Oliver, because of my own preferences, not because of any standing of theirs as legendary leaders, per se.      

    Further, compare the following excerpts of my biographical sketch about Art Mooney, which I wrote for my website in September 2008, shown against excerpts of her biography of Mooney, published in October 2011 on pp.197-198 of her book:

Mine:

"In 1947, his band recorded three songs which became million-sellers, I'm Looking Over a Four-Leaf Clover, Baby Face, and Bluebird of Happiness."

Hers:

"In 1947, his band recorded three numbers that became million sellers.  They were I'm looking Over a Four Leaf Clover, Baby Face, and Bluebird of Happiness."

Mine:

"He grew up in the Detroit area and played the tenor saxophone."

Hers:

"He grew up in the Detroit area and played the tenor saxophone."

Mine:

"Not bad for someone who, working as a linotype operator while a young man, used to dream of being famous . . . "

Hers:

"As a young man, Art Mooney worked as a linotype operator dreaming while on the job of becoming a famous musician someday."

Mine:

" . . . Mooney hit gold with novelties and unusual sounds in music, like the use of a glockenspiel, a banjo, and group singing."

Hers:

"Art developed a unique sound that included the glockenspiel, the banjo, and group singing."

Mine:

"Besides his three gold records, other songs in his repertoire included, for example, Honey-Babe, I've Been Working On the Railroad, Donkey Got Drunk, Hop-Scotch Polka (Scotch Hot), Hey, Mr. Banjo, There's Something About a Hometown Band, Doo De Doo On An Old Kazoo, and Toot, Toot, Tootsie!.

Hers:

Besides Art's three gold records mentioned in the first paragraph, other songs in his repertoire included Honey-Babe, I've Been Working On the Railroad, Donkey Got Drunk, Hop-Scotch Polka, Doo De Doo On An Old Kazoo, and Toot, Toot, Tootsie.

Mine:

"Perhaps because his name was well-remembered by fans of the sweet bands, he was asked to come out of semi-retirement to lead Guy Lombardo's Royal Canadians from around 1982 to 1987."

Hers:

" . . . probably because he was remembered by fans of 'sweet music,' he was asked to come out of retirement to lead Guy Lombardo's Royal Canadians from 1982 to 1987."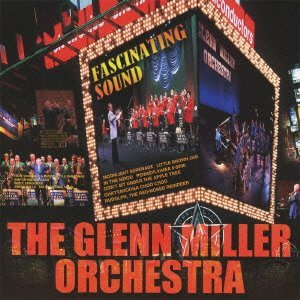 NEW COMPACT DISCS

Duke Ellington.  "Duke Ellington Orchestra,"

    Jazz Haus / SWR Music [ Germany ].  Live at

    Liederhalle Stuttgart in March 1967.

Maynard Ferguson.  "New Sounds of Maynard

    Ferguson / Come Blow Your Horn," Real

    Gone Music RLGM 400021.  His 1963

    Cameo LPs plus a bonus track, The Song

    Is You.

Benny Goodman.  "AFRS Benny Goodman

    Show Volume 12," Sounds of YesterYear

    [ UK ] DSOY876.  Continued series of

    radio shows from 1946.

---.  "Benny Goodman Orchestra feat. Anita

    O'Day," Jazz Haus / SWR Music [ Germany ].

    Live at Stadthalle Freiburg on October 15,

    1959.