"It is certainly within the national interest to acquire this recorded collection, and all its accompanying materials, for custodial care," said Librarian of Congress James H. Billington. "A surprisingly high percentage of America's recording heritage since the early part of the 20th century has been lost due to neglect and deterioration.  The donation of the UMG archive to the Library of Congress is a major gift to the nation that will help maintain the inter-generational connection that is essential to keeping alive, in our collective national memory, the music and sound recordings meaningful to past generations."

    "Music is a distinctive feature of any historical period, and this particular collection of masters provides true insight into popular music's humble beginnings and who we are as a culture today," said Zach Horowitz, Universal's president and chief operating officer. "We are delighted to be collaborating with the Library of Congress to preserve and call attention to the groundbreaking musical achievements of these amazing musical pioneers."

    The material was previously stored at Iron Mountain, a former limestone mine, near Boyers, PA.

    Over the next five or so years, the Library of Congress will preserve and digitize them.   Universal retains both the copyright and the right to sell the music once it's been digitized.

    "The thinking behind this is that we have a very complementary relationship," said Vinnie Freda, executive vice president for digital logistics and business services at Universal Music Logistics.  "I've been trying to figure out a way to economically preserve these masters in a digital format, and the library is interested in making historically important material available. So they will preserve the physical masters for us and make them available to academics and anyone who goes to the library, and Universal retains the right to commercially exploit the masters." 

    It would be difficult to estimate what these things are worth, as a formal assessment has not yet been made.  But in addition to the savings that will be gained from no longer having to store the discs, Universal could be in line for a substantial tax write-off as a result of the donation.

    "That's a complicated question for a lot of reasons," Mr. Freda said.  "Universal is a subsidiary of a much larger company, so it's got a lot of complications.  But I can absolutely tell you that without a doubt that was not a consideration of why we did this.  To the extent that we get a tax benefit, that will only be an extra plus."

    The Library of Congress can stream some of the music on its website.

    Some of the jazz music may eventually come out on the Mosaic label.

    "This is very crucial material for us, and we've been assured it will be an active archive that is not going to be tied up in bureaucracy, and that we and others will have access to it," Michael Cuscuna, who runs Mosaic, stated.  "Having lived in the vaults for many years," he added, he is aware that "there has been a lot of attrition" to the archives of major labels because of "stupid decisions, acts of nature, and material that has been lost, stolen, or never saved," so a transfer to the Library of Congress is theoretically welcome.

    Mr. DeAnna remarked, "Our challenge right now is to decide where to start, because the sheer numbers are just staggering."

FEBRUARY 2011 "BIG BAND NEWS"

compiled by Music Librarian CHRISTOPHER POPA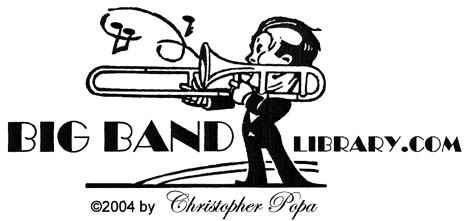 The big bands are back

in a new and exciting way!

DECCA MASTERS

TO LIBRARY OF CONGRESS

    It includes some of the finest big band music ever made - the famous Decca master recordings of Jimmie Lunceford, the Dorsey Brothers, Guy Lombardo and His Royal Canadians, Glen Gray and the Casa Loma Orchestra, Chick Webb, Bob Crosby, Andy Kirk and His Twelve Clouds of Joy, Count Basie, Jan Savitt and His Top Hatters, and Russ Morgan, among many others between 1926 and 1948.

    Following two years of talks, some 200,000 metal, glass, and lacquer master discs, from Decca, Vocalion, Brunswick, and Coral, later under the MCA umbrella, and more recently held by the Universal Music Group (UMG), have been donated to the Library of Congress in Washington, DC.

    "This is a treasure trove, a mile-plus of material on the shelves, much of it music that has been out of circulation for many years," Gene DeAnna, head of the recorded sound section of the Motion Picture, Broadcasting and Recorded Sound Division of the Library of Congress, told Larry Rohter of The New York Times.  "You can't get any better copies than these, so this represents a major upgrade."

a Decca Records standee,

"only on Decca of course!," for Carmen Cavallaro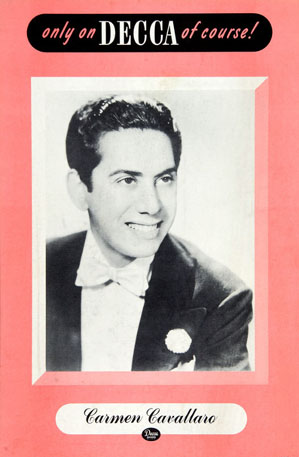 "This is the entire ORIGINAL library, and totally one-of-a-kind," Allen told me.  "Many of the JT individual part cases are included and the charts have been in safe storage for 20 years."

    For further information, contact Allen by e-mail via rcajazz1@aol.com.

COME HEAR THE BAND

Les Brown's Band of Renown directed by Les Brown Jr.  Feb. 11: members of the band at

    "Jazz Aria," Savoy Ballroom, Springfield, MO.

Jimmy Dorsey Orchestra directed by Bill Tole.  Feb. 28, Van Wezel Performing Arts Hall,

    Sarasota, FL.

Lionel Hampton Big Band: Feb. 26: "Lionel Hampton Jazz Festival," University of Idaho,

    Moscow, ID [ with guests including Pete Christlieb, tenor saxophone, and Eddie

    Shaughnessy, drums ].

Harry James Orchestra directed by Fred Radke.  Feb. 2: Stuart, FL; Feb. 20: Winter Haven,

    FL; Feb. 21, Punta Gorda, FL.

Glenn Miller Orchestra directed by Gary Tole.  Feb. 1: Lemon Bay High School Englewood,

    FL; Feb. 3: Naval Air Museum, Pensacola, FL; Feb. 5: Faubion Middle School, McKinney,

    TX; Feb. 7-8: Gaslight-Baker Theatre, Lockhart,TX; Feb. 10: Horseshoe Bossier City

    Hotel & Casino, Bossier City, LA; Feb. 12: Texas A&M University, Corpus Christi, TX;

    Feb. 14: Quartz Mountain Resort, Lone Wolf, OK; Feb. 15: Wichita Theatre, Wichita

    Falls, TX; Feb. 17: C.L. Hoover Opera House, Junction City, KS; Feb. 20: University of

    New Mexico, Albuquerque, NM; Feb. 22: Commemorative Air Force Museum, Midland,

    TX; Feb. 24: Sterling Middle School, Sterling, CO; Feb. 25: Union Colony Civic Center,

    Greeley, CO; Feb. 28: Sun Dial Auditorium, Sun Dial, AZ.

Artie Shaw Orchestra directed by Matt Koza.  Feb. 18: Newberry Opera House, Newberry,

    SC; Feb. 22: Seneca Valley Senior High School, Harmony, PA; Feb. 23: Princeton High

    School, Princeton, NJ; Feb. 24: Elm Street Middle School, Nashua, NH; Feb. 26:

    Ramapo College, Mahwah, NJ.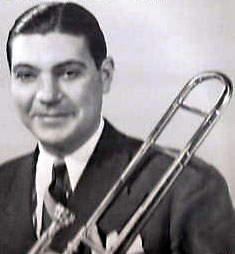 TEAGARDEN MUSIC

BEING OFFERED FOR SALE

    Approximately 675 original manuscripts from Jack Teagarden's 1939-46 big band are being offered for sale by trombonist Rex Allen of San Rafael, CA.

    As would be expected, they include Teagarden's famed versions of such songs and instrumentals as I Gotta Right to Sing the Blues, It's Time for T, Basin St. Blues, The Sheik of Araby, Swingin' On the Teagarden Gate, Persian Rug, and Aunt Hagar's Blues.

    Some of the parts are personalized with the first names of members of Teagarden's band, such as "Ernie" for saxophonist Ernie Caceres, and "Charlie" for trumpeter Charlie Spivak.   

Jack Teagarden (1905-1964)

NECROLOGY

Howard Lucraft, 94, d.Feb. 4, 2011.  Arranger - composer with Kenton and composer with

    Noble (Sweet William).

Jane Russell, 89, d. Feb. 28, 2011, "a respiratory-related illness."  Film actress; and guest

    vocalist with Kyser on As Long As I Live (recorded February 1947) and Boin-n-n-n-ng

    (recorded March 1947).

Hy White, 95, d.Feb. 28, 2011.  Guitarist with Herman '39-'44; Brown '44-'45.

HAPPY BIRTHDAY TO YOU

Snooky Young, b.Feb. 3, 1919.  Trumpeter with Lunceford '39-'42; Basie '42 / '43 / '45 /

    '46-'48 / '57-'62; Hampton '44-'45.

Sammy Nestico, b.Feb. 6, 1924.  Arranger - composer with Basie '67-'84.

Elliot Lawrence, b.Feb. 14, 1925.  Pianist and bandleader.

Peggy King, b.Feb. 16, 1930.  Vocalist with Spivak '50; Flanagan '51; J. Gray '55 "Stand

    By for Music."

Pete Christlieb, b.Feb. 16, 1945.  Tenor saxophonist with J. Gray '63-'64; Zentner '65;

    Bellson '67; Severinsen / Tonight Show '72-'92.

Orrin Tucker, b.Feb. 17, 1911.  Saxophonist and bandleader.

Buddy DeFranco, b.Feb. 17, 1923.  Clarinetist with Fio Rito '42; Barnet '43-'44; T. Dorsey

    '44-'45 / '45-'46 / '47; Basie '50.  Bandleader '51; Miller Orch. '66-'74.

Joe Wilder, b.Feb. 22, 1922.  Trumpeter with Hampton '46; Lunceford '47; Basie '53-'54.

Joe LaBarbera, b.Feb. 22, 1948.  Drummer with Herman '72 "The Raven Speaks."

Dave Pell, b.Feb. 26, 1925.  Tenor saxophonist with Brown '48-'55.

THE GOOD HUMOR MAN

    "This coming May 2nd, I will be 96 years young," Van Alexander, one of Chick Webb's arrangers and a former bandleader in his own right, reminded me recently. 

    Van, who resides in southern California and was active for decades in Local 47 of the American Federation of Musicians in Los Angeles, among other organizations, still has a good sense of humor.

    "I was always taught to respect my elders, but alas I don't have any left," he quipped to me.

    He mentioned his arrangement of Liza (All the Clouds'll Roll Away), which he did for Webb.

    Some sources, including Brian Rust's Jazz Records 1897-1942 (Chigwell, Essex, England: Storyville Publications and Co., Ltd.) and the CD "Spinnin' the Webb" (Decca Jazz GRD-635, 1994) state that Liza was arranged by Benny Carter, but not so, says Van.

    "It was recorded [ the following day after ] my birthday, May 2nd 1938, on the flip side of A Tisket a Tasket," Van told me.  "It was my chart and was so publicly said by Benny many times.  Benny and his wife Hilma were dear friends of mine."

    Thank you, Van, for clarifying that.  Liza is, absolutely, a great arrangement, with magnificent drumming by Chick and superb playing by the boys in the band!

NEW IN-PRINT AND / OR ONLINE

Brian Belton.  "B.B.'s Big Band Beat: Brian Belton takes a look at the big band scene,"

    In Tune International, Feb. 2011 / Issue 228.  Reviews include "Richard Maltby: Maltby

    Moods (Montpellier MONTCD071) and Syd Lawrence" My Favourite Things/This Is a

    Lovely Way to Spend An Evening" (Vocalion CDLK4422). 

Anita Diliberto.  "From the diary of Anita Diliberto," [ Glenn Miller Productions ] On the Road,

    Newsletter #093 / Feb. 2011.  Diliberto recalls how she joined The Glenn Miller Orchestra

    under Jimmy Henderson's direction in January 1977.

"Gary Tole to lead upcoming Glenn Miller Orchestra concert in Sterling," [ Sterling, CO ]

    Journal-Advocate, Feb. 19, 2011.

Dave Hoekstra.  "Treasure Trove: WBEZ DJ's collection goes on block," Chicago [ IL ]

    Sun-Times, Feb. 15, 2011, p.22.  The music collection of the late Dick Buckley will be

    aucioned off.

"Louis Prima Jr. performs at Andiamo for one night," [ Mount Clemens, MI ] Macomb Daily,

    Feb. 11, 2011.  Prima will carry on the legacy of his father at the Andiamo Celebrity

    Showroom, which is in Warren, MI.

James Lynch.  "Thousands Of Sinatra And Other WWII Vinyl Records Discovered At Army

    Base: More than 8,000 records were found hidden between a narrow 16-inch wall

    space," Los Angeles Times, Feb. 8, 2011.  Thirty large boxes of over 8,000 16-inch

    Armed Forces Radio Service (AFRS) and War Department transcriptions were found

    during renovation work at Joint Base Lewis-McChord in the state of Washington.  The

    Base is contacting the Library of Congress in Washington, DC about what to do with

    the records.

Dana Oland.  "Go do it: Lionel Hampton Jazz Festival," Idaho Statesman, Feb. 11, 2011.

    The Festival takes place on the 23rd through the 26th of this month at the University of

    Idaho. 

Jamie Parker.  "News from the Glenn Miller Orchestra tour bus," [ Glenn Miller

    Productions ] On the Road, Newsletter #093 / Feb. 2011.  Parker describes the band's

    farewell to Larry O'Brien.

Howard Reich.  "Do I hear Duke?  DJ's jazz archive going on the block," Chicago [ IL ]

    Tribune, Feb. 15, 2011, Sec.3, p.11.  Another story about the auction of Dick Buckley's

    music collection. 

Charles A. Sengstock, Jr.  "The Great One-Nighter Territory," [ Chicago Federation of

    Musicians Local 10-208 ] Intermezzo, Feb. 2011 / Vol.71 No.2, pp.14-15.  From the

    1920s through the '50s, the Midwest was a lucrative territory for big band one-nighters.

Gerry Stonestreet.  "The Jazz Pages: Some recent jazz CDs reviewed," In Tune

    International, Feb. 2011 / Issue 228.  Review of Louis Jordan: "Let the Good Times Roll"

    (Upbeat URCD238).

Scott Wolf.  "The Big Bands At Disneyland," MouseClubhouse.com, Feb. 2011.  Nice

    feature from the point of view of some of those involved or who attended the bands'

    performances.

Feedback and Follow-Up

    Christopher Popa adds the following: congratulations to Van Alexander for winning a 2010 Association for Recorded Sound Collections (ARSC) "Certificate of Merit" for his autobiography From Harlem to Hollywood: My Life in Music, written with Stephen Fratallone, and published by Bear Manor.

    And my compliments to Jerry Furris, a member of The Vaughn Monroe Society, for discovering in his continuing research what the very first song Vaughn ever sang on the radio was: Out of Nowhere (while Monroe was a student at Carnegie Tech, in 1931, over station KDKA).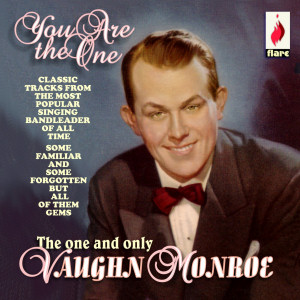 NEW COMPACT DISCS

Vaughn Monroe.  "You Are the One: The One

    and Only Vaughn Monroe," Flare [ UK ] ROY

    CD313.  Two dozen recordings, but some

    were already issued by Flare on "The Very

    Best of Vaughn Monroe," Flare ROYCD233.

Red Norvo.  "The Complete V-Disc Recordings,"

    Sounds of Yester Year [ UK ] DSOY843.

Various artists.  "The Object of My Affection:

    The Best of the Sweet Bands," Dynamic

    3571.  Includes Clinton, Vallee, King,

    Lombardo, Brown, Weems, Pastor, Martin,

    Barnet, Arnheim, Nelson, G. Gray, Osborne,

    Fields, Noble, Kemp, Morgan, Tucker,

    McCoy, Lopez, Barron, Kyser, Heidt, Kaye,

    Grier, and others.  3-CD set.