MORE TOP BANDS OF TODAY

Count Basie Orchestra directed by Dennis Mackrel.  Japan tour including Hotel Okura,

    Tokyo, on Dec. 24th; Motion Blue, Yokohama, Japan on Dec. 25th; and the Blue Note

    Jazz Club from Dec. 26th until Jan. 2, 2011.

Cab Calloway Orchestra directed by C. Calloway Brooks.  Dec. 18, Weill Center for the

    Performing Arts, Sheboygan, WI.

Jimmy Dorsey Orchestra directed by Bill Tole.  Dec. 4, Eagle River, WI; Dec. 18, Tiffin, OH.

Jan Garber Orchestra directed by Howard Schneider.  Dec. 1, Las Palmas Grand, Mesa, AZ.

Harry James Orchestra directed by Fred Radke.  Dec. 19, Reno, NV.

Sammy Kaye Orchestra directed by Roger Thorpe.  Dec. 8-9, Penn's Peak, Jim Thorpe,

    PA; Dec. 17, Sunny Brook Ballroom, Pottstown, PA [ 2pm Christmas show, 8pm

    Christmas dance ].

Guy Lombardo's Royal Canadians directed by Al Pierson.  Dec. 10, Cultural Arts Center,

    Glen Allen, VA.

HAPPY BIRTHDAY TO YOU

Don Sebesky, b.Dec. 10, 1937.  Trombonist with Covington '56; Ferguson '58-'59; and

    Kenton '59.  Arranger for Miller-DeFranco '67 [ In the Mod, Shangri-La, Gone with the

    Wind, A Stranger in Town, Release Me, 'Round Midnight ]. 

Clark Terry, b.Dec. 14, 1920.  Trumpeter with Hampton '45; Barnet '47-'48 / '58 Everest

    "Cherokee" LP / '66-'67; Basie '48-'51 / '76 Pablo "Basie Jam" LP; and Ellington

    '51-''59.

Abbe Lane, b.Dec. 16, 1932.  Singer with Cugat '50s and actress. 

Tony Martin, b.Dec. 25, 1913.  Vocalist with Noble '38; and Miller AAF '43.

Pete Rugolo, b.Dec. 25, 1915.  Pianist - composer with Grier '41; and Kenton '45-'49.

NECROLOGY

James Moody, 85, d.Dec. 9, 2010, pancreatic cancer.  Tenor saxophonist with Gillespie

    '46-'47 / '48 / '62 "New Continent" (Philips) LP / '63 / '65 / etc.

Jack Towers, 96, d.Dec. 23, 2010.  Pioneering recording engineer who, with Dick Burris,

    recorded onto acetates the now-famous November 7, 1940 Duke Ellington performance

    at Fargo, ND and later did restoration projects for the Smithsonian Institution, Columbia,

    Book-of-the-Month Club Records, and Mosaic.

Lina Romay, 91, d.Dec. 25, 2010, "natural causes."  Vocalist with Cugat '40-'44.

Billy Taylor, 89, d.Dec. 28, 2010, a heart attack.  Pianist with Shaw's Gramercy 5 [ actually

    Taylor's quartet fronted by Shaw ] at engagement at Iceland restaurant, New York City,

    '50.

NEW COMPACT DISCS

Dizzy Gillespie.  "Gillespiana," Poll Winners Records 27254.  = Verve MGV-8394 plus

    some live, quintet versions of movements from the "Gillespiana" suite.

Benny Goodman.  "AFRS Benny Goodman Show Volume 4," Sounds of YesterYear [ UK ]

    DSOY837.  Programs seven and eight of the radio series.

Coleman Hawkins.  "The 1959-60 Studio Quartets," Essential Jazz Classics 55478.

    2 LPs on 1 CD (= the LPs Prestige/Swingville 2001 and Moodsville MV7).

---.  "The Gilded Hawk," Toshiba [ Japan ] TOCJ 50055.

Stan Kenton.  "Stan Kenton Presents," Toshiba [ Japan ] TOCJ 50056.

Gene Krupa.  "Tony Bennett and Gene Krupa: Guard Sessions," Sounds of YesterYear [ UK ]

    DSOY838.  Recruitment recordings made for the National Guard.

Glenn Miller Orchestra.  "Plays Hoagy Carmichael and Vincent Youmans," Sounds of

    YesterYear [ UK ] DSOY836.  Performances from 1939 to 1950 including Miller's

    civilian and AAF bands, and The Miller Orchestra directed by Tex Beneke.

Various artists.  "Singers of the Big Band Era, Volume 1," Radio Archives RA187.  6-CD

    set of 19 radio shows from 1944-51.  Featuring Bob Crosby, Peggy Lee, Perry Como,

    Ginny Simms, Dick Haymes, The Modernaires, and others.

NEW DVD

Various artists.  "Vitaphone Cavalcade of Musical Comedy," Warner Archive Collection. 

    6-DVD set of 53 theatrical shorts from 1926-39, including Gus Arnheim, Red Nichols,

    Phil Spitalny, and Don Redman.

IN-PRINT AND / OR ONLINE

Brian Belton.  "B.B.'s Big Band Beat: Brian Belton takes a look at the big band scene,"

    In Tune International, No. 226 / Dec. 2010, p.34.  Names Sepia 1160, "Hits of Glenn Miller

    and Tommy & Jimmy Dorsey in Stereo," as his "Pick of the Month."

Tom Clavin.  That Old Black Magic: Louis Prima, Keely Smith, and the Golden Age of Las

    Vegas (Chicago, IL: Chicago Review Press, 2010).  224-page biography for the

    100th anniversary of Prima's birth.

Tony Eaton.  "CD Reviews," [ international Glenn Miller Society ] Moonlight Serenader,

    Number 329 / 4th Edition 2010, pp.6-7.  Eaton reviews "Hits of Glenn Miller and Tommy

    & Jimmy Dorsey in Stereo" (Sepia 1160), calling it "handsomely-packaged,"

    "thoroughly recommended," and a "superb release."

---.  "Good Theatre But Pure Hokum," [ international Glenn Miller Society ] Moonlight

     Serenader, Number 329 / 4th Edition 2010, pp.8-9.  Eaton attended a local stage

    production called "The Glenn Miller Mystery" recently and commented that it was "a well

    developed and executed piece of theatre, but from a GM perspective, pure hokum of

    course."

---.  "Nick Ross Orchestra Shines Through At Tribute to GM Again in Croydon,"

    [ international Glenn Miller Society ] Moonlight Serenader, Number 329 / 4th Edition

    2010, pp.7-8.  Eaton reports that Ross' second annual Glenn Miller concert was "100%

    Miller, carefully crafted and played and presented to a high standard."

---.  "What's New?," [ international Glenn Miller Society ] Moonlight Serenader, Number 329

    / 4th Edition 2010, p.6.  Eaton notes the death in 2010 of longtime Glenn Miller fan

    Connie Richards.

Will Friedwald.  A Biographical Guide to the Great Jazz and Pop Singers (New York City:

    Pantheon Books, 2010).  832-page book about a variety of people who sang, including

    leaders Louis Armstrong, Tex Beneke, Cab Calloway, Woody Herman, Louis Jordan,

    Ray McKinley, Louis Prima, Jack Teagarden, and Fats Waller; and band vocalists

    Bob Eberly, Herb Jeffries, Jimmy Rushing, Kay Starr, and others.

Jim Fusilli.  "Whether It's Basie or Snoop, He Still Hears the Big Band," Wall Street Journal,

    Dec. 29, 2010.  About the varied career of Quincy Jones, who, among other

    achievements, played trumpet with Hampton in '51-'53 and with Gillespie in '56; and

    composed music for Basie in '58.

Liane Hansen.  "Louis Prima, Keely Smith And 'That Old Black Magic,'" NPR / npr.org,

    Dec. 26, 2010.  Hansen asks Tom Clavin, author of the Prima - Smith biography,

    how they elevated the Vegas lounge act.

Robin Leach.  "Luxe Life: Louis Prima Jr. celebrates what would've been father's 100th

    birthday," Las Vegas [ NV ] Weekly, Dec. 7, 2010.  Prima Jr. explained, "I take great

    pride in my father's music, and we have compiled a show that will take the audience back

    to the big band era and my father's memorable shows."

Lee Mergner.  "Will Friedwald: Ten Years After: Lee Mergner interviews author of new

    book on the great jazz and pop vocalists," JazzTimes, Dec. 10, 2010.

Frederic P. Miller, Agnes F. Vandome, John McBrewster, eds.  Glenn Miller Discography

    (Mauritius: Alphascript Publishing, 2010).  100-page 9" x 6" book.

Doug Norwood.  Review of Count Basie CDs "Dance Along with Basie" (Poll Winners PWR

    27206) and "One More Time - Music From the Pen of Quincy Jones" (American Jazz

    Classics A 99014), IAJRC Journal, Vol. 43, No. 4 / Dec. 2010, pp.65-66.

"Q. and A. With Stuart Elliott," New York Times, Dec. 6, 2010.  Discusses a new TV

    commercial for Levi's jeans, which uses Bunny Berigan's recording of Heigh-Ho.  Elliott

    explains that the spot is part of a campaign which carries the theme "Go forth" and is

    focused on Braddock, PA, an economically-struggling town.  Permission to use the song

    for four months was secured from Sony-BMG Music, which owns the rights to Berigan's

    recording.

Daniel Rubin.  "At 90, big-band singer Harry Prime gets another encore," Philadelphia

    [ PA ] Inquirer, Dec. 17, 2010.  Prime, a former vocalist with Brooks, Fina, T. Dorsey, and

    Flanagan, recently sang in the lobby of the Meridian condominiums in Warrington.

Roland Taylor.  "GMO Record-Breaking Leadership By Trombonist Larry O'Brien,"

    [ international Glenn Miller Society ] Moonlight Serenader, Number 329 / 4th Edition

    2010, p.1.  Taylor offers a thank-you to O'Brien for almost a quarter of a century

    leadership of The Glenn Miller Orchestra. 

---.  "Miller's Mighty Service Band: The ensemble in focus," [ international Glenn Miller

    Society ] Moonlight Serenader, Number 329 / 4th Edition 2010, pp.2-5.  Taylor's

    chronology of The Glenn Miller AAF Orchestra continues, now through August 22, 1944.  

Steve Voce.  "Scratching the Surface: Humphrey Lyttelton tells Steve Voce that 'erudite jazz

    critics' are mad to be lukewarm about Louis Armstrong's 1930s big-band work," Jazz

    Journal, Volume 63 No. 12 / Dec. 2010, p.7+.  Includes a discussion of Armstrong's

    1930 recording of Sweethearts On Parade.

Malcolm Walker and Dick Raichelson.  "Discographical Forum," IAJRC Journal, Vol. 43,

    No. 4 / Dec. 2010, pp.30-31.  Includes item MW/102, about the "Illinois Jacquet

    Birthday Party" recording.

"Your Shouts From the Balcony," IAJRC Journal, Vol. 43, No. 4 / Dec. 2010, p.3.  Letter

    to the editor from Geoffrey Wheeler, re: 78 rpm issues of Bunny Berigan's Vocalion

    recording of I Can't Get Started.

Michael P. Zirpolo.  "Shavian Matters Revisited," IAJRC Journal, Vol. 43, No. 4 / Dec. 2010,

    pp.34-47.  The first portion of a follow-up article to Zirpolo's "Shavian Matters," about

    the music of Artie Shaw.

KENTON CHRISTMAS GIFTS

    Steven Harris reminds me that he is offering some collector's items that would make a perfect Christmas gift for a Stan Kenton fan.

    One is "The 2011 Kenton Kalendar."  After producing calendars for more than 15 years, Steven ends the run with his final issue, a limited-edition (125 copies, individually-numbered) "Kalendar," just in time for Kenton's 2011 birth centennial.  Printed on 8-1/2"x11" glossy paper and including (for the first and only time) a color cover, it has more than 550 historical dates, background, and other trivia about Kenton's bandleading career from 1940-78.  There are also over 25 never-before-published, high-resolution photos of Kenton and his musicians.  And an updated alumni reference listing with the name, instrument, and birthdate of 375 sidemen, singers, and arrangers. 

    Steven is also selling his 394-page softcover biography, The Kenton Kronicles.  Any Kenton fan would love it, for the book includes interviews with more than 125 alumni, relatives, and associates; chapters on each of Kenton's bands; programs for all 11 Neophonic concepts, 1965-68; reviews and advertisements; and "Kenton On Camera," a 15-page listing of more than 125 appearances of Kenton in films, on TV, and in private videos.

    Finally, ask Steven about a unique, hardcover edition of The Kenton Kronicles, with more than two dozen alumni autographs.

    For prices and shipping information, contact Steven via sdhjazzman@gmail.com.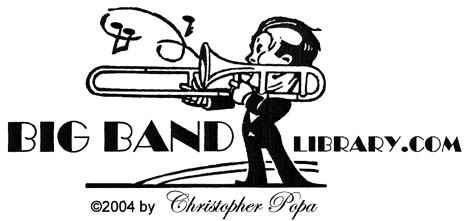 the big bands are back

in a new and exciting way

DECEMBER 2010

"BIG BAND NEWS"

compiled by Music Librarian CHRISTOPHER POPA

FAREWELL BLUES

LARRY O'BRIEN PREPARES

TO GIVE UP LEADERSHIP OF

THE GLENN MILLER ORCHESTRA

    Trombonist Larry O'Brien, longest-running musical director of The Glenn Miller Orchestra, is nearing the end of the road.  He will soon relinquish leadership of the world-famous band, following some performances along the west coast of the U.S. this month.

    "I'm going to miss a lot of this that I've been involved in for the last 25 years, but for me, it's time," Larry told me. 

Larry O'Brien on trombone

photo courtesy of Glenn Miller Productions, Inc. 

    "I'm 77 and I can still play and I still have my mental powers, I guess, what limited powers I have < chuckles >.  You know, right now, I have to sail off into the sunset because my wife needs a change of pace," he explained.

    Larry and his wife, the former Judy Malling, who were married on September 15, 2003, had been living in South Bend, Indiana.  Judy often traveled with the Orchestra for a couple weeks at a time, but, with the completion of Larry's contract with Glenn Miller Productions, Inc. at the end of 2010, they will be moving to a new home on the island of Maui in Hawaii.

    "Her daughter has been going through a terrible disease now for several years," Larry said.  "My wife needs a change of scenery and a change.  And she needs me there, so my first priority is to my wife."

    He gave his notice to the office on June 11th, 2010 and revealed his intentions to the public two days later.

    Larry, who plays a King 2b trombone with an Olds #3 mouthpiece, has spent most of his life as a "road rat" playing in traveling big bands. 

    While attending college, Larry joined Sammy Kaye and His Orchestra, who were then performing at the Roosevelt Grill in New York City.  He was a featured soloist on the band's television show, and also toured and recorded with them, for Columbia.

    In 1961 he became a member of Ray McKinley's Glenn Miller Orchestra, but, while the band was on a brief vacation in January 1962, Larry got an opportunity he couldn't pass up.  He was invited to become the featured trombonist with The Tommy Dorsey Orchestra, under Sam Donahue's direction. 

    Larry always acknowledged that his three favorite bands were, in order, Tommy Dorsey, Les Brown, and Glenn Miller, so to get to play Tommy's previous solos was very exciting.

    Charlie Shavers was the group's star trumpeter and Frank Sinatra, Jr. joined them as vocalist a short time later.  They toured and recorded for RCA Victor, until the band was dissolved in 1965.

    Afterwards, Larry continued to work with Donahue, Sinatra Jr., and others, and, in 1979, settled in Las Vegas to play in the house band at Caesar's Palace.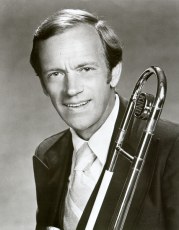 1981 publicity portrait

photo courtesy of

Glenn Miller Productions, Inc.

    Larry was chosen as leader of The Glenn Miller Orchestra beginning June 1, 1981.  He stayed until September 30, 1983, leaving to fulfill other commitments.  He then was enticed back as of November 25, 1988 and has been there ever since. 

    Critics and fans approved the high standard which he set as the group's leader, insisting that band members play everything correctly and musically, with dynamics and finesse.

    "I tried to honor Glenn's memory by doing it, not exactly like him, but in a style that I think he would be simpatico towards," Larry said. 

    No one could ever take Miller's place, but it was possible to carry on in his tradition.

    "If you listen to the Air Force band, you can hear that he was starting to modernize somewhat.  And if Glenn had lived, I think the band would sound a lot different today than it does," Larry theorized.

    "But Glenn died in 1944, so we're kind of stuck in that timeframe there, pretty much," Larry continued.  "We have made some little changes with the Orchestra, as you are aware, I'm sure.  Like Bobby Hackett's immortal solo on String of Pearls – we've had that orchestrated for four flugelhorns and, you know, it just gives it a different lilt.  And same thing with Tuxedo Junction – we didn't have very many piano solos, so we took the trumpet solo that follows the line and made it a piano solo, just so he'd have something to play.  Just little things like that, you know, that I think Glenn would applaud."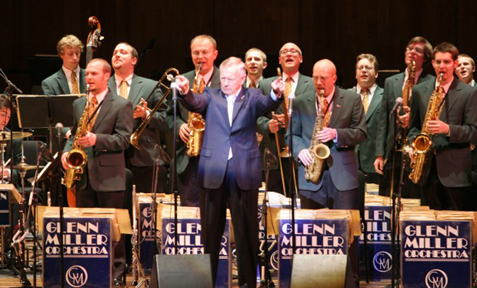 Larry and band members in their blue jackets

photo courtesy of Glenn Miller Productions, Inc.

    Among the highlights of Larry's near quarter-century as leader of the Orchestra was performing at the annual "Glenn Miller Festival," in Miller's hometown of Clarinda, Iowa.

    "I think the most pleasure was playing in Clarinda every year, for all of those people who know every note and every little aspect of Glenn Miller's life and music and recordings, etcetera," he told me.  "Playing for all of those people and pulling things out of the [ band's music ] library that hadn't been played in a long, long time – some maybe never.  Playing them for all of these people and delighting them, because when we would do those obscure things we would nail 'em down pretty good." 

    During their visit to Clarinda this year, the Orchestra's set list included such lesser-heard songs and instrumentals as It Must Be Jelly, Boulder Buff, My Isle of Golden Dreams, When Johnny Comes Marching Home, Anchors Aweigh, People Like You and Me, and Ding-Dong! The Witch Is Dead.

    Larry said that he tried to do them as close to how Miller had done them as possible.

    "I would listen to the recordings and we would try to get every little nuance and every little thing nailed down, so that the people who knew those recordings would be astonished and gratified that we had pulled them out and were playing them again," he explained.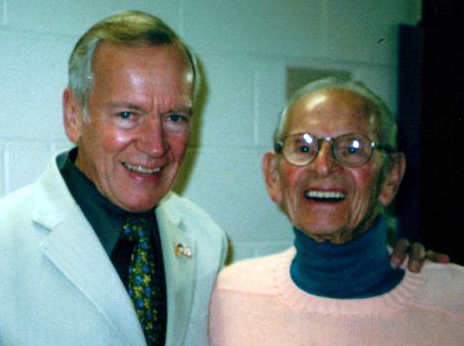 In fact, Larry seemed to especially enjoy combing through the music library, looking for different things to perform.

    "The one thing that I think I got the biggest kick out of was finding an arrangement that Billy May did for the band that had never been played," he reported. 

    The manuscript was numbered 793 and was 14 pages long.

    "It just sat there in the library, a score – no parts, nothing, no title.  Just something Billy whipped up and put out there for Glenn," Larry recalled.  "And we had it copied, we played it, and I thought it was great.  I thought it had the possibility of being another In the Mood – I thought it was that good."

With bassist "Trigger" Alpert in 2006

photo courtesy of Glenn Miller Productions, Inc.

    "It's just '793,' that's the catalog number and I'll give it a title in relation to whatever town we play it in, you know," Larry went on.  "Like if it's York, Pennsylvania, I'll call it the York Boogaloo < laughs> or something like that, whatever.  Just to get a rise out of the people and to put a name to it.  I enjoyed that a lot also."

    In fact, there remain in the files quite a few tunes whose titles, at least, seem intriguing – for example, Cubanola (#664, arranged by Jerry Gray), Jump That Rhythm (#335, arranged by Eddie Barefield), Nothin' (#650, arranged by Billy May), and Station Break (#415, arranged by Bill Finegan).

    "There's so much in that library," Larry commented.  "It still amazes me, even after 25 years of leading the band, that they were able to accumulate the amount of music that they did and do the amount of recordings that they did, given the schedule that they had at that particular time.  It was just amazing.  They must have had, like, two hours' sleep a day!"

    Between 1939 and 1942, Miller had hit after hit – to name some more, Sunrise Serenade, Imagination, Pennsylvania 6-5000, Elmer's Tune, Don't Sit Under the Apple Tree, and American Patrol – so that during a performance by the band, it's a matter of what to leave out, to make room for something else.

    When they play for a dance, there are so many appealing arrangements to select from, such as Star Dust, Johnson Rag, Adios, Danny Boy, and Swing Low, Sweet Chariot.

    "Unfortunately, most of the time we did concerts and with concerts you're kind of tied up in the fact that the people want to hear the hits, at every concert – you can't leave one out," Larry remarked.  "If I play Little Brown Jug, somebody will say, 'Well, you didn't play String of Pearls.'  You know, that's the thing there, you have to play all of them, all of the big hits, anyway.  And then you sort of rotate the other things, like the openers.  I tried to do a different opener every night.  Or when we would play a place for the second time, I would try to remember what I did that last time we played there and do something a little bit different.  So if we played Sun Valley Jump at one concert, we would try to play Caribbean Clipper the next time we played there, or something else, you know."

    Other instrumentals which could be programmed include Bugle Call Rag, Rhapsody in Blue, Everybody Loves My Baby, and Song of the Volga Boatmen – any of which would make for interesting listening during a concert.

    The band today also carries quite a number of beautiful ballads, including, of course, the male vocals Serenade in Blue, Fools Rush In, Say It, I'm Old Fashioned, At Last, A Million Dreams Ago, Skylark, and A Nightingale Sang in Berkeley Square.

    "I could rotate the vocals, because there were some superb vocals there in that library, some tunes that are just… oh, glorious – like A Handful of Stars and things like that," Larry pointed out.

    Sometimes, he selected The Nearness of You, Along the Santa Fe Trail, The Story of a Starry Night, or Yesterday's Gardenias, but with his trombone in place of the male vocal.

    And repertoire for the female vocalist includes I Know Why (And So Do You), Five O'Clock Whistle, and Yes, My Darling Daughter.

    When the male and female lead vocalists are joined by several players from the band to form the Moonlight Serenaders vocal group, songs such as Chattanooga Choo Choo, (I've Got a Gal in) Kalamazoo, Perfidia, Make Believe Ballroom Time, and Juke Box Saturday Night are favored.

    Besides the tunes from the original Miller band, there were also things played over the years by the various surrogate leaders, such as McKinley's Lullaby of Birdland (arranged by Joe Cribari) and Domino (arranged by Deane Kincaide), which could be dug out.

    "Those are treasures that are left for us here," Larry agreed.  "Unfortunately, a lot of them are still to be unearthed."

    The Glenn Miller Orchestra's "book" now totals more than 1,700 selections, ranging from, for instance, Moonlight Serenade and Anvil Chorus, to St. Louis Blues March and Tail End Charlie, to The Way We Were and Just the Way You Are.

    When Larry did play something that wasn't associated with Miller, he made sure not to go too far out, and to precede and succeed it with an authentic Miller song.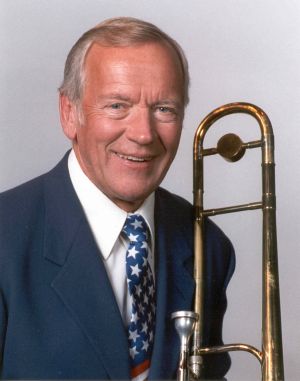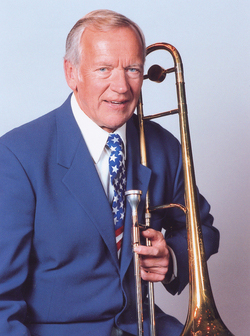 a more recent publicity portrait

photo courtesy of Glenn Miller Productions, Inc.

    With his retirement from the Orchestra looming, there were several players from within the band who, in Larry's opinion, potentially could have been his successor.

    "Well, there are several people in the Orchestra who would do a very good job, I'm sure," he responded.  "One of them is Kevin Sheehan, my lead alto player.  He's a superb musician, as well.  And I think he would have everything nailed down really good – I think that the music of the Orchestra would be as tight as a drum under his leadership.  How he would do out front, I'm not sure.  But, you know, that's something that you pick up along the way.  I don't think anybody that starts a job like this as leader knows all of the answers right away.  I think they have to feel their way and I think Kevin would.  But I also think Ron Mills, our piano player, would be a good choice.  He's led his own band for quite a few years and he's been involved in big bands all of his life, starting from when he was a little boy with his father's big band.  So I think he would be another excellent choice."

    "And I think Gary Lamb, one of our trumpet players… he would do a good job, as well," Larry added.  "He's got a lot of experience, he's got a lot of charm.  And I think he would make a good leader, as well.  But that's not my decision, so the decision is up to the folks in the office there [ Glenn Miller Productions ] and I'm sure they'll pick out somebody that will work." 

    Whoever that person is, it may be hard for anyone to follow Larry's tenacity and enthusiasm.

    "That remains to be seen, Chris," he said.

    Of course, it was possible that someone from outside the band would be chosen as the new leader.

    "And I hope, Chris, with all my heart, that it's somebody that does even a better job than me and keeps the band going, because, let's face it, we're 'the last of the Mohicans,'" Larry said.  "I mean, you know, there's very few bands out there that are working as much as we are, even though our work has slacked off."    

an alternate "take"

photo courtesy of

Glenn Miller Productions, Inc.

    Besides Larry, here is the current, complete personnel of the Glenn Miller Orchestra in the USA:       

         trumpets: Ashley Hall (lead), Steve Walters (split lead), Jeff Uban (third/ jazz),

         Gary Lamb; trombones: George Reinert III (lead), Jaime Parker, Josh Rarick,

         Jason Bennett (bass); saxophones: Kevin Sheehan (lead alto), Walter Kross

         (second alto), Scott Van Domelen (first tenor), Damian Sanchez (second

         tenor), Ian O'Beirne (baritone); piano: Ron Mills; bass: Adam Ravitz; drums:

         Brent Marquez; vocalists: Valerie Duke, Brian Hemstock

    Since being reorganized in 1956, The Glenn Miller Orchestra typically played almost every night, working between 250 and 300 dates annually, traveling 100,000 miles on its own bus, and making sold-out visits to Japan for more than 30 years. 

    More recently, however, especially with the U.S. economy in the doldrums, there have been some gaps in their schedule.    

    Remaining dates on the Orchestra's itinerary under Larry's leadership are as follows:

         December 1-13, conclusion of Japan tour; December 14, Palm Springs High

         School, Palm Springs, CA; December 16, The Cascade Theatre, Redding, CA;

         December 18, Carpenter Performing Arts Center, Long Beach, CA; December

         19, Lewis Family Playhouse, Rancho Cucamonga, CA; December 20, Chandler

         Center for the Arts, Chandler, AZ 

    "It's still the busiest band in the world," Larry noted, "and we'd like to keep this music alive for several more generations, as I say, in concerts.  And we're going to need a good, strong leader to do that, and I think they'll pick one."

    For the most part, young people today don't hear music from the 1930s and '40s at home or in school or on the radio.  Yet, as shown by the audiences for whom Larry performed, when they are exposed to a live, big band, they seem to be surprised and enjoy it.

    "So, hopefully, I did it right and, hopefully, we kept this thing going to the point where the next guy that takes over can also keep it going," he proposed.

    In September 2010, Glenn Miller Productions, Inc. officially announced that trombonist Gary Tole would become the new leader of The Glenn Miller Orchestra.  Born in Pittsburgh, Pennsylvania, Tole was in the trombone section of The Glenn Miller Orchestra under Jimmy Henderson's direction, and later worked on the West Coast with Tex Beneke.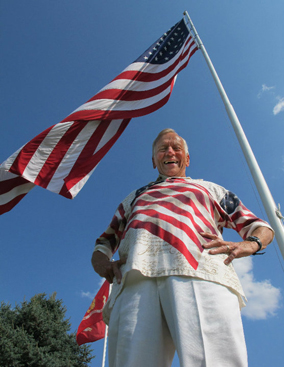 Meanwhile, in good health from his daily exercise of running, Larry looks forward to making music, in some manner, at his new locale. 

    "Yes, I hope to.  But, you know, I don't know what's over there.  I don't know what opportunities would await me there.  The way that music is going today, I would say probably very few," he admitted.  "It seems all over, all of the people that I talk to, live music is just becoming a thing of the past, at least as we know it, big band-wise.  And that's sad, because we're a throwaway culture – we throw everything away.  Uh, we throw our bottles away, we throw our cars away, we throw our wives away.  You know, we don't keep anything.  And as a result, we don't have any culture in this country.  And we're revered and respected all over the world, except here in the United States, and that's kind of sad."

    I wish Larry and his wife, Judy, much joy and happiness in their new home in Maui.  And thanks for all the great music, Larry!

Larry and his flag shirt

photo courtesy of Glenn Miller Productions, Inc.