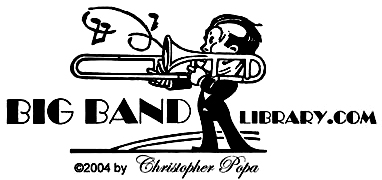 "BIG BAND NEWS"

AUGUST 2005

compiled by Christopher Popa

ONE OF LOMBARDO'S GUYS: BILL TROIANO

When Guy Lombardo and His Royal Canadians posed for the CBS publicity camera just before their annual New Year's Eve TV show, no one imagined that it would be the last time Guy would be with them for the broadcast.  Lombardo died at age 75 on November 5, 1977, from a lung ailment complicated by heart and kidney failure.  Band members shown included his brother, Lebert

[ bottom r. ], a trumpeter, who died in 1993; singer Kenny Gardner [ third from the top r. ], who was Guy's brother-in-law, and who passed away in 2002; and tuba player Bill Troiano [ behind Guy's l. shoulder ], the only band member at the time with blond hair.  "Of course, that was many moons ago," Troiano joked to me recently.

NECROLOGY

Spud Murphy, 96, saxophonist - arranger (Garber '31-32; Hallett '33; Haymes '34; Goodman

  '35-37) - composer, Aug. 5, 2005   see also Thurber, John.  "Obituaries: 'Spud' Murphy, 96: Prolific Composer, Arranger

   Was Well-Known Teacher," Los Angeles Times / latimes.com, Aug. 13, 2005

Keter Betts, 77, bassist (Herman '59), Aug. 6, 2005   see also Bernstein, Adam.  "Jazz Bassist Keter Betts Dies

   At 77," Washington Post / washingtonpost.com, Aug. 8, 2005

Artie Wagner, 85, pianist (Beneke '47-'50), Aug. 31, 2005

MORE INDUCTEES TO HALL OF FAME

The Nesuhi Ertegun Jazz Hall of Fame, part of Jazz at Lincoln Center in New York City, named several big band and swing greats among this year's inductees on August 8th.  They include Count Basie, Roy Eldridge, Ella Fitzgerald, Benny Goodman, Earl Hines, Johnny Hodges, Jo Jones, and Fats Waller.  "These great jazz musicians set new standards for instrumental and vocal performance in the 20th century," said trumpeter Wynton Marsalis, Artistic Director of Jazz At Lincoln Center.  "Their work stands as a testament to the creative power of jazz."       

IN-PRINT

Mathieson, Kenny.  "Count Basie Orchestra, Newton Hotel, Nairn," The [Edinburgh,

  Scotland] Scotsman / news.scotsman.com, Aug. 18, 2005

Smith, Steve.  "Glenn Miller Orchestra Packs EMS Auditorium," The El Dorado [KS] Times /

  eldoradotimes.com, Aug. 12, 2005

ITINERARIES - SELECT LIST

The Timeless Count Basie Orchestra directed by Bill Hughes: Aug. 6, Aurora University,

  Williams Bay, WI; Aug. 7, Orchestra Hall, Minneapolis, MN; Aug. 10, Javea, Spain; Aug. 11,

  Marciac, France; Aug. 13, Nairn, Scotland; Aug. 14, Brecon, UK; Aug. 15, Oslo, Norway;

  Aug. 16, Helsinki, Findland; Aug. 18, Linkoping, Sweden; Aug. 19, Stockholm, Sweden;

  Aug. 20, Gothenburg, Sweden; Aug. 27, Mashpee, MA; Aug. 28, East Haven High School,

  East Haven, CT; Aug. 29, [private party], Providence, RI; Auf. 31, Hempstead, Long Island, NY

The Fabulous Jimmy Dorsey Orchestra directed by Bill Tole: Aug. 11-14, Hartford, CT

Woody Herman's Thundering Herd directed by Frank Tiberi: Aug. 6, Hoors, Stockholm,

  Sweden; Aug. 7, Liseberg Park, Goteborg, Sweden; Aug. 8, Folks Park, Vesteras, Sweden

Swing and Sway with The Sammy Kaye Orchestra directed by Roger Thorpe: Aug. 5,

  Morley Plaza, Saginaw, MI; Aug. 6, Horizons Center, Saginaw, MI; Aug. 7, Riverfront Park,

  McKeesport, PA

The World Famous Glenn Miller Orchestra directed by Larry O'Brien: Aug. 5, Chesterfield,

  MO [ private ]; Aug. 7, Surf Ballroom, Clear Lake, IA; Aug. 8, Starlite Ballroom, Wahoo, NE;

  Aug. 9, El Dorado Middle School, El Dorado, KS; Aug. 12, Expo Center, Spirit Lake, IA;

  Aug. 15, Bear Creek Farms, Bryant, IN; Aug. 17, The Big Chill, Charlotte, NC; Aug. 18,

  Jarman Auditorium, Farmville, VA; Aug. 19, Meymandi Concert Hall, Raleigh, NC; Aug. 22,

  Music Pier, Ocean City, NJ; Aug. 24, The Parade of the Hills, Nelsonville, OH; Aug. 26,

  Sheraton Springfield, Springifled, MA; Aug. 28, The Majestic Riverboat, Pittsburgh, PA;

  Aug. 30-31, Three Little Bakers Dinner Theatre, Wilmington, DE [ with The Four Aces ]

The Artie Shaw Orchestra directed by Artie's Choice, Dick Johnson: Aug. 12, Newport

  Jazz Festival, Newport, RI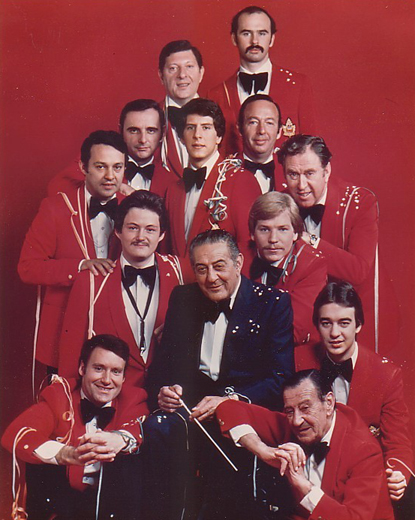 In retrospect, we can celebrate the history captured by the picture above, but Troiano then was merely doing a job.  He said, "I didn't have any log regarding my times with the Guy Lombardo Band."  Some of his memories did appear in-print, thanks to Joe Enroughty, President of The Guy Lombardo Society.  "I did sign Joe E.'s guest book a few years ago and we had a

correspondence back and forth," Troiano reported.  "He interviewed me and used it in his newsletter."  Troiano still plays, as shown by this photo [ l. ] of him and his daughter at a July 2005 gig in New York City, with the American Concert Band.

Later last month, he jammed with a blues/rock band, Cadillac Moon.  Thank you for sharing both pictures, Bill, and best regards to you and your family!  Meanwhile, The Lombardo Society's annual meeting was held August 20th and 21st at the Hub Ballroom in Edelstein, IL.  Tickets were very reasonably priced, and both Ron Smolen and His Orchestra and Barry Wagner and The Tony Barron Orchestra performed for dancing.   More details are available by calling Enroughty at 804-864-1040.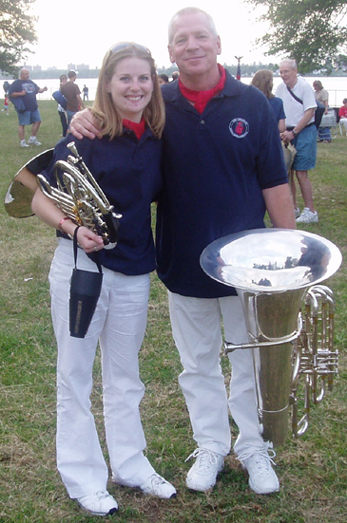 NEW COMPACT DISCS - SELECT LIST

Manny Albam: "Sophisticated Lady," Universal Japan

  UCCU-9063

The Andrews Sisters: "Accentuate the Positive," Flare 237

Charlie Barnet: "Dance Date," Sounds of Yesteryear 677

Count Basie: "Standing Ovation," Universal Japan UCCU-9057;

  "High Voltage," Universal Japan UCCU-9058

Cab Calloway: "Hep Cats and Cool Jive," Varese Sarabande

  61496

June Christy: "June's Got Rhythm" Capitol 77548

Maynard Ferguson: "Band Ain't Draggin'," Fresh Sound 2204

Bob Florence: "Friends - Treasures - Heroes," Summit

  Records 430; "Name Band 1959," Fresh Sound 2008

Dizzy Gillespie: "Diz Big Band," Universal Japan UCCV-9212;

  "World Statesman," Universal Japan UCCV-9213; "Dizzy in

  Greece," Universal Japan UCCV-9214; "A Portrait of Duke,"

  Universal Japan UCCV-9215, "Carnegie Hall Concert,"

  Universal Japan UCCV-9216

Benny Goodman: "London Date," Universal Japan

  UCCU-9059; "A Journey to a Star," Sounds of Yesteryear 675

Ted Heath: "Heath vs. Ros Round 2," Universal Japan

  UCCU-9065

Woody Herman: "Live At Carnegie Hall 1946," Universal

  Japan UCCU-9061; "Juke Box," Sounds of Yesteryear 676

Harry James: "Live At the Riverboat," Universal Japan

  UCCU-9060

Henry Jerome: "Brazen Brass Goes Hollywood," Universal

  Japan UCCU-9066

Sammy Kaye: "Shall We Dance?," Universal Japan

  UCCU-9064

Stan Kenton: "The Stage Door Swings," Capitol 77551

The King Sisters: "It's Love, Love, Love," ASV 5588

Jimmie Lunceford: "Wham," Sounds of Yesteryear 679

Glenn Miller: "Hold Tight," Sounds of Yesteryear 678

Sy Oliver: "Sentimental Sy," Universal Japan UCCU-9062

Tony Pastor: "The Pleasures of Pastor," Joyce 1022

Adrian Rollini: "1937-1938," Retrieval RTR 79046

Charlie Shavers: "Best of the Everest Years," Universal

  450730

Artie Shaw:  "The Essential Artie Shaw," Sony-BMG Bluebird

  62939 (2-CDs)

Mary Lou Williams: "Mama Pinned a Rose On Me,"

  Fantasy/OJC 1108

various artists: "The Great Dance Bands, Volume 1," Sony

  Music Special Products 52079; "The Great Dance Bands,

  Volume 2," Sony Music Special Products 52080; "So You

  Want to Jive," Sounds of Yesteryear 680 (2-CDs)

send feedback about "Big Band News": August 2005 via
e-mail