APRIL 2011

"BIG BAND NEWS"

compiled by Music Librarian

CHRISTOPHER POPA

EXCLUSIVE!

New Leader Chosen for

The Tommy Dorsey Orchestra

    In 1956, the unexpected death of legendary big band leader and trombonist Tommy Dorsey shocked the music world. 

    A year and a half later, after the courts processed T.D.'s estate, a new Dorsey Orchestra was formed, under the direction of trombonist Warren Covington, who led it until the fall of 1961 and then went out under his own name.

    At that time, tenor saxophonist Sam Donahue was hired to lead the band, which he did, featuring Frank Sinatra, Jr. as its lead male vocalist, until the Dorsey name was dropped in 1965.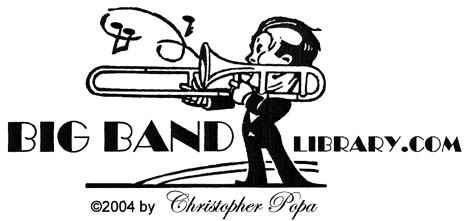 The big bands are back

in a new and exciting way

    Another trombonist, famed studio musician Urbie Green, conducted a Dorsey group for an engagement at the Riverboat in New York City from late 1966 into early 1967.  Reportedly, he and Tommy's widow, Janie New, didn't get along, so Green resigned.

    For a number of years afterwards, there was no Tommy Dorsey Orchestra at all.

    In April 1974, trombonist and respected big band sideman Murray McEachern was approved to reform a Dorsey band, but, after two years with the group, he suffered a debilitating stroke.

    Talented trombonist Bill Watrous was considered for leadership role, but he and New clashed while he was under consideration.

    Then, in 1977, popular bandleader and trombonist Buddy Morrow agreed to direct the band, supposedly only intending to stay for a short time until a permanent director could be found.  However, it turned out that he enjoyed it so much, he remained at the helm for more than 30 years!  It was only with Morrow's death at the age of 91 last September that The Tommy Dorsey Orchestra was, again, without a front man.

    This year, a new director has been selected, and it may come as a surprise to some: he is Nick Hilscher, perhaps best known as a former vocalist with The Glenn Miller Orchestra under Larry O'Brien's direction, but who, more recently, had been singing with Morrow and the Dorsey crew.

    In fact, Hilscher told me that it was in accordance with Buddy's wishes that he be given the reins of the band.

    "There has really not been an official announcement made yet concerning this," Hilscher added.  "But, Buddy Morrow Productions, under the management of Buddy's wife Carol, is promoting the orchestra presently under my leadership as The One and Only Tommy Dorsey Orchestra Featuring Nick Hilscher."

    Morrow had undergone cancer surgery on his tongue in 2001, so the band had been working on and off since.

    "Our performances have been minimal anyway over the past several years due to Buddy's health during that period," Hilscher acknowledged.  "With the passing of Buddy Morrow we've been going through a time of transition and have had a period here where we've not been performing."

    But now, in 2011, things are picking up.

    "We performed several shows in January at Busch Gardens and have a string of performances coming up at the end of April," Hilscher said.  "There will be some updates on my website, www.nickhilscher.com, concerning the upcoming dates in April as well as my moving into the leadership role as we transition further."

    This month's shows are Apr. 26-27, Penn's Peak, Jim Thorpe, PA; Apr. 28, Mars Area Senior High School, Mars, PA; and Apr. 29, The State Theatre, State College, PA.

    Best wishes, Nick, in your latest success, keeping Tommy Dorsey's legacy going!

Also On the Road

Count Basie Orchestra directed by Dennis Mackrel.  Apr. 22, Symphony Center,

    Chicago, IL.

Cab Calloway Orchestra directed by C. Calloway Brooks.  Apr. 13, Jackson Community

    College, Jackson, MI.

Jimmy Dorsey Orchestra directed by Bill Tole.  Apr. 2, University of Mississippi, Meridian,

    MS; Apr. 16, Yakima, WA.

Harry James Orchestra directed by Fred Radke.  Apr. 29, Association of Professional

    Orchestra Leaders (APOL) "Dinner-Dance and Scholarship Fundraiser," Poretta's

    Banquets, Chicago, IL; Apr. 30, Maquoketa, IA.

Guy Lombardo's Royal Canadians directed by Al Pierson.  Apr. 2, Hamilton Fine Arts

    Center, Sessex, WI.

Hal McIntyre Orchestra directed by Don Pentleton.  Apr. 9, Moseley's On the Charles,

    Dedham, MA; Apr. 29, The Amazing Things Center for the Arts, Framingham, MA.

Glenn Miller Orchestra directed by Gary Tole.  Apr. 1, Walhalla Civic Auditorium, Walhalla,

    SC; Apr. 2, Alabama [ sic ] Theatre, Myrtle Beach, SC; Apr. 3, The Township Auditorium,

    Columbia, SC; Apr. 5, Cross Creek Country Club, Mount Airy, NC; Apr. 8, private, Army-

    Navy Country Club, Arlington, VA; Apr. 9, Mar-Va Theatre, Pocomoke City, MD; Apr. 12,

    Paramount Theatre, Anderson, IN; Apr. 14, Stoughton Opera House, Stoughton, WI; Apr.

    15, Lake Michigan College, Benton Harbor, MI; Apr. 16, Tibbits Opera House, Coldwater,

    MI; Apr. 17, Reuther Auditorium, Kenosha, WI; Apr. 29, Chapman Cultural Center,

    Spartanburg, SC.

Necrology

Orrin Tucker, 100, d.Apr. 9, 2011.  Bandleader ('33-ca.'80s).

Happy Birthday to You

Boomie Richman, b.Apr. 2, 1921.  Tenor saxophonist with Paxton '44-'45; T. Dorsey '45-'51

    [ off and on ]; Goodman '51 / '52 / '53 / '54 / '55 / '58; Reynolds '55 "Songs for Happy

    Feet" album.

Doris Day, b.Apr. 3, 1924.  Vocalist with Crosby '40; Brown '40-'41 / '44-'46.

Slide Hampton, b.Apr. 21, 1932.  Trombonist with B. Johnson '55-'57; Hampton '58;

    Ferguson '58-'59; and leader of the Gillespie All Star Big Band '04- .

Mundell Lowe, b.Apr.21, 1922.  Guitarist with McKinley '46-47.

Bea Wain, b.Apr. 30, 1917.  Vocalist with Shaw '37 (If It's the Last Thing I Do); Clinton

    '37-'39.

NICK HILSCHER

photograph by Tim Redman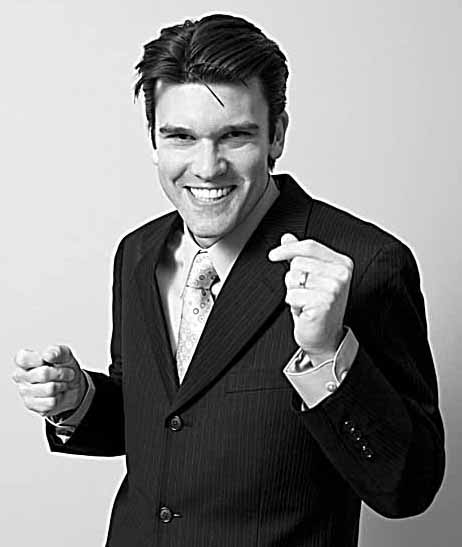 New Compact Discs

Louis Armstrong.  "Louis and the Angels/Louis and the Good Book," Phoenix Records

    131502.  NOTE: Both albums previously paired on a single CD in 1998 (MCA

    MCLD19379).  Recorded 1957-58.

Count Basie.  "Complete Live at the Americana Hotel 1959," Solar Records 4569897.

    2-CD set with the Roulette LP "Breakfast Dance and Barbecue" and bonus tracks from

    that performance, plus selections from a 1958 Basie band appearance at the

    Crescendo Club.  NOTE: "Breakfast Dance and Barbecue," with 10 bonus tracks, came

    out in 2001 as Roulette Jazz 7243 5 31791 2, and, before that, all of the May 31, 1959

    Americana program was on "The Complete Roulette Live Recordings of Count Basie

    and His Orchestra (1959-1962) numbered on CD as Mosaic MD8-135.

---.  "On the Beatles," Phoenix Records 131503.  The 1969 "Basie On the Beatles" LP

    paired with, ridiculously, "The Atomic Mr. Basie" LP.  How many times do companies

    have to re-release the "Atomic" material?  NOTE: Both previously available on CD,

    including "Basie On the Beatles" (Ocium OCM 0022).

Duke Ellington.  "Bal Masque," Essential Jazz Classics EJC55504.  NOTE: Everything

   previously available on CD as part of "Duke's Mixture / Bal Masque" (Collectables

   COL-CD-7856) and on "Unknown Session" (Columbia [ Fr ] 472084).

Roy Eldridge.  "Three Classic Albums Plus," Avid [ UK ] 1024.  2-CD set with "Roy and

    Diz," "Little Jazz," Swing Goes Dixie," plus seven of the eight tracks from "Coleman

    Hawkins and Roy Eldridge At the Opera House."

---.  "Swing Goes Dixie," Phoenix Records 131501.  Equals the 1955 Verve MG-V1010

    album with additional tracks.

Benny Goodman.  "AFRS Benny Goodman Show Volume 6," Sounds of YesterYear [ UK ]

    DSOY849.  "Volume six of the AFRS Benny Goodman Shows marks a departure from

    the previous shows in as much as Victor Borge the Danish pianist/comedian comes to

    the fore and out goes comedian Peter Donald."  Note that AFRS' numbering of the

    programs jumps from 10 to 13, because show numbers 11 and 12, though inscribed as

    BG, were actually by the Al Sack and Ray Bloch orchestras.

Coleman Hawkins.  "Three Classic Albums Plus," Avid [ UK ] 1025.  2-CD set with "Bean

    Bags," "The Genius of Coleman Hawkins," "Night Hawk." plus three live recordings.

---.  "Night Hawk / Very Saxy," Essential Jazz Classics EJC55501.  Recorded 1959-60.

Ted Heath.  "The Fauthful Hussar: Rare Transcription Recordings of the 1950s, Volume 2,"

    Vocalion [ UK ] CDEA 6186.  Recorded in 1955-56.  Liner notes by Tony Middleton.

Glenn Miller.  "The Glenn Miller Orchestra Plays Harry Warren," Sounds of YesterYear

    [ UK ] DSOY850.  Selections range from original Miller performances, starting in

    1938, to Tex Beneke's leadership of the Miller Orchestra into 1950.

Buddy Morrow.  "The Essential Collection," United States of Distribution 46187.  2-CD

    set of the LPs "Night Train" (RCA Victor LPM-1427), "Big Band Guitar," "Impact,"

    "Double Impact," and "Shall We Dance."  NOTE: only the latter is new to CD.

Various artists.  "The Complete Hit of the Week Recordings: Volume 4," Archeophone

    ARCH 3005.  Final volume of series.  2-CD set.  Includes Spitalny and Vallee.

---.  "Three Evenings with Fred Astaire," Sepia [ UK ] 1168.  2-CD set of three of Astaire's

    TV specials from 1958-60, including Count Basie and His Orchestra on "Astaire Time."

---.  "The Timex All-Star Jazz Shows: Volume 1."  Mr. Music 9001.  2-CD set with Herman,

    Armstrong, Ellington, Krupa, Teagarden, others.  The shows are from December 30,

    1957 and April 30, 1958.

New In-Print and / or Online

Jeremy D. Bonfiglio.  "It's Miller time at Mendel: New band leader is well-versed in

    Glenn Miller chestnuts," [ St. Joseph, MI ] Herald-Palladium, Apr. 14, 2011.  Gary Tole,

    new director of The Glenn Miller Orchestra, says that it was a "huge honor" for him to

    be asked to front the band and that he's "always been a fan of Glenn Miller."

Sally Holland.  "First integrated, female big band highlighted at Smithsonian," CNN,

    Apr. 1, 2011.  Celebrating The International Sweethearts of Rhythm.  Former Sweethearts

    saxophonist Rosalind Cron urged young people to stick with their music, cautioning,

    "Don't let anyone come between you and your horns, or music."

LBG1.  "Doris Day Birthday: Note to MSNBC, Liz Taylor Wasn't the 'Last Movie Star,'"

    deathby1000papercuts.com, Apr. 3, 2011.

Lee Mergner.  "Jazz Recordings Among the 25 New Additions to National Recording

    egistry," Jazz Times, Apr. 8, 2011.  The Library of Congress has now selected It's the

    Girl, recorded in 1931 for Brunswick by The Boswell Sisters accompanied by The

    Dorsey Brothers, and the first "Jazz At the Philharmonic" concert, performed on July 2,

    1944, with Illinois Jacquet, Buddy Rich, and others.

John R. Tumpak.  "Jimmy Rushing," L.A. Jazz Scene, Apr. 2011, p.3+.  Tumpak recalls

    the life and career of Rushing, one of Count Basie's famous vocalists.

Sneak Peeks

    Stan Kenton and Vaughn Monroe fans won't want to miss next month's "Big Band News."  'Nuff said.