APRIL 2008

"BIG BAND NEWS"

compiled by Music Librarian

CHRISTOPHER POPA

FLYIN' HIGH

    The official observance of the 100th anniversary of the birth of Lionel Hampton on April 20, 1908 gets underway this month.

    On April 19th, The Ogden Museum of Southern Art at the University of New Orleans will debut an exhibition about him, "Lionel Hampton: A Centennial Celebration," including personal and musical artifacts and more than 30 photographs loaned by The Lionel Hampton Archives at the University of Idaho in Moscow, ID.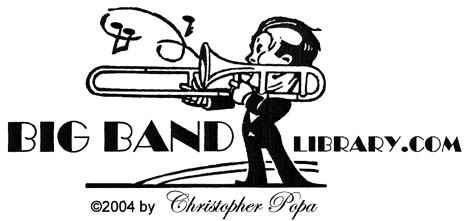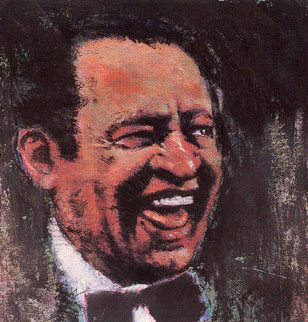 "The party on April 19 will be more than a celebration of Lionel Hampton's life, it will show the world what a great spirit and a genuine icon he is," according to Rick Gruber, Executive Director of the Ogden Museum.

    Also, a major new portrait of Hampton will be unveiled (not the image shown here).  Titled "Flying Home," it was created by artist Frederick J. Brown for the Museum's permanent collection. 

    The exhibition will run through July 31st.  Admission is free to Museum members or $10 for non-members.  For more information, call (504) 539-9607. 

    But that's not all!

    "We are thrilled and honored to kick off the exhibition and official centennial celebration with the Lionel Hampton Big Band performing two concerts on April 19 at the Ogden museum," Tim Francis, trustee of the Lionel Hampton Estate, said.

    Vibraphonist Jason Marsalis and vocalist Stephanie Jordan will appear as guests with the group.  Their 7:00 pm show is sold-out.

    To further mark Hampton's achievements, a new biography by Stanley Crouch, Flying Home Lionel Hampton: Celebrating 100 Years of Good Vibes, will be published by State Street Press of Brockport, NY.

    A panel discussion will take place at the Ogden Museum from 2 to 4 pm on April 20th, with Mr. Crouch and members of The Lionel Hampton Big Band.    

Lionel Hampton (1908-2002), © LRC Ltd.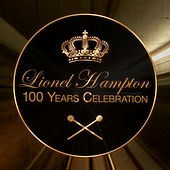 Meanwhile, the X5 Music Group has prepared a new selection of 19 of Hampton's recordings, "100 Years Celebration" [ r. ] which is available for downloading on various Internet music sites, such as emusic.com and rhapsody.com.

    And on the 11th of this month, "Marian McPartland's Piano Jazz," heard over National Public Radio (NPR), will re-run Hampton's 1989 appearance on that series, "in which he plays some of his classics like Flying Home and shows off his pianistic and vocal abilities on Mack the Knife."   

    On December 16, 1993, Bellson and his big band, with Clark Terry, flugelhorn, as guest, had played a concert at Pace University in New York City.  The program, which included a tune called Louie & Clark Expedition, was taped and released as a CD, "Live From New York" (Telarc CD-83334). 

    In this fresh musical collaboration reuniting Bellson and Terry (thus the title "Expedition 2"), 13 of Bellson's compositions are performed in a studio setting with a 17-piece big band.  Terry, who blows trumpet here, has a number of showcases, such as Terry's Mood, named for him; a muted solo on Back to the Basics (Old); and Nat Pierce's rhythmic arrangement of Well Alright Then (not the Lunceford tune, but, rather, a new work by Bellson).

    Among the other pieces are a 4-part Chicago Suite (State Street Swing / City of Seasons / The Blues Singer / Lake Shore Drive), arranged by Tommy Newsom; Two Guys and a Gal, with Bellson sharing drum duties with Kenny Washington and Sylvia Cuenca; Piacere, featuring Adam Schroeder's engaging baritone sax; and Give Me the Good Time, a foot-tapping Newsom chart.      

    Liner notes are by Nat Hentoff, who, in part, celebrates jazz and the human spirit.

    The CD packaging, designed by Bellson's wife, Francine, is attractive, and includes several photos of the recording sessions, which took place in New York on May 29 and 30, 2007.

Big Band Library rating: EXCELLENT

MORE NEW COMPACT DISCS

Ray Anthony, "1949-50," Circle CCD-156 [ Lang-Worth transcriptions made in Hollywood,

  including Sentimental Journey, Can Anyone Explain, A Marshmallow World, and A

  String of Pearls; total length 74:25 ].

Count Basie, "Classic Columbia, Okeh and Vocalion Lester Young with Count Basie

  (1936-1940), Mosaic MD4-239  [ According to producer Scott Wenzel, "The focus of this

  set was to present all of Lester Young's solo efforts under Count Basie's leadership for the

  Columbia family of labels. In addition, we have included the Glenn Hardman and his

  Hammond Five date plus a Benny Goodman small group session that went unreleased

  until 1973." ].

Tex Beneke, "Tex Swings Eydie Sings," Sounds of Yester Year ( UK ) DSOY 758 [ Eydie

  Gorme vocals on Baby-o, Baby-o; If I Were a Bell; Orange Colored Sky; Can't We Talk

  It Over; Unless; Too Young; Too Marvelous for Words; Somebody Loves Me; and other

  Beneke material from 1950-51 ].

Cab Calloway, "Hi De Ho Man," Wounded Bird 2593 [ = the 1974 2-LP Columbia set

  G32593 ].

Harry James, "From Hollywood," Sounds of Yester Year ( UK ) DSOY 757 [ live

  performances from The Hollywood Palladium during the mid-1940s ].

Isham Jones, "Isham Jones [ 1929-1934 ]," Jazz Oracle ( UK ) BDW 8058.

Louis Jordan, "Rock Doc!  Louis Jordan On Mercury," Rev-Ola ( UK ) 244 [ recorded in

  1956 and 1957 ].

The Missourians, "Stoppin' the Traffic," Frog ( UK ) 69 [ forerunners to Cab Calloway's

  band ].

Russ Morgan, "Into the Fifties," Jasmine ( UK ) JASCD 478 [ 2-CD set; 50 Decca

  recordings including Sunflower, Dog-Face Soldier, O Mein Papa, and The Poor People

  of Paris ].

Pete Rugolo, "Behind Brigitte Bardot," Collectables 7798 [ a 1962 homage to the music

  from the movies of actress Bardot ].

Dick Stabile, "Many Faces," Montpellier ( UK ) 46 [ 24 selections recorded in 1955 and

  1957 ].

Lawrence Welk, "Into the Fifties," Jasmine ( UK ) JASCD 477 [ 2-CD set; 51 Coral

  recordings including Bubbles in the Wine, Champagne Time, and Wun'erful Wun'erful ].

Paul Whiteman, "'King of Jazz' 1920-1927: A selection of Whiteman's earliest jazz

  recordings," Timeless Historical CBC 1-093.

SUNNYBROOK RE-OPENS

    The famous Sunnybrook Ballroom in Pottstown, PA will re-open for a gala fundraiser on the 26th of this month, with The Tommy Dorsey Orchestra directed by Buddy Morrow on the stand.

    Members of the Sunnybrook Foundation, including Chairman and President Thomas Sephakis, have been working hard, overseeing restoration and renovation of the Ballroom, which had been vacant for about 3 years. 

    It is stated on the Ballroom's website, sunnybrookballroom.net, that Tommy Dorsey was the biggest draw there, when he played, on more than occasion in 1942, to over 6,000 people.

BAND ITINERARIES - SELECT LIST

Count Basie Orchestra directed by Bill Hughes, Apr. 25, Laura Turner Concert Hall,

  Nashville, TN.

Les Brown's Band of Renown directed by Les Brown, Jr., Apr. 10-13, Benaroya Hall,

  Seattle, WA.

Cab Calloway Orchestra directed by C. Calloway Brooks, Apr. 8, Bayside, NY; Apr. 11,

  Rio Rancho High School, Rio Rancho, NM; Apr. 27, Temple Emanu-El, Marblehead, MA.

Tommy Dorsey Orchestra directed by Buddy Morrow, Apr. 25, Dover Downs Hotel &

  Casino, Dover, DE.

Duke Ellington Orchestra directed by Barrie Lee Hall, Jr., Apr. 5, Morris Performing Arts

  Center, South Bend, IN [ with The Sound Bend Symphony ].

Harry James Orchestra directed by Fred Radke, Apr. 3, Culpeper County High School,

  Culpeper, VA; Apr. 10, Beaver Falls, PA; Apr. 12, Niswonger Performing Arts Center,

  Van Wert, OH; Apr. 13, Lancaster, OH; Apr. 16, Cedar Rapids, IA; Apr. 17, Monmouth, IL;

  Apr. 19, Frauenthal Theater, Muskegon, MI; Apr. 20, Kokomo, IN; Apr. 22, Kendallville, IN;

  Apr. 24, Hazelton, PA; Apr. 25, Chambersburg, PA; Apr. 26, Sellersville, PA; Apr. 27,

  Lebanon, PA.

Glenn Miller Orchestra directed by Larry O'Brien: Apr. 1, Sacramento Community Center

  Theater, Sacramento, CA; Apr. 4, Mother Lode Theater, Butte, MT; Apr. 5, Alberta Bair

  Theater, Billings, MT; Apr. 6, Glenrock Middle School, Glenrock, WY; Apr. 8, Wynona

  Thompson Auditorium, Cody, WY; Apr. 9, WYO Theater, Sheridan, WY' Apr. 11, Pikes

  Peak Center. Colorado Springs. CO; Apr. 12, Paramount Theatre, Denver, CO; Apr. 14,

  Northwest Oklahoma College, Alva, OK; Apr. 17, Memorial Auditorium, Worthington,

  MN; Apr. 19, Johnson County Community College, Overland Park, KS; Apr. 21, Beaver

  Dam High School, Beaver Dam, WI; Apr. 24, [ to be announced ], Hannibal, MO; Apr. 26,

  Blanche Touhill Performing Arts Center, St. Louis MO; Apr. 27, Governors State

  University, University Park, IL; Apr. 28, Marion Cultural & Civic Center, Marion, IL; Apr.

  30, Milan Performing Arts Center, Milan, MI.

The Modernaires: Apr. 18, Paul's Italian Villa, Simi Valley, CA.

HAPPY BIRTHDAY TO YOU

Boomie Richman, tenor saxophonist ( Paxton '44-'45; T. Dorsey '45-'51 [ off and on ]; Goodman '51 / '52 / '53 / '54 /

   '55 / '58; Reynolds '55 "Songs for Happy Feet" album ), b.Apr. 2, 1921.

Bill Finegan, arranger - composer ( Miller '38-'42; T. Dorsey '42-'52 ) / leader ( Sauter-Finegan '52-'57 ),

  b.Apr. 3, 1917.

Slide Hampton, trombonist ( B. Johnson '55-'57; Hampton '58; Ferguson '58-'59) / leader (Gillespie All Star Big Band

   '04- ), b.Apr. 21, 1932.

Mundell Lowe, guitarist ( McKinley '46-47 ), b.Apr. 21, 1922.

Bea Wain, vocalist ( Shaw '37 If It's the Last Thing I Do; Clinton '37-'39 ), b.Apr. 30, 1917.

Billy Ver Planck, trombonist ( J. Dorsey '52; Thornhill '53; Dorsey Bros. '56 ) / arranger ( Miller-DeFranco '68 ),

  b.Apr. 30, 1930.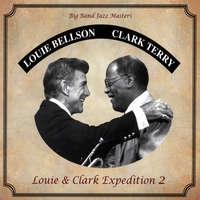 CD REVIEW:

"Louie & Clark Expedition 2"

Louie Bellson and Clark Terry

Percussion Power

    Just as the historic Lewis & Clark expedition of 1804-06 mapped out a previously-uncharted travel route to and from the West, drummer - bandleader Louie Bellson continues to explore new avenues of big band jazz, searching for different music, sounds, timbres, and improvisation as both a performer and composer.   

The big bands are back

in a new and exciting way

NECROLOGY

Trudy Richards, ca.78?, vocalist (Barnet '49 Capitols Easy Living / Gloomy Sunday; Shaw '52 Deccas I Waited a Little

   Too Long / I May Hate Myself in the Morning), d.Apr. 4, 2008.

Joe Feeney, 76, vocalist (Welk '57-'82), d.Apr. 16, 2008, emphysema [ " . . . his family believed

  he might have contracted the illness from decades of performing in smoky casinos and

  nightclubs." ].

Jimmy Giuffre, 86, saxophonist (Raeburn '47; J. Dorsey '47; Norvo '47, Rich '48; Herman '49) - arranger

   (Herman '47), d. Apr. 24, 2008, "pneumonia, a complication of his lengthy battle with

  Parkinson's disease" [ his 87th birthday would have been two days later ].

NEW IN-PRINT AND / OR ONLINE

Anthony Baldwin, "Pro-(Sonny) Bono Legislation: The Threat Posted to the Future of

  Vintage Music Reissues in Europe," VJM's Jazz & Blues Mart, Issue No. 149 / Spring

  2008, pp.8-9 [ if the proposed extension to copyright in Europe is passed, it likely will

  mean the end of specialist and reissue CD labels ].

Katherine Bercik, "Jazz legend to conduct ensembles, discuss career," Athens [ OH ] Post,

  Apr. 25, 2008 [ Gerald Wilson (Lunceford '39-'42) chats with Bercik ].

John Ephland, "CD Reviews: Maynard Ferguson: The Lost Tapes, Volume One (Sleepy

  Night 001)," DownBeat, Apr. 2008, p.65 [ material recorded by former band member and

  manager Ernie Garside, starting in 1967 ].

Jerry Fink, Octagenarian music legends jazz up a Las Vegas embroidery store," Las

  Vegas Sun / lasvegassun.com, Apr. 24, 2008 [ Louie Bellson (Fio Rito '42; Goodman '42 and '46;

   T. Dorsey '47-'49; James '51; Ellington '51-'53; Dorsey Bros. '55-'56) and Clark Terry (Hampton '45; Barnet '47-'48 / '58

   Everest "Cherokee" LP / '66-'67; Basie '48-'51 / '76 Pablo "Basie Jam" LP; Ellington '51-'59) appear at EmbroidMe

  to promote their new CD ].

Julie Flemming, "The 'Berigan' Berigan [ sic ] Fox Lake knew," Beaver Dam [ WI ] Citizen,

  Apr. 14, 2008 [ Berigan family ties to Fox Lake, WI ].

Will Friedwald, "Arts & Letters: The Thing Before Swing," New York [ City ] Sun / nysun.com,

  Apr. 28, 2008 [ Friedwald comments about Rich Conaty's "The Big Broadcast" radio

  program ].

"Harry James Orchestra in town Saturday," Van Wert [ OH ] Voice / vanwertvoice.com,

  Apr. 9, 2008 [ provides standard publicity background about leader Fred Radke ].

"Harry James Orchestra returns swing to Frauenthal," Muskegon [ MI ] Chronicle, Apr. 12,

  2008 [ about an upcoming performance by the band at the Frauenthal Theater in

  Muskegon ].

"Jazz musician to conduct OU group," Athens [ OH ] Messenger / athensmessenger.com,

  Apr. 23, 2008 [ Gerald Wilson (Lunceford '39-'42) will conduct the Ohio University Jazz

  Ensemble in a free 50-minute concert of his works, on Apr. 25, 2008 ].

Tom Kane, "Still 'In the Mood': Glenn Miller Orchestra coming to Marion," Marion [ IL ]

  Daily Republican / mariondaily.com, Apr. 23, 2008 [ leader Larry O'Brien comments

  about the present Miller Orchestra and the band business of today ].

Kate Lohnes, "Jazz, swing and Harry James," Lima [ OH ] News / limaohio.com, Apr. 12,

  2008 [ includes comments by Fred Radke, present leader of The Harry James Orchestra ].

Brenda Martin, "GMS Involvement for 50 Years," [ (International) Glenn Miller Society ]

  Moonlight Serenader, Number 317 / 2nd Edition 2008, p.12 [ Martin, Treasurer of The

  (International) Glenn Miller Society since 1998, looks back on her half-century work with

  the organization ].

John McDonough, "The Beat: From Obsession to Archive: Fan Donates World's Largest

  Privately Held Jazz Record Collection to Oberlin," DownBeat, Apr. 2008, pp.15-16

  [ the donor is Jim Neumann, Oberlin class of '58 ].

Steve Miller, "DeFranco brings the jazz to UM," [ Missoula ] Montana Kaimin /

  montanakaimin.com, Apr. 25, 2008 [ the two-day "Buddy DeFranco Jazz Festival" takes

  place this month at the University of Montana; besides DeFranco (Fio Rito '42; Barnet '43-'44;

   T. Dorsey '44-'45 / '45-'46 / '47; Basie '50; his own orch. '51; Miller Orch. '66-'74), this year's performers includes

  guitarist Bucky Pizzarelli (Monroe '43 / '46-'52; Goodman '67 / '69 Reader's Digest / '70 / '71 / '72 / '73 / '74 / '75 / '77 /

   '79 / '80 / '81 / '85 ].

Alun Morgan, "Lost in Meditation: BG Down Under," Jazz Journal International, Apr. 2008,

  p.11 [ re: Benny Goodman in Australia, 1973 ].

Jack Neely, "A Successful Evening: A newly recovered tape of a Deane Hill Country Club

  show preserves a rare moment in big-band history," Knoxville [ TN ] Metro Pulse /

  metropulse.com, Apr. 23, 2008 [ Jimmy Dorsey makes a surprise appearance with

  brother Tommy in March 1953, prior to them officially reuniting ].

Howard Reich, "Louis Armstrong's world revealed to kids by Jon Faddis: Unique initiative

  trumpeted by Jon Faddis welcomes students to the world of Louis Armstrong," Chicago

  Tribune / chicagotribune.com, Apr. 6, 2008 [ Reich examines Faddis' increasingly

  important role in music performance and education in Chicago.  Faddis commented,

  "I think knowing about Louis Armstrong gives these kids hope.  And it's not the type of

  hope one may glean from looking at rappers with all of their bling.  I think it's a more

  human type of hope.  It's about spirituality, it's about energy, it's about the universality of

  our humanity, our pain and our suffering, but also our joy in life." ].

Roland Taylor, "50 Years Ago Mac and The NGMO Arrived for Dates in England,"

  [ (International) Glenn Miller Society ] Moonlight Serenader, Number 317 / 2nd Edition

  2008, pp.8-10 [ recalling a visit to the UK by Ray McKinley and The Glenn Miller

  Orchestra in early 1958 ].

send feedback about April 2008 "Big Band News" via
e-mail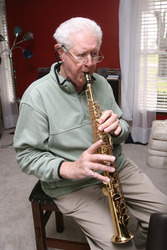 WHERE ARE THEY NOW?

Dick Dale, saxophonist - vocalist (Welk '51-'82 )

photo © The Associated Press,

taken Nov. 1, 2007

    Now age 81, Dale moved back to his hometown of Algona, Iowa about a year ago, at the urging of his daughter. 

    Dale and his wife, Marguerite, and their dog, Heather, take things easy in that small community.

    ''He's just like one of us,'' said Kent Hoover, owner of River Road Golf Club, where Dale goes for coffee. ''For all of his fame, he's just as common as anyone. He's just a regular guy.''

    Dale was a member of the Algona High School Class of 1943.