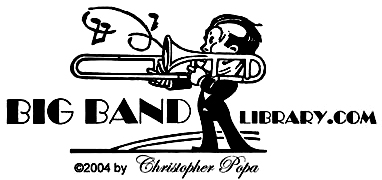 Shaw performed with a big band in North Riverside on May 22, 1953, and came back to Chicago proper, with a new edition of his Gramercy 5, to work the Encore, upstairs at the Preview Lounge, from January 8 to 31, 1954.

    He played briefly at the Chicago White Sox Diamond Dinner, an awards ceremony held January 17th in the Grand Ballroom at the Palmer House, and appeared in-person for an hour at the Hudson-Ross store on January 29th, to help promote the release of RCA Victor's "Artie Shaw: In the Blue Room/In the Café Rouge" album.   

    Sadly, only a few months later, Shaw gave up the clarinet, at the height of his powers.  He became an author, read books on everything from A to Z, became an expert marksman and fly-fisherman, dabbled in film distribution, and lectured at various colleges or universities.   

    In 1983, he reorganized a big band.  When they performed two concerts at the Medinah Temple on April 28, 1984, Shaw was on-stage, but limited his role to conductor and host, having chosen Dick Johnson to play clarinet with the group.

sources consulted

"Artie Shaw And his Gramercy 5 [ advertisement ]," Chicago Daily Tribune, Jan. 24, 1954, p.F6.

"Artie Shaw Will Play for Charity Event on Dec. 29," Chicago Daily Tribune, Dec. 21, 1941, p.F2.

"At Encore," Chicago Daily Tribune, Jan. 10, 1954, p.E13.

"Balaban & Katz Wonder Theaters [ advertisement ]," Chicago Daily Tribune, Nov. 1, 1941, p.16.

"Blue Note Scoop!, A," Chicago Daily Tribune, Nov. 7, 1949, p.B15.

Burns, Edward.  "Sox Disclose '54 Signature of Harshman," Chicago Daily Tribune, Jan. 16, 1954, p.A4.

"Come! See! Hear! Artie Shaw in person [advertisement ]," Chicago Daily Tribune, Jan. 28, 1954, p.4.

"Coming! Sun. Dec. 28 [ advertisement ]," Chicago Defender, Dec. 20, 1941, p.13.

Davidson, Will.  "Recordially Yours," Chicago Daily Tribune, Nov. 7, 1949, p.B10.

---.  "Old Favorites Returning to Chicago Cafes," Chicago Daily Tribune, Nov. 13, 1949, p.K4.

"Eight Evenings Made Memorable for You! [ advertisement ]," Chicago Daily Tribune, Oct. 9, 1949, p.F1.

Kart, Larry.  "Artie Shaw's new band makes Swing Era a timeless tradition," Chicago Daily Tribune,

  Apr. 30, 1984, p.S4.

Leonard, Will.  "Josh White Back Again at Black Orchid; Shaven Shaw Off Shelf," Chicago Daily Tribune,

  Jan. 3, 1954, p.D8.

---.  "Artie Shaw's Music Relaxed and Listenable," Chicago Daily Tribune, Jan. 17, 1954, p.G4.

McDonough, John.  "'Clarinet King' Artie Shaw is back with a new instrument-his band," Chicago Tribune,

  Apr. 22, 1984, p.K8.

Miller, Lucy Key.  "Front Views & Profiles: 'Music, Maestro, Please,'" Chicago Daily Tribune, Nov. 14, 1949,

  p.B16.

---.  "Front Views & Profiles: Man with a Horn," Chicago Daily Tribune, Jan. 20, 1954, p.A2.

"One Performance Only! [ advertisement ]," Chicago Daily Tribune, Nov. 6, 1949, p.26.

Recording session sheet, Victor Records, Chicago, Oct. 30, 1941.

Savage.  "Tower Ticker: Foot Notes," Chicago Daily Tribune, Oct. 17, 1949, p.23.

---.  "Tower Ticker: Trivia," Chicago Daily Tribune, Oct. 29, 1949, p.13.

---.  "Tower Ticker: Music and the Savage Breast [ sic ]," Chicago Daily Tribune, Nov. 14, 1949, p.22.

Simosko, Vladimir.  Artie Shaw: A Musical Biography and Discography (Lanham, MD: The Scarecrow

  Press, Inc., 2000).

"Swing-Dance Session, A, [ advertisement ]" Chicago Defender, Aug. 8, 1938, p.24.

"To the Savoy," Chicago Defender, Dec. 20, 1941, p.13.

"Today's Features," Chicago Daily Tribune, Aug. 6, 1939, p.SW9.

"Vaudeville," Chicago Daily Tribune, Nov. 2, 1941, p.F2.

Zylstra, Maryon.  "Inquiring Camera Girl," Chicago Daily Tribune, Jan. 23, 1954, p.9.

send feedback about "Artie Shaw in Chicago" via
e-mail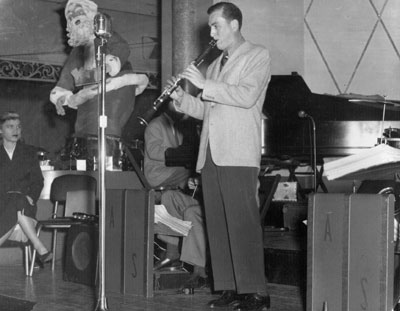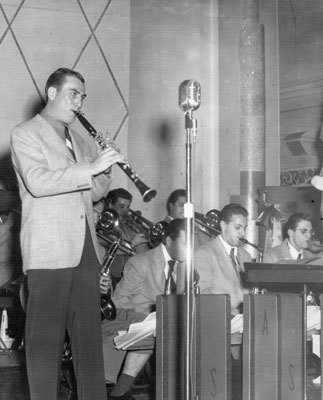 "Artie Shaw in Chicago:

From Bronzeville to the Blue Note"

by Christopher Popa   September 2005

    Artie Shaw, an extraordinary figure in jazz history, summoned from his clarinet a beautifully-rich, lyrical tone, which could turn razor-sharp in the higher register.  He played inventive solos with a genuine sense of jazz phrasing, and developed enough technique to execute any kind of music.  Press agents declared him, appropriately, "King of the Clarinet." 

    Nearly every time Shaw performed with Chicago, he was with a different orchestra.  Personnel of his groups included, on various occasions, trumpeters Roy Eldridge, Hot Lips Page, and Billy Butterfield; trombonists Buddy Morrow, Jack Jenney, and Sonny Russo; saxophonists Tony Pastor, Georgie Auld, Herbie Steward, and Zoot Sims; pianists Johnny Guarnieri, Dodo Marmarosa, and Hank Jones; guitarists Barney Kessel and Tal Farlow; drummers Buddy Rich and Dave Tough (a native of Oak Park, IL); vocalists Billie Holiday and Helen Forrest; and arrangers Jerry Gray, Lennie Hayton, Ray Conniff, and Eddie Sauter. 

    Always searching new sounds and fresh challenges, Shaw became a reluctant swing idol to fans who preferred familiar, commercial melodies.  He eventually left the music business, in favor of other pursuits.

    He made pilgrimages to Chicago from Cleveland (where he was employed as an alto saxophone player with violinist Joe Cantor's orchestra) starting in the late 1920s, to observe Louis Armstrong and other early jazz masters at work.

    In June 1930, Shaw arrived in Chicago as a sideman, playing sax and clarinet, with pianist Irving Aaronson and His Commanders.  They worked the Granada Café for almost three months, giving Shaw plenty of time to meet and jam with other musicians around town, including Earl Hines and Muggsy Spanier. 

    Shaw formed his own band in 1936, with the sole intention of making enough money to support his desire to become a writer.  But, within a few years, success -- or $ucce$$ as he later spelled it -- latched on to him, starting with his lilting record of Begin the Beguine, and wouldn't let go.

key to locations

Aragon Ballroom, 1106 W. Lawrence Ave.

Blue Note, The, Madison at Dearborn

Chicago Theater, 175 N. State St.

Granada Cafe, 6800 Cottage Grove Ave.

Hi-Note, 450 N. Clark St.

Hudson-Ross, 8 E. Randolph St.

Lyon & Healy, Wabash Ave. at Jackson Blvd.

Medinah Temple, 600 N. Wabash

Palmer House, 17 E. Monroe St.

Preview Lounge, 7 W. Randolph St.

Savoy Ballroom, 47th and South Parkway

Southtown Theater, 63rd St., east of Halsted

Temple Shalom, 3480 Lake Shore Dr.

    He was experiencing the first real moments of that fame when his orchestra  performed for nearly 5,000 people at the gala Mayor of Bronzeville Ball, held at the Savoy Ballroom on October 17, 1938.

    "Here's a chance for jitterbugs to floy floy to their hearts' content to the strains of the nation's most celebrated orchestra," a newspaper advertisement promised.  Of course, Shaw opened the evening with his moody composition Nightmare, his theme.

    From then on, Chicagoans bought Shaw's latest Bluebird recordings, such as My Heart Stood Still, from Lyon and Healy.  They tuned in Old Gold's weekly radio show, "Melody and Madness," which co-starred Shaw with comedian Robert Benchley, on WBBM and, later, WENR, to hear Softly, As in a Morning Sunrise. 

   They watched one of the band's film shorts, "Symphony of Swing," which included Oh, Lady Be Good, at various Warner Brothers theaters in town, including the Cosmo, Shore, and Frolic.  And they viewed his first full-length film, "Dancing Co-Ed," co-starring Lana Turner, at the Southtown, one of the Balaban and Katz wonder theaters.

    By the time Shaw returned to Chicago for a one-nighter at the Aragon Ballroom on August 6, 1939 (a portion of which was broadcast by WGN), both he and the big band era itself had, arguably, reached their pinnacle.  But Shaw hated the business that went with being a famous musician, and, shocking everyone, deserted his band that November.   

    To fulfill his recording contract, he assembled a studio band with a large string section in March 1940.  The result was Frenesi, released on Victor, which enabled Shaw to form a new, 23-piece orchestra and add to his recorded legacy with definitive interpretations of Star Dust, Moonglow, I Cover the Waterfront, and Temptation.  Allowing more breathing room for jazz, Shaw formed a "band-within-the-band," the Gramercy 5, which, in its first incarnation, used the novel sound of a harpsichord on Summit Ridge Drive.

    In 1941, Shaw assembled another edition of his band, this time totaling 32 pieces.  During the afternoon of October 30th, it recorded in Chicago four tunes for Victor, including Just Kiddin' Around, possibly at studios on the 11th Floor of the Merchandise Mart.  The next day, they began a week's stay at the Chicago Theater.  Also on the bill were juggler Bill Rayes and acrobats Lane & Ward, plus the movie "Navy Blues" starring Ann Sheridan and Jack Oakie.

    Around this time, he asked Paul Jordan of Chicago to write for the band.  Jordan's works included Evensong (Dusk), one of the earliest examples of Third Stream music.

    Shaw and his band were at the Savoy for one night on December 28th, then played a benefit at the Aragon the next day, for the Kenilworth Center of the Infant Welfare Society. 

    He didn't return to Chicago as a bandleader until 1949, when he was again blurring the lines between pop and classical - performing some of both, or works that included each - such as Leme, orchestrated for Shaw's big band, but not recorded.

    "There is only one kind of music," he told a local newspaper columnist, "good music.  It doesn't matter whether it's called popular or classical.  A musician with skill and the technical knowledge should be able to bridge the gulf with ease."

    While on a night off that October, his entire band (!) and Woody Herman's (!!) sat in, on the stand, with Stan Getz and his combo with Anita O'Day at the Hi-Note.   

    On November 7th, Shaw began a two-week engagement at The Blue Note,  including the charts Similau and So Easy.  Advertising billed it as, curiously, Shaw's "only club appearance in the U.S." 

    Years later, Shaw told biographer Vladimir Simosko, "Without question that was one of the greatest engagements of my life."

    During the Blue Note job, there was a momentary zig-zag, when, at 8:15 p.m. on the evening of the 9th, Shaw made a guest appearance with a symphonic orchestra directed by Alfredo Antonini at Temple Sholom, playing Fantasie on 3 American songs (namely, Begin the Beguine, Frenesi, and Star Dust, his three biggest rent-payers).

Artie Shaw, 1949.

From Special Collections, University of Arizona Library, The Artie Shaw Collection, MS305.

Artie Shaw, 1949.

From Special Collections, University of Arizona Library,

The Artie Shaw Collection, MS305.