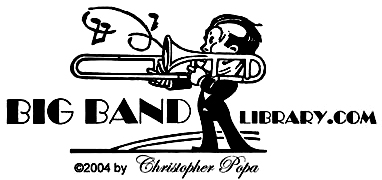 "I've defined a celebrity as someone you stand up on a pedestal, so you can throw rocks at them," clarinetist – bandleader Artie Shaw once said to me, on the telephone from his home in California.  "It's a sad thing that we over celebrate people and monumentalize them.  I guess it's okay in terms of the monetary reward, but here I am . . . and people still chase me around and ask me stupid questions like, 'Will you please send me an autographed photo to Sweden?'  Well, I don't have autographed photos and I'm not about to go through the business of getting to that.  It's all very flattering and it's nice that they buy the records, because that's how I make my living.  I'm trying to live like a normal citizen.  I'm living out in the boondocks and people come and rap at my door and say, 'We came all the way from wherever, New Jersey or Squeedunk, to see you.'  And I say, 'Well, I didn't move out here for you to come here to see me.  I'm not selling tickets and thanks a lot, but no thanks.'  And they think I'm being pretty churlish."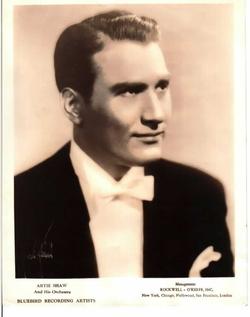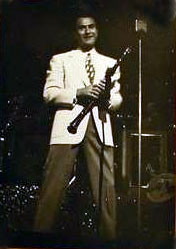 recommended listening chosen

by Artie Shaw - select list:

Cream Puff, arr. by Franklyn Marks   Brunswick, 1936

Monsoon, arr. by Artie Shaw   Brunswick, 1937

Any Old Time, arr. by Artie Shaw / voc. by Billie Holiday 

  Bluebird, 1938  

Nightmare, arr. by Artie Shaw   Bluebird, 1938

Lover, Come Back to Me, arr. by Jerry Gray   Bluebird, 1939

Rosalie   Bluebird, 1939   Tony Pastor, vocal

Deep Purple, arr. by Jerry Gray / voc. by Helen Forrest  

  Bluebird, 1939

Everything Is Jumpin'   aircheck, 1939

(Alla en) El Rancho Grande   aircheck, 1939  

    Tony Pastor, vocal

Diga, Diga Doo   aircheck, 1939

Concerto for Clarinet, arr. by Artie Shaw   Victor, 1940

Dancing in the Dark, arr. by Lennie Hayton   Victor, 1941

I Cover the Waterfront, arr. by Lennie Hayton and Artie Shaw

  Victor, 1941

Just Kiddin' Around, arr. by Ray Conniff   Victor, 1941

Nocturne, arr. by Jerry Sears   Victor, 1941

To a Broadway Rose, arr. by Ray Conniff   Victor, 1941

Suite No.8   Victor, 1941

Carnival, arr. by Paul Jordan   Victor, 1942

Two in One Blues, arr. by Paul Jordan   Victor, 1942

Lady Day, arr. by Jimmy Mundy   Victor, 1944

'S Wonderful, arr. by Ray Conniff   Victor, 1945

Summertime, arr. by Eddie Sauter   Victor, 1945

Tabu, arr. by Artie Shaw   Victor, 1945

The Maid with the Flaccid Air, arr. by Eddie Sauter  

  Victor, 1945

These Foolish Things (Remind Me of You)   Decca, 1953

    "My contract stated that I could make and do almost anything I wanted to.  They had to accept that.  I chose the material," he asserted.  "But I couldn't choose what they would do to sell it.  I couldn't dictate their sales methods.  So we're talking about two completely distinct areas.  Playing music, selecting what you play, deciding how you're going to play it, deciding how you're going to arrange, what you're going to do – all of that was my province.  Well, sales is a whole new and different set of problems.  And I'm not an expert at that.  I know nothing about that.  I'm very poor at that."

    The music continued to sell for the rest of his life, which pleased him.  Among the more recent releases was an acclaimed, 5-CD boxed set, "Artie Shaw: Self Portrait," with material selected by Artie himself.

    "If I have a choice in the matter, I'll pick things.  But they rarely give you a choice," he said.  "They let me make the records and I let them sell them."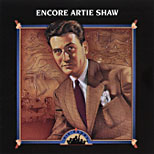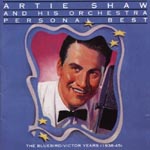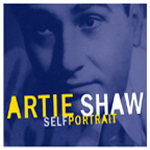 vital stats:

given name: Abraham Isaac (Jacob?) Arshawsky

birth:  May 23, 1910, New York, NY

death:  Dec. 30, 2004

father: Harry Arshawsky, a photographer

mother:  Sarah (Strauss) Arshawsky, a seamstress

education: public schools, New Haven, CT (1917)

wife:  Jane Carns, a typist, m.1932 (annulled)

wife:  Margaret "Marge" Allen, a New York nurse,

    m.1934, div.1937

wife: Julia Jean "Lana" Turner, m.2/13/1940, div.

    9/12/1940

wife:  Elizabeth "Betty" Kern, m.3/3/1942, div.9/28/1945

wife:  Ava Gardner, m.10/17/1945, div.10/25/1946

wife:  Kathleen Winsor, m.Oct. 1946, div.1948

wife: Doris Dowling, m.6/16/1952, div.1956

wife: Evelyn Keyes, m.1957, div.1985

son:  Steven Kern Shaw, b.1943

son:  Jonathan Shaw, b.Jul. 4, 1953

residences:  1426 Summit Ridge Dr., Hollywood, CA

    (1940); 906 N. Bedford Dr., Beverly Hills, CA (1945);

    Lakeville, CT (1960); 2123 Outpost Dr., Los Angeles,

    CA (1973); 2127 W. Palos Ct., Newbury Park, CA

    (1978)

description:  5'11", 168 lbs., brown eyes, brown hair

hobbies:  reading, writing, chess, swimming

memberships: AFM Local 802 (New York City) and

    Local 47 (Los Angeles); ASCAP

awards: Grammy Lifetime Achievement, 2004; National

  Endowment for the Arts Jazz Masters Fellowship,

  2005 (posthumous)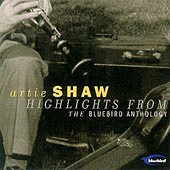 sideman:

    Art Shaw began playing alto sax at the age of 13; the instrument came with five music lessons.  He left high school to work with bands, including, in order, Johnny Cavallaro and His Orchestra, Eddie Witstein's Society Band, Les Laden's Yale Collegians, and Joe Cantor and His Orchestra.  While with Cantor, Shaw made his first records at age 18 in the Gennett Studios.

JOE CANTOR AND HIS ORCHESTRA:

Izzy George, Willis Kelly (tp), Charlie Stenross (tb), Art Shaw (as), Les Arquette (ts/vo), Vic Buynak (ts), Joe Cantor (vl/ldr), Walt Bergner (p), Chuck Shank (g), Julian Woodworth (b/tuba/vo), Chuck Cantor (d)

                      Richmond, IN, August 13, 1928

14137   Heartbroken and Lonely  vTrio

                                         UNISSUED

14138   WaDaDa  v           UNISSUED

14139   Frisco Squabble    UNISSUED

Woodworth (vo) with Bergner (p) only

14140   I Can't Give You Anything But Love  vJW

                                         UNISSUED

full band as before

14141   The Girl Friend     UNISSUED

    Shaw then joined, in succession, the bands of Merle Jacob, Austin Wylie, and Irving Aaronson.  While with Aaronson, Shaw made a couple more recordings.

IRVING AARONSON'S COMMANDERS:

Irving Aaronson (dir), Charlie Trotta, Jimmy Taylor (tp/vo), Red Stanley (tb/vo), Art Shaw, Art Quenzer, Phil Saxe, Tony Pastor (reeds), Sal Cibelli, Jack Armstrong (vl/vo), Paul Mertz, Chummy MacGregor (p), Ralph Napoli (g/bjo/vo), Max Walker (b), Stan Johnson (d/vo)

                           Chicago, IL, August 22, 1930

6104   Why Have You Forgotten Waikiki?   v

                                         Br 4883 [UNISSUED]

6105   Moonlight On the Colorado   v

                                         Br 4883 [UNISSUED]

    From 1931-33, Shaw free-lanced in New York City, working and/or recording with Paul Specht, Red Nichols, Freddie Rich, Ben Selvin, Roger Wolfe Kahn, and Adrian Rollini.

   Shaw retired from music for a year, living on a farm in Bucks County, Pennsylvania and trying to write a novel (which was not completed).

    He returned to New York City and employment with Richard Himber, Johnny Green, Wingy Manone, Johnnie "Scat"

sources:

"Band Bookings," Variety, Sept. 3, 1941, p.48+.

---, Variety, Sept. 10, 1941, p.31.

---, Variety, Sept. 24, 1941, p.41.

"Divorces Bandsman," Chicago Daily Tribune,

  Sept. 29, 1944, p.17.

"FINA Elects NZ Swimming Head," tvnz.co.nz,

  Jul. 24, 2005.

Keyes, Evelyn.  Scarlett O'Hara's Younger Sister

  (Secaucus, NJ: Lyle Stuart Inc., 1977).

---.  I'll Think of That Tomorrow (New York City:

  Dutton, 1991).

Martelle, Scott.  "Song of Himself: Artie Shaw's

  greatest passion was 1,900-page novel,"

  Los Angeles Times, Feb. 27, 2005.

Miller, Merle.  "Jazz and Jabberwocky: Artie

  Shaw: Swinging From Bach to Freud to

  Underwood with Trouble in Mind," Esquire,

  Sept. 1954, p.59+.

Moore, Edward.  "Recording of 'Iolanthe' Will

  Please Operetta Fans," Chicago Daily Tribune,

  Oct. 5, 1930.

"Official Artie Shaw Website," artieshaw.com.

"On the Upbeat," Variety, Jun. 22, 1938, p.40.

---, Variety, Jul. 20, 1938, p.41.

---, Variety, Aug. 3, 1938, p.40.

Popa, Chris.  Interview with Artie Shaw, May 1981.

---.  Interview with Artie Shaw, Dec. 1983.

"Seeks Divorce," Chicago Daily Tribune,

  Aug. 23, 1944, p.10.

"Shaw, Artie," in Current Biography 1941

  (New York City: H.W. Wilson).

--- in Who Is Who in Music (Chicago:

  Who Is Who in Music, Ltd., 1951).

Simosko, Vladimir.  Artie Shaw: A Musical

  Biography and Discography (Lanham, MD:

  The Scarecrow Press, Inc., 2000).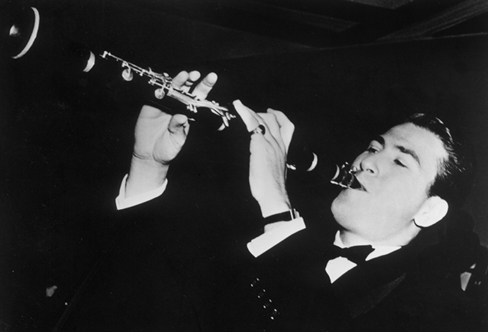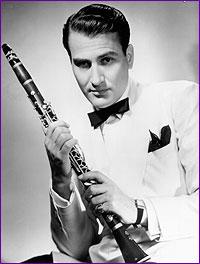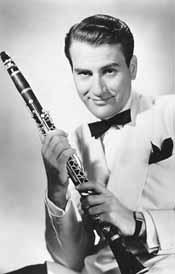 ARTIE SHAW

THE CONSEQUENCES OF

$UCCE$$

by Christopher Popa     September 2005

   "Sure, they were nice tunes, but if you were to play the Mozart Concerto over and over and over, you could get pretty bored," he countered.  "If you played, I don't care what it is, the most monumental piece of music ever written… If you played it 300, 400, 500 times a year, and we would get requests to play some of those tunes two or three times a night, you do that 300 nights a year, you can go a little crazy.  Let's put it this way: the better I got, the more skilled I got, and the more I tried to develop my musical tastes, and the more I tried to do with the music I was playing, the less audience I had."

    Shaw fought for his privacy ever since his big band captured the nation's attention in 1938.

    His recorded legacy, including lyrical, definitive interpretations of Begin the Beguine, Frenesi, and Star Dust, certainly is a lasting testament to his musical artistry. 

    However, he proved to be a reluctant swing idol to fans who mostly wanted only those familiar, commercial hits.

    Besides, Shaw hated the business that went with being a famous musician.  He often clashed with the public and quit making appearances several times, most famously when he deserted his band in November 1939, during an engagement at the Cafe Rouge of the Hotel Pennsylvania in New York City.

    "The difference between an artist and an entertainer is that the entertainer is trying to please others and the artist has to please himself, primarily.  So it's fine when other people like it, but that's not primarily his drive," he explained.  "And that's what happened to me in the music business.  I got to a place where the audience was dictating what they wanted to hear in such a way that I had to go with that or else quit; one or the other."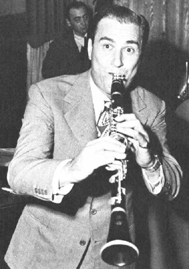 Davis, Frankie Trumbauer, the Boswell Sisters, Bob Howard, Bill Challis, Jack Shilkret, and Dick McDonough. 

    Shaw formed his first orchestra in 1936, supposedly with the sole intention of making enough money to support his desire to become a writer. $ucce$$, as he later spelled it, latched on to him within a couple years, derailing his literary ambitions.

    "I can go anywhere in the world as 'Arthur' or 'Art,' but the minute I sign 'Artie Shaw,' people seem to know who I am.  In some ways, it's flattering.  But it can be a pain in the neck," he lamented. 

    Press agents crowned him "The King of the Clarinet," and, in retrospect, it seems to have been an accurate title, for he worked very hard on his sound. 

    "To play any instrument is a form of slavery," he observed.  "You've got to really sit down and work at it all the time, if you want to do it well."

    He elicited a beautiful, full tone from his instrument (even in the higher register), and played inventive, daring solos with a genuine sense of jazz phrasing.  Actually, he had the technique to create whatever he wanted.    

    "As a general rule, most people who say they like your playing or they like what you did or this or that record leaves you pretty much emotionally untouched, because you're dealing with laymen," he remarked.  "Barney Bigard, who was probably one of the best black clarinet players (for some reason, there haven't been too many black clarinet players, not good ones anyway) . . . he made comments on various clarinet players he'd heard and he ended up by saying 'the best player that ever lived was Artie Shaw.' Now, that had some meaning to me, because Barney knew what goes into playing a clarinet."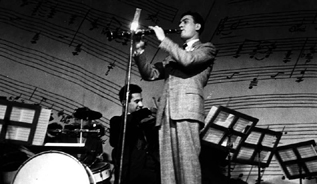 Shaw [ above ] photographed at the Imperial Theater swing concert in New York City, May 24, 1936, by Charles Peterson;

[ right ] a Rockwell-O'Keefe publicity photo; and [ below ] a candid image on stage, 1939.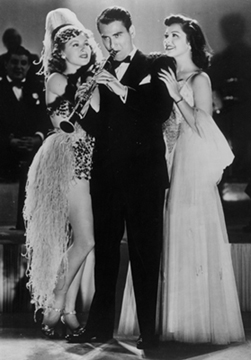 On the set of the MGM motion picture "Dancing Co-Ed," with co-stars Lana Turner [ l. ] and Ann Rutherford [ r. ], Jul. 1939.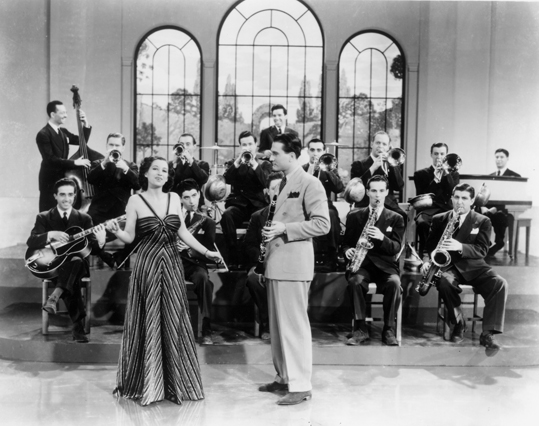 Shaw and his orchestra [ l. ] accompany vocalist Helen Forrest in a Vitaphone film short, "Symphony of Swing," Feb. 1939. 

Band members were [ from l. to r., front row ] guitarist Al Avola; saxophonists Georgie Auld, Hank Freeman, Les Robinson, and Tony Pastor; [ second row ] trumpeters Chuck Peterson, Bernie Privin, and Johnny Best; trombonists George Arus, Les Jenkins, and Harry Rodgers; [ back row ] bassist Sid Weiss, drummer Buddy Rich, and pianist Bob Kitsis.

    Shaw enjoyed searching for new music (such as American or Latin) and liked to assemble bands, sometimes in unorthodox formations.  He led at least nine different groups, including his famous 1938-39 unit; two distinct large orchestras with strings during 1940-41; a fine Navy outfit in 1943-44; a cutting-edge postwar ensemble; and an adventurous bop band in 1949. 

    There was also his small, "band-within-a-band," the Gramercy Five, which, in its 1940 incarnation, featured the novel sound of a harpsichord, and later, in

1953-54, used a vibraphone.

  Other Shaw sidemen included, at various times, trumpeters Roy Eldridge, Hot Lips Page, and Billy Butterfield; trombonists Buddy Morrow, Jack Jenney, and Sonny Russo; saxophonists Herbie Steward and Zoot Sims; pianists Johnny Guarnieri and Dodo Marmarosa; guitarist Barney Kessel; and drummer Dave Tough.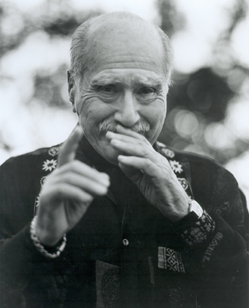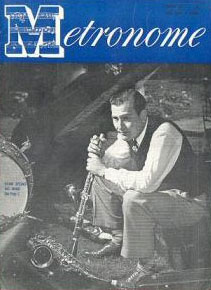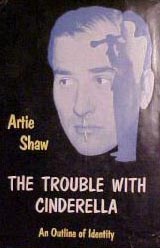 Artie Shaw Orchestra itinerary, summer 1938 - excerpts:

Sat., June 25, Philmont Country Club, Philadelphia, PA

Sun., June 26, Roton Point Park, South Norwalk, CT

Tues., June 28, Johnstown, PA

Wed., June 29, Parkersburg, WV

Thurs., June 30, Charlestown, WV

Sat., July 2, Sunnybrook Park, Pottstown, PA

Wed., July 20 to Fri., August 5, Ocean Pier, Wildwood, NJ  

  incl. first recording session for Bluebird, Sun., July 24, Studio 2, 155 E. 24th St., New York City

Sat., August 6 to Wed., August 10?, Gateway Casino, Summersport, NJ

Fri., August 12 to Thurs., August 18, Eastwood Gardens, Detroit, MI

Artie Shaw Orchestra itinerary, fall 1941 - excerpts:

Wed., Sept. 17, Norfolk, VA

Fri., Sept. 19, Coliseum, Parkersburg, WV

Sun., Sept. 21, Yankee Lake, Brookfield, Ontario, Canada

Mon., Sept. 22, Arena, London, Ontario, Canada

Tues., Sept. 23, Mutual Arena, Toronto, Canada

Wed., Sept. 24, Auditorium, Ottawa, Canada

Fri., Sept. 26, Geo. F. Pavilion, Johnson City, NY

Sat., Sept. 27, Waldemere Park, Erie, PA

Wed., Oct. 1, Civic Hall, Richmond, IN

Fri., Oct. 3 to Thurs., Oct. 9?, Palace Theater, Cleveland, OH

Fri., Oct. 10, Trianon Ballroom, Toledo, OH

Sat., Oct. 11, Castle Farms, Cincinnati, OH

    Wherever they appeared, Shaw and his band played to the best of their abilities.

    "Well, what choice do you have?"he commented.  "You're up there on a stand in Altoona, Pennsylvania, or in Pottstown, or in Marysville, Kansas.  What are you going to do?  You're playing for yourself, really."

    Shaw often selected show tunes or other American music, ensuring that the pieces were of a high-quality. 

    "Well, sure, because anything else would be boring," he shot back at me.  "And, as I say, if you have any kind of artistic sensibility and you are interested in what you're doing, well, you do it the best you can, rather than to bore yourself to death by doing something mediocre.  We had good nights and we had bad nights, but even the worst nights you had to keep up to a certain standard, and that's your inner standard, your inner ear."

    Though he wrote an occasional piece for a magazine or newspaper, including one titled, not surprisingly, "Music Is a Business," for The Saturday Evening Post in 1939, Shaw didn't fully return to his original ambition of becoming an  author until he penned a semi-autobiography, The Trouble with Cinderella: An Outline of Identity (New York City: Farrar, Straus and Young, 1952).  He followed that with a trio of novelettes, I Love You, I Hate You, Drop Dead!: Variations

On a Theme (New York City: Fleet Publishing Corp., 1965); a book of short stories, The Best of Intentions and Other

Stories (Santa Barbara, CA: John Daniel and Company, 1989); and, for a long time, was working on what he called the first portion of a trilogy, The Education of Albie Snow, an as-yet-unpublished work of fiction based on his life. 

    The truth be told, reviewers considered his writing skills inferior to his musical talents.

    "I'll tell you how I feel about critics in general," he offered to me.  "There was a great writer named Flaubert who once compared them to eunuchs in a harem, who see the trick being done every night and are furious that they can't do it.  So much for critics.  They don't know what they're talking about.  I've read books about jazz and about music that absolutely make no sense whatsoever, then I've seen reviews by critics or books who say, 'This is the definitive great jazz book, blah-blah-blah.'  Nobody who can't play it has any business writing about it.  They can talk all they want, but they're not going to know what the hell they're talking about.  And this one guy in one book wrote… I can't think of the name of it… he said, 'The worst critic of jazz is a jazz musician.'  Well, who is the best?  Him?"

additional writing by Artie Shaw – select list:

"I Finally Know What I Want to Do," Down Beat, 1951, p.1

"On Swing," TAC (Theatre Arts Committee) Magazine, Dec. 1939, pp.11-12.

"The Same Music Isn't Always the Same!: Artie Shaw Offers a Course in Semantics and in

  Common Sense to Help Make Life More Livable for Dance Band  Musicians," Metronome,

  Sept. 1953, p.20+.

    He stopped playing clarinet in public in 1954, at the height of his powers, and since that time, there has been a lot of speculation about why the instrument seemed to have gone out of style.

    "My own feeling is that the clarinet is too definite a statement," he offered.  "You can't make a fuzzy statement on a clarinet; if you fuzz up a clarinet, it just sounds terrible.  Fuzzing up a trumpet or a trombone or a tenor or even a flute, it makes a kind of statement.  The fuzz is okay.  I think the clarinet went out with the beginning of the drug culture.  I'm speculating, you understand.  Also, it's a damned-hard instrument to play well!  It also could well be that between myself and Goodman, we had done pretty much all that that instrument could play.  We had enormous celebration.  We had tremendous success.  So, at that point, it's fairly discouraging to most people.  And I think when the new rebellion came along against Louis and against the quote 'Swing Era' and all that, I think the clarinet was one of the instruments people didn't go to, just as Miles and Dizzy changed the trumpet into something quite different from what Louis had made it."

    Shaw admitted to missing playing the clarinet (how could he not, when so much of his life was tied up in it?); I suspected that he might well have tried it once or twice, but never in view of anyone else.  In fact, Evelyn Keyes wrote in one of her books that he did just that at least one time, outdoors, when they lived in Spain in the late 1950s (and she wasn't allowed to stick around to observe).

    When they returned to the USA, he became involved in film distribution, and called his company Artixo Productions.  Whatever he did, he did well.  He also was invited as a guest lecturer at various colleges or universities – not the first time he saw himself in an educational role. 

    "When you're playing music and you're playing more than the people want you to play, you're teaching," he said.  "Most people don't think of it that way, but that's what you're doing.  You're saying, 'I don't care what you want to hear, this is what you should be hearing.'  Well, that doesn't make you entirely popular," he chuckled, "but it's teaching, in a way." 

10 Things That the Average Person Might Not Know About Artie Shaw:

he survived agranulocytopenia, a usually-fatal blood disease, in 1939

he was friends with authors John Steinbeck, Ernest Hemingway, and Sinclair Lewis

he rejected the chance to write a book about his ex-wives and earn a six-figure advance

he and spouse Evelyn Keyes appear in a cameo during the cop thriller "Across 110th Street," 1972

he was a nationally-ranked precision marksman and an expert fly fisherman

he liked sports and luxury cars, including Mercedes and


  Lexus
he was an Honorary Member Vice-President of FINA, a swimming federation, from 1984 until 1996

he had an English sheepdog which he named Chester Chaucer

he had a home book library of over 15,000 volumes including a large collection of reference works on a wide variety of subjects ranging from Anthropology to Zen

he suffered from diabetes in the last few years of his life

Shaw [ above, r. ] photographed at his home by Bruce Weber, Nov. 17, 1998; and [ r. ] being honored by the Smithsonian Institution, at a special ceremony in California, Aug. 28, 2003.

    Though Shaw continued to insist that he never touched his clarinet, he did play the piano at home.

    "At the piano," he corrected me.  "Not anything for public consumption.  There, I can amuse myself, because I don't have any great expectations of what's going to happen when I sit at the piano.  I don't have any great musical standards for that.  So I can play at the piano and amuse myself, whatever you want to call it.  I play a sort of mixed bag of stuff.  I'll play some Bach, some Chopin, even some MacDowell or Debussy, some Bix Beiderbecke, or some of my old things.  Whatever."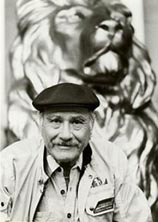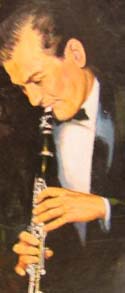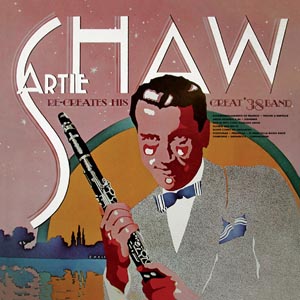 In 1983, Shaw was persuaded to reorganize his band, but he limited his role to occasional conductor, and instead chose Dick Johnson to play clarinet in his place. 

    "I get the feeling that the music is almost what you might call 'deathless,'" Shaw commented to me when the band officially debuted at Glen Island Casino in New Rochelle, NY that December.  "It's very durable, and it looks to me like it's going to go on and on and on."

    Yet, not unlike he had done before, Shaw walked away from the band which (still) bears his name.  He had too many other interests to stick with it, and time was finite.   

    If, as the title of Brigitte Berman's film which won an Academy Award for best documentary feature cautioned, "Time Is All You've Got," he spent his days wisely, writing and re-writing, and contemplating the world.  Even though at one time he was described as "personally controversial and publicly miserable," his strong will and determination helped him to have a long, fulfilling life. 

    "Biological time is not calendar time.  I know people who are 40 or 50 and seem very old to me.  I'm just growing every day," he told me.  "I think that, basically, we're hitting on something very profound here: that if life excites you, and your energies are up, then age has almost nothing to do with it.  Of course, time takes its toll on your body and I can't do certain things that I used to do, but, I don't know, I don't think that way at all."

press reports of Artie Shaw's death – select list:

Freeman, David.  "Hollywood Diary: Artie was easy on the ears -- when he

  played; Friendship with the titan of the swing era, a man of dazzling music

  and often irritated moods, was both fascinating and frazzling,"

  Los Angeles Times, Jan. 9, 2005.

Gardner, Elysa.  "Artie Shaw put the swing in Big Band era," USA Today,

  Jan. 3, 2005.

Gieske, Tony.  "News: Swing king Artie Shaw dies: Great clarinetist

  disdained fame," Hollywood Reporter, Jan. 3, 2005.

Heckman, Don.  "An Appreciation: A life lived without regret; Jazz giant

  Artie Shaw never second-guessed his decision to abandon music.  He

  just moved on to other pursuits," Los Angeles Times, Jan. 1, 2005.

Holland, Bill.  "Upfront: Artie Shaw, Swing Royalty and Hitmaker, Dead

  At 94," Billboard, Jan. 15, 2005.

McDonough, John.  "END the Beguine: The Unapologetic Genius of Artie

  Shaw, 1910-2004," Down Beat, Mar. 2005

"Obituaries: Shaw led swinging big band," Variety, Jan. 10, 2005.

Steyn, Mark.  "Pursuits & Retreats: Post Mortem: Ex-Husband of Love

  Goddesses," Atlantic, Mar. 2005

Thomas, Chuck.  "Artie Shaw: A reluctant American idol," Ventura County       Star, Jan. 8, 2005.

Wilson, John S.  "Artie Shaw, Bandleader, Composer and Wizard of the

  Clarinet, Is Dead at 94," New York Times, Dec. 31, 2004.  

   [ this obit was prepared well in advance: Wilson himself died in 2002 ]

    A few months after his passing, the contents of his estate were auctioned off.  Profiteers then re-sold many of his personal items online, on eBay, including the cap he wore in this photograph by Henry Grossman [ r. ].  Taken in 1984, the photo depicts Shaw as a still-hearty survivor, in control of his life, on his own terms.  I happened to be the $ucce$$ful bidder on the cap, and treasure it as a memento of his remarkable life.  

send feedback about "Artie Shaw: The Consequences of $ucce$$" via
e-mail
see also "Artie Shaw: Second Chorus"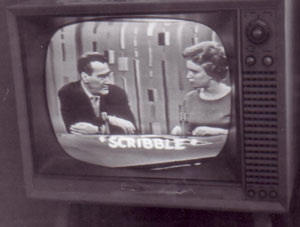 An appearance with D.C. Judd [ r. ] on the tv game show "Password," Feb. 26, 1963.

    His outspokenness, brilliant intellect, and penetrating mind also landed him frequent guest spots on, among others, "The Tonight Show with Johnny Carson," where he appeared 11 times between 1971-74.

    "Anyway, they all ask one question, generally speaking, almost everybody: 'Do you ever play anymore?'  And then I say, 'No,'" he related.  "And the next one is 'Not even for your own amusement?'  Then I say, 'Well, would you ask Muhammad Ali if he does road work for his own amusement?'  I mean, it's hard to do, when your standards are as high as mine have become.  You can't make a sound you like or that you can stand in less than six months of hard work.  So that's not really amusing."