ALVINO REY

"Wizard of the

Steel Pedal Guitar"

by Christopher Popa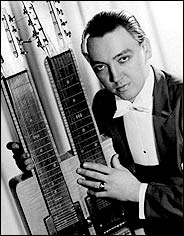 Using his musical talent and knowledge of electronics, Alvino Rey was the first to amplify the guitar.

    "Well, that came about around 1930, when I was at NBC in San Francisco," he explained to me.  "And I've always been an electronic nut and I've been a ham operator and studied electronics.  In fact, that was going to be my ambition, to be an electronics engineer, and I just applied the amplification of that to the guitar and string instruments."

    It brought a whole new sound to music.

    "That was . . . before it was ever done, I believe.  As far as I know, it was the first application to a string instrument," he noted.

    Ironically, some link it to rock and roll.

    "Well, it got out of hand with a lot of the big rock groups who make so much racket with it.  I didn't intend it to be used with such volume.  I used the idea just to be heard in a band, where the guitar -- up until that time -- was a soft, romantic background accompanying a singer.  And after that, it became sort of an integral part of an orchestra."

recommended listening

Nighty-Night, Bluebird, 1941  Yvonne King and

    band, vocal

On the Alamo, Bluebird, 1941

Music 'Til Dawn, Bluebird, 1942   The King Sisters, vocal

I Had the Craziest Dream, broadcast, 1942

   The King Sisters, vocal

Bumble Boogie, Capitol (transcription), 1946

     Deane Kincaide, arranger

In An Eighteenth Century Drawing Room,

   Capitol (transcription), 1946

Blue Rey, Capitol (transcription), 1946   

     Billy May, arranger

I Love Paris, Capitol, 1959

Chukkar, Capitol, 1959    Warren Barker, arranger

Hindustan, Alysa, 1980

Deep Purple, Alysa, 1980

Idaho, Alysa, 1980   the band, vocal

Jersey Bounce, Alysa, 1980   Walt Stuart, arranger

I Want My Mama Blues, Alysa, 1980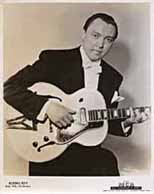 vital stats:

given name:   Alvin McBurney

birth:   July 11, 1908, Oakland, CA

death:   Feb. 24, 2004, Draper, UT

physical description:   6'2", 182 lbs., blue eyes,

    chesnut brown hair

father:   Frank McBurney, in typewriter business

mother:   Lilly (Kline) McBurney

heritage:   Scotch-Irish

education:   public schools, Cleveland, OH; private

    study with Sophocles Papas in New York

    City and Washington, DC

wife:   Louise (Driggs) King, b. Dec. 21, 1913,

    Payson, UT; m. May 21, 1937; d.1997

son:   Robert "Robbie" Karleton Rey,

    b.May 3, 1946

daughter:   Liza Luise Rey, b.May 13, 1947

son:   Jon Alvin Rey, b.Feb. 4, 1952

memberships:   AFM Locals 47 (Los Angeles) and

    802 (New York City)

hobbies:   electronics, aviation, golf

residences:   5011 Woodley Ave., Encino, CA;

    Camarillo, CA; Sandy, UT (1979-2004)

   When Rey formed his own band in August 1939, his amplified pedal steel guitar was his featured instrument, and an off-stage vocal microphone plugged into it with a Sonovox made it seem as though the guitar could "talk."

    Rey showed early mechanical and musical aptitude. 

    He built his first radio at the age of 8 and, within a few years, became one of the youngest licensed ham operators in the country.

    His musical abilities began after he received a banjo as a Christmas present.  He studied guitar from the age of 12, listening to recordings by guitarists Eddie Lang and Roy Smeck.  (Many years later, Rey would attend seminars by classical guitarist Andres Segovia.)

    Rey returned to the public eye as musical director of "The King Family Show," a musical-variety program which aired on ABC-TV from 1965 to 1969 and featured 36 King relatives.  Devoted to the family, he converted to Mormonism, his wife's religion, in 1969.

    In 1978, he was inducted into the Steel Guitar Hall of Fame in St. Louis as "the father of the pedal steel guitar," and continued to accept work for another 15 or so years, though at a reduced pace.   

    "Well, we do touring and I do concerts," he reported.  "I'm a guest with symphonies, I do a pop concert.  We've done quite a few boat tours and I do conventions.  And I do some jazz concerts; I like to do that, that's fun."

    For example, he joined the King Sisters on a long tour booked by Columbia Artists Festivals, "Big Band Cavalcade '85," which stopped in Cuyahoga Falls, Ohio, where he performed a variety of selections, including big band favorites, a medley of Spanish songs ("We call it our Spanish omelette," he joked

on-stage), and the William Tell Overture.  (A few years earlier, in 1981, he had also displayed his versatility, along with singers Johnny Desmond and Connie Haines, on a similar tour, "The Big Band Show," which came to my hometown, Alliance, Ohio.)   

    I asked if he still remembered such venues as the Moonlight Ballroom, located in nearby Canton and which had burned down in 1979.    

    "Oh yes, of course.  Yes, I should say.  We played there many times," he responded. " Well, I think Ohio was our choice place to play.  When we covered Ohio from one end to the other -- Akron, Youngstown (Idora Park) and as you say, Canton, and everyplace -- we had more enthusiasm and greater dancers, I think, in Ohio than any other state."

    How did he feel his present band compared to his original outfit?

    "Well, it's the same pattern of music.  And we had some great musicians in that band.  It's the same style, but of course it's progressed.  And the musicians are wonderful today, the young fellas that we have on our band are outstanding.  They're all virtuosos, every one of them," he boasted.  "Of course, we had in our band in those days, too, we had Rafael Mendez, probably the greatest trumpet player of all times, with us.  And Skeets Herfurt, who's probably one of the outstanding saxophonists, who still is.  It's the same pattern of band.  Frank DeVol and Billy May and Nelson Riddle and those fellas wrote for that band as well as they write

today.  They haven't changed their style too much, but recording techniques have improved vastly, so when you buy a record now it's a lot more satisfying to listen to than it was in the '40s."     Other musicians who, at one time or another, were members of his band included trumpeter - arranger Neal Hefti; trumpeter Dick Cathcart; trombonist Kai Winding; saxophonists Zoot Sims and Herb Steward; pianist Buddy Cole; guitarist Dick Morgan; bassist Charlie Mingus; drummers Don Lamond, Irv Cottler, Nick Fatool, Mel Lewis, and Dave Tough; vocalist Andy Russell; and arrangers Ray  Conniff, Johnny Mandel, and George Handy.

   Arguably one of the best new big band albums of the '80s was Rey's "Dance with Me," released on his own label, which seems to have been named after one of his seven grandchildren, Alysa (b.1973).  The LP included fresh, swinging renditions of Idaho, Jersey Bounce, and Hindustan, among others.

    "That was recorded at Capitol Records, and by one of the greatest engineers in the business, Hugh Davies," he said.  "And the producer, who just passed on, Lee Gillette, produced all the great hits at Capitol down through the years.  And so we were lucky to get him in on the deal there."

   Still, I wondered how long could the big band sound could survive. 

    "I don't know, I think it's sort of coming back into its own," he replied.  "I think people are recognizing it.  I think the young people are getting to understand and like it, too.  But, see, what they're doing, they're incorporating a lot of rock patterns in the bands today.  A lot of the big swing bands are marvelous and they do not have to be tied down to the old Glenn Miller things.  There's a lot of new things that can be used, if people will only listen to it.  I think they ought to have a chance.  There's some great bands around the country."

   His last public appearance was in 1994, but he retained his interests in music and electronics into his mid-nineties.  He even started (but later abandoned) his own website, selling CDs and Luise's memoir, Those Swinging Years, a copy of which he kindly inscribed to me.  After breaking his hip and suffering complications including pneumonia and congestive heart failure, Rey died at age 95 in 2004 at a rehabilitation center in Utah.

    Together, Rey and the King Sisters decided to leave Heidt in late 1938.   

     "Left him in the late '30s and then we went to California and I became the staff orchestra for Mutual Broadcasting in Los Angeles," he said.

    The band had successful in-person engagements at the Pasadena Civic Auditorium in southern California, the Paramount Theatre in New York City, the Rustic Cabin in Englewood, New Jersey, and the Meadowbrook in Cedar Grove, New Jersey. 

    They made many recordings for Bluebird, such as Tiger Rag, Strip Polka, I Said No, and Deep in the Heart of Texas. 

    In 1942, Alvino was chosen part of the Metronome All-Star Band as the nation's top guitarist.

    Though a famous musician, he entered World War II in 1944 as an enlisted man, and served until 1946.

    At 15 he invented an electrical amplifier for the guitar, but didn't have it patented.  He did patent several later improvements.

    In 1927, Rey landed a job playing banjo with Cleveland bandleader Ev Jones.  

    "Yes, I joined the Union when I was 16," he told me.  "I went to Lakewood High School and from there I went to New York and never did come back."

    To capitalize on the popularity of Latin music in New York City during 1929, he added an "o" to his first name and changed his last name to "Rey," which meant "the King" in Spanish.

    He replaced banjoist Eddie Peabody with violinist Phil Spitalny, whose band was appearing at the Pennsylvania Hotel and was heard coast-to-coast over the radio.  

    "I spent two years in New York with Phil Spitalny and then went to California," he recalled.  "I joined Horace Heidt in San Francisco . . . he had a stage band, sort of like Fred Waring."

    Between 1934 and 1939, Rey was often featured on steel guitar with Heidt and became one of the best-known (and best-paid) sidemen in the country, thanks to Heidt's weekly radio program.    

    "And there I met the King Sisters, and I married Luise, one of the sisters," he reminisced.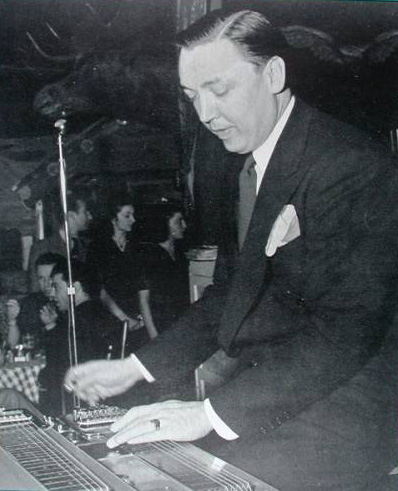 After Rey reduced his band's size, then gave it up around 1949, he did a lot of work in recording studios into the '50s and early '60s, including albums under his own name at Capitol, Decca, and Dot. 

    As a producer at Warner Brothers, he made at least nine LPs under the pseudonym "Ira Ironstrings." 

    He also recorded with singer Jo Stafford on Columbia, with exotica bandleader Esquivel on RCA Victor, and even played his steel guitar on the March 1961 recording sessions for the Paramount movie "Blue Hawaii," backing singer Elvis Presley.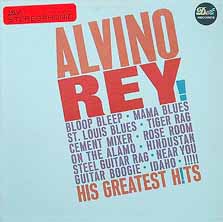 sources:

Buttars, Lori.  "Jazz legend, pedal steel guitar co-pioneer Alvino Rey

  dies at 95," Salt Lake Tribune, 28. Feb. 2004.

Dexter, Dave Jr.  Liner notes, "The Uncollected Alvino Rey and His

  Orchestra 1946," Hindsight HSR-121."

"Lakewood Lore: Alvino Rey," Lakewood Sun Post, 25 Jan. 1990 /

  lkwdpl.org/lore/lore29.htm.

Lees, Gene.  Liner notes, "The Uncollected Alvino Rey and His

  Orchestra 1946 Vol.2," Hindsight HSR-167, 1981.

McLellan, Dennis.  "Obituaries: Alvino Rey, 95: Bandleader Was Guitar

  Virtuoso, Innovator," Los Angeles Times, 28 Feb. 2004, p.B.20.

Popa, Christopher.  Interview with Alvino Rey, 1985.

"Rey, Alvino," in Who Is Who in Music (Chicago: Who Is Who in Music,

  Ltd., 1951).

Saxon, Wolfgang.  "Alvino Rey, Virtuoso of the Steel Guitar, Dies at 95,"

  27 Feb. 2004.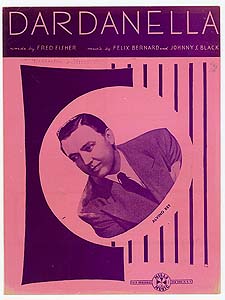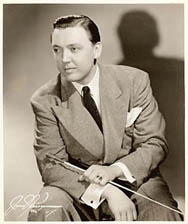 send feedback about Alvino Rey: "Wizard of the Steel Pedal Guitar" via
e-mail
return to "Biographical Sketches"
index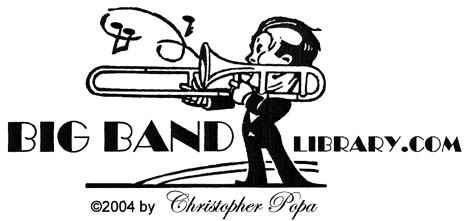 the big bands are back

in a new and exciting way

    "I went in the Navy and then came out and re-formed a band again," he said to me.

    But the band business was declining.  A few additional hits, such as Cement Mixer (Put-ti Put-ti), Bloop-Bleep, and Near You, followed, although much more impressive music was made for Standard and Capitol radio-use-only transcriptions.